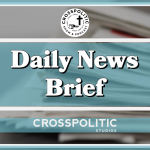 This is your CrossPolitic Daily News Brief for Tuesday April 13th, 2021.
Pastor Toby is first and foremost a pastor, so I am filling in for him today. Yes sorry, you get me, and not the great Pastor Toby news brief you generally get on Tuesday.
Folks- we have 16 days until our Fight Laugh Feast Rally in Rapid City, SD. Still time to sign up and see us on the ground at the conference. Get signed up, go to FLFNetwork.com/Rally to find out about the hotels we get a discount to, agenda details, and more. We can't wait to see everyone at the end of April. Now if you can't make it to the conference, but still want to catch the talks, well only club members will get access to all the talks as they are streamed live, and following the conference. So if you are not a club member, and can't attend the conference, well don't worry, sign up as a club member and you will still get access to all the great talks from the conference. Go to FightLaughFeast.com to sign up!
News
Fauci 'not sure' why Texas doesn't have COVID uptick after nixing masks
https://nypost.com/2021/04/10/fauci-not-sure-why-texas-doesnt-have-covid-uptick-after-nixing-masks/
It's been some five weeks since Texas lifted its mask mandate, and there has yet to be an explosion of COVID-19 cases.
It's something Dr. Anthony Fauci can't quite explain.
"I'm not really quite sure," he told MSNBC this week. "It could be they're doing things outdoors."
Daily cases in Texas hovered above 7,000 in early March, when Gov. Greg Abbott lifted the state's mask rules, leaving it up to individuals and organizations to make their own decisions.
Now, according to the Centers for Disease Control, new cases of COVID-19 are under 4,000.
Fauci noted there can be a delay in how and when cases manifest.
"Often you have to wait a few weeks before you see the effect of what you're doing right now," he said.
"I hope they continue to tick down. If they do, that would be great but there's always the concern when you pull back on methods — particularly on things like indoor dining and bars that are crowded — you could see a delay and then all of a sudden tick right back up," he said.
"We've been fooled before by situations where people begin to open back up. Nothing happens and then all of a sudden several weeks later things explode on you, so we've got to be careful we don't prematurely judge that," he added.
President Biden had slammed the decision to ease the state's mask mandate as "neanderthal thinking."
Lets have some more fun with this, and compare Texas to Michigan and Minnesota:
Texas Has Fewer COVID Cases Than Michigan—Despite Nearly 20M More People and No Restrictions
https://fee.org/articles/texas-has-fewer-covid-cases-than-michigan-despite-nearly-20m-more-people-and-no-restrictions/
First Minnesota: According to Freedom for Economic Education:
"On March 2, former US Senator Al Franken mocked Texas for lifting all its remaining COVID-19 restrictions.
"Gee, we here in Texas haven't screwed up royally in a whole two weeks!" Franken tweeted. "I know! Let's lift the mask mandate!"
"Governor Tim Walz's "Stay Safe Plan" remains in force. The order limits indoor social gatherings to 15 people (outdoor gatherings to 50). Social distancing "must be maintained" when people from different households gather. Many businesses, such as restaurants, operate under capacity limits (both indoors and outdoors). Masks are required virtually everywhere indoors.
Despite these restrictions, Minnesota is seeing a surge in coronavirus cases. On March 2, the day Texas announced it was lifting all pandemic restrictions, Minnesota's daily case count was at 425. A month later, on April 2, that number had swelled to more than 2,500."
Now Michigan:
In Michigan, CNN reports that state statics show its case count hit 9,350 on Saturday, the highest since December 7. Its 3-day rolling average on April 4 was 6,995.
In Texas, it was 1,646.
In other words, as of Sunday, Texas has about one-fourth as many cases as Michigan even though it has zero restrictions—and 20 million more people.
"California Gov. Gavin Newsom called Texas's action "reckless." President Joe Biden called it "Neanderthal thinking." Former Rep. Beto O'Rourke said Abbott's decision was "a death warrant" for the state."
Plug:
Did you wrap up your Easter thinking, "I'm tired of being the congregational mumbler" or, "I need to give my kids the music training that I never got?" Or just maybe you said, "If something like the Canadian Gestapo comes to shut down my church, I want them to tremble before God's praises."
If so, it's time for music lessons with Sean Bohnet. Learn to read, create, and understand the craft that our reformed forefathers cherished.
Beginning with voice and piano, Sean teaches kids and adults how to be musically literate. Lessons are available locally in Moscow, ID or online. Oh yeah, he makes the process a lot of fun too.
Contact him at 702-477-9090 for a consultation.
Chinese Christians Held in Secretive Brainwashing Camps
https://www.rfa.org/english/news/china/christians-camps-04012021081013.html
According to Radio Free Asia:
"Authorities in China are detaining Christians in secretive, mobile "transformation" facilities to make them renounce their faith, RFA has
learned.
A member of a Christian "house church" in the southwestern province of Sichuan who asked to be identified by a pseudonym Li Yuese said he was held in a facility run by the ruling Chinese Communist Party (CCP)'s United Front Work Department, working in tandem with the state security police, for 10 months after a raid on his church in 2018.
"It was a mobile facility, that could just set up in some basement somewhere," Li said. "It was staffed by people from several different government departments."
"It had its own (CCP) political and legal affairs committee working group, and they mainly target Christians who are members of house churches," he said.
The Chinese Communist Party, which embraces atheism, exercises tight controls over any form of religious practice among its citizens.
State security police and religious affairs bureau officials frequently raid unofficial "house churches" that aren't members of the CCP-backed Three-Self Patriotic Association, although member churches have also been targeted at times.
The CCP under Xi Jinping regards Christianity as a dangerous foreign import, with party documents warning against the "infiltration of Western hostile forces" in the form of religion.
Li said he was held in a windowless room for nearly 10 months, during which time he was beaten, verbally abused and "mentally tortured" by staff, eventually resorting to self-harm by throwing himself against a wall.
His account is chillingly similar to those of former inmates of "transformation" camps in the northwestern region of Xinjiang.
"They use really underhand methods," Li said.
"They threaten, insult and intimidate you. These were United Front officials, men, women, sometimes unidentified, usually in plain clothes. The police turn a blind eye to this," he said.
"You have to accept the statement they prepare for you," he said. "If you refuse, you will be seen as having a bad attitude and they will keep you in detention and keep on beating you."
Basement brainwashing sessions
Li said most of his fellow inmates were also people who had been released on bail during criminal detention for taking part in church-related activities.
Most hadn't done anything that could trigger any criminal prosecution, so police sent them to the "transformation" facilities instead, Li said.
"They were using brainwashing methods on those of us who were on bail from the detention center," he said. "It was in a secret location, in a basement."
"There were two plainclothes officers in my room, and a uniformed officer was in another room," Li said.
"There were no windows, no ventilation and no time allowed outside," he said. "I was given just two meals a day, which were brought to the room by a designated person."
Inmates who refused to "admit their mistakes" were held in solitary confinement for prolonged periods.
"There is no time limit for the brainwashing process," he said. "I don't know the longest time anyone has been held there, but I was detained for eight or nine months."
"You can't see the sun, so you lose all no concept of time."
He said suicidal ideation and self-harm was commonplace.
"I couldn't sleep; after you've been in there a week, death starts to look better than staying there," Li said. "I bashed myself against the wall to self-harm."
"One time in there, I was groggy and was trying to open my eyes but I couldn't," he said. "Four or five of them grabbed me by the arms and legs and pinned me to the ground."
"They injected me with some drug, and brought me back to consciousness."
The RFA ends the report with:
Sheesh. We need to be praying for our brothers and sisters over there.
"China is home to an estimated 68 million Protestants, of whom 23 million worship in state-affiliated churches under the aegis of the Three-Self Patriotic Association, and some nine million Catholics, the majority of whom are in state-sponsored organizations."
Media Biased For Biden, Voters Assert In Survey.
According to National Pulse:
"The telephone and online survey questioned one thousand US "Likely Voters," asking them if they trusted the political news they were getting, and also, "When they write or talk about President Biden, are most reporters trying to help the president pass his agenda, block the president from passing his agenda, or are they simply interested in reporting the news in an unbiased manner?"
Rasmussen found that only 33 percent of American Likely Voters actually trust the political news they get.
Just 14 percent are "not sure," while 53 percent–a majority–do not trust the political news they receive. The majority of those polled also said that they believe the media is "in the tank" for Joe Biden, biased in his favor rather than interested in objective reporting.
Rasmussen states that it has a 95% "level of confidence" in the results of the survey."
Mainstream media has to go, and I can't thank our club members enough for you support in helping us take on this behemoth media world. By God's grace we are hopefully starting to make a dent, and so please tell your friends to join the Fight Laugh Feast club member ranks, share our shows, text them to your friends, and we look forward to seeing you in either South Dakota at the end of this month, or at our national conference in Tennessee September 9th-11th. Go to FLFNetwork.com/Rally
Closing
This is Gabriel Rench with Crosspolitic News. Support Rowdy Christian media by joining our club at FightLaughFeast.com, downloading our App, and head to our annual Fight Laugh Feast Conference next fall. With your partnership, together we will fight outdated and compromised media, engage news and politics with the gospel, and replace lies and darkness with truth and light. Go to FightLaughFeast.com to take all these actions. Have a great day. Lord bless