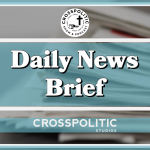 This is Garrison Hardie with your CrossPolitic Daily News Brief for Tuesday, April 18th, 2023.
It's been awhile since I've done this… but how about some "On this day in History!"
On this day in history, April 18th…
1506 The cornerstone of the current St. Peter's Basilica is laid in the Vatican by Pope Julius II

1775 Paul Revere and William Dawes ride from Charlestown to Lexington warning the "regulars are coming!"

1783 American Revolution: George Washington issues General Order announcing the end of hostilities with Britain, giving thanks to the Almighty, and offering congratulations and authorizing an extra ration of alcohol to the troops to celebrate

1906 San Francisco earthquake and fire kills nearly 4,000 while destroying 75% of the city

2018 "Black Panther" is the first film shown at a commercial cinema in 35 years in Saudi Arabia as cinemas are reopened
Famous Birthdays… James Woods – 75, Conan O'Brien – 59
https://nypost.com/2023/04/17/kevin-mccarthy-vows-house-will-vote-on-one-year-debt-hike/
As Biden hides, House will vote on one-year debt limit hike
House Speaker Kevin McCarthy vowed Monday that while President Biden "continues to hide, House Republicans will take action" on a plan meant to limit federal borrowing to one year and reduce government spending.
"Let me be clear: A no-strings-attached debt limit increase will not pass," McCarthy (R-Calif.), 58, said in a speech at the New York Stock Exchange meant to evoke former President Ronald Reagan's visit to the trading floor nearly 40 years ago.
Monday's remarks sought to highlight what McCarthy called Biden's "irresponsible" economic policy after the speaker last month accused the commander-in-chief of being "missing in action" from debt ceiling talks.
The speaker in March suggested cutting non-defense spending back to pre-inflationary levels and introducing more work requirements for some welfare programs.
Biden rolled out a $6.9 trillion budget proposal the same month, which would have increased the national debt to $51 trillion over the next decade.
In January, the federal government exceeded its roughly $31 trillion debt limit, halting its ability to borrow funds for programs like Social Security and Medicare. Congress last approved a debt ceiling increase in December 2021.
Also in January, Treasury Secretary Janet Yellen said the federal borrowing limit will need to be increased by June of this year to prevent a default on America's national debt.
McCarthy said Biden's unwillingness to negotiate as commander-in-chief differs greatly from his past openness to fiscal reform as a US senator and even as Barack Obama's vice president.
Both the White House and House Minority Leader Hakeem Jeffries (D-NY) compared McCarthy's push for spending cuts to "hostage-taking."
https://www.nbcnewyork.com/news/local/crime-and-courts/2-arrested-for-allegedly-operating-illegal-chinese-police-station-in-nyc-sources-say/4247736/
2 Arrested for Allegedly Operating Illegal Chinese 'Police Station' in NYC
Two people have been arrested by the FBI on allegations they helped operate an illegal police station for the government of China in lower Manhattan.
The two are charged with conspiring to act as agents for the Chinese government. The FBI said "Harry" Lu Jianwang, 61, of the Bronx, and Chen Jinping, 59, of Manhattan, were arrested Monday morning at their homes in New York City.
"The defendants worked together to establish the first overseas police station in the United States on behalf of the Fuzhou branch of the (Ministry of Public Security)," the FBI said in a statement.
In addition to the New York complaint, two other complaints were filed – one against 34 members of Beijing's Municipal Public Security Bureau, and another against a group of 10 people that includes eight Chinese government officials.
The common thread in the three complaints – that the suspects allegedly worked to intimidate, harass and threaten "wanted" Chinese nationals inside the United States.
Last November, the FBI said it was aware that China was operating a de facto police station in Manhattan, outside of proper procedure or authority, as part of global network of such outposts. It followed a Sept. 2022 investigation by a nongovernmental organization, Safeguard Defenders, which reported there were dozens of such centers worldwide conducting police operations.
Chinese officials decried that characterization, saying the "service centers" were volunteer-run and had nothing to do with policing. But the New York Times reported in January that Chinese state media had explicitly described the centers as policing facilities, acting in other countries without collaborating with local authorities. The Times also reported that the FBI had searched the East Broadway facility in the fall of 2022.
https://www.businessinsider.com/nancy-pelosi-campaign-pays-man-fundraising-text-lawsuit-2023-4
Pelosi campaign pays Illinois man $7,500 after he sued over 'invasive and harassing' fundraising texts
An Illinois man is now $7,500 richer after accusing Nancy Pelosi of violating federal robocalling laws.
In October 2022, a Bolingbrook, Illinois resident named Jorge Rojas filed a 13-page lawsuit in the US District Court for the Northern District of Illinois that accused the former speaker of the House and her campaign of violating the Telephone Consumer Protection Act of 1991.
That law, which has been found to apply to text messages in addition to calls, applies restrictions to robocalling and requires telemarketers not to contact individuals who've placed themselves on the Do Not Call Registry.
"As the Supreme Court has explained, Americans passionately disagree about many things," reads the introduction of Rojas's complaint. "But they are largely united in their disdain for robocalls."
According to the suit, Rojas received 21 texts from Pelosi's campaign from November 2021 to July 2022 despite previously placing himself on the registry in 2008 to "obtain solitude from invasive and harassing telemarketing calls."
He went on to argue that he "experienced frustration, annoyance, irritation, and a sense that his privacy has been invaded" by the texts.
Arguing that the texts constituted "malicious, intentional, willful, reckless, wanton and negligent disregard" for his rights, Rojas sought at least $31,500 in damages from Pelosi's campaign, including $1,500 for each text received.
But months later, on February 22, Rojas moved to dismiss the suit against Pelosi.
And according to federal campaign finance disclosures made public on Friday, the dismissal came after Rojas received a $7,500 payment marked "Settlement" from Pelosi's congressional campaign.
Rojas and Pelosi's campaign did not immediately respond to Insider's request for comment.
https://www.foxnews.com/us/teen-takeover-terrorizes-chicago-hundreds-children-destroy-property-attack-tourists
'Teen Takeover' terrorizes Chicago as hundreds of teenagers destroy property, attack tourists
Hundreds of teenagers stormed the streets of downtown Chicago, smashing car windows, attacking bystanders and sending panicked tourists running from the sound of gunfire.
Fox 32 cameras captured video of teenagers crowding the streets and police seeking to restore order to the area.
Large groups of teens were seen blasting music from Bluetooth speakers and roaming in front of traffic, with some attempting to gain access to the city's Millennium Park, which is off-limits to those under 21 after certain hours, and the downtown Art Institute.
Some teens in the group began jumping up and down on cars, smashing windows and attacking people inside. One woman told Fox 32 her husband was attacked from the driver side of his vehicle and beaten after a group of teens jumped up and down on the couple's windshield. The man was taken to a local hospital for treatment.
Hundreds of police officers assisted by SWAT teams descended on downtown in an attempt to restore order as gunfire was reported multiple times amid the unfolding scene.
Police were seen escorting frightened tourists back to their cars or hotels to escape the chaos, and traffic on Chicago's Michigan Avenue ground to a halt as police attempted to restore order.
Police say a 6-year-old boy was shot in the arm near the Chicago Loop and a 17-year-old boy was shot in the leg. Both were taken to Northwestern Hospital and listed in fair condition, according to a report from WLS.
Fox 32 reported that the chaos appeared to be another "Teen Takeover" of the city that was planned on social media, noting that a similar scene played out in Chicago last year.
Some local reporters were on the scene to interview some by-standers, including a woman who's husband was beaten in their car.
'Where are their parents?' Teens swarm downtown Chicago during violent, chaotic weekend-Play 0:53-1:23