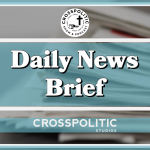 Hi all, this is Garrison Hardie with your CrossPolitic Daily News Brief for Monday, April 18th, 2022. I hope you all had a wonderful Easter with you and yours' so let's see what happened with the news while we were away.
First, in his last news brief on Friday, Pastor Toby Sumpter went over a new abortion ban bill that has been signed in Oklahoma. Well later that same day, Florida Governor Ron Desantis got in on the action as well, by signing House Bill 5, which bans abortions after the 15-week mark.
https://www.npr.org/2022/04/14/1084485963/florida-abortion-law-15-weeks
Governor DeSantis released a statement saying: "House Bill 5 protects babies in the womb who have beating hearts, who can move, who can taste, who can see, and who can feel pain. Life is a sacred gift worthy of our protection, and I am proud to sign this great piece of legislation which represents the most significant protections for life in the state's modern history."
The new Florida law, which takes effect July 1, will replace a previous one that allowed abortions until 24 weeks of pregnancy.
The new 15-week ban does not make exceptions for cases of incest, rape or human trafficking. It does allow an abortion if it would save the life of a pregnant person or prevent serious injury to them.
Yeah, believe it or not, it's not okay to murder a baby just because the child was created through terrible circumstances.
Now of course, murderous dictator, or rather, Planned Parenthood President Alexis McGill Johnson, had to release her own statement, saying: "We've entered a dangerous time for Floridians' reproductive freedom. In just a few months, thousands of pregnant people in Florida will no longer be able to access the care they need without leaving their state. The supporters of this bill have put their own political ambitions and beliefs before the health and futures of their constituents."
I think the term or phrase you're looking for Alexis, is "the supporters of this bill want to save babies from being slaughtered."
Now, it should be noted that this bill definitely doesn't go far enough. Until all abortions are made illegal in this country, at ANY period, not just the 15-week mark, but, the winds seem to be shifting in a favorable direction, across the country. Our nation needs to fall on it's knees in repentance to our creator, but our nation's pride refuses to buckle. It's comical really, as we've all seen how prideful nations' end up in the Bible…
Speaking of which, Not so long ago, the American dream was alive and well. Employees who worked hard were rewarded, and employers looked for people who could do the job, not for people who had the right political views. RedBalloon.work (www.redballoon.work/flf/) is a job site designed to get us back to what made American businesses successful: free speech, hard work, and having fun. If you are a free speech employer who wants to hire employees who focus on their work and not identity politics, then post a job on RedBalloon. If you are an employee who is being censored at work or is being forced to comply with the current zeitgeist, post your resume on RedBalloon and look for a new job. www.redballoon.work/flf/, the job site where free speech is still alive!
Musk says Twitter board will be paid nothing if he acquires the company
https://www.cnbc.com/2022/04/18/musk-twitter-board-will-be-paid-nothing-if-he-acquires-the-company.html
Elon Musk said Monday that Twitter's board of directors won't be compensated for serving if he acquires the company.
"Board salary will be $0 if my bid succeeds, so that's ~$3M/year saved right there," Musk said in a tweet.
https://twitter.com/elonmusk/status/1516056299376623626?s=20&t=z3XQXE3sYv2qJjpRDIRjAA -Show Tweet
It's not clear who would be appointed to serve the board of a Musk-owned Twitter. Currently, Twitter spends about $2.9 million in cash and stock awards to board members, according to a filing with the SEC. Executives do not receive additional compensation for their seats, so that does not include payments for CEO Parag Agrawal and former chief Jack Dorsey.
As Toby reported on Friday, Elon Musk made a $43 billion bid for Twitter. In response, Twitter adopted a limited duration shareholder rights plan, often referred to as a "poison pill," in an effort to fend off a potential hostile takeover. This "poison pill" is basically a limited duration shareholder rights plan that would allow shareholders to buy stock at a discount if any one person or entity amasses at least 15% of outstanding common stock without the board's prior approval. Musk recently revealed a more than 9% stake in the company before his takeover bid.
Musk may also be considering a potential tender offer to Twitter shareholders to take control of the company.
Musk has argued Twitter needs to be "transformed" into a private company so it can become a forum for free speech. He also said that Twitter's board members' interests "are simply not aligned with shareholders" and that the board "owns almost no shares" of the company.
Even former Twitter CEO Jack Dorsey has gotten in on the action, as he criticized the company's board in a series of tweets on Sunday.
Responding to another Twitter user describing the "plots and coups" that played out early on in the history of Twitter's board, Dorsey replied, "it's consistently been the dysfunction of the company."
https://twitter.com/jack/status/1515549577352564740 -Show Tweet
Earlier, he responded to another tweet in the same thread. It quoted venture capitalist Fred Destin citing what he called a "Silicon Valley proverb": "Good boards don't create good companies, but a bad board will kill a company every time."
Dorsey responded, "big facts."
Dorsey still sits on Twitter's board but plans to leave once his term expires at the 2022 meeting of shareholders, which is scheduled for late May.
Cori Bush surpasses $300K spent on private security as she continues calls to defund the police
https://www.foxnews.com/politics/cori-bush-surpasses-300k-spent-private-security-she-continues-calls-defund-police
Bush's campaign has dropped another $70 thousand on private security in 2022 alone… and it's only April by the way…
Bush's newest security checks follow the $233,663 her committee spent on the services in 2021, FEC records show. She has now paid out $304,152 for security this election cycle.
Here's a brief clip of her talking saying the part that she shouldn't say outloud: https://twitter.com/i/status/1423257378993147907 -Play Video
Now, if what she said is true, and there have been attempts made on her life, then that's terrible… but who is she going to call exactly if another attempt were to occur? Untrained social workers who definitely don't have the capabilities to deal with a dangerous individual? No, she wants the police gone for us plebeians, but she can rely on her $300 thousand security team.
So this begs the question… do our African American brothers and sisters really want the police defunded? Well according to a 2020 Gallup poll, in the height of Black Lives Matter, which by the way, we don't hear that phrase much anymore, because the mob has shifted focus on sexually grooming our kids, but anyways, the poll said When asked whether they want the police to spend more time, the same amount of time or less time than they currently do in their area, most Black Americans — 61% — want the police presence to remain the same. This is similar to the 67% of all U.S. adults preferring the status quo, including 71% of White Americans.
Meanwhile, nearly equal proportions of Black Americans say they would like the police to spend more time in their area (20%) as say they'd like them to spend less time there (19%).
https://news.gallup.com/poll/316571/black-americans-police-retain-local-presence.aspx – Screen Capture first graph
You see, Cori Bush really isn't listening to those in her communities. Because believe it or not, more of a police presence, typically means, less criminals roaming the streets… who'd have thought?
Our Fight Laugh Feast Magazine is a quarterly issue that packs a punch like a 21 year Balvenie, no ice. We don't water down our scotch, why would we water down our theology? Order a yearly subscription for yourself and then send a couple yearly subscriptions to your friends who have been drinking luke-warm evangelical cool-aid. Every quarter we promise quality food for the soul, wine for the heart, and some Red Bull for turning over tables. Our magazine will include cultural commentary, a Psalm of the quarter, recipes for feasting, laughter sprinkled through out the glossy pages, and more. Subscribe today, at flfnetwork.com/product/fight-laugh-feast-magazine/.
Back to race relations… Public Library Hosts a Dance Class for the Elderly — No Whites Allowed
https://redstate.com/alexparker/2022/04/17/public-library-hosts-a-dance-class-for-the-elderly-no-whites-allowed-n551605
Doesn't that just warm your heart? These days — not wholly dissimilar to seventy years ago — segregation is all the rage.
And at Wisconsin's Madison Public Library, they're keeping things contemporary.
Therefore, the library's offering an elderly Movement & Meditation class with a ban on white people.
Per an online announcement, sessions will be held in May at both Goodman South Madison Library and Meadowridge Library.
Here's what the nonwhites will enjoy:
Movement & Meditation is a movement class where elements of mindfulness and movement intersect for one hour! … Adaptable movements will be shared for all abilities. … Notebooks and writing materials will be provided. This is an invitation to get to know your community while learning more about dance, movement and mindfulness.
The library evidently takes the increasingly popular position that "community" regards those who share a shade of skin.
And as for getting to know one's "community," that might include transgender individuals:
All identities, skill levels, and capabilities are encouraged and welcomed.
But if you identify as white, it's a no-go:
This program is intended for BIPOC (Black, Indigenous, People of Color) seniors 55+. Space is limited, so register to reserve your spot…
For those of you who don't know what BIPOC means, you're a bigot and you're triggering me, where's Kyle from the Bee when you need him?
The Caucasian-free foray is "presented by KLJ Movement." The end of each class "will include time for reflection and connection." Might anyone reflect on the idea that segregation is antithetical to much-needed national unity?
It's doubtfully on the docket. But at least they'll be connecting — with the past:
https://twitter.com/realchrisrufo/status/1319673465809453058?ref_src=twsrc%5Etfw%7Ctwcamp%5Etweetembed%7Ctwterm%5E1319673465809453058%7Ctwgr%5E%7Ctwcon%5Es1_&ref_url=https%3A%2F%2Fredstate.com%2Falexparker%2F2022%2F04%2F17%2Fpublic-library-hosts-a-dance-class-for-the-elderly-no-whites-allowed-n551605 -Neil, can you show these in a side-by-side?
Moving on, it's time for this day in history. By the way, my mom called me out for not mentioning her birthday last Monday while doing on this day in history, so happy belated birthday mom! Love you! What a great son I am… anyways, On to a big day in our nation's history, April 18th, American Revolution: George Washington issues General Order announcing the end of hostilities with Britain, giving thanks to the Almighty, and offering congratulations and authorizing an extra ration of alcohol to the troops to celebrate. I have a feeling Washington would have an aneurysm seeing the state of our nation. Earlier in that same week, on April 11th, 1783, Hostilities formally cease in the American Revolutionary War, and on the 15th, the Continental Congress ratified preliminary articles of peace, ending the seven-year-long war with Great Britain.
Thanks for tuning into this CrossPolitic Daily News Brief. If you liked the show, share it far and wide. If you have yet to sign up for our conference in Knoxville Tennessee October 6-8, DO IT NOW and get that early bird pricing! Also, if you're a club member you get a discount for our conference, so sign up today! And as always, if you're a CEO or business owner who'd like to become a corporate partner, email me at [email protected]. This has been Garrison Hardie with CrossPolitic News. Have a great rest of your day, and Lord bless.