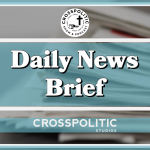 This is Toby Sumpter with your CrossPolitic Daily News Brief for Tuesday, April 20, 2021.
9 Days to the Rally in Rapid City, South Dakota: April 29, 30, May 1? Excited to see and meet many of you as we learn to Love God, Sing Psalms, Defy Tyrants. Come hear talks from Pastor Doug Wilson, Ben Merkle, Steve Deace, Sheriff Daryl Wheeler from Bonner County, Idaho, myself – Pastor Joe Boot, and Mr. Nate "N.D." Wilson – as well as beer and Psalms Thursday night with and afterparty sponsored by Darren Doane, concluding with a family style Sabbath dinner Thursday night, with comedian John Branyan bringing the laughs. Gather with likeminded Christians who love freedom, confess Jesus Christ is Lord over all, and be equipped to stand firm in these insane days. Go to FLFNetwork.com/Rally and register today. And remember if you can't make it, all the talks will be live streamed and archived for Fight Laugh Feast Club Members in the club portal. Become a club member today so you don't miss any of them. 
The Jury is Now Sequestered for Deliberation in the George Floyd Trial
But Rep. Maxine Waters was involved in a protest over the weekend calling for a guilty verdict and if they didn't get one, more protests that are more confrontational.
https://www.cnn.com/2021/04/19/politics/maxine-waters-derek-chauvin-trial/index.html
Play Full Audio
This was the topic of conversation in the courtroom with the Chauvin's defense team calling for a mistrial. While the judge ultimately rejected the motion, he did grant that Ms. Waters comments may be sufficient for an appeal:
Play Audio 3:55-4:24
Chicago Mayor Says Rumors of Her Resignation are Homophobic, Racist, and Misogynistic
https://www.rebelnews.com/chicago_mayor_blasts_rumours_of_her_resignation_as_homophobic_racist_misogynistic
From REBEL NEWS: Chicago Mayor Lori Lightfoot was the subject of rumours on Saturday when word spread that she intended to resign as the city's mayor. Lightfoot blasted the unverified rumours, calling the speculation, "homophobic," "racist," and "misogynistic."
Rumours first surfaced of her possible resignation on social media, speculating that Lightfoot would leave office due to the city's stalling on releasing the bodycam footage of a police-involved shooting of a 13-year-old, Adam Toledo.
The next day, rumours flooded social media with claims of a "domestic disturbance" involving Lightfoot, her wife and her daughter. As detailed by the Daily Wire, the unverified allegations misidentified the location and size of Lightfoot's home.
The rumours were sparked by Ja'Mal Green, a black activist and former mayoral candidate who is on a crusade to unseat Mayor Lightfoot, in a now-deleted tweet, the Chicago Sun Times reports.
"Lori Lightfoot is resigning tomorrow in a stunning end to her mayorship," Green stated in his now-deleted tweet.
Chicago news outlets were unable to verify the rumour and are unclear where Green received this information from, or if he simply made it up. Lightfoot took issue with the rumours and immediately addressed them on Twitter, blasting them as "homophobic," "racist," and "misogynistic." She called speculation about her resignation unproductive.
"Seriously, though—our city doesn't have any time for homophobic, racist and misogynistic rumors, today or any day," wrote Lightfoot. "It's shocking and disappointing to see some media members and verified Twitter handles are peddling this trash as truth."
"If people hadn't noticed, we have major challenges in Chicago we need to address TOGETHER," she added. "This nonsense that some apparently have the luxury of indulging in has not fed one person, stopped the pandemic, housed anyone living on the street or saved one young person."
"Anyone who wants to work with me to make progress, I'm ready. Even if we don't always see eye to eye, if you actually love this city and want to be part of making it better, let's do the work," the mayor added. "The rest of you, get out of the way."
"I will continue to lead a group of the willing all across our city who are about doing the people's work. The people of Chicago elected me mayor, and I will continue to serve today, tomorrow and into the future. Back to work," she concluded.
Lightfoot has come under fire for her inability to address the police shooting of Adam Toledo or the outbreak of violence throughout the city under her watch. The death of Toledo, who was firing a gun at vehicles before his fatal encounter with police, has lent urgency to the issue of Chicago's violent crime epidemic.
AD: Have you always wanted to play guitar but thought it was too late to start? Maybe you are in a season of your life where taking in-person lessons wouldn't fit your schedule. For less than the cost of 1 private lesson a month, you could be a part of the community of guitarists at GuitarSuccess4U and learn guitar at your own pace, from the comfort of home. Through video lessons, worksheets, expert interviews, and a proven path to success, fellow Cross Politic listener David Harsh will share with you some of the most relevant tools from his almost 30 years of teaching, touring, writing and leading worship on guitar, to help you become the musician you were made to be. Learn more and join now at www.GuitarSuccess4U.com. That's Guitar Success, the number "4" and the letter "U," dot com. What are you waiting for?
The FDA Has Been Buying Aborted Babies
https://disrn.com/news/600-page-report-reveals-fda-purchased-fresh-aborted-baby-parts/
Legal accountability group Judicial Watch published a 600-page report last week, revealing the U.S. government has been buying and trafficking "fresh" aborted baby body parts.
Emails between the U.S. Food and Drug Administration (FDA) and the California-based Advanced Bioscience Resources (ABR) show discussions on purchasing and selling aborted baby parts. ABR was paid $12,000 per baby, according to records.
The emails also confirm the FDA bought organs of babies from ABR that were aborted after 20 weeks gestation.
Judicial Watch's recent findings add 575 pages of records to its 2019 lawsuit against the U.S. Department of Health and Human Services, which oversees the FDA.
From a Listener: More on the Guy Who Drove Away from the Police and Survived
https://www.dispatch.com/story/news/local/2021/04/15/charges-against-man-who-refused-police-orders-ohio-traffic-stop/7235943002/
Play audio: 0:00-0:30
We played the full video on the last Sunday Special…
A Utah man who fled from law enforcement after he was stopped for speeding last year in Delaware County with a gun on his car seat is awaiting a May 3 hearing in Hamilton County, where the chase ended.
Merak Burr's bond was set at $100,000 in December by a Hamilton County judge. He's charged with carrying a concealed weapon and improperly handling a firearm in a motor vehicle.
When his case is resolved there, he faces six additional charges in Delaware County. These include obstructing official business, two counts of failure to comply with a police order, improperly handling a firearm and two aggravated menacing charges for threats made against the local officers.
Burr, 25, was clocked by the State Highway Patrol Dec. 2 at 85 mph in the southbound lanes of Interstate 71 near the Routes 36/37 interchange.
Remember if you have a news item you think we should cover, send it to News@CrossPolitic.com
https://www.theepochtimes.com/capitol-police-officer-brian-sicknick-died-from-natural-causes-the-day-after-capitol-riot-medical-examiner_3782540.html?utm_medium=social&utm_source=twitter&utm_campaign=digitalsub
U.S. Capitol Police officer Brian Sicknick suffered two strokes and died of natural causes a day after the Jan. 6 Capitol breach, the D.C. Medical Examiner's office confirmed on April 19, ending speculation that he was beaten to death by Trump supporters.
Psalm of the Day: Psalm 90
Play Audio: 1:02-2:05
Teach us, O Lord, how frail is man;
And kindly lengthen out the span,
Till a wise care of piety
Fit us to die and dwell with Thee.

Life is short. Spend it well. Spend it for Christ.
This is Toby Sumpter with Crosspolitic News. You can find this and all of our shows at Crosspolitic.com or on our app, which you can download at your favorite app store, just search "Fight Laugh Feast". Support Rowdy Christian media, and share this show or become a Fight Laugh Feast Club Member. Remember if you can't make it to the Fight Laugh Feast Rally, you club members will have access to all the talks. Go to FLFNetwork.com/Rally. Have a great day.