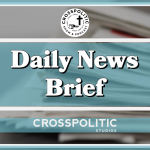 This is Garrison Hardie with your CrossPolitic Daily News Brief for Tuesday, April 25th, 2023.
Dime Payments
Dime Payments is a Christian owned processing payment business. Every business needs a payment process system, so please go to https://dimepayments.com/flf and sign your business up. Working with them supports us. They wont cancel you, like Stripe canceled President Trump. They wont cancel you, like Mailchimp canceled the Babylon Bee. Check them out. At least have a phone call and tell them that CrossPolitic sent you. Go to https://dimepayments.com/flf.
https://thepostmillennial.com/breaking-tucker-carlson-leaves-fox-news-as-they-agree-to-part-ways?utm_campaign=64487
Tucker Carlson leaves Fox News as they 'agree to part ways'
Fox News Media and Tucker Carlson have agreed to part ways, according to a statement released on Monday.
The statement reads: "Mr. Carlson's last program was Friday April 21st. Fox News Tonight will air live at 8 PM/ET starting this evening as an interim show helmed by rotating FOX News personalities until a new host is named.
Carlson's show was frequently the top-rated show on cable news, often surpassing 4.5 million viewers per episode.
The show premiered in November 2016, and took over the coveted 8 pm EST time slot in 2017.
The decision to part ways with Carlson comes less than a week after the broadcaster and Dominion Voting Systems reached a $787 million settlement. Carlson's show was not a main focus of Dominion's lawsuit.
Carlson's departure comes weeks after a former booker at the show, Abby Grossberg, sued Fox, citing "vile sexist stereotypes" working for Carlson. NBC reports that "Grossberg was fired in March after she filed a lawsuit claiming that Fox lawyers coerced her into giving misleading testimony in the Dominion case and that she was being made a scapegoat for the network's 2020 election coverage. Fox says she was fired for divulging privileged information."
Grossberg's lawyer has since said that his client has a "uniquely strong" case against Fox News.
Several former Fox News hosts reacted to the news of Carlson leaving the network, including Megyn Kelly, who said "Good for Tucker. Trust me, he doesn't need them."
Dan Bongino, who also split ways with the network last week, simply tweeted "WTF!" in response.
The media shakeup continued…
https://thepostmillennial.com/breaking-don-lemon-terminated-by-cnn?utm_campaign=64487
Don Lemon TERMINATED by CNN
On Monday, Don Lemon revealed to his Twitter followers that he has been terminated by CNN.
"I was informed this morning by my agent that I have been terminated by CNN," Lemon's statement began. "I am stunned. After 17 years at CNN I would have thought that someone in management would have had the decency to tell me directly."
In response to Lemon's statement, CNN said, "Don Lemon's statement about this morning's events is inaccurate. He was offered an opportunity to meet with management but instead released a statement on Twitter."
Most recently, Lemon was in hot water over comments made about Nikki Haley, being forced to undergo formal training and absent from CNN This Morning for several days.
In Late February, Lemon said of presidential candidate Nikki Haley saying politicians over the age of 75 should undergo mental competency tests – saying she Nikki Haley wasn't in her prime.
Lemon went on to say women were in their prime "in their 20s and 30s and maybe 40s."
The next week though, Lemon didn't return to the program until Wednesday, undergoing "formal training" as to why his comments were wrong. During this time, female CNN staffers threatened to quit if Lemon was allowed back.
During Lemon's absence from the morning show, CNN This Morning's ratings went up by five percent.
In September, Lemon was removed from his long-held primetime slot to the morning show.
https://thepostmillennial.com/nbcuniversal-ceo-ousted-after-having-inappropriate-relationship-with-coworker?utm_campaign=64487
NBCUniversal CEO ousted after having 'inappropriate relationship' with coworker
The CEO of NBCUniversal Jeff Shell has been ousted from the company after an investigation revealed that he was having an 'inappropriate relationship' with a female employee at the company.
Shell, who made $21.6 million per year, risked his high earnings by going against company policy and admitting to executives that he was having an "inappropriate relationship" with another woman at the company. NBCUniversal made the announcement that Shell had been terminated in an email sent to employees on Sunday, according to CNBC.
The findings were revealed when an outside company was hired to investigate a complaint against Shell. Shell is currently married to Laura Fay Shell, who previously worked for the City of Los Angeles, Daily Mail reports.
"Today is my last day as CEO of NBCUniversal. I had an inappropriate relationship with a woman in the company, which I deeply regret," Shell said in a statement. "I'm truly sorry I let my Comcast and NBCUniversal colleagues down, they are the most talented people in the business and the opportunity to work with them the last 19 years has been a privilege."
In 2020, the vice president of NBCUniversal, Ron Meyer, was ousted from the company after improperly disclosing that he was ordered to pay a settlement to a woman he reportedly had a "consensual affair" with. Shell is the second executive to be ousted in recent years.
Lots of ousting lately… Now this…
https://townhall.com/tipsheet/saraharnold/2023/04/23/canada-could-supply-us-with-abortion-pills-if-courts-ban-it-n2622298
Canada Suggests It Would Provide Women With the Abortion Pill If the U.S. Bans It
The Canadian government said it "would work to provide" Americans access to the abortion pill, mifepristone, if the controversial drug gets banned in the U.S.
Families Minister Karina Gould said it concerns her that U.S. laws are looking to "criminalize" women seeking access to reproductive healthcare.
On Friday, the Supreme Court paused a federal judge's order to restrict access to mifepristone after the 5th Circuit Court overlooked a case to take the dangerous drug off the market after Texas Judge Matthew Kacsmaryk ruled that it should not be allowed arguing that the FDA expedited the process to "green light elective chemical abortions on a wide scale."
Last year before the Supreme Court overturned Roe v. Wade, Gould said that Americans would be able to get an abortion in Canada, which is typically less regulated than it is in the U.S. and available at later stages of pregnancy.
https://www.dailywire.com/news/newsom-directs-national-guard-to-combat-san-franciscos-fentanyl-crisis
Newsom Directs National Guard To Combat San Francisco's Fentanyl Crisis
Governor Gavin Newsom (D-CA) directed the state National Guard and California Highway Patrol to help in the fight against fentanyl trafficking in San Francisco.
As part of a new partnership, the agencies are tasked with identifying personnel and resources to assist San Francisco following a 41% spike in fentanyl overdose deaths in the first few months of this year.
"We are providing more law enforcement resources and personnel to crack down on crime linked to the fentanyl crisis, holding the poison peddlers accountable, and increasing law enforcement presence to improve public safety and public confidence in San Francisco," Newsom said in a statement on Friday.
Newsom's office said the collaboration, which also includes the San Francisco Police Department and and the San Francisco District Attorney's Office, will be focused on drug suppliers and traffickers rather than seeking to criminalize those struggling with substance abuse in a city that has recorded several hundred accidental overdose deaths annually in recent years.
The agreement will "lead to the formation of a new collaborative operation between all four agencies focused on dismantling fentanyl trafficking and disrupting the supply of the deadly drug in the city by holding the operators of large-scale drug trafficking operations accountable," the governor's office said.
Newsom paid a visit on Wednesday to San Francisco, a city he once led as mayor, and surveyed the Tenderloin neighborhood, which has been hit hard by crime and the fentanyl crisis. The trip took place a couple weeks after San Francisco Mayor London Breed requested federal assistance to arrest and prosecute drug dealers while the city contends with a short-staffed police department, according to local ABC affiliate KGO.
During Newsom's visit to Tenderloin, activist JJ Smith pressed the governor on what he is doing to stop the fentanyl crisis, according to CBS News Bay Area. JJ Smith recalled Newsom saying he is working on the issue, a response which the activist felt was inadequate.
Newsom, who is widely seen as a top future presidential contender for the Democrats, says he has already invested more than $1 billion to tackle the opioid and fentanyl crisis in California. His new budget request seeks another $96 million in funding to tackle the problem.
Now for my favorite topic… sports!
https://dailycaller.com/2023/04/23/phil-jackson-nba-bubble-social-justice/
Legendary Coach Criticizes NBA For Being Too Political
Legendary coach Phil Jackson was trending on the Internet Saturday due to comments he made criticizing the NBA on the podcast "Tetragrammaton with Rick Rubin."
During the April 5 podcast, the 11-time NBA champion said he stopped watching games during the 2020 NBA Bubble in Orlando because the league had become too political.
The Orlando games were held during the COVID-19 pandemic and came on the heels of George Floyd's death in police custody and subsequent protests in May.
Legendary NBA coach Phil Jackson slams league for becoming too political-Play 0:12-0:32
Jackson referred to social justice slogans the NBA allowed players to wear on the backs of their uniforms in 2020. The slogans included "Black Lives Matter," "Freedom," "Justice," "Enough," and "Power to the People," among others.
Jackson said he didn't see how these gestures made an impact and commented on how past athletes kept their political views to themselves. "Bill Bradley was a senator, a number of baseball players have been representatives and senators. . .But their politics stay out of the game. It doesn't need to be there."
Jackson, 77, played in the NBA for twelve seasons and coached for 20. He retired from coaching in 2011.