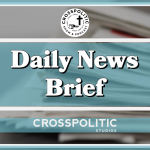 … and more on today's CrossPolitic Daily News Brief. This is Toby Sumpter. Today is Tuesday, April 26, 2022.
French President Emmanuel Macron won re-election to a second term on Sunday, beating far-right challenger Marine Le Pen.
https://twitter.com/SBSNews/status/1518436382946914304?s=20&t=JmyST1xPkVhXKkXGViCwCA
Play: 0:00-0:26
The election runoff was a rematch of their 2017 race, when the center-right Macron ran as a fresh face and trounced Le Pen 66.1 percent to 33.9 percent. Sunday's vote was closer but still decisive, with Macron, now running with a clear record, winning 58.5 percent to 41.5 percent. Biden said he felt good about the election, and was looking forward to talking to Macron Monday.
https://twitter.com/therecount/status/1518611872139857921?s=20&t=9oZvYhXWZjIpSuf9IksCvw
Play Audio
Macron said his re-election was a win for "a more independent France and a stronger Europe," although he called it his duty to "respond effectively" to "the anger that has been expressed" in the campaign. Le Pen conceded defeat but said French voters showed they wanted a "strong counter power" to Macron.
Is DeSantis Really Fighting or Just Shadow Boxing?
Republican Gov. Ron DeSantis signed a bill last Friday that revokes a special tax district which essentially gave Disney governing powers on its theme park land at Orlando. The new law was apparently an act of retribution for Disney's belated opposition to the controversial "Don't Say Gay" law approved just a few weeks earlier by the state's GOP-led legislature.
"You're a corporation based in Burbank, California, and you're gonna marshal your economic might to attack the parents of my state," DeSantis said before signing the anti-Disney law. "We view that as a provocation, and we're going to fight back against that."
The question is whether this commitment to "fighting back" probably means hurting Florida taxpayers. It's a complicated story, but the gist appears to be that revoking Disney's tax district essentially puts area residents on the hook for more than $1 billion in bonds the company used to pay for things like water service and new roads on its land. Local homeowners could see their taxes jump by 20 percent as a result – to the tune of 163 million per year.
Orange County Tax Collector Scott Randolph, a Democrat and the former ranking member of the Florida House finance and tax committee, claims that if Reedy Creek ceases to exist, the residents of his county and neighboring Osceola will have to take on its tens of millions in bond payments and operational expenses currently paid by Disney, but will be left without the ability to collect revenue because the taxing authority will no longer exist.
Randolph told FOX Business that could mean an increase in property taxes of 25% if Orange County has to absorb all of it.
Florida state Rep. Randy Fine, the Republican who sponsored the legislation, told FOX Business that that argument is "just a scare tactic used by woke politicians."
Fine acknowledges that the local entities where Reedy Creek lies will pick up the Reedy Creek's debt once the district is dissolved, but says those local governments can create Municipal Service Taxing Units (MSTU) that would also "pick up the revenue that would be going to pay for the debt." He insists that "There's no impact to taxpayers."
Randolph argues that according to Florida statute, the local governments cannot impose MSTUs on Reedy Creek because it is an independent tax district. Therefore, he says, when that incorporated municipality dissolves, Disneywould have no obligation to pay the $163 million each year.
Fine says that's why the service taxing units are municipal, and therefore not something handled by the state. "Scott Randolph's job is to open envelopes and to take out checks," the lawmaker told FOX Business. "He probably should stick to that. He doesn't set tax policy."
In reply, Randolph said, "Randy Fine doesn't understand basic math."
Raldolph says the bill against Disney was rushed through in 48 hours without legislators working out the details, but acknowledges that there is over a year for local municipalities to work out how they will manage the transition.
After signing the legislation into law, DeSantis' office issued a statement clarifying that "it is not the understanding or expectation for SB 4-C, abolishing independent special districts, to cause any tax increases for the residents of any area of Florida."
The new law undoing Disney's tax district doesn't actually take effect until June 2023, and observers think the company and the state might work out some kind of accommodation by then. The whole incident might end up as little more than a showy, performative in-kind contribution from the Florida Legislature to DeSantis' incipient 2024 presidential campaign.
So the question is what is actually going on here? If DeSantis revoking some privileges from Disney, that seems reasonable, since Disney has publicly signaled that they are planning to do more grooming of Florida's kids. At the same time, dropping a huge tax bill on that region could be detrimental, although maybe not as detrimental as Disney continuing to brainwash the children and families of Florida. At the same time, some transparency on taxes and funding would be nice. And the people of Florida who care about real freedom and virtue should want to see those numbers include indications of putting money and therefore freedom back in the pockets of the people of Florida, not government programs or temporary dispensations from the government.
Not so long ago, the American dream was alive and well. Employees who worked hard were rewarded, and employers looked for people who could do the job, not for people who had the right political views. RedBalloon.work is a job site designed to get us back to what made American businesses successful: free speech, hard work, and having fun. If you are a free speech employer who wants to hire employees who focus on their work and not identity politics, then post a job on RedBalloon. If you are an employee who is being censored at work or is being forced to comply with the current zeitgeist, post your resume on RedBalloon and look for a new job. www.redballoon.work, the job site where free speech is still alive!
Toronto Zoo is Administering COVID-19 Shots to Animals
https://globalnews.ca/news/8776124/toronto-zoo-covid-19-vaccines-zoetis/amp/?fbclid=IwAR3DJMOiEPtAlKgmRfGnawJioi1YOANHRKt_BSJi8vF5FYm8RQjs_ly6D0A
The Toronto Zoo says it has begun administering COVID-19 vaccines to its most susceptible animals.
In a press release issued Thursday, the zoo said it has received COVID-19 vaccines for animals developed and donated by Zoetis.
According to the zoo, it has received 320 doses of the vaccine. Each animal will need two doses, administered two-to-three weeks apart.
The zoo said it has 120 animals that have already or will soon receive a vaccine, "based on the COVID-19 sensitivity list that has been developed through on-going research and reports of positive cases in other zoos."
The release said zoos in the U.S. have been vaccinating their animals since 2021, adding that "to date there have been no significant adverse effects reported."
According to Dolf DeJong, CEO, Toronto Zoo, the zoo has not seen any positive cases of the virus within it's animals during the pandemic.
"Being able to add this extra layer of protection allows us to continue doing everything we can to provide them with the highest level of protection and medical care," DeJong said.
According to the zoo, animals are given the choice if they want a vaccine or not. Wait. What?!
The zoo said animals undergo "positive reinforcement training" adding that many animals "willingly present an area of the body (such as an arm or tail) as part of their training exercises with their trusted keepers, with desirable treats often used as a reward for their participation."
The zoo said the training sessions are voluntary.
The zoo said the training allows the animals to participate in other things like X-rays, blood draws, hoof trimming, which "allow the keepers and veterinary team to monitor their health regularly" without "causing the animals any undue stress."
You know this is hilarious. But it's also full of propaganda. To call what these folks are doing to zoo animals "voluntary" and a "choice" is wicked. Now I don't think animals need to be given any choices. They need to be cared for as creatures made by God, but man is responsible to take dominion over the creatures, to rule over them in wisdom. But in an evolutionary worldview, human beings are just animals, and so we can be locked in our homes, or in cages, and what is forced upon us can be called voluntary and our free choices, with just enough positive reinforcement training.
Lies, Propaganda, Story Telling, and the Serrated Edge DNB:
This year our national conference is in Knoxville, TN October 6th-8th. The theme of this year's conference is Lies, Propaganda, Storytelling and the Serrated Edge. Satan is the father of lies, and the mother of those lies is a government who has rejected God. We have especially been lied to these last two years, and the COVIDpanic has been one of the central mechanisms that our government has used to lie to us and to grab more power. Because Christians have not been reading their bibles, we are susceptible to lies and weak in our ability to fight these lies. God has given us His word to fight Satan and his lies, and we need to recover all of God's word, its serrated edge and all. Mark your calendars for October 6th-8th, as we fight, laugh and feast with fellowship, beer and Psalms, our amazing lineup of speakers, hanging with our awesome vendors, meeting new friends, and more. Early bird tickets are available to the end of May. Remember: FightLaughFeast Club members get $100 dollars off.
https://www.dailywire.com/news/university-offers-tenure-track-only-for-women-non-binary-or-two-spirit-persons
University of Waterloo is Trying to Keep Up with the Toronto Zoo
TheDailyWire Reports: The University of Waterloo is advertising a researcher position exclusively for "qualified individuals who self-identify as women, transgender, non-binary, or two-spirit."
The position at the Canadian university is for a researcher in the Natural Science and Engineering Research Council. While "exceptional" candidates may be considered for an assistant professor position, the advertisement makes it clear that you cannot be one of these candidates if you are a male.
"This call is open only to qualified individuals who self-identify as women, transgender, non-binary, or two-spirit." The term "two-spirit" referring to an Indigenous person who identifies as more than one gender.
The university did not immediately respond to requests for comment from The Daily Wire.
Applicants are required to "self identify" through a university survey, which first asks applicants to select whether they identify as a woman, a man, transgender, "gender-fluid and/or non-binary," two-spirit, or "prefer not to answer."
The applicant is then asked to select the option they identify with: asexual, bisexual, gay, lesbian, pansexual, straight or heterosexual, other, or "prefer not to answer."
"Select all that apply," the survey notes.
The University of Waterloo emphasizes that it seeks to attract "outstanding and diverse faculty members with the goal of being recognized as one of the top innovative universities in the world," noting that "embedding equity, diversity and inclusivity across the research enterprise enhances research excellence."
"As such, we encourage applications from candidates who have been historically disadvantaged and marginalized, including applicants who identify as Indigenous peoples (e.g., First Nations, Métis, Inuit/Inuk), Black, racialized, people with disabilities, women and/or 2SLGBTQ+," the advertisement says.
In the university's advertisement it notes that the candidate "will propose an innovative program of high-quality research that will attract external funding and excellent, well qualified and diverse graduate students."
"Evidence of an active research program with emphasis on climate and/or climate change science, water science and sustainability, or future cities and a successful record of Tri-Agency research funding, or equivalent, is required," the advertisement says. "Ability and desire to partner with faculty in closely related fields is required."
Psalm of the Day: Psalm 148
https://www.christkirk.com/wp-content/uploads/2016/06/18-Psalm-148-From-Heavn-O-Praise.mp3
Play: 0:00-0:41
Amen.
This is Toby Sumpter with CrossPolitic News. Remember you can always find the links to our news stories and these psalms at crosspolitic dot com – just click on the daily news brief and follow the links. Or find them on our App: just search "Fight Laugh Feast" in your favorite app store and never miss a show. If this content is helpful to you, would you please consider becoming a Fight Laugh Feast Club Member? We are building a cancel-proof Christian media platform, and we can't do it without your help. Join today and get a $100 discount at the Fight Laugh Feast conference in Knoxville, TN Oct. 6-8, and have a great day.