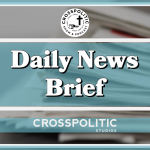 This is Mark Dewey with your Cross Politic Daily News Brief for Tuesday, April 27, 2021. I'm filling in today for Choc, Gabe, and Pastor Toby as they are in South Dakota for the FLF Rally. I'll let Pastor Toby remind you of the details.
Speaking of South Dakota…that State, along with Tennessee, Idaho, Arkansas, and Mississippi have placed a ban on transgender athletes in school sports. A ruling by a federal judge to block this hasn't deterred the State of Alabama from joining those other 5 states. The Epoch Times reported on Sunday that last week…
Alabama Gov. Kay Ivey signed into law a bill that bans transgender student-athletes from competing on K–12 public school single-sex teams that match their gender identity…House Bill 391, was overwhelmingly approved by the Republican-controlled state legislature last week and it mandates that those who aren't biologically male or female won't be able to participate in school-sponsored sports events that are inconsistent with their sex assigned at birth.
Until recently nobody would've considered such legislation necessary. It has been common sense and the common practice throughout our history that boys are boys and girls are girls. When it comes to sports, there are boys or mens sports and girls or women sports.
However, the Biden administration wants to end the common practice in our nation, by obliterating common sense. All with the ultimate goal of trying to wipe out any vestiges of God's Word on this and all matters. Biden and his cohorts think nobody should be denied access to the bathroom, locker room, or sports team of their own choosing. And they claim these are "rights" that should not be denied. This is the logical end of denying right and wrong, good and evil are determined by God. That rights are from the Lord, not men. When men believe they grant rights, they can grant them as they deem worthy. Along with that they can deny them as they see fit.
That has been happening by civil authorities in our country and around the world in appalling fashion for some time, especially in the past year or so; nowhere more profoundly or more wickedly than when governments from the local to national level tell churches if, when, where, and how they meet for corporate worship.
We have seen the extreme levels some are willing to go by witnessing what has been done to Pastor James Coates and Grace Life Church. Thankfully, they have remained faithful amidst the persecution they are enduring. They continue to love God, sing Psalms, and defy tyrants. And, thanks be to God, some governing authorities in the United States also pushing back against such tyranny.
The US News, in an article by Jack Phillips on Sunday, reported that New Mexico Gov. Michelle Lujan Grisham is allowing places of worship around the state to operate at maximum capacity, about a year after the state started limiting capacity because of the COVID-19 pandemic.
"The change was made in light of recent U.S. Supreme Court decisions that enjoin states from enforcing capacity limits on churches that are more restrictive than other entities like factories and schools…
The move comes after a Supreme Court ruling on April 9 that California couldn't enforce pandemic-related restrictions on places of worship, prayer meetings, Bible studies, and other affiliated events. It came after faith groups and residents filed lawsuits against Gov. Gavin Newsom, a Democrat.
The State of Indiana has also taken action. Michael Gryboski with the Christian Post Reporter ran a story with the headline: Indiana Gov. Eric Holcomb signs law designating churches as essential services, banning gov't mistreatment
Indiana Gov. Eric Holcomb signed a new law that prohibits the state government and its agencies from treating a religious body worse during a public health emergency than secular entities.
Known as Senate Enrolled Act 263 and signed Thursday, the legislation designates houses of worship as essential services and thus prohibits them from being treated worse than secular entities.
"Religious organizations provide essential services that are necessary for the health and welfare of the public during a disaster emergency," reads SEA 263 in part.
"[T]he state and a political subdivision may not impose restrictions on … the operation of a religious organization; or … religious services that are more restrictive than the restrictions imposed on other businesses and organizations that provide essential services to the public."
It also noted…
North Dakota Gov. Doug Burgum signed a similar bill into law in March, likewise preventing state health officials from, among other things, issuing emergency orders that treat religious bodies worse than secular entities unless there is a compelling state interest.
While many are lauding the decision, including the Alliance of Defending Freedom; the ACLU isn't among them.
Grateful for this type of legislation, but have significant concerns about being "allowed" to gather for worship by civil government. The Lord God Almighty calls us to worship Him. We have a command from King Jesus to gather, whether "allowed" by civil authorities or not, we MUST obey God rather than men. Love God, sing Psalms, and defy tyrants.
While a number of States are resisting ridiculous laws, orders, and practices…many are not. My home state of Michigan continues to kick against the goads. WZZM-13 in Grand Rapids, the news source I grew up watching, reported on Monday…
Beginning Monday, April 26, Michigan's face mask mandate will also apply to children between the ages of two and four. That means they are now required to wear a mask in all public places, including schools, childcare centers and camps.
There's more to this story, but I think that's enough to understand how insanity is ruling over the residents of Michigan by Governor Whitmer and others. But at least, with all the draconian decrees being declared in the Great Lakes State, Michigan is one of the best at controlling the spread of COVID-19…Oh, wait…never mind.
Heading north and west from Michigan there is some "interesting" news coming out of Minnesota
THE HILL
Minnesota AG explains why Floyd's death not charged as hate crime
BY MYCHAEL SCHNELL – 04/25/21 11:08 PM EDT
Minnesota Attorney General Keith Ellison made his case for why George Floyd's death was not charged as a hate crime, arguing that systemic racism, not individual racial motivation, was at work when former Minneapolis police officer Derek Chauvin knelt on Floyd's neck for nine minutes.
Ellison expressed his views on "60 Minutes" which aired on Sunday.
So it wasn't a hate crime because Chauvin didn't act out of personal racism, but George Floyd's death was caused by us all due to systemic racism. If that doesn't make sense to you, you are not alone.
Ben Shapiro (pero) summed up his take on this with these words he posted on Twitter:
In which we learn that while there was no evidence the Floyd killing was racist, it was still racist because America is racist, and we know that America is racist because the Floyd killing was racist, the evidence of which is that America is racist.
But let's end the News Brief with something a bit more encouraging:
Fact-checkers and journalists have confirmed that there are no plans to cut red meat consumption for Americans under President Joe Biden's climate initiative. While Biden's plan seeks to reduce greenhouse gas emissions by half by 2030, this plan does not include banning red meat.
What kind and benevolent dictators we have. Fire up the grill men.
This is Mark Dewey with Cross Politic News. You can find this and all our shows at CrossPolitic.com. I am a host of one of those shows. In the Bullpen with Mark Dewey drops every Monday morning. Each episode looks at the game of baseball, Major Leagues to Little League, from a biblical perspective while rejoicing in the truth that Jesus is Lord over all – including the great game of baseball that God has given us to enjoy. You can find all our shows on our app which you can download at your favorite app store. Just search Fight Laugh Feast. Have a blessed day.