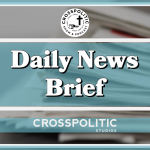 Jeff Shafer, Ukrainian atrocities, Ketanji Brown Jackson, and an Oberlin College court dcision… and more on today's CrossPolitic Daily News Brief. This is Toby Sumpter. Today is Tuesday, April 5, 2022.
Hale Institute Director Jeff Shafer on Sunday Special
https://fb.watch/cb7NOUgWIo/
11:03-13:00
The courts repudiating and severing rulings from created reality, and moving toward statist conceptions of all things…
Idaho Family Policy Center:
I wanted to let you all know about Idaho Family Policy Center. IFPC is currently the only explicitly Christian policy organization in Idaho politics. Toby Sumpter and Israel Waitman serve on the board, and the president is Blaine Conzatti, a member of our sister CREC church, Kings Congregation down in Meridian. Blaine and IFPC have been leading the efforts to defund Planned Parenthood, end abortion in Idaho, and protect children from the transgender agenda. Basically, Blaine is a really strategic voice in Idaho politics, and he represents many of our biblical and constitutional concerns in Boise. IFPC is a brand new ministry and as such is in significant need of donations to help fund it. I know we all have many commitments to other good ministries, but if you are particularly concerned about Idaho politics, this is one way you can have a very direct impact. Go to www.idahofamily.orgto learn more and make a donation.
Atrocities Emerging from Ukraine
https://www.thebulwark.com/the-bucha-atrocities-and-the-kremlin-apologists/
From the Bulwark: The gruesome discoveries in Bucha, Troyanets, and other Kyiv suburbs newly freed from Russian occupation have shifted the discourse on Russia's war in Ukraine, putting the focus on Russian atrocities against the civilian population. By now the horrific photos and videos—bodies buried in mass graves or lying by the roadside, some victims with hands tied execution-style behind their backs—have been seen and shocked many around the world. Survivors' harrowing accounts of rape, torture, looting and other war crimes by Russian forces are also emerging. Inevitably, there are also the skeptics warning about propaganda, fakes, and emotional reactions – of which there have been some.
This is not the first time that atrocities and war crimes have been reported since Vladimir Putin's invasion of Ukraine on February 23. On March 16, the Donetsk Regional Theater of Drama in Mariupol, where over a thousand people were sheltering—and "children" was written in large letters in the front and the back of the building—was bombed, leaving as many as 300 dead. The Russian state-owned media blamed Ukrainian extremists from Ukraine's supposedly "neo-Nazi" Azov Regiment.
The photos and videos of dead people lying in the road, or slumped at the wheels of the cars where they were shot. The mass graves, reportedly containing more than 400 bodies. Victims of mass executions, some with tied hands, strewn in the yard of an office building amidst garbage. A man's half-naked bloodied body dumped into a cistern. More bodies in the basements of homes. An old woman in the front yard of her house showing journalists the body of her middle-aged daughter who'd been gunned down from a passing Russian tank, the unburied dead woman's legs sticking out from under plastic sheeting after the boards that had covered the body were lifted to allow visiting officials to examine it. Accounts of four weeks of living hell that included rape at gunpoint, followed by beatings the marks of which could still be seen on the victim. It makes for almost unbearable reading and viewing. A man shot dead for being out past the 3 p.m. curfew because he was running to the hospital after his wife had gone into labor. A 60-year-old veteran of the Soviet war in Afghanistan, shot dead because he refused to vacate his home.
Russia's conduct in Ukraine fits its own definitions of terrorism. As originally enacted in 1994, Russia's criminal code defined terrorism as "bombings, arson, and other acts causing a threat to human life, major property loss, and other negative consequences committed against public safety or with the aim of influencing decision-making of the government authorities." The law was revised in 1997 to include reference to "the aim of spreading fear among the population." It was revised again in 1998 and 2006, after which it defined an "act of terrorism" as "perpetrating an explosion, arson or other actions connected with intimidating the population" to influence public officials.
May God destroy Putin and end this war soon.
FLF Club Membership Plug:
Are you an FLF club member? Because if not, you really should be. You could become a club member for as little as $5 per month. That's a cup of coffee… You could also go as big as $100.00 per month, then you're really cool… the point is, it really is a blessing to us when you sign up as a club member. It's huge for our long-term success, as we strive to become a world-wide Christian TV Network, that spreads the Lordship of Jesus, across the globe. So, if you're not a club member yet, head on over to flfnetwork.com/membership… to sign up today. That's flfnetwork.com/membership.
Senate panel deadlocks on Ketanji Brown Jackson's Supreme Court nomination
https://www.wsj.com/articles/supreme-court-pick-ketanji-brown-jackson-moves-toward-confirmation-11649085652?mod=hp_lead_pos3
The Senate Judiciary Committee deadlocked on Judge Ketanji Brown Jackson's nomination to the Supreme Court on Monday, with the panel's 11 Democrats supporting her and 11 Republicans opposed, underscoring the intense partisanship that has come to define the Supreme Court confirmation process.
The tally was the first in a series of votes needed to advance Judge Jackson, the first Black woman to be nominated to the court, toward likely confirmation later this week. The tie forced another vote later Monday on the Senate floor, where a simple majority, or 51 votes, is needed to move her nomination forward. That vote is expected to succeed.
Such ties in committee are rare, in part because the majority party usually holds more seats on the committee than the minority. But the Senate is divided 50-50 between both parties, with Vice President Kamala Harris holding the tiebreaking vote. A power-sharing agreement reached last year between Senate leaders gave Republicans an equal number of seats to Democrats on every committee, while Democrats hold the chairmanships.
Once the full Senate votes to discharge Judge Jackson's nomination Monday night, Senate Majority Leader Chuck Schumer (D., N.Y.) will set up another procedural vote for Thursday, followed by a final confirmation vote later Thursday or Friday, both at simple majority thresholds.
All 50 Democrats are expected to support Judge Jackson's confirmation, along with at least one Republican, Sen. Susan Collins of Maine.
Two other Republicans considered possible votes for Judge Jackson are Mitt Romney of Utah and Lisa Murkowski of Alaska. Their votes on discharging her nomination from committee Monday night will be closely watched, since they could reveal where they stand on her confirmation.
Since 1870, the Judiciary Committee typically has reported a favorable recommendation for confirmation if a majority of committee members support the nominee. The panel has favorably reported 77 Supreme Court nominations over the past century and a half, and 71 of those went on to be confirmed, according to the Congressional Research Service. Three nominees were reported to the Senate explicitly without recommendation, but went on to be confirmed anyway: two justices in the 19th century and Justice Clarence Thomas, who had been accused of sexual harassment, in 1991. Justice Thomas denied the allegations.
The committee didn't vote Monday on whether to report Judge Jackson's nomination favorably, unfavorably or without recommendation. Instead, the vote was on a motion simply to discharge her nomination from the committee and send it to the Senate floor.
If confirmed, Judge Jackson would fill the seat of Justice Stephen Breyer, who has said he intends to retire at the end of the term, in late June or early July.
There is no vacancy until he formally retires from the court and the president signs Judge Jackson's commission, formally appointing her to the office.
https://legalinsurrection.com/2022/03/appeals-court-upholds-gibsons-bakery-massive-verdict-against-oberlin-college/?fbclid=IwAR2UOH5seeKTQxXV8BkLXFDkoyP0_Bazrpc6rNWIPe03lGe07N8wqsUqc98
A store clerk, a member of the Gibson family, caught an Oberlin black student shoplifting, a scuffle ensued that was joined by two other Oberlin black students. When the police arrived, they arrested the students who eventually pleaded guilty. But before that, the college officials and students accused the bakery of racial profiling, called a boycott, suspended Gibson's business with the college, and organized protests outside the bakery.
At the protests, a flyer was handed out, according to witnesses who testified at trial, by Dean of Students Meredith Raimondo, who also handed out stacks of flyers for others to distribute. The flyers accused the Gibsons of a long history of racial profiling, including in the incident with these shoplifters. The Gibsons disputed that allegation and that they did anything wrong in this incident, and requested a public apology from the college in order to repair the reputational damage, but the college refused. (To this day it never has apologized.)
Based on the actions of college officials in conveying and promoting the defamatory accusations, a lawsuit was filed, resulting in massive verdicts for the owners of the bakery, David Gibson and his father, Allyn Gibson. Legal Insurrection was the only national media outlet to have someone in the courtroom reporting, including when the verdicts came down:
On November 10, 2020, the Court heard oral argument on (1) the appeal by Oberlin College and Dean of Students Meredith Raimando seeking to overturn the compensatory and punitive damage awards totalling, after reduction under Ohio tort reform law, $25 million, plus over $6 million in attorney's fees, bringing the judgment to over $32 million, and (2) the cross-appeal by Gibson's Bakery and two members of the Gibson family (including the widow of the late David Gibson) seeking to restore the full $33 million punitive damages award, arguing the tort reform reduction was unconstitutional, which would add back about $15 million to the judgment.
As satisfying as this must be to the Gibson family, it also must be bittersweet because the two lead plaintiffs and the patriarchs of the family did not live to see the appeals court verdict:
Psalm of the Day: Psalm 42: As The Hart About the Falter
https://www.christkirk.com/wp-content/uploads/2016/06/06-Psalm-42-As-The-Hart-About-To.mp3
Play: 3:55-5:28
Amen.
This is Toby Sumpter with CrossPolitic News. Remember you can always find the links to our news stories and these psalms at crosspolitic dot com – just click on the daily news brief and follow the links. Or find them on our App: just search "Fight Laugh Feast" in your favorite app store and never miss a show. If this content is helpful to you, would you please consider becoming a Fight Laugh Feast Club Member? We are trying to build a cancel-proof media platform, and we need your help. Join today and get a discount at the Fight Laugh Feast conference in Knoxville, TN and have a great day.