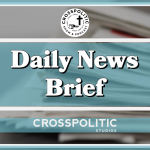 This is Toby Sumpter with your CrossPolitic Daily News Brief for Tuesday, April 6, 2021.
Major League Baseball is Wokey McWoke Face, Shohei Ohtani setting records, China money is going digital, and Japan gives China a rare rebuff.
Are you a Fight Laugh Feast Club Member? For as little as $5 a month you can support Rowdy Christian Media like this and allow us to expand our reach and influence. For $10 and above club members we have tons of club content, exclusive behind-the-scenes interviews and master classes with Gary Demar on God and Government and Eschatology, Voddie Baucham on cultural marxism, Doug and Nancy Wilson on parenting, and more on biblical counseling, film making, pastors and politics, Proverbs with Pastor Toby, plus all the footage from our East Coast Tour where we talked with Erick Erickson, David French, Sho Baraka, Maj Toure, and Walter Williams – plus all the talks from our Fight Laugh Feast Conference last October. Go to flfnetwork.com/membership, become a Fight Laugh Feast Club Member today and get your very own Fight Laugh Feast T-shirt. 
Remember: If you have a news story you think we might need to cover, please send articles and links to [email protected]. And check out DeftWire.com, our news aggregator.
Major League Baseball Announced It would be moving the All Start Game out of Georgia as retribution for the new Georgia Election Law
https://www.dailywire.com/news/rand-paul-mlb-might-be-a-little-too-woke-if-league-does-business-with-chinese-communists-while-boycotting-georgia
On Friday, Comissioner Rob Manfred said that the MLB was relocating the all-star game and draft because it was "the best way to demonstrate our values as a sport."
"Over the last week, we have engaged in thoughtful conversations with Clubs, former and current players, the Players Association, and The Players Alliance, among others, to listen to their views," Manfred said in a statement. "I have decided that the best way to demonstrate our values as a sport is by relocating this year's All-Star Game and MLB Draft."
Two days prior to the announcement, the league extended a television deal with state-owned Chinese tech giant Tencent on Wednesday. The new deal grants Tencent the rights to stream MLB games to a number of Asian countries until 2023, according to Fox News.
"Your sports league might be a little too woke if it will freely do business with Communists in China and Cuba, but boycotts a US state that wants people to show an ID to vote," Paul wrote.
From Disrn News: After Major League Baseball (MLB) announced the decision to move their annual All-Star Game from the state of Georgia in protest of its new voter integrity law, Senate Majority Leader Chuck Schumer (D-NY) invited the league to host the event in New York.
Some have blasted Schumer for his statement, noting that the state he represents actually has voting laws that are far more restrictive than those in Georgia.
The New York Post actually noted that the Empire State has eight less days of early voting than Georgia, and unlike Georgia, New York demands voters produce an "excuse" if they wish to vote absentee.
Meanwhile in Congress…
"Get woke, go broke" has become an anthem for critics of Major League Baseball's decision Friday to pull its All-Star Game and 2021 draft from Atlanta in protest of Georgia's new election integrity law.
But perhaps the most condemning response to the organization's decision is coming not from fans but from Congress.
Rep. Jeff Duncan, a Republican from South Carolina, said Friday that he plans to introduce legislation that will remove MLB's antitrust exemption after Commissioner Rob Manfred announced the Georgia move in response to the passage of state Senate Bill 202.
Firing back at the MLB commissioner, Duncan announced his own plans for retaliation.
"In light of @MLB's stance to undermine election integrity laws, I have instructed my staff to begin drafting legislation to remove Major League Baseball's federal antitrust exception," he tweeted Friday.
"An overwhelming bipartisan majority of Americans support requiring an ID to vote, and any organization that abuses its power to oppose secure elections deserves increased scrutiny under the law," the congressman added.
According to Fox Business, "MLB's antitrust exemption has been in place since a 1922 Supreme Court decision ruled that the league is a sport and not a business."
Antitrust laws encourage competition by "limiting the market power of any particular firm," meaning exemptions from these laws effectively eliminate industry competition for the league.
If this exemption were to be revoked, it could promote competition in the "business" of baseball, putting an end to MLB's monopolization.
Despite the Woke Madness, Shohei Ohtani "Sho Time" of the LA Angels Turned heads Sunday Night
https://www.mlb.com/news/shohei-ohtani-pitching-batting-second?partnerId=zh-20210405-156906-MLB&qid=1026&bt_ee=eMXGrXKnE7A4JMLas6m816VbHtw6N87KWmtzX%2Fc%2BrA%2FqTOdvV%2FqUlQEG13egZ2iH&bt_user_id=&bt_ts=1617622620268
First off he was the starting pitcher and he was hitting 101 miles an hour:
(second video on the page) 0:00-0:15
But that's not all. The next inning he batted second in the line up.
(third video on the page) 0:47-127
Exit velocity 115 mph/450 feet. He was the first pitcher to bat second since Jack Dunleavy did so for the Cardinals on Sept. 7, 1903. And only two pitchers have hit for themselves with the designated hitter available since Ken Brett did it twice in 1976. Andy Sonnanstine hit for himself in 2009 because of a mistake on the lineup card, while Madison Bumgarner batted for himself in an Interleague start against the A's in 2016.
FLF Rally
Have you registered for the Fight Laugh Feast Rally in Rapid City, South Dakota, April 29, 30, May 1? Excited to see many of you as we learn to Love God, Sing Psalms, Defy Tyrants. Come hear talks from Pastor Doug Wilson, Ben Merkle, Steve Deace, Sheriff Daryl Wheeler from Bonner County, Idaho, myself – Pastor Joe Boot, and now the very latest: Mr. Nate "N.D." Wilson. Gather with likeminded Christians who love freedom, confess Jesus Christ is Lord over all, and be equipped to stand firm in these insane days. Go to FLFNetwork.com/Rally and register today. 
China Announces Digital Yuan
https://www.wsj.com/articles/china-creates-its-own-digital-currency-a-first-for-major-economy-11617634118?mod=trending_now_news_2
A thousand years ago, when money meant coins, China invented paper currency. Now the Chinese government is minting cash digitally, in a re-imagination of money that could shake a pillar of American power.
It might seem money is already virtual, as credit cards and payment apps such as Apple Pay in the U.S. and WeChat in China eliminate the need for bills or coins. But those are just ways to move money electronically. China is turning legal tender itself into computer code.
Cryptocurrencies such as bitcoin have foreshadowed a potential digital future for money, though they exist outside the traditional global financial system and aren't legal tender like cash issued by governments.
China's version of a digital currency is controlled by its central bank, which will issue the new electronic money. It is expected to give China's government vast new tools to monitor both its economy and its people. By design, the digital yuan will negate one of bitcoin's major draws: anonymity for the user.
Beijing is also positioning the digital yuan for international use and designing it to be untethered to the global financial system, where the U.S. dollar has been king since World War II. China is embracing digitization in many forms, including money, in a bid to gain more centralized control while getting a head start on technologies of the future that it regards as up for grabs.
"In order to protect our currency sovereignty and legal currency status, we have to plan ahead," said Mu Changchun, who is shepherding the project at the People's Bank of China.
Digitized money could reorder the fundamentals of finance the way Amazon.com Inc. disrupted retailing and Uber Technologies Inc.rattled taxi systems.
Japanese Prime Minister Calls on China to Ease Up on Uyghurs and Hong Kong
https://www.wsj.com/articles/japan-calls-on-china-to-improve-conditions-for-uyghurs-hong-kong-11617629893
Japan's foreign minister called on his Chinese counterpart to take action to improve human-rights conditions for Uyghurs and stop a crackdown in Hong Kong, according to an official Japanese account of a call between the officials.
The unusually strong message from Tokyo comes shortly before Prime Minister Yoshihide Suga travels to the U.S. for a summit with President Biden on April 16.
Japan is typically wary of angering Beijing, which is its largest trading partner. Tokyo is a close ally of Washington but didn't join the U.S. and several other nations in March in imposing sanctions on China over its repression of its mostly Muslim Uyghur majority.
During the 90-minute phone call on Monday, Japanese Foreign Minister Toshimitsu Motegi also raised concerns with Chinese Foreign Minister Wang Yi about the continued presence of armed Chinese coast guard vessels around islands in the East China Sea controlled by Tokyo but claimed by Beijing.
In a statement after the call, the Chinese Foreign Ministry said Mr. Wang objected to Japan's interference in matters involving the Xinjiang region, where rights groups have alleged repression of Uyghurs, and Hong Kong and urged Japan to respect China's internal affairs.
The statement said Mr. Wang warned Japan against being influenced by countries with "prejudices against China" and reminded his counterpart that while Japan has an alliance with the U.S. it also has signed a peace and friendship treaty with China.
Psalm of the Day: 66
0:00-1:05
www.christkirk.com/music-library/
Let all the earth come before God with rejoicing. Let all people praise Him. All peoples bowing down before God. His mighty works among the nations, the victories his arm has won. God is at work in the nations. He is at work in Hong Kong and China. He is at work in Japan. He is at work in the US. And while men may mean evil and sometimes accomplish some of it, God has a far great meaning, and one day we will stand back in awe and wonder at His mighty deeds in all the nations. And every knee will bow and confess that it was the best story ever.

This is Toby Sumpter with Crosspolitic News. You can find this and all of our shows at Crosspolitic.com or on our app, which you can download at your favorite app store, just search "Fight Laugh Feast". Support Rowdy Christian media, and share this show or become a Fight Laugh Feast Club Member. Remember to sign up for the Fight Laugh Feast Rally. Go to FLFNetwork.com/Rally. Have a great day.