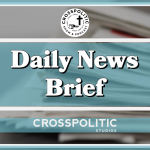 Rand Paul is fed up with Nancy Pelosi and all the Covid mandates and more on today's CrossPolitic Daily News Brief
This is Toby Sumpter. Today is Tuesday, August 10, 2021.
A Federal court just blocked the Biden's Transgender Mandate
From our friend Luke Goodrich:
Franciscan Alliance, Inc. v. Xavier Becerra (Secretary of the US Department of Health).
The plaintiffs are a religious hospital & group of over 20,000 healthcare professionals (
@CMDANational who gladly serve ALL patients regardless of their sex or gender identity. They provide top-notch care to transgender patients for everything from cancer to the common cold. 2/
But a controversial HHS regulation threatens multimillion-dollar penalties unless they perform gender-transition procedures, including on children, even when the procedures violate the doctors' conscience and medical judgment and could harm patients. http://transgendermandate.org 4/
Today's decision rightly says the mandate violates federal law. This is now the second federal court to block the mandate. The Biden Admin appealed the other decision (also a
case) to the 8th Circuit: These religious doctors and hospitals joyfully serve ALL patients and routinely provide top-notch care to transgender patients. There is ample evidence, however, that some gender transition procedures can harm patients:
Several federal circuits–including the 5th and 1st–have examined whether there is "consensus in the medical community about the necessity and efficacy of sex reassignment surgery as a treatment for gender dysphoria." 7/
These circuits have all reached the same conclusion: "There is no medical consensus that sex reassignment surgery is a necessary or even effective treatment for gender dysphoria." Gibson v. Collier
HHS's own doctors in the Obama Admin agreed: "Based on a thorough review of the clinical evidence…there is not enough evidence to determine whether gender reassignment surgery improves health outcomes for Medicare beneficiaries with gender dysphoria."
Doctor Dan Stock Speaks to Mt. Vernon School Board in Indiana
Play Audio: 0:00-2:47
Rand Paul Says They Can't Arrest All of Us
Play Audio: 0:00-2:08
Pentagon to Mandate Covid-19 Vaccine for U.S. Service Members
https://www.wsj.com/articles/biden-backs-pentagons-plan-to-vaccinate-u-s-military-11628531944?mod=hp_lead_pos1
Secretary of Defense Lloyd Austin on Monday said he would make Covid-19 vaccination mandatory for U.S. service members by mid-September, an effort by the Biden administration to battle back the highly contagious Delta variant sweeping through unvaccinated communities across the country.
In a letter to the U.S. military, the Defense Secretary said he would seek a presidential waiver of a requirement that vaccines mandated by the Pentagon have the full approval of the Food and Drug Administration, unless the agency grants that approval first. President Biden, in a separate statement, expressed his "strong support for the move."
After a spring and early summer in which mass vaccinations appeared to curb Covid-19's spread and ease the caseload and rate of hospitalization and death, the Delta variant has torn through the country, particularly in areas with low rates of vaccination.
In Florida, for instance, a steep rise in cases since late June has pushed Covid-19 hospitalizations to new records. Coronavirus patients now fill at least 43% of Florida's adult intensive-care beds.
"We're seeing an uptick in cases, uptick in hospitalizations across the force, as we are in the country, and the Delta variant is a factor in that," Pentagon spokesman John Kirby told reporters on Monday.
About 1.3 million men and women serve in uniform across the Army, Marine Corps, Navy, Air Force and Space Force. According to the Pentagon, just over one million service members are fully vaccinated, and another 237,000 are partially vaccinated.
Fight Laugh Feast Magazine
https://flfnetwork.com/product/fight-laugh-feast-magazine/
Our Fight Laugh Feast Magazine is a quarterly issue that packs a punch like a 21 year Balvenie, no ice. We don't water down our theology, why would we water down our scotch? Order a yearly subscription for yourself and then send a couple yearly subscriptions to your friends who have been drinking luke-warm evangelical cool-aid. Every quarter we promise quality food for the soul, wine for the heart, and some Red Bull for turning over tables. Our magazine will include cultural commentary, a Psalm of the quarter, recipes for feasting, laughter sprinkled through out the glossy pages, and more.
Psalm of the Day: Psalm 127
Play Audio: 0:00-0:57
Remember you can always find the links to our news stories and these psalms at crosspolitic dot com – just click on the daily news brief and follow the links.
This is Toby Sumpter with Crosspolitic News. You can find this and all of our shows at Crosspolitic.com or on our app, which you can download at your favorite app store, just search "Fight Laugh Feast". A reminder: if you see news stories and links that you think we should cover on the daily news brief, please send them to news @ crosspolitic.com and don't forget to check deft wire dot com where we are constantly posting all our stories.
Support Rowdy Christian media, and share this show or become a Fight Laugh Feast Club Member. You always get a free Fight Laugh Feast t-shirt with a membership and remember if you didn't make it to the Fight Laugh Feast Conference or Rally, club members have access to all the talks and lots more. Join today and have a great day.