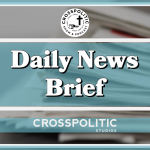 Good Tuesday morning everyone, this is Garrison Hardie with your CrossPolitic Daily News Brief for Tuesday, August 16th, 2022.
FLF Magazine:
We are on a mission to make magazines great again. So, subscribe to our Fight Laugh Feast magazine. This is a quarterly mini-book like experience, packed full of a variety of authors that includes theologically-driven cultural commentary, a Psalm of the quarter, recipes for feasting, laughter sprinkled throughout the glossy pages, and more. Sign your church up, sign your grumpy uncle up, and while you are at it…sign up the Pope, Elon Musks, and Russel Moore.
Disclaimer: This magazine will guarantee various responses and CrossPolitic is not held liable for any of them. Reading the whole magazine may cause theological maturation, possibly encourage your kids to take the Lord's Supper with you, and will likely cause you to randomly chuckle in joy at God's wondrous world. Sign up today! Four issues and $60 per year, that is it. Go to fightlaughfeast.com right now to sign up!.
https://www.washingtonexaminer.com/opinion/at-boston-childrens-hospital-illogical-and-destructive-gender-ideology-reigns
At Boston Children's Hospital, illogical and destructive gender ideology reigns
Several videos from Boston Children's Hospital on transgender children are making the rounds. They highlight how destructive the transgender medical agenda is for children and how illogical transgender activists are.
Two of the videos claim that children can know that they are transgender from birth or even while still in utero. The hospital boasts that it regularly sees transgender children as young as 2 or 3 years old, when they meet with a psychologist who pushes them down the road of social gender transitioning. Concerned parents are told that beginning an irreversible process based on the word of a 2-year-old is just being "supportive."
https://twitter.com/i/status/1558823459651817477 – Play Video
How do children know they are the wrong gender from birth or in the womb? That is not clear. In fact, it's hard even to imagine what that means. But we do apparently have metrics for when they are around 2 or 3. According to the hospital, a child refusing to get a haircut or playing with "opposite gender" toys can only mean that the child is transgender and must begin the gender transition process.
https://twitter.com/i/status/1558669742126223361 – Play Video
Aside from the wild leap in logic from a child rejecting a haircut to social gender transitioning, this makes no sense by the very logic that transgender activists have promoted. If gender is an entirely social construct, then the idea of gendered toys is also a social construct. So, if the idea that only girls play with dolls (for example) is an outdated social construct, how does a boy playing with a doll prove that he is actually a girl and should begin the transition process?
This is not some exercise in philosophy or thought experiment. This is the contradictory nature of the logic that therapists and doctors are using to push children down the path toward irreversible and damaging treatments — puberty blockers, hormone treatments, and, eventually, surgery. Boston Children's Hospital's Center for Gender Surgery is "the first center of its kind in the U.S. in a major pediatric hospital setting," as it boasts on its website. It is operating on the logic that children can choose their gender because they know they are the wrong gender before they are even born.
Medical and mental health professionals who know better are pushing children down this path, convincing concerned parents that this is what acceptance and support look like.
The malpractice lawsuits by the children whose lives they are currently ruining cannot be filed soon enough.
https://thepostmillennial.com/study-blames-climate-change-for-children-eating-too-much-and-not-exercising-enough?utm_campaign=64487
Study blames climate change for children eating too much and not exercising enough
The talk show CBS Mornings cited a study on Saturday that correlated the growing trend of American obesity to climate change, as increased heat, the study says, is making children stay indoors, consume more calories, and embrace a sedentary lifestyle.
https://twitter.com/i/status/1558555239170674688 – Play Video
In the study from Temperature, Shawnda A. Morrison argued that rising temperatures have caused children to stay indoors, grow inactive, and eat more. Her work focused on "heat stress assessment" and makes the point that it's more dangerous and less fun to be active if it's extremely hot outside.
However, the author conflates metrics from the Covid-19 shutdowns that led to increased obesity in some regions as evidence for her assertions.
"Climate change will not only exert direct effects like higher ambient temperatures in many regions but it will also be responsible for indirect effects that can independently affect child physical activity habits, for example as observed during the Covid-19 global pandemic."
A 2021 abstract published in the US National Institutes of Health's National Library of Medicine (NIH/NLM) titled "Climate Change and Obesity" noted that the "current Covid-19 pandemic has caused some decline in greenhouse gas emissions," in an indication that the pandemic was a positive development for global climate change.
The piece also said, "Following multiple lockdowns, there was further increase in obesity in wealthier populations." The NIH/NLM piece indicates that humanity can still gain weight if they're addressing climate change, so long as they're sedentary and consuming more calories than they burn.
A study cited by MarketWatch suggests that obesity may actually be causing climate change. "Obesity is associated with approximately 20 percent more greenhouse gas emissions compared to people considered to have a healthier weight."
"Researchers in a recently published study found that global obesity was estimated to contribute to an extra 700 megatons of carbon dioxide emissions per year," the study said, according to MarketWatch.
Obesity is causing climate change, according to the study, and climate change is causing obesity, according to Temperature.
A 2017-18 study from the Centers for Disease Control and Prevention that surveyed over 5,000 US adults found that four out of 10 Americans are obese and one out of 10 are severely obese. Americans that were considered severely obese in 1970 was only about one in 100, a number that is ten times more common today. The overall obesity rate has gone up by about 40 percent since 2000.
Armored Republic
The Mission of Armored Republic is to Honor Christ by equipping Free Men with Tools of Liberty necessary to preserve God-given rights. In the Armored Republic there is no King but Christ. We are Free Craftsmen. Body Armor is a Tool of Liberty. We create Tools of Liberty. Free men must remain ever vigilant against tyranny wherever it appears. God has given us the tools of liberty needed to defend the rights He bestowed to us. Armored Republic is honored to offer you those Tools. Visit them, at ar500armor.com
https://thepostmillennial.com/convicted-child-rapist-guzzles-poison-as-verdict-read-in-texas-court?utm_campaign=64487
Convicted child rapist guzzles poison as verdict read in Texas court
Edward Leclair, a convicted child rapist, died on Thursday after guzzling a mysterious liquid while his guilty verdict was being read in a Denton, Texas court.
The Washington Post reports that Leclair was convicted on five counts of child sexual assault and, in the courtroom, quaffed from a water bottle while "guilty" after "guilty" count was read in succession.
Leclair's lawyer, Mike Howard, said, "I looked over and noticed him drinking. His hand was shaking. At the time, I thought it was shaking because of the verdict. Then he kept drinking and drinking."
Howard said Leclair faced a very stern sentence of up to 100 years. The child rapist had been free on bond before the verdict but was escorted to a holding cell after he was deemed guilty.
According to CNN, Denton County Assistant District Attorney Jamie Beck, said the drink looked "cloudy," and "Our investigator noticed him chug the water. He told the bailiff he might want to go check on him. The bailiff did. He was unconscious in the holding cell."
Defense Attorney Howard said Leclair started vomiting "shortly after entering the holdover cell," and that emergency services were called.
The Denton Record-Chronicle reported that Leclair was charged with raping a 14-year-old girl in 2016. The child had posted a personal ad on Criaglist and solicited the meeting but said Leclair raped her when they met and drove to a nearby hotel. Two years later the girl's mother called police on Leclair and he was arrested. His trial began on August 8 and he was out on a $30,000 bond.
DA Beck said, "He was very much either dying or dead," when the bailiff found him and now the Texas Rangers are investigating this "in-custody death." Tarrant County Medical Examiner forensic pathologists are performing an autopsy.
The Jurors were informed of Leclair's death on Friday and the judge told them it was not their fault.
https://reclaimthenet.org/rumble-new-record-monthly-active-users/
Rumble sets new record, 76% year-on-year growth in active users
Neutral video sharing platform Rumble reported record monthly active users and a record for uploaded content in Q2 2022 along with a strong user engagement growth trajectory.
Monthly active users increased by 76% year-on-year to an average of 44 million monthly active users while content uploaded increased by 283% year-on-year to 8,948 video hours per day.
User engagement increased by 62% year-on-year with Rumble users watching an average of 8.1 billion minutes per month.
This is Rumble's second record-setting quarter of the year with the video sharing platform setting record all-time highs in all key performance measures in Q1 2022.
"While most platforms are experiencing declines or slowed growth, we are seeing the opposite," Rumble CEO Chris Pavlovski tweeted.
Pavlovski added that in his opinion, the reason other platforms' growth is slowing is because "audiences are going to places like Rumble."
Many users have embraced Rumble because it has committed to allowing its users to speak freely while Big Tech platforms have doubled down on censorship.
In Q2 2022, Rumble doubled down on this commitment by announcing "open-source" free speech rules that users can give feedback on and vowing to not operate in countries that move towards censorship.
In addition to this, Rumble provided censorship protection for author and filmmaker Dinesh D'Souza's latest documentary, "2000 Mules." The documentary became a "huge hit" for Rumble and was reportedly the biggest political documentary in a decade.
Rumble also added several new features during Q2 2022 including picture-in-picture on its web player, full-screen vertical discovery on iOS, and dark mode for iOS.
By contrast, the world's biggest video sharing platform, YouTube, continued to engage in or commit to mass censorship throughout Q2 2022. Some of the many examples of this include YouTube deleting over 70,000 Ukraine war videos, removing a New York Post interview with someone who stormed the Capitol on January 6, 2021, discussing the censorship of "misinformation" with Poland's President, and reiterating its commitment to constant censorship of "misinformation" at the World Economic Forum Annual Meeting for 2022.
Now it's time for my favorite topic: Sports!
https://www.breitbart.com/europe/2022/08/13/djokovic-forced-out-tennis-tournament-biden-ban-unvaxed-travellers/
Djokovic Forced Out of Tennis Tournament by Biden Ban on Unvaxed Travellers
Novak Djokovic pulled out of next week's hard-court tournament in Cincinnati on Friday because he has not gotten any COVID-19 vaccine shots and so is not allowed to travel to the United States.
That is also why Djokovic is not expected to be able to enter the U.S. Open, the year's last Grand Slam tournament, which begins in New York on Aug. 29.
Djokovic is a 35-year-old from Serbia who owns 21 major championships, one behind Rafael Nadal for the men's record. Djokovic has said he won't get vaccinated against the illness caused by the coronavirus, even if that prevents him from playing in certain tournaments. He missed the Australian Open in January after being deported from that country and needed to sit out two events in the United States earlier this year, along with a tournament in Montreal this week.
Unvaccinated foreign citizens can't go to Canada or the U.S. currently; the Cincinnati tournament's news release announcing Djokovic's withdrawal cited "travel restrictions."
Djokovic has said he was still holding out hope of being able to enter the U.S. Open, but that would require a change of government policy, which the U.S. Tennis Association says it will adhere to.
Djokovic is a three-time champion at the U.S. Open and was the runner-up last year to Daniil Medvedev.
Serena Williams is entered in the field for what is expected to be one of her last appearances on tour.
This has been your CrossPolitic Daily News Brief. If you liked the show, hit that share button down below. If you want to sign up for a club membership, sign up for our conference, or sign up for our magazine, you can do all of that at fightlaughfeast.com. As always, if you want to send me a news story, have questions about our conference, or become a corporate partner, email me, at garrison@fightlaughfeast.com. For CrossPolitic News, I'm Garrison Hardie. Have a great day, and Lord bless.