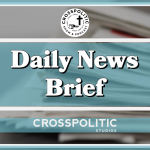 This is Garrison Hardie with your CrossPolitic Daily News Brief for Tuesday, August 22nd, 2023.
Bohnet Music Academy
Isn't it about time to take action on how you're going to give your children and grandchildren a good music education? Moses, David, and all the Saints of the church have worshiped God with musical might, so let's be confidently found doing the same.
Bohnet Music Academy instructs children and adults in how to be musically literate. That's everything you need to know and do as the musician God made you to be. Lessons are available locally in Moscow, ID and online. What's great is that in addition to getting vocal training, you can also study the piano, guitar, violin, cello, drums, or the trumpet.
Visit Bohnetma.com/crosspolitic for more information on how to equip your family to serve God's musical commands. B-O-H-N-E-T MA.com/crosspolitic
https://www.breitbart.com/environment/2023/08/21/photos-hurricane-hilary-flooding-ravages-southern-california/
Hurricane Hilary Flooding Ravages Southern California
Tropical Storm Hilary deluged arid parts of Mexico and then drenched Southern California from the coast to the desert resort city of Palm Springs and inland mountains, forcing rescuers to pull several people from swollen rivers. Even as the storm subsides across the coast, flooding and mudslides were expected across the parts of the southwestern U.S.
The storm first made landfall in Mexico's arid Baja California Peninsula on Sunday in a sparsely populated area about 150 miles (250 kilometers) south of Ensenada. One person drowned.
It then moved through mudslide-prone Tijuana, threatening the improvised homes that cling to hillsides just south of the U.S. border.
The first tropical storm to hit Southern California in 84 years, Hilary dropped more than half an average year's worth of rain on some areas, including Palm Springs, which saw nearly 3.18 inches (8 centimeters) of rain by Sunday evening.
The National Hurricane Center in Miami downgraded Hilary to a post-tropical storm in its early Monday advisory, and warned that "continued life-threatening and locally catastrophic flooding" was expected over portions of the southwestern U.S. on Monday. All coastal warnings were discontinued.
Forecasters warned of dangerous flash floods across Los Angeles and Ventura Counties, and fire officials rescued 13 people from knee-deep water in a homeless encampment along the rising San Diego River. Meanwhile, rain and debris washed out some roadways and people left their cars stranded in standing water. Crews pumped floodwaters out of the emergency room at Eisenhower Medical Center in Rancho Mirage.
Sunday was the wettest day on record in San Diego, with 1.82 inches (4.6 centimeters), the National Weather Service said in a post on X, the social media platform previously known as Twitter.
The previous record was on Aug. 17, 1977, when 1.8 inches (4.5 centimeters) post-Hurricane Doreen dumped record rainfall on the area.
The Los Angeles Unified School District, the nation's second largest school system, said all campuses would be closed on Monday, as did districts across the region. San Diego schools postponed the first day of classes from Monday to Tuesday.
The Palm Springs Police Department said in a statement Sunday that 911 lines were down and that in the event of an emergency to text 911 or reach out to the nearest police or fire station.
The storm was projected to weaken as it continued moving northward over California and into Nevada, but Richard Pasch, a hurricane specialist with the National Hurricane Center, said "very heavy" rain and strong winds are still likely.
https://twitter.com/i/status/1693454589591523411 – Play Video
Southern California got another surprise Sunday afternoon as an earthquake with a preliminary magnitude of 5.1 hit near Ojai, about 80 miles (130 kilometers) northwest of downtown Los Angeles, according to the U.S. Geological Survey. It was felt widely and was followed by smaller aftershocks. There were no immediate reports of major damage or injury, according to a dispatcher with the Ventura County Sheriff's Office.
Hilary is just the latest major climate disaster to wreak havoc across the U.S., Canada and Mexico. Hawaii's island of Maui is still reeling from a blaze that killed over 100 people and ravaged the historic town of Lahaina, making it the deadliest U.S. wildfire in more than a century. Firefighters in Canada are battling that nation's worst fire season on record.
As Hilary bore down on Mexico, one person drowned Saturday in Mugele, on the eastern side of the Baja Peninsula, when a vehicle was swept away by an overflowing stream. Rescue workers saved four other people, said Edith Aguilar Villavicencio, the mayor of Mulege.
Mexican army troops fanned out across the area where some of the worst damage occurred Saturday. Soldiers used bulldozers and dump trucks to help clear tons of boulders and earth that clogged streets and roads. Power lines were toppled in many places, and emergency personnel worked to restore electricity.
On Sunday morning in California, the warnings from officials didn't keep everyone indoors. In coastal Carlsbad, just north of San Diego, 19-year-old Jack Johnson and his friends kept an eye on the huge waves, determined to surf them.
"It's really choppy out there, not really surfable yet, but I think we can find a good break somewhere later," Johnson said. "I can't remember a storm like this."
Also Sunday, one of several budding storm systems in the Atlantic Ocean became Tropical Storm Emily, according to the National Hurricane Center. It was far from land, moving west in the open ocean. Meanwhile, Tropical Storm Franklin formed in the eastern Caribbean. Tropical storm watches were issued for the southern coasts of Haiti and the Dominican Republic.
In September 1939, a tropical storm that roared into California ripped apart train tracks, tore houses from their foundations and capsized many boats, killing nearly 100 people on land and at sea
https://www.dailyfetched.com/wef-adviser-population-collapse-is-good-for-the-planet/
WEF Advisor: Population Collapse is "Good for the Planet"
Once a "right-wing conspiracy," de-population is now being acknowledged by news outlets like The Telegraph.
Prof Harper told the Telegraph:
"I think it's a good thing that the high-income, high-consuming countries of the world are reducing the number of children that they're having. I'm quite positive about that."
The WEF professor said declining fertility would help to address the "general overconsumption that we have at the moment," which she claims has a negative impact on the planet.
The WEF advisor also points out that a population collapse as a result in declines in births will bring about reductions in CO2 emissions.
According to research, wealthy nations tend to have much larger carbon footprints than poorer countries because they can buy more goods, travel, and do other activities that generate emissions.
World Bank figures show that carbon emissions from high-income countries were 29 times larger than low-income countries.
In June, U.S. special climate envoy John Kerry declared that 10 billion humans on the planet is "unsustainable."
The global population hit eight billion people in November 2022, three times the figure recorded in 1950.
According to U.N. projections, the current figure is set to hit 9.7 billion humans on the planet by the middle of the century.
However, John Kerry expressed fears about the current population growth, outlining his plans to the AFP.
"I don't think it's sustainable, personally," Kerry said.
"We need to figure out how we're going to deal with the issue of sustainability and the numbers of people we're trying to take care of on the planet," he added.
https://www.foxnews.com/politics/biden-admin-renew-push-americans-get-covid-19-boosters
Biden admin to renew push for Americans to get COVID-19 boosters
President Biden's administration is preparing another program to encourage Americans to get booster shots for COVID-19 in the coming months.
The Centers for Disease Control and Prevention (CDC) has reported an increase in COVID-19 infections across the U.S., though it remains far below levels seen during the pandemic. The Biden administration plans to urge Americans to get booster shots this fall, an administration official told FOX Business' Edward Lawrence.
"We will be encouraging all Americans to get those boosters in addition to flu shots and RSV shots," the official said.
The news comes days after the CDC and World Health Organization (WHO) revealed they are tracking another variant of the virus that causes COVID-19.
The newly discovered variant, referred to as BA.2.86, has been designated as a "variant under monitoring" by the WHO "due to the large number of mutations it carries."
The White House did not immediately respond to a request for comment from Fox News Digital.
The variant is one of dozens being tracked by national health agencies in the aftermath of the COVID-19 pandemic.
The new booster program would come nearly a year after Biden declared the COVID-19 pandemic "over" in September 2022, though he said, "We're still doing a lot of work on it."