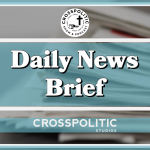 Good Tuesday morning everyone, this is Garrison Hardie with your CrossPolitic Daily News Brief for Tuesday, August 23th, 2022.
FLF Magazine:
We are on a mission to make magazines great again. So, subscribe to our Fight Laugh Feast magazine. This is a quarterly mini-book like experience, packed full of a variety of authors that includes theologically-driven cultural commentary, a Psalm of the quarter, recipes for feasting, laughter sprinkled throughout the glossy pages, and more. Sign your church up, sign your grumpy uncle up, and while you are at it…sign up the Pope, Elon Musks, and Russel Moore.
Disclaimer: This magazine will guarantee various responses and CrossPolitic is not held liable for any of them. Reading the whole magazine may cause theological maturation, possibly encourage your kids to take the Lord's Supper with you, and will likely cause you to randomly chuckle in joy at God's wondrous world. Sign up today! Four issues and $60 per year, that is it. Go to fightlaughfeast.com right now to sign up!.
https://thepostmillennial.com/breaking-fauci-to-retire-by-end-of-2022-as-gop-slated-to-retake-congress?utm_campaign=64487
Fauci to retire by end of 2022 as GOP slated to retake Congress
Dr. Anthony Fauci will step down in December after more than fifty years of public service, he said on Monday.
Fauci, who has led the National Institute of Allergy and Infectious Diseases since 1984 and joined the National Institute of Health in 1968, was President Joe Biden's chief medical advisor since he became president in 2021.
Fauci has said for months that he has considered retiring. In an ABC podcast interview from March, Fauci said that he would stay in his role until "we get out of the pandemic phase," and added that "we might already be there."
Fauci was asked if retirement or stepping back were options for him, to which he said "I certainly have, because I have to do it some time. I can't stay at this job forever, unless my staff find me slumped over at my desk one day. I'd rather not do that," he said.
President Biden praised Fauci in a statement released on Monday, according to the Washington Post, saying: "Whether you've met him personally or not, he has touched all Americans' lives with his work. I extend my deepest thanks for his public service. The United States of America is stronger, more resilient, and healthier because of him."
Fauci has a lot to look forward to in his retirement. According to Forbes, Fauci is likely to rake in the highest-ever government retirement package in US history, "with an annual payment exceeding $350,000."
https://www.theepochtimes.com/fence-surrounding-bidens-delaware-beach-house-costs-about-500000-records-show_4678740.html?utm_source=partner&utm_campaign=BonginoReport
Fence Surrounding Biden's Delaware Beach House Costs About $500,000, Records Show
The price tag of a taxpayer-funded project to build a barrier around President Joe Biden's Delaware beach house has grown to nearly $500,000, federal spending records suggest.
In September 2021, the Homeland Security Department paid $456,548 to Delaware-based construction company Turnstone Holdings for the purchase and installation of "security fencing" surrounding the president's Rehoboth Beach property, according to USAspending.gov, an online database operated by the Treasury Department.
The database entry shows two additional payments since then. One bill of $6,844 was paid in late November 2021 to cover expenses resulting from extra "gravel pads" and "crane services." This was followed by another $26,933 bill in June, described as simply "to add funds to current project."
The overall cost of the fence now stands at $490,324. Although the project was originally expected to be completed by the end of 2021, its "potential end date" has been pushed back to June 6, 2023, marking a delay of more than 18 months.
The exact reason for the setbacks remains unclear. The Epoch Times has reached out to the Homeland Security Department, listed as the main awarding agency and funding office for the contract, for further information.
Amid a record influx of illegal crossings at the U.S.-Mexico border, the costly presidential residence fence has drawn mockery from critics of the president's border policy.
"So walls work at Joe Biden's beach house but not the Southern border?" Rep. Jim Jordan (R-Ohio) wrote on Twitter.
According to data released by the Biden administration, the number of apprehensions at the nation's southern border is reaching the 2 million benchmark for the first time in history.
In July, Border Patrol reported 181,552 arrests of individuals who tried to illegally cross the U.S.-Mexico border, a 5.6 percent drop from the 192,418 reported in June. With just two months before the fiscal year 2022 wraps up, the agency has already made more than 1.81 million arrests, beating fiscal year 2021's record of 1.66 million.
In the border town of Yuma, Arizona, the state is spending $6 million to fill a quarter-mile gap in the border barrier with shipping containers. Those 8,800-pound, 40-by-9-foot containers will be topped with razor wire once tractor-trailers move them into position.
Tim Roemer, Arizona's director of Homeland Security, told Phoenix radio station KTAR-FM that his state couldn't wait any longer.
https://thepostmillennial.com/oregon-gubernatorial-race-could-go-for-the-gop?utm_campaign=64487
Oregon gubernatorial race could go for the GOP
The Oregon gubernatorial race in the historically blue state has gone from "Leans Democratic" to "Toss-Up," according to the Center for Politics at the University of Virginia Crystal Ball rating.
The last time Republicans won a gubernatorial race in Oregon was in 1982.
Democratic Governor Kate Brown is term-limited and according to the rating is "deeply unpopular, and there may be some desire for change in the Beaver State."
According to the Center, "the state is hosting an unusual 3-way race among a trio of women who are all recent members of the state legislature: former state House Speaker Tina Kotek (D), former state House Minority Leader Christine Drazan (R), and former state Sen. Betsy Johnson, an unaffiliated, former Democrat who is more conservative than most of the members of her former party and who has been backed by Nike co-founder Phil Knight."
"The race sets up an unusual situation where the winner may not need to crack even 40%," noted the Center. "Additionally, the 3 candidates all served concurrently in the state legislature, which should provide the campaigns ample opportunities to draw contrasts among the candidates."
The rating added, "Johnson, the independent, would still be the most surprising winner, and Kotek and Drazan both will be working to try to prevent their voters from flocking to her banner. There's just enough uncertainty here that we're looking at the race as a Toss-up now."
The Center for Politics also noted that there are toss-up governorships in Arizona, Nevada, Wisconsin, and Kansas.
Ya hear that folks? You may not have to flee your blue states afterall! But if you'd still like to, then pay attention to this ad:
Story Real Estate:
Home. It's where you build your legacy. Where traditions are started, seeds are planted, meals are shared, and stories are told. Home is where you prepare to go out into the world. Finding the home that's perfect for your family is a big job.
Story Real Estate is Moscow's top real estate team. They give people real estate advice all over the country. Family homes, investments, land, new construction, or commercial— they know real estate.
If you've thought about a move to Moscow or anywhere in the country, reach out to get connected with a Story Real Estate agent. Wherever you're going, they can help guide you Home. Visit storyrealestate.com.
So, you guys have all probably heard that Brian Stelter, the human potato, was removed from CNN, but how about this?
https://townhall.com/tipsheet/mattvespa/2022/08/21/is-don-lemon-the-next-to-be-purged-from-cnn-n2612030
CNN Appears to Be Cleaning House. Will Don Lemon Be Next?
Spencer had the news about CNN's Brian Stelter this week. He's gone. The host of "Reliable Sources" was given the ax amid CNN's front office shake-up and reorganization of the news outlet's coverage, which has been pilloried as pro-Democratic Party propaganda. The new management at CNN wants to return to the days when CNN was more straight news, less drama, and not the subject of attacks over media bias for peddling explicit Democratic National Committee talking points.
Longtime legal analyst Jeffrey Toobin also announced he was leaving, opting to retire and write a book. Toobin had emerged from the wilderness after The New Yorker fired him in 2020 following a humiliating incident where he exposed himself to the magazine's staff during a Zoom call. When Stelter was given the boot, people asked if Don Lemon, another insufferable fixture at the network, would be next. That could be in the cards, as a source is spilling the names of who's next on the butcher's bill. Yes, Don Lemon is on there:
If Trump runs again, the network will need Lemon, Acosta, and others to kick the hornet's nest again. At the end of the day, while I know gutting CNN of their liberal cancers would be optimal, it's also a business. So, I could see this going either way regarding these potential firings. The new top brass could get rid of these folks and tread water for 2024, hoping their recent relaunch doesn't implode. Or they do a 180-degree turn, keep the Trump-hating hosts and contributors, and make a boatload of cash again.
https://thepostmillennial.com/97-percent-of-execs-say-us-in-recession-despite-bidens-definition-change?utm_campaign=64487
97 percent of execs say US in recession despite Biden's definition change
The Biden administration changed the definition of the word recession in July, prior to the release of numbers that showed the US was in a recession, in order to be able to make the claim that the US was not in a recession. Despite this, a large number of US executives believe the country is now in a recession.
Stifel Financial conducted a survey that shows 18 percent of business owners, executives, and investors consider the US economy already in a recession, compared to 79 percent that expect a downturn within the next 18 months.
The standard definition of the word is a decline in GDP for two consecutive quarters, while the new, Biden definition links the word to unemployment numbers.
Only three percent believe the US could conceivably avoid a recession within the next 18 months, according to the Daily Mail.
According to the survey, businesses believe labor shortages, inflation, supply chain disruptions, and a recession are the biggest threats to profitability.
53 percent of executives expect inflation risk to remain a challenge to their assets and interests for the next two quarters to a year. 43 percent expect an economic decline to last for longer than that.
According to the Labor Department, the US consumer price index was up 8.5 percent in July from a year ago. Though that was lower than the 9.1 percent increase in June, it was still above the Federal Reserve's two percent target rate.
Inflation is the highest it has been in 40 years. The cost of goods has spiked hitting low-income and middle-class families the hardest. Food prices have continued to increase, with the cost of groceries increasing 13.1 percent in July from the previous year.
The Biden administration continues to deny that the country is in a recession, despite the negative economic growth for a second consecutive quarter. President Joe Biden and members of the administration argue that metrics like record job growth and steady levels of consumer spending show the country is not in a recession.
Federal Reserve Chairman Jerome Powell has also said that he "doesn't think the US is currently in a recession."
In September, the Federal Reserve is expected to announce if they are raising interest rates again for a third consecutive hike to help curb inflation. Raising the interest rates has had other side effects.
According to the National Association of Realtors, buying a home in the US is the least affordable it has been in 33 years as mortgages spike and home prices hit record highs.
Rents have also been jumped in many markets, as families that have been priced out of buying a home drive up the demand for rentals.
https://www.foxnews.com/sports/leon-edwards-knocks-out-champion-kamaru-usman-kick-head-stuns-ufc-world
Leon Edwards knocks out champion Kamaru Usman with kick to the head, stuns UFC world
Leon Edwards stunned Kamaru Usman and the rest of the mixed martial arts world on Saturday night with a knockout kick in the fifth round of their bout at UFC 278.
Edwards snatched the UFC welterweight championship from Usman with the win. The knockout blow came with 56 seconds remaining in the match.
"That crosshead kick landed perfectly," Edwards said.
https://twitter.com/i/status/1561215902187720706 – Play Video
Usman, considered to be the No. 1 pound-for-pound fighter in the sport, was likely on his way to a decision victory against Edwards before the kick. He controlled Edwards throughout the third round and led on the judge's scorecard 39-37. But Edwards landed the shocking blow to put the "Nigerian Nightmare" on his back.
Edwards has 10 wins and one no contest since he lost to Usman in December 2015 at UFC on FOX 17. The victory over Usman was the 20th of his career.
"The octagon belongs to nobody. No man is meant to hold the belt for that long. I said all week I felt like this was my moment. This is how it was meant to play out," he said, adding he felt like he had more to show.
"That wasn't my best performance, and I did not feel myself in this. I feel like I have much more to offer."
The win left UFC fighters and fans astounded.
This has been your CrossPolitic Daily News Brief. If you liked the show, hit that share button down below. If you want to sign up for a club membership, sign up for our conference, or sign up for our magazine, you can do all of that at fightlaughfeast.com. As always, if you want to send me a news story, have questions about our conference, or become a corporate partner, email me, at [email protected]. For CrossPolitic News, I'm Garrison Hardie. Have a great day, and Lord bless.