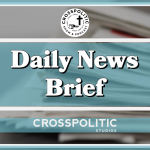 Taliban spokesman says they have drawn a red line in the sand and more on today's CrossPolitic Daily News Brief
This is Toby Sumpter. Today is Tuesday, August 24, 2021.
CREC Issues Religious Exemption Statement & Sample Letter
https://crechurches.org/documents/statements/PMOC-CREC_Religious-Exemption-Statement.pdf
Standing in the ancient Christian tradition, committed to the doctrinal standards of our local and denominational constitutions and the supremacy of the Holy Scriptures, the Communion of Reformed Evangelical Churches (CREC) affirms our religion's principles of liberty of conscience, honoring and preserving human life from conception to natural death, as well as the sovereignty of individuals and families in medical and healthcare decision-making.
Therefore, we state our unequivocal support for the right of refusal of mandatory medical procedures, whether ordered by a branch of civil government, an employer, or any other institution to which an individual is subject or dependent – in the event that an individual sincerely believes his or her life, health, wellbeing, or morality is potentially threatened by such procedures or products, or in the event that a parent has the same concern for his or her child.
We affirm that our Christian religion protects the liberty of individuals and families to refuse any medical procedure or product on the basis of sincerely held concerns for known or unknown side effects, experimental or emergency uses, potential involvement in fetal cell lines whether in development or testing, or medical and/or political corruption or coercion.
Therefore, in the name of the Lord Jesus Christ, we defend the rights and responsibilities of our members to research these issues in consultation with their medical providers in order to make responsible medical decisions for themselves, including refusing vaccination or gene therapies on religious grounds. And we hereby call upon all governments, schools, employers, and other institutions to respect these deeply held religious convictions by upholding this religious liberty and/or providing religious exemptions as requested.
On Behalf of the Communion of Reformed Evangelical Churches
There's an attached sample letter that can be personalized by a pastor to be written on behalf of parishioners for schools or employers.

"Next, I want to tell our homeschool listeners about Classy Artist Box. It is a company created by a Christian art teacher who sends you everything you need to create four art projects each month. You can use their written instructions and video lessons to help guide you through each project. In addition to the four new projects each month, you'll also have access to two and a half years worth of video lessons to enjoy as a member. Each type of subscription will cover a range of art media throughout the year, which means you have your art curricular needs covered. For 30% off of your first subscription order, use code CROSS30. To see more, check out www.ClassyArtistBox.com.

Infrastructure Bill Back in the House With Senators
https://www.politico.com/news/2021/08/23/sinema-35t-spending-bill-506583
From Politico: Kyrsten Sinema still opposes her party's plans for a $3.5 trillion, party-line spending bill. And she's not up for a negotiation about it.
As House Democratic leaders hold back Sinema's own Senate-passed bipartisan infrastructure bill in order to push the Arizona Democrat and Sen. Joe Manchin (D-W.Va.) to support a multitrillion-dollar spending bill, Sinema is making it crystal clear that her mind can't be changed. And that applies even as her own legislation becomes a bargaining chip in House Democrats' internal discussions.
The $550 billion bipartisan infrastructure bill "is a historic win for our nation's everyday families and employers and, like every proposal, should be considered on its own merits," said Sinema spokesperson John LaBombard. "Proceedings in the U.S. House will have no impact on Kyrsten's views about what is best for our country – including the fact that she will not support a budget reconciliation bill that costs $3.5 trillion."
It's the latest entrenched position from the first-term moderate, whose resistance to changing the Senate's filibuster rules and to supporting a $3.5 trillion spending bill is enraging progressives. Sinema and Manchin both helped pass Democrats' budget earlier this month, setting up that gargantuan spending bill, but both are resistant to a social spending package that ultimately meets its $3.5 trillion top line mark.
Sinema in particular specifically opposes that spending goal, which was devised by Senate Budget Chair Bernie Sanders (I-Vt.). Senate Democrats need all 50 of their members, including Manchin and Sinema, to pass a filibuster-proof reconciliation spending bill.
On Sunday Speaker Nancy Pelosi said her members were still pursuing a bill that costs $3.5 trillion, but are hoping to finance it in part with tax enforcement and tax increases on the wealthy and corporations. Meanwhile, moderates in Pelosi's caucus are declining to back the Senate-passed budget unless Pelosi puts Sinema's Senate-passed bipartisan infrastructure bill up for a vote on the House floor.
In statement shortly after Sinema's, Manchin leaned on Pelosi and House leaders to act now on the $550 billion bipartisan infrastructure bill instead of waiting for the Senate to pass a massive spending bill.
"It would send a terrible message to the American people if this bipartisan bill is held hostage. I urge my colleagues in the House to move swiftly to get this once in a generation legislation to the President's desk for his signature," Manchin said.
Jake Sherman on Twitter: In closed dem meeting, @SpeakerPelosi and @RepKClark are making the case that a vote against the rule that sets up budget vote would be a vote against female priorities — and a vote against women of color. "Women are watching to see what is happening here," Pelosi said
Kyrsten Sinema is also watching, but I doubt she counts as far as Pelosi is concerned.
Jake Sherman was Reporting from the House late Monday on Twitter suggesting that there would be an attempt to pass a rule concerning the debate on the infrastructure bill that could include language that would "deem" the bipartisan bill approved.
Politics of Sex Conference
Play Audio
Biden Announces FDA Approval of Pfizer COVID Vaccine
https://twitter.com/breaking911/status/1429872489019084802?s=21
Play Audio

But Pfizer & the FDA Have Sovereign Immunity
https://www.cnbc.com/2020/12/16/covid-vaccine-side-effects-compensation-lawsuit.html
From CNBC on December 23rd: If you experience severe side effects after getting a Covid vaccine, lawyers tell CNBC there is basically no one to blame in a U.S. court of law.
The federal government has granted companies like Pfizer and Moderna immunity from liability if something unintentionally goes wrong with their vaccines.
"It is very rare for a blanket immunity law to be passed," said Rogge Dunn, a Dallas labor and employment attorney. "Pharmaceutical companies typically aren't offered much liability protection under the law."

You also can't sue the Food and Drug Administration for authorizing a vaccine for emergency use, nor can you hold your employer accountable if they mandate inoculation as a condition of employment.
Congress created a fund specifically to help cover lost wages and out-of-pocket medical expenses for people who have been irreparably harmed by a "covered countermeasure," such as a vaccine. But it is difficult to use and rarely pays. Attorneys say it has compensated less than 6% of the claims filed in the last decade
In February, Health and Human Services Secretary Alex Azar invoked the Public Readiness and Emergency Preparedness Act. The 2005 law empowers the HHS secretary to provide legal protection to companies making or distributing critical medical supplies, such as vaccines and treatments, unless there's "willful misconduct" by the company. The protection lasts until 2024.
That means that for the next four years, these companies "cannot be sued for money damages in court" over injuries related to the administration or use of products to treat or protect against Covid.
HHS declined CNBC's request for an interview.
Dunn thinks a big reason for the unprecedented protection has to do with the expedited timeline.
"When the government said, 'We want you to develop this four or five times faster than you normally do,' most likely the manufacturers said to the government, 'We want you, the government, to protect us from multimillion-dollar lawsuits,'" said Dunn.
The quickest vaccine ever developed was for mumps. It took four years and was licensed in 1967. Pfizer's Covid-19 vaccine was developed and cleared for emergency use in eight months — a fact that has fueled public mistrust of the coronavirus inoculation in the U.S.
But drugmakers like Pfizer continue to reassure the public no shortcuts were taken. "This is a vaccine that was developed without cutting corners," CEO Dr. Albert Bourla said in an interview with CNBC's "Squawk Box" on Monday. "This is a vaccine that is getting approved by all authorities in the world. That should say something."
The legal immunity granted to pharmaceutical companies doesn't just guard them against lawsuits. Dunn said it helps lower the cost of the immunizations.
"The government doesn't want people suing the companies making the Covid vaccine. Because then, the manufacturers would probably charge the government a higher price per person per dose," Dunn explained.
Pfizer and Moderna did not return CNBC's request for comment on their legal protections.
Is anyone liable?
Remember, vaccine manufacturers aren't the ones approving their product for mass distribution. That is the job of the FDA.
Which begs the question, can you sue the U.S. government if you have an extraordinarily bad reaction to a vaccine?
Again, the answer is no.
"You can't sue the FDA for approving or disapproving a drug," said Dorit Reiss, a professor at the University of California Hastings College of Law. "That's part of its sovereign immunity."
Sovereign immunity came from the king, explains Dunn, referring to British law before the American Revolution. "You couldn't sue the king. So, America has sovereign immunity, and even each state has sovereign immunity."
There are limited exceptions, but Dunn said he doesn't think they provide a viable legal path to hold the federal government responsible for a Covid vaccine injury.
Taliban says they are drawing a red line
https://news.sky.com/story/afghanistan-taliban-warns-there-will-be-consequences-if-biden-delays-withdrawal-of-us-troops-12388436
Play Audio: 0:00-0:49
Secretary of State Blinken Says America Will Be Asking Taliban Permission
https://twitter.com/TrumpStudents/status/1429874831407915015?s=20
Play Audio: 0:00-0:36
Psalm of the Day: To the Word – Isaiah 8
Play Audio
Remember you can always find the links to our news stories and these psalms at crosspolitic dot com – just click on the daily news brief and follow the links.
This is Toby Sumpter with Crosspolitic News. You can find this and all of our shows at Crosspolitic.com or on our app, which you can download at your favorite app store, just search "Fight Laugh Feast". A reminder: if you see news stories and links that you think we should cover on the daily news brief, please send them to news @ crosspolitic.com and don't forget to check deft wire dot com where we are constantly posting all our stories.
04Support Rowdy Christian media, and share this show or become a Fight Laugh Feast Club Member. You always get a free Fight Laugh Feast t-shirt with a membership and remember if you didn't make it to the Fight Laugh Feast Conference or Rally, club members have access to all the talks and lots more. Join today and have a great day.