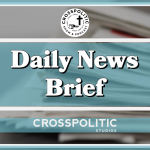 This is Garrison Hardie with your CrossPolitic Daily News Brief for Tuesday, August 28th, 2023.
Dropwave
Do you have a podcast, or thinking about starting one? Does your church have a podcast feed for sermons? Then Dropwave.io is for you. Cancel culture is like walking on a thin glass bridge over the Grand Canyon. Every step you take could get you killed, I mean canceled. Since the beginning CrossPolitic has been working on being antifragile, so no matter what happens, our content can still be delivered to your tv and to your podcast. This past year, the Waterboy and his friend Jeremi, have been working on building a podcast hosting solution for rowdy platforms like CrossPolitic, so that you can be confident your podcast will never fall through that glass bridge. Dropwave offers seamless onboarding for shows that have been around for years to easy to use solutions for starting your own podcast. Dropwave will track all your show's downloads by city, state, and country, and it offers network and enterprise packages for solutions like the Fight Laugh Feast Network. Free to speak, Free to podcast, free to start your journey now at www.Dropwave.io.
https://www.nbcnews.com/news/us-news/unc-campus-lockdown-police-search-armed-dangerous-person-rcna102216
UNC-Chapel Hill faculty member killed in shooting that sent campus into lockdown
A University of North Carolina-Chapel Hill faculty member was killed Monday in a shooting that prompted a campuswide lockdown while officials searched for an "armed and dangerous person," university officials said.
A suspect was captured about an hour and a half after the shooting at Caudill Laboratories, and an all-clear alert was issued for the campus about two hours after that.
No other injuries were reported, schools officials said at a briefing Monday afternoon.
"I am devastated and saddened by today's shooting in one of our campus buildings, a place where we conduct our important work of teaching, mentoring and research every day," UNC Chancellor Kevin M. Guskiewicz said in a letter to the university community. "This shooting damages the trust and safety that we so often take for granted on our campus. We will work to rebuild that trust and safety."
The university first alerted students of an armed and dangerous person on or near campus shortly after 1 p.m.
At 2:24 p.m., the university issued an alert to remain sheltered in place because a suspect was at large. Video from campus showed a large police presence.
When campus police released a photo of a person of interest at 2:35 p.m., they warned, "If you see this person, keep your distance, put your safety first and call 911."
The school said at 3:14 p.m. that all classes and events were canceled Monday.
North Carolina Gov. Roy Cooper said in a statement that officials "are taking precautions to protect campus safety following today's shooting."
"This is a tragic way to start a new semester and the state will provide any assistance necessary to support the UNC community," Cooper said.
No one with the university was immediately reached Monday afternoon for additional comment.
Officials with the FBI in Charlotte said the federal agency is assisting local law enforcement.
https://thepostmillennial.com/breaking-trumps-dc-trial-date-set-for-march-4-one-day-before-super-tuesday?utm_campaign=64487
Trump's DC trial date set for March 4—one day before Super Tuesday
DC federal Judge Tanya Chutkan has set March 4, 2024 as the trial date for Trump's case over the aftermath of the 2020 election. This is the day before Super Tuesday, when 14 states, including California and Texas, head to the polls to determine the GOP nominee for president.
The case, brought by special counsel Jack Smith, alleges that Trump engaged in conspiracy to defraud the United States, conspiracy to obstruct an official proceeding, obstruction of and attempt to obstruct and official proceeding, and conspiracy against rights.
Trump has pleaded not guilty to all charges. Trump's trial in Manhattan, brought by Manhattan DA Alvin Bragg, is set to start March 25, 2024.
In setting the date, Chutkan reportedly spoke to the New York judge who is overseeing the "falsified business documents" case in New York.
"Setting a trial date does not depend and should not depend on a defendant's personal obligations," Chutkan said, comparing Trump's campaign obligations to those of a professional athlete, whose schedule would also not be considered when setting trial dates in a criminal case.
More than 12.8 million pages of discovery have been given by the DOJ to Trump's defense. Special counsel prosecutor Molly Gaston said that "at this point, discovery is now substantially complete."
Trump's attorneys are likely to file many motions in the coming weeks, and John Lauro, representing the president, said that Trump is essentially being prosecuted for "being President Trump." Lauro is reportedly preparing a motion to dismiss the entire case over selective prosecution, saying "it provides an advantage to these prosecutors' boss who's running a campaign against President Trump."
Trump has asserted his belief that the 4 cases currently against him, two from Biden's DOJ and one each in Georgia and New York, constitute election interference.
When Trump was impeached the first time, it was on the basis of election interference. Congress alleged that Trump encouraging an investigation by Ukraine into Joe Biden's influence on the judicial system while he was VP, more than a year prior to the US presidential election of 2020, constituted election interference.
The House said that Tump "acting both directly and through his agents within and outside the United States Government—corruptly solicited the Government of Ukraine to publicly announce investigations into— a political opponent, former Vice President Joseph R. Biden Jr."
Now, the Biden administration is ordering these public trials, and that is not being characterized as election interference. Just weeks before the first indictment, Biden officials reportedly met with Jack Smith. This despite Biden continuously saying that the DOJ is independent.
https://www.dailymail.co.uk/health/article-12443319/Mask-study-published-NIH-suggests-N95-Covid-masks-expose-wearers-dangerous-level-toxic-compounds-linked-seizures-cancer.html
Mask study published by NIH suggests N95 Covid masks may expose wearers to dangerous level of toxic compounds linked to seizures and cancer
The surgical N95 mask has been held up as the gold standard when it comes to protecting against Covid.
But a study quietly re-shared by the National Institutes of Health in spring suggests the tight-fitting mask may expose users to dangerous levels of toxic chemicals.
Researchers from Jeonbuk National University in South Korea looked at two types of disposable medical-grade masks, as well as several reusable cotton masks.
The study found that the chemicals released by these masks had eight times the recommended safety limit of toxic volatile organic compounds (TVOCs).
Inhaling TVOCs has been linked to health issues like headaches and nausea, while prolonged and repeated has been linked to organ damage and even cancer.
'It is clear that particular attention must be paid to the VOCs associated with the use of KF94 [medical] masks their effects on human health,' the researchers wrote in the study published April.
However, there are ways to reduce the danger, they said. 'Exposure can be significantly reduced if a mask is opened and left to sit for at least 30 min,' the researchers wrote.
This suggests that the packaging of these masks could play a role in the amount of chemicals they have.
TVOCs are a large group of odorous chemicals, many of which are released by cleaning and beauty products, burning fuel and cooking.
In the latest study, researchers tested 14 disposable and cloth masks purchased online by measuring the amount of TVOCs in them. The disposable masks were KFAD and KF94 models, which were made from thermoplastics polypropylene and polyurethane nylon.
These masks have been popularized in South Korea, where the study was conducted, whereas KN95s are more popular in the US.
However, their differences are miniscule. KFADs and KF94s filter 94 percent of particles, while KN95s filter 95 percent.
Sources of TVOCs in the home include aerosol sprays, cleansers and disinfectants, moth repellents, air fresheners and automotive products.
Other sources include building materials and furnishings, office equipment such as copiers and printers, permanent markers, correction fluids, carbonless copy paper and craft materials including glues and adhesives.
Research carried out by the Cochrane Institute, for example, suggested that face masks made 'little to no difference' in Covid infections and deaths.
The researchers said harms caused by masks – including hampering children's schooling – were poorly measured in the studies, meaning any small benefit on infection rates may be outweighed.
And a controversial study suggested that wearing face masks raises the risk of stillbirths, testicular dysfunction, and cognitive decline in children.
https://www.dailyfetched.com/left-wing-media-meltdown-tucker-carlson-in-negotiations-to-interview-putin/
Tucker Carlson in Negotiations to Interview Putin
The news has the left-wing media up in arms.
The news was first announced by the Russian state-owned media outlet Russia Today.
RT Editor-in-Chief Margarita Simonyan said on Sunday that Tucker Carlson has been seeking an interview with Putin.
Carlson has yet to comment on the news.
Putin is known to shy away from one-on-one interviews with foreign media.
The news was broke by Kanekoa The Great on X: https://twitter.com/i/status/1695898131781853682 – Play Video
The last interview Putin did of this type with a Western journalist was an interview with CNBC anchor Hadley Gamble on the sidelines of the Russian Energy Week forum in Moscow in October 2021.
Last week, President Donald Trump's interview with Carlson was viewed 261 Million times, according to the view counter displayed on Twitter.