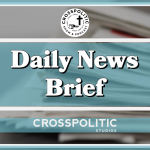 This is Garrison Hardie with your CrossPolitic Daily News Brief for Tuesday, August 2nd, 2022. Today, we'll talk about polling for the democratic party not looking so good… Oregon, considering a gun control measure that would be the strictest in the nation… Germany is planning for an energy crisis… and more… but first!
FLF Magazine:
We are on a mission to make magazines great again. So, subscribe to our Fight Laugh Feast magazine. This is a quarterly mini-book like experience, packed full of a variety of authors that includes theologically-driven cultural commentary, a Psalm of the quarter, recipes for feasting, laughter sprinkled throughout the glossy pages, and more. Sign your church up, sign your grumpy uncle up, and while you are at it…sign up the Pope, Elon Musks, and Russel Moore.
Disclaimer: This magazine will guarantee various responses and CrossPolitic is not held liable for any of them. Reading the whole magazine may cause theological maturation, possibly encourage your kids to take the Lord's Supper with you, and will likely cause you to randomly chuckle in joy at God's wondrous world. Sign up today! Four issues and $60 per year, that is it. Go to fightlaughfeast.com right now to sign up!.
https://www.dailywire.com/news/wild-new-poll-shows-virtual-tie-between-parties-as-gop-surges-among-hispanics
New Poll Shows Virtual Tie Between Parties As GOP Surges Among Hispanics
To the absolute despair of the Democratic Party, a new poll finds that the surge of support among Hispanics for the Republican Party has grown so strong that a virtual tie exists between support for the Democratic Party and the Republican Party.
Evidence has been building for the seismic shift among Hispanics for months. In May, a nationwide poll by Quinnipiac showed President Biden's approval rating among Hispanics at 26% as opposed to the 2020 presidential election, when he secured two-thirds of the Hispanic vote.
"Biden is less popular among Hispanics than any other demographic, including age and gender," Fox News noted of the poll's results.
A paltry 27% of Hispanics approved of Biden's economic policies, a percentage even lower than the 32% of Americans nationwide. Hispanics ranked inflation as the most pressing issue concerning them.
In March, Axios reported that their poll showed inflation had replaced COVID as the major source of concern among Hispanics.
"Getting prices under control is very clearly the number one priority for the majority of Hispanics and Latinos, and it underscores the challenges Biden is facing now," Ipsos pollster Chris Jackson acknowledged. "There's not really a single issue that's super-dominant, but we're seeing a shift from a focus on COVID and COVID-related issues much more to inflation, cost pressures, supply chain breakdowns."
For the Republicans to come anywhere near parity with Democrats is a stunning turn in the recent political fabric of the United States. In 2016, Republican nominee Donald Trump won 29% of the Hispanic vote while Democrat nominee Hillary Clinton won 65% of the Hispanic vote; in 2012, Republican nominee Mitt Romney won 27% of the vote while Barack Obama won 71% of the vote.
In 2008, 67% of Hispanics voted for Barack Obama and Joe Biden; only 31% voted for Republicans John McCain and Sarah Palin.
According to Latino USA, in 2004 the Republican nominee, George W. Bush, reached the highwater mark for his party since 1980, garnering 40% of the vote, but even then his opponent John Kerry secured 58% of the vote.
The Republican presidential candidate received 35% of the Hispanic vote in 2000, 21% in 1996, 25% in 1992, 30% in 1988, 37% in 1984, and 35% in 1980.
https://thepostmillennial.com/biden-made-false-claims-that-inflation-reduction-act-will-only-raise-taxes-on-those-making-400-000-report?utm_campaign=64487
Biden made false claims that Inflation Reduction Act will only raise taxes on those making $400,000+: report
President Biden has claimed that the Inflation Reduction Act of 2022 will not raise taxes on individuals making less than $400,000 per year, but according to data released by Republicans on the Senate Finance Committee, the President's claims are false and misleading, Daily Wire reports.
"The Inflation Reduction Act of 2022 will lower health care costs for millions of Americans. And, for the first time in a long time, make the largest corporations pay their fair share without any new taxes on people making under $400,000 a year," Biden claimed in a tweet on Sunday.
Data conducted by the nonpartisan Joint Committee on Taxation (JCT) shows that taxes will increase for everyone except those making between $10,000 and $30,000 per year, Daily Wire reports.
According to the JCT data reported by the outlet, "those making under $10,000 will see a .3% increase in their federal taxes; those making between $30,000 and $75,000 will see a .1% increase; those making between $75,000 and $100,000 a .2% increase; those making between $100,000 and $500,000 a .3% increase; those making between $500,000 and $1,000,000 a .5% increase; and those making over $1,000,000 a year will see a .6% increase."
After analyzing the new bill, Penn Wharton researchers released a study that found that the Inflation Reduction Act will cause inflation to increase until at least 2024, and GDP won't see an increase until 2050.
Republican Senator John Cornyn (Texas) slammed President Biden's tweet on Sunday and says it puts hardworking taxpayers under an even tighter microscope.
"It will subsidize the wealthy at the expense of working families, raise taxes on workers making as little as $10K a year, and unleash an army of IRS agents on taxpayers," Cornyn wrote. "Oh, and it won't reduce inflation anytime soon."
https://www.theepochtimes.com/oregonians-to-vote-on-nations-strictest-gun-control-measure_4633649.html?utm_source=partner&utm_campaign=BonginoReport
Oregonians to Vote on Gun Control Measure Opponent Calls 'Strictest' in the Nation
Oregonians will soon vote on a ballot measure that opponents say could virtually end the legal sale of firearms in the state, making it one of the "strictest gun-control measures ever proposed in the nation," according to Leonard Williamson, an explanatory committee member who opposes the measure.
If voters approve Measure 114, the "Changes to Gun Ownership and Purchase Requirements Initiative," a permit would be required to obtain any firearm, magazines capable of holding more than 10 rounds would be outlawed, some commonly used pump shotguns would be banned because they can exceed the 10 round limit, and State Police would be required to maintain a searchable public database of all permit applications.
Arguments on both sides of the issue began in earnest on July 26 as a five-person committee— comprising two members who helped to draft and promote the citizen-driven ballot measure, another who supports it, and two who oppose it—met to write the 500-word Explanatory Statement that will appear in the voters' guide this fall.
The committee got off to a contentious start as the only statement considered had been provided by proponents. Those opposing the measure called their language "misleading."
The measure would enact a law requiring a permit issued by a local law enforcement agency to purchase any firearm. Applicants would have to pay a fee, be fingerprinted, complete safety training, and pass a criminal background check.
In addition, the applicant must complete a hands-on demonstration of basic firearms handling to qualify.
"In order to obtain the permit, an applicant would have to show up with a firearm to demonstrate the ability to load, fire, unload, and store the firearm," Williamson, an Oregon trial attorney specializing in firearms law, told The Epoch Times. "But you can't get a firearm without the permit. And under Oregon's highly restrictive gun storage laws, no one can legally loan a firearm to another. That creates an impassable barrier."
Opponents claim that the permit and training programs also create an unfunded mandate with no enforcement measures.
The measure does not estimate the cost or analyze its impact on small local police departments.
The Oregon State Sheriff's Association has estimated that even if a person could somehow complete the required training, the permitting process could cost sheriffs almost $40 million annually. But nothing in the measure provides any funding, and the fees included would not come close to covering the costs.
With how dumb our bloated government is getting… make sure your kids are receiving a quality education. No not at any of those public institutions, how about NSA?
New Saint Andrews:
Today's culture shifts like sand. But New Saint Andrews College is established on Christ, the immovable rock. It is a premier institution that forges evangelical leaders who don't fear or hate the world. Guided by God's Word, they take the world back because they're equipped with the genius of classical liberal arts and God-honoring wisdom, thanks to a faculty dedicated to academic rigor and to God's kingdom.Find out more, at nsa.edu/
https://www.dailyfetched.com/germany-prepares-for-impending-energy-crisis-shuts-off-warm-water-lighting/
Germany Prepares for Impending Energy Crisis – Shuts Off Warm Water, Lighting
The German city of Hanover is now scrambling to reduce its energy consumption by 15 percent.
The German government will prevent Hanover's municipal buildings from using heating that exceeds a temperature of 68F.
Additionally, the city has also banned mobile air conditioning units and fan heaters as the energy crisis looms.
The city's residents will also need to adapt by taking cold showers at city-run facilities.
Hanover will also shut off hot water in public buildings, swimming pools, and gyms.
Hanover Mayor and Green party member Belit Onay said, "The situation is unpredictable."
"Every kilowatt hour counts, and protecting critical infrastructure has to be a priority," Onay said.
"We are facing hard times due to the Russian aggression on Ukraine."
"And as we see that there's a looming gas shortage, this is a major challenge for municipalities," he added.
"I think everyone, not only the municipalities — the federal government also, and also every single person in Germany — is needed for this."
"Everyone has to save energy as much as possible so we can get through the winter," Onsay said.
"Otherwise … in December or January, we will have much bigger problems than lighting or the showers."
The energy shutdown is not just happening in Hanover
Last week, the German city of Munich announced plans to shut off spotlights on its town hall.
According to reports, warm water was also shut off in the city's municipal offices.
Meanwhile, fountains in Germany's third-largest city are to be shut off at night.
In Nuremberg, three of its four public indoor swimming pools were also closed.
The Financial Times reported:
Vonovia, the country's largest residential landlord, said it would lower the temperature of its tenants' gas central heating to 17C (62F) between 11 p.m. and 6 a.m.
A housing association in the Saxon town of Dippoldiswalde, near the Czech border, went a step further this week, saying it was rationing hot water supply to tenants. From now on, they can only take hot showers between 4 a.m. – 8 a.m., 11 a.m. – 1 p.m. and 5 p.m. – 9 p.m.
The district of Lahn-Dill also shut off hot water in its 86 schools and 60 gyms until mid-September.
Last week, Berlin's senate voted to switch off lighting that illuminates 200 buildings, monuments, and landmarks in the German capital to save energy.
Before we wrap up for today's news, I gotta get my sports in there!
https://www.breitbart.com/sports/2022/07/31/christian-nwsl-player-misses-game-over-refusal-to-wear-pride-jersey/
Christian NWSL Player Misses Game Over Refusal to Wear Pride Jersey
A player for the National Women's Soccer League (NWSL) chose to miss a game on Friday night instead of wearing the "Pride" jersey her team was scheduled to wear.
Jaelene Daniels, a Christian and defender for the Carolina Courage, cited her commitment to faith when explaining her decision to miss the game due to the pride-themed jerseys.
"I remain committed to my faith and my desire for people to know that my love for them isn't based on their belief system or sexuality," she wrote on social media. "I pray and firmly believe that my teammates know how much I cherish them, respect them, and love them."
The Courage said they were "disappointed" by Daniels's decision.
"Jaelene will not be rostered tonight as she has made the decision to not wear our Pride jersey," the team said via ESPN. "While we're disappointed with her choice, we respect her right to make that decision for herself.
"We're excited to celebrate the LGBTQIA+ community with our fans, players and staff tonight and look forward to hosting our first ever Pride Festival before kickoff."
This is not the first time Daniels has chosen principle over career enhancement. In 2017, the defender turned down an offer to play for the U.S. Women's National Team (USWNT) due to that team's plan to wear pride-themed jerseys.
Good on you Jaelene, good on you. Gabe, let's get her on our show!
This has been your CrossPolitic Daily News Brief. If you liked the show, go ahead and share it for me would ya? If you want to become a club member, sign up for our conference, or become a magazine subscriber, you can do all of that at fightlaughfeast.com. Why not do all three? And as always, if you want to become a corporate partner, send me a news story, or ask me about our conference, email me at garrison@fightlaughfeast.com. For CrossPolitic News, I'm Garrison Hardie. Have a great day, and Lord bless.