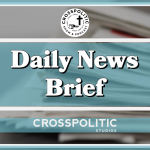 CrossPolitic Daily News Brief for Tuesday 08/03/2021
I am stepping in for Pastor Toby, well…because he is a Pastor first.
Friends of the show. Before I get started, I want to bring you backstage behind the CrossPolitic scenes on some things. We started CrossPolitic in 2016, and never could have imagined the world we are living in now. Men can magically become penguins…I mean women…I mean uh democrats are going insane, abortion is infrastructure, and conservatives are racist because we think voter ID is a good thing. The left/right divide use to be cordial, but now it has entered into Cold War era. You see this in cancel culture, the sexualization of politics (thinking of required cake baking scenarios), and partisan voting fraud investigations. And now that cancel culture has leaped from the government/university setting into the business world, the cold war is shifting into gorilla games. I am grateful for the voice God has given CrossPolitic, and I hope God continues to bless the road we are on. Our goal for CrossPolitic and the network is really two fold: First is to speak with courage the truth in such away that it creates space for you to do the same. Courage begets courage, and when we push back effectively that creates room for thriving Christian communities to grow. This is what it means to fight wolves is to create room for the sheep to run, to eat, and to sleep, so we hope we are doing this at a national level for you. Our second goal is to create a thriving Chrisitan economy. We have mentioned before, that the Babylon Bee was canceled from Mailchimp's services, Trump was kicked of Stripe, our friends over at Gab have been kicked off 5 banks. As our platform grows, we hope to bring more and more businesses together that are like minded in our walk with God and the mission of Fight Laugh Feast. The next 20 years, I believe, are going to be quite the fight, and this is why I think building our own platform is so important. Antifragil/Cancel free. The world has their platforms, think of ABC/FOX, etc…, we need to build ours. Why doesn't FOX host their own conferences/events? We are the only network, that I know of, that host our own events. We have to build, we have to be in community, we have to map out a game plan that hits back at a political culture that is hostile to Christ and His Church. So here are some ways you can help us build:
Share the show. Send a text. Email a friend. Get the word out. Did you listen to Dr. Jay?
Join the club
Come to our events.
If you own a business or are just wealthy, support our efforts, either behind the scenes or as a sponsor.
If you have talents that could help our efforts and want to volunteer, email me at Waterboy@CrossPolitic.com.
We are in the process of beginning to build out our club platform that will create a social media like experience for our club members. Our club members are invaluable, and we want to build a community platform for our club members to network with. We want our businesses to have access to our club platform, so we can all network together, hire each other, consult with each other, and become the dark web of resistance against our godless culture. Jesus is King, and of course we labor in vain if God does not build our house, and so as we make plans for an antifragile family network, club portal, business network, events, more shows on the network, etc… We lift them all up to God, and trust in Him to bless what directions, what plans He wants to bless. So, please consider reaching out to me, and we can't thank you enough for you tuning in. Lord bless
Christian CEO fired over views on marriage wins religious discrimination case
https://www.christianpost.com/news/christian-ceo-unlawfully-fired-over-views-on-marriage-court-says.html
According to the Christian Post:
"A court in Scotland has ruled in favor of a Christian CEO who they said was unjustly fired by the country's biggest grant-making trust because of his Christian views on marriage.
Kenneth Ferguson was unlawfully discriminated against by The Robertson Trust and its Chairwoman Shonaig Macpherson for believing that marriage is exclusively between a man and woman, an Employment Tribunal has ruled.
The Christian Institute, which supported Ferguson, announced the ruling in a statement on Friday.
Ferguson is an elder of Stirling Free Church, which holds traditional views on marriage and abortion.
The Christian CEO was dismissed from the Glasgow-based Trust last March after Macpherson objected to the church hiring the Barracks Conference Centre, a Trust property, for its Sunday services.
But the Trust reportedly cited "performance issues" as the reason for his firing.
"I was told by two members of my senior management team that Shonaig Macpherson went 'ballistic' and was almost unable to speak because she was so angry," Ferguson said previously, according to The Herald.
"She kept asking why the Trust had rented to the Stirling Free Church. One colleague told me that Shonaig had said 'definitely not the Free Church, anyone but the Free Church, they don't believe in same-sex marriage.' They said she was 'incandescent with anger.'"
The Tribunal observed that Macpherson appeared to be "seeking to find reasons" to justify firing Ferguson prior to March 2020.
"The issue of the beliefs of the claimant and Church with which he was associated" had been on the mind of Macpherson throughout the whole procedure, the ruling said.
The Christian Institute's Deputy Director for Public Affairs Simon Calvert called the ruling "a welcome re-statement of the principle, upheld again and again in the courts, that the Christian belief that marriage is between a man and a woman is a belief protected by equality law and worthy of respect in a democratic society."
Calvert said it was a "just outcome and one which sounds a warning to those who think they can mistreat Christians in the workplace."
Although the church had hired the property in June 2019 for one year, it was asked to quit for not complying with the Trust policy.
The court's next step is to hold a hearing to decide the amount of damages which The Robertson Trust will have to pay Ferguson."
Government Agency Wasted $143 Billion On Medicaid Overpayments In 2019-2020
https://dailycaller.com/2021/07/27/medicare-medicaid-government-waste-spending-lawsuit/
According to the Daily Caller:
"The Centers for Medicare and Medicaid Services (CMS) wasted $143 billion on Medicaid overpayments during the last two years, and it hasn't been transparent about its efforts to recover those funds.
CMS reported $57.36 billion and $86.49 billion in Medicaid overpayments in the fiscal years 2019 and 2020, respectively. The improper payment rates of 14.9% and 21.36%, respectively, represent a substantial jump from prior years, and CMS is required by the Social Security Act to recover improper payments that exceed three percent."
Americans for Prosperity Foundation (AFPF), a conservative nonprofit which seeks to advance economic freedom and promote limited government, filed a Freedom of Information Act (FOIA) request on May 5 asking CMS what efforts it had made to recover the overspent money, data on improper payment rates by state and internal communications within the agency regarding the issue. CMS did not answer the FOIA request, and AFPF and is now suing CMS in response.
"I have not been able to identify a bigger number historically, nor a more rapid surge. It's the mother of all government waste statistics," Americans for Prosperity senior health fellow Dean Clancy told the Daily Caller. "$143 billion is enough to cover another 24 million low-income adults, or another 7.2 million disabled people, for a full year."
CMS has also failed to thoroughly respond to a March 2019 letter from Republican Pennsylvania Sen. Pat Toomey and Republican Iowa Sen. Chuck Grassley and a December 2020 letter spearheaded by Republican Wisconsin Sen. Ron Johnson."
Plug
"In the beautiful town of Moscow, ID, Erber Automotive is looking for Christians to join forces and wage war together on broken cars. Since Adam's fall, cars have been suffering at the hand of the second law of thermodynamics, starting with that very first Eden Model 1 that Adam puttered out of the garden. Paul said that all creation groans, and he'd never even heard a poor car owner on the side of the road with a steaming engine! At Erber Auto, you'll work to make auto repair fun for customers with bouncy castles, motorcycle cruises, and honest service. Most importantly, you'll work alongside Christians to show entropy the Uno reverse card!
Erber Auto is looking for a shop manager/service writer, and is always looking for resumes from qualified and experienced technicians, who are ready to do battle with the forces of evil, or at least metal fatigue. They have 2 positions to fill at competitive salaries. Please send your resume to business@erberauto.com."
10 Republicans Back Bill Calling for Audit of the CDC
https://www.theepochtimes.com/10-republicans-back-bill-calling-for-audit-of-the-cdc_3928043.html?utm_source=partner&utm_campaign=BonginoReport
According to Epoch Times:
"A group of 10 Republican senators is backing legislation that would require an audit of the decision-making and public health messaging by the Centers for Disease Control and Prevention (CDC).
The Senate proposal (pdf), the Restore Public Health Institution Trust Act of 2021, would require the Government Accountability Office (GAO) to assess the CDC's public health messaging and decision-making and prepare a report on its findings.
The report would include a review of the data that the CDC used to make its recommendations and whether the agency's "inconsistent messaging" had an impact on the public's trust and willingness to take the COVID-19 vaccine.
"These guidelines, like most of the Biden Administration's actions these days, make little sense and seem without scientific direction," Sen. Marco Rubio (R-Fla.) said in a statement, referring to the CDC's recent reversal of masking guidance for fully vaccinated people.
"Americans have spent the last year and a half making tremendous sacrifices to halt the virus's spread, but they are confused and have lost trust in our institutions. The mixed messaging could also degrade trust in the efficacy of vaccines."
The measure would also require the GAO to determine whether outside entities, including teachers' unions, were in a position to affect the CDC's guidance."
COVID Disinformation:
https://redstate.com/streiff/2021/07/31/lauren-boeberts-opponent-is-a-veterinarian-who-works-in-wyoming-and-claims-her-hospital-is-filled-with-covid-patients-n419474
Play video: Crazy Arkansas lady
Then there is this tweet:
And according to Red State:
"Keep in mind that despite the scrubs and crazy eyes, Burnett is a veterinarian. She also claims to be a part-time physical therapist at Cheyenne (WY) Regional Medical Center, explaining the physical therapy table and dumbells.
As they say, let's go to the video.
Currently, Colorado is not experiencing a surge in ICU usage. In fact, the ICU occupancy rate is at or a little below normal.
Colorado has reported having 1,346 staffed adult ICU beds. 790 are filled by non-COVID patients and 102 are filled by COVID patients. Overall, 892 out of 1,346 (66%) are filled.
Colorado's Third District's major population center is Grand Junction. It is reporting ICU usage at normal levels.
Grand Junction metro area has reported having 38 staffed adult ICU beds. 19 are filled by non-COVID patients and 5 are filled by COVID patients. Overall, 24 out of 38 (65%) are filled.
Cheyenne Metro:
Cheyenne metro area has reported having 25 staffed adult ICU beds. 1 are filled by non-COVID patients and 12 are filled by COVID patients. Overall, 13 out of 25 (55%) are filled.
Lauren Boebert's Democrat opponent is not a medical doctor and does not work on a Wuhan ward or ICU. She is a veterinarian who is a part-time physical therapist. She doesn't work in a hospital in Colorado, so no matter what is happening in "her hospital," it has nothing to do with Colorado. Colorado's ICU situation is at or below normal. The vaccination rate in Third District is on par with the rest of the state, and one of the two highest vaccination rates in Colorado is in Third District."
Closing
This is Gabriel Rench with Crosspolitic News. Support Rowdy Christian media by joining our club at fightlaughfeast.com, downloading our App, and head to our annual Fight Laugh Feast Conference next fall. With your partnership, together we will fight outdated and compromised media, engage news and politics with the gospel, and replace lies and darkness with truth and light. Go to fightlaughfeast.com to take all these actions. Have a great day. Lord bless