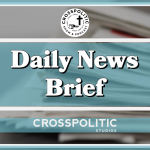 This is Garrison Hardie with your CrossPolitic Daily News Brief for Tuesday, August 30th, 2022. August 30th?! Time is flying! That's why you need to sign up for our conference…
FLF Conference Plug:
Our upcoming Fight Laugh Feast Conference is just about 6 weeks away from happening in Knoxville TN, October 6-8! Don't miss beer & psalms, our amazing lineup of speakers which includes George Gilder, Jared Longshore, Pastor Wilson, Dr. Ben Merkle, Pastor Toby, and we can't say yet…also dont miss our awesome vendors, meeting new friends, and stuff for the kids too…like jumpy castles and accidental infant baptisms! Also, did you know, you can save money, by signing up for a Club Membership. So, go to FightLaughFeast.com and sign up for a club membership and then register for the conference with that club discount. We can't wait to fellowship, sing Psalms, and celebrate God's goodness in Knoxville October 6-8.
https://thepostmillennial.com/san-francisco-businesses-threaten-to-stop-paying-taxes-until-city-officials-fix-homeless-problem?utm_campaign=64487
San Francisco businesses threaten to stop paying taxes until city officials fix homeless problem
Small business owners of San Francisco are demanding the city solve the growing mental health, crime, and drug problems exacerbated by the high rate of homelessness in the area, threatening to stop paying taxes if the issues continue.
The Castro Merchants Association, named after the city's Castro District, sent a letter to San Francisco city officials saying group members who own businesses in the area plan to stop paying taxes if the city doesn't do more to address the problems, reported KTVU.
In the letter, the organization complained of homeless people who "regularly experience psychotic episodes," vandalize storefronts, and harass business owners, employees, residents and tourists.
"Our community is struggling to recover from lost business revenue, from burglaries and never-ending vandalism/graffiti (often committed by unhoused persons) and we implore you to take action," stated the letter.
"Every day we wake up and have to help people on the street. We have to clean up feces on the street. We have to clear our people from doorways, so we can open our businesses. It's not fair," said Terrance Alan, co-president of the association, and owner of Flore Dispensary and Cafe Flore to KTVU. "At this point it's a failure of the system to help them."
The association requested that the city reserve 35 beds in homeless shelters for people in the Castro district, in addition to devising a plan for offering services to people who decline help and keeping monthly records of how many people have been offered services and shelter.
"Sometimes they do get violent," said Deen Nasher, manager of Castro Smoke Shop. "The city does need to take care of these people, find a place for them to stay and help businesses. When we call, [the police] come 30-40 minutes later."
Dave Karraker, the other co-president of the association, said that if the association's demands are not met, they may ask store owners to stop paying taxes and other city fees.
San Francisco's Department of Public Health (DPH) responded to the group, acknowledging the association's concerns and citing state policies that make their demands difficult to meet.
San Francisco businesses have seen a large increase in burglaries and vandalism since 2019, prompting The Castro Merchants Association to begin documenting incidents. The association noted over 90 incidents totaling more than $170,000 in repair costs since 2020.
https://thepostmillennial.com/google-revises-search-results-to-better-facilitate-abortions?utm_campaign=64487
Google revises search results to better facilitate abortions
Google will now filter search results to indicate which locations identified as providing pregnancy services specifically provide abortions. The search engine had come under fire from pro-abortion activists for including results for pregnancy centers that do not provide abortions.
Prior to this change, crisis pregnancy centers were also included in search results for abortion clinics. These are centers that help women who are unexpectedly pregnant keep their babies. Crisis pregnancy centers are in the business of facilitating birth, motherhood, and families, and encourage women to keep their babies, often providing help not just to the expecting mother, but for her partner as well.
When a user searches for abortion facilities, those facilities that specifically provide abortions will be labeled as "provides abortions." If the search engine doesn't know whether or not a facility provides pregnancy termination, that result will be labeled "might not provide abortions."
Google search results had not been differentiating between pregnancy centers that seek to help women, and those that offer pregnancy termination. As a result, some women seeking abortions were directed to services that would not provide them. This happened, according to Bloomberg, about a quarter of the time.
In June, after the Supreme Court ruling overturning the 1973 Roe v. Wade decision that federally legalized abortion, lawmakers pressed Google to make this change.
Their ask to Google came after a study from the Center for Countering Digital Hate, which "found that 11 percent of the results for a search for an 'abortion clinic near me' or 'abortion pill' in some states were for centers that oppose abortion," Reuters reported. This study was done in states that sought to make abortion illegal once the right to legislate on the matter was returned to the states.
The Center for Countering Digital Hate also put together a list of the top ten accounts that have specifically sought to counter the genital mutilation of children, and called those users hateful for demanding that healthy children not be sterilized or otherwise mutilated.
Those lawmakers who demanded Google change their search results to facilitate ease of finding access to abortions directed their letter to Google CEO Sundar Pichai. In the view of these lawmakers, crisis pregnancy centers that encourage the continuance, instead of the termination, of a pregnancy are "fake clinics." They cite the Center for Countering Digital Hate, saying that the ads for crisis pregnancy centers are "misleading."
"Google's updates," TechCrunch reports, "around searches for abortion come as a group of more than 600 Google employees is pressing the company to expand worker health benefits, divest itself of some political ties and bolster user privacy in light of the Supreme Court decision to strip federal abortion rights."
https://fee.org/articles/cnn-medical-analyst-says-masking-stunted-her-toddler-s-language-development-and-taught-her-an-important-lesson-about-tradeoffs/
CNN Medical Analyst Dr. Leana Wen Says Masking Stunted Her Toddler's Language Development
Throughout the pandemic, Wen was in what I'll call the "pro-mandate" camp.
In March 2021, she excoriated governors who rescinded or failed to pass mask mandates in their states.
"We are not out of the woods. We haven't reached the end of the pandemic," Wen said in a pro-mask CNN piece. "It's counterproductive and truly infuriating these governors are treating this as if the pandemic is over. It's not true."
Later that year, she went so far as to argue that unvaccinated people shouldn't be allowed to leave their homes.
https://twitter.com/i/status/1436372898651033601 – Play Video
A year later, Wen's views have changed. In a recent Washington Post article, she explained why she'll no longer be masking her children and how she shifted away from "being extremely cautious" with Covid protocols.
"I accept the risk that my kids will probably contract covid-19 this school year, just as they could contract the flu, respiratory syncytial virus and other contagious diseases," she writes. "As for most Americans, covid in our family will almost certainly be mild; and, like most Americans, we've made the decision that following precautions strict enough to prevent the highly contagious BA.5 will be very challenging."
Wen's observations are not wrong. The new variants are less deadly, and this is particularly true for children, which has always been the case.
A year ago, when Wen was still advocating strict mandates, we pointed out that the CDC's own data showed small children were at far greater risk of dying from the flu, drowning, vehicle collisions, cancer, and other things than Covid.
This data, for whatever reason, apparently did little to persuade Wen in 2021, however. What does appear to have changed her mind is that her child appears to have suffered from the mandates.
"Masking has harmed our son's language development," she bluntly asserts in the article.
Dr. Wen no doubt knows a great deal about public health, just like Anthony Fauci and Rochelle P. Walensky. But even Fauci and Walensky, I suspect, would concede that it's Wen who knows what's better for her child.
It must be stressed that it's not just that Wen wants what's best for her child. It's that she actually knows what's best for her child because she has infinitely more knowledge about her child than any distant bureaucrat or meddling politician could ever possess.
Nobel Prize-winning economist F.A. Hayek detailed this "local knowledge" concept in his work exploring "the knowledge problem," and he showed why central planners seeking to engineer society through force are capable of producing little beyond "planned chaos." This is why it's so important that freedom of decision-making is left to those who have the most local knowledge and can most accurately assess the risks and rewards of any given action.
The good news is that Wen, to her credit, appears to have learned something throughout the tragedy of the Covid pandemic, as have so many others.
Classical Conversations
Classical Conversations supports homeschooling parents by cultivating the love of learning through a Christian worldview in fellowship with other families. We provide a classical Christ-centered curriculum, local like-minded communities across the United States and in several countries, and we train parents who are striving to be great classical educators in the home. For more information and to get connected, please visit our website at ClassicalConversations.com. Again that's ClassicalConversations.com.
Alright guys, it wouldn't be a Garrison Hardie News Brief without my favorite topic… sports!
College football is back up and running, so here's the rundown of games and results…
MATCHUP

RESULT

Austin Peay

@

@

Idaho State

@

@

@

Duquesne

@

@

Florida A&M

@

@

@

@

Van 63- Haw 10
This has been Garrison Hardie with your CrossPolitic Daily News Brief. If you liked the show, hit that share button down below. If you want to sign up for a club membership, then sign up for our conference with that club discount, and THEN sign up for a magazine, you can do all of that at fightlaughfeast.com. And as always, if you'd like to email me a news story, ask about our conference, or become a corporate partner of CrossPolitic, email me, at garrison@fightlaughfeast.com. For CrossPolitic News… I'm Garrison Hardie. Have a great day, and Lord bless!