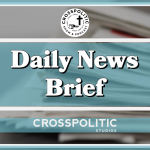 Joe Biden on the Vaccines and more on today's CrossPolitic Daily News Brief
This is Toby Sumpter. Today is Tuesday, August 31, 2021.
Oregon Law Prohibits Vaccine Mandates
https://www.kgw.com/article/news/health/coronavirus/oregon-hospitals-cannot-mandate-vaccines-employees/283-1c73f5fc-ffcf-4f10-af20-7aabeb74d3c5
Hospitals in Oregon cannot require doctors, nurses or any of their employees to be vaccinated for anything from the flu to COVID-19.
It's been this way since 1989, when a law was passed stating "an employee shall not be required as a condition of work to be immunized under this section."
The Oregon Association of Hospitals and Health Systems (OAHHS) said it's long overdue for a rule change.
"We believe that it's important for hospitals to have that tool during a pandemic. Not that they all would, but just to have that option to require staff, to be vaccinated during a pandemic, we just think it's really important to have that local option," said OAHHS spokesman Dave Northfield.
"We believe that the state could write a rule that gives individual hospitals local control to institute a mandate that falls short of a statewide mandate," said Northfield.
OHA said the change that would allow hospitals to decide would have to come from the legislature. OHA Communication Director Robb Cowie said the only rule they could pass would be a statewide mandate.
One group against a law change is the Oregon Nurses Association (ONA). ONA Communication Director Scott Palmer released a statement that said in part:
"We are not currently seeking a change in Oregon's statutes regarding workplace immunizations.
We believe there is much more work corporations can do to protect workers and increase vaccination rates before they begin firing working Oregonians during a pandemic."
KGW Investigates could not find any other state with a law that prohibits hospitals from requiring vaccines for their employees.
https://www.kgw.com/article/news/local/hospitals-vaccine-requirements-oregon-law/283-a734746a-49d4-4c15-9e3f-904d4556f81e
— Kaiser Permanente, PeaceHealth and Oregon Health & Science University (OHSU) will require employees to be vaccinated against COVID-19, despite a 1989 Oregon law that prohibits hospitals from doing so as a condition of employment.
"I think that law is certainly a barrier. I think we're looking at this as a public health emergency. We're hoping to have some support from our government officials…we are calling this a requirement, there are ways for there to be a medical exemption," said Dr. Koekkoek.
The deadline for employees to get vaccinated varies by organization. PeaceHealth is requiring all caregivers to be fully vaccinated by Aug. 31. OHSU is targeting Sept. 1 for its staff and students and Kaiser Permanente hopes to have its workforce fully vaccinated by Sept. 30.
It's unclear what action, if any, hospitals will take against employees who are not vaccinated or exempt by the proposed deadlines.
Dr. Ryan Cole in Idaho Telling the Truth on Vaccines
https://www.youtube.com/watch?v=tUE5EBPt-lU
Breakthrough Cases in the Vaccinated:
Play 6:19-6:26
Wait, but President Biden said:
Play during opening music: 0:08-End
Dr. Cole goes on: The Vaccines are not nearly as good as natural Immunity, and they seem to be playing with natural immunity:
Play Audio: 6:30-8:37
Prevention
Play Audio: 8:38-11:01
Weakening Immune Systems?
Play Audio: 11:02-15:12
Biden isn't Supposed to Take any Questions, Especially Not About Aghganistan
Play: 0:00-0:15
Also, he's very sure about the vaccine efficacy:
Play during opening music: 0:08-End
" Let's talk about self defense and firearms. Jesus commanded in Luke 22:36 "he that hath no sword, let him sell his garment, and buy one"; should we likewise carry a pistol and defend those we love? <allow hosts to comment> Shan and his team at Werkz specialize in concealed carry holsters for pistols with lights. They believe defensive pistols should have a light and a holster because violent encounters often happen outside the home, and in the dark. Werkz offers holsters for 1,274 pistol and light combinations, plus can help outfit your pistol with a light. Go to Werkz.com/CrossPolitic and be prepared to defend day and night."
High School in Washington State Using Ankle Monitors
https://www.iheart.com/content/2021-08-25-high-school-uses-ankle-monitors-to-track-social-distancing-of-athletes/
A high school in Washington state is facing criticism after equipping student-athletes with ankle monitors to track social distancing during practices.
The students only have to wear them during practice and leave them in the locker room when they go home.
[They are only prisoners when they are playing the game.]
The monitors are being used as part of the district's contact tracing program. They record how close students get to each other and for how long. In the event of a positive COVID-19 test among students, health officials can quickly identify who had close contact with the infected individual.
Officials with the Eatonville School District have defended using the "proximity monitors" against backlash from parents and other people online.
"The monitors are for both staff (coaches) and students on the field, regardless if they are vaccinated or unvaccinated. If a student or coach tests positive, we will have immediate information regarding athletes' and coaches' contacts, so we can more tightly determine who might need to quarantine," the district said in a statement.
[This is called Totalitarian grooming, people. Getting you used to be monitored at all times.]
One parent said he was reluctant about letting the school put an ankle monitor on his son but didn't want to keep him from playing football.
[Reluctant?!!]
"I was notified if I didn't sign it, they couldn't play," Jason Ostendorf told the Tacoma News Tribune. "My son has played football since he was in third grade. He's passionate about the sport. … I signed it reluctantly. It's either that or he doesn't play. … It's not optional. If you don't sign the waiver, they don't get to play. You have no choice in the matter."
"It's just one more thing they're doing to the kids through this whole covid thing," he added. "The vaccine, now be tracked when you're at practice. Where does this end? I feel like this is an experiment on our kids to see how much we can put them through before they start breaking."
Another parent said he had no problem with the school using the ankle monitors.
"It's a continuation of doing what we have to do to let the boys play a sport that they love," Jason Lewis told KCPQ. "If my son would have told me, "Dad, I don't want to wear it. I'm not going to wear it,' He wouldn't be playing football. That's his choice. I mean, but he wanted to play football. He would have worn three of them if you asked him to."
And… there are your gods, America. Doing what we have to do to let the boys play a sport they love…. Ah, but what is a boy anyway? What is sport? And what is love?
Secretary of State Blinken Announces End of Official Occupation of Afghanistan
https://www.youtube.com/watch?v=2MjiTyyO4a4
Play: 2:13:24-2:14:04, 2:29:01-2:30:00
Did this administration break its word that no American would be left behind?
Psalm of the Day: Psalm 119x
Play: 0:00-1:15
Remember you can always find the links to our news stories and these psalms at crosspolitic dot com – just click on the daily news brief and follow the links.
This is Toby Sumpter with Crosspolitic News. A reminder: if you see news stories and links that you think we should cover on the daily news brief, please send them to news @ crosspolitic.com and don't forget to check deft wire dot com where we are constantly posting all our stories. Support Rowdy Christian media, and share this show or become a Fight Laugh Feast Club Member. You always get a free Fight Laugh Feast t-shirt with a membership and remember if you didn't make it to the Fight Laugh Feast Conference or Rally, club members have access to all the talks and lots more. Join today and have a great day.