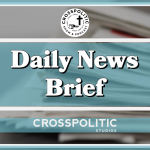 This is Garrison Hardie with your CrossPolitic Daily News Brief for Tuesday, August 8th, 2023.
Rowdy Christian Merch Plug:
If you're a fan of CrossPolitic, or the Fight Laugh Feast Network, then surely, you know we have a merch store right? Rowdy Christian Merch is your one-stop-shop for everything CrossPolitc merchandise. We've got T-Shirts, hoodies, hats, but we've also got specialty items like backpacks, mugs, coffee, even airpod cases! Visit Rowdy Christian Merch at rowdychristian.com, and buy that next gift, or a little something for yourself. Again, that's rowdychristian.com.
https://justthenews.com/politics-policy/elections/desantis-replaces-campaign-manager-amid-low-polling

DeSantis launches major shakeup, replaces presidential campaign manager amid low polling
In a major shakeup weeks in the making, Florida Gov. Ron DeSantis' presidential campaign announced Tuesday it had replaced its campaign manager amid low polling in the 2024 GOP primary.
DeSantis' gubernatorial chief of staff James Uthmeier replaced campaign manager Generra Peck, DeSantis' team confirmed to The Hill.
Peck will now work as the campaign's chief strategist.
"People have written Governor DeSantis's obituary many times," Uthmeier told The Messenger. "He's breaking records on fundraising and has a supporting super PAC with $100 million in the bank and an incredible ground game. Get ready."
Additionally, David Polyansky, former chief of staff for Texas Republican Sen. Ted Cruz, will also join the campaign after serving as an adviser at the pro-DeSantis Never Back Down super PAC.
"David Polyansky will also be a critical addition to the team given his presidential campaign experience in Iowa and work at Never Back Down," DeSantis' communications director Andrew Romeo said.
Republican strategist and former Trump adviser Roger Stone predicted that 2024 presidential candidate and Florida Gov. Ron DeSantis will completely run out of money by the first of October.
The largest donor to the Florida governor said earlier this week that he was going to hold off funding until DeSantis could appeal more to moderates.
Trump is ahead of DeSantis in Republican primary polls with 53.2% to the Florida Republican's 15.1%, according to an average of polls analyzed by FiveThirtyEight.
The staffing changes come after the DeSantis campaign laid off more than one-third of its employees last month.
https://bongino.com/electric-vehicle-company-heavily-promoted-by-biden-admin-goes-bankrupt
Electric Vehicle Company Heavily Promoted by Biden Admin Goes Bankrupt
Proterra, an electric bus manufacturing company promoted by the Biden administration, had everything it needed to succeed – and failed anyway.
As the Washington Free Beacon's Chuck Ross reported:
Proterra cited "various market and macroeconomic headwinds" in a Chapter 11 filing on Monday, which came after the California-based firm cut hundreds of jobs earlier this year and restructured hundreds of millions of dollars in outstanding debt.
Proterra stood to rake in millions from Biden's infrastructure and green energy initiatives, the former of which included at least $5 billion in spending on electric buses alone. Biden's flagship climate bill, the Inflation Reduction Act, also includes spending to help cities convert from diesel buses to electric buses, a major incentive for companies like Proterra.
JoAnn Covington, Proterra's chief legal officer, acknowledged last year that tax credits and federal grants under Biden's bills were a major incentive for the company. Grants to purchase electric buses and to create electric vehicle charging infrastructure would ​"open up opportunities to accelerate adoption of battery-electric and zero-emissions vehicles to all the other commercial segments on the cusp of being electrified," Covington said.
Energy Secretary Jennifer Granholm held non-public shares of proterra, which she sold in mid 2021 to an undisclosed buyer, pocketing over a $1 million profit in the process. She pledged to disclose the buyer, but never did. Proterra's stock only crashed from there, and Granholm's 240,000 shares would be worth roughly $60,000 total as of writing, had she still held them.
Earlier this year in February, Proterra's CEO Gareth Joyce was appointed by Biden to his Export Council.
The year prior, Biden hosted a virtual White House event that spotlighted Proterra's business, which included the president of the company giving a virtual tour of the company's manufacturing facility.
https://freebeacon.com/national-security/biden-admin-has-given-2-35-billion-to-taliban-controlled-afghanistan/
Biden Admin Has Given $2.35 Billion to Taliban-Controlled Afghanistan
The Biden administration has provided more than $2.35 billion in taxpayer dollars to Afghanistan since the Taliban retook control of the government in 2021 following a deadly U.S. evacuation.
The United States remains Afghanistan's top patron, even as lawmakers and federal oversight officials warn that these funds could be propping up the Taliban's terrorist government. Updated spending figures were disclosed Tuesday in a report by the Special Inspector General for Afghan Reconstruction (SIGAR), a federal watchdog that documents waste, fraud, and abuse related to U.S. expenditures in the war-torn country.
Around $1.7 billion "remained available for possible disbursement" at the time of SIGAR's report, meaning that this money is ready to flow into non-profit groups and other entities working on reconstruction projects in Afghanistan. With the Taliban exerting control over nearly every sector of the country's infrastructure—including the NGO community—it is more than likely that a sizable portion of these funds will end up in the terror group's coffers.
The latest figures are certain to increase congressional pressure on the Biden administration to stop sending taxpayer funds into Afghanistan until officials can ensure the Taliban is not stealing the money. John Sopko, head of SIGAR, told the House Foreign Affairs Committee in April that he "cannot assure this committee or the American taxpayer we are not currently funding the Taliban." Sopko also accused the Biden administration of blocking his investigatory efforts and refusing to hand over documents that could show if the Taliban is being propped up by American cash.
In the two years since the Taliban retook control of Afghanistan following the Biden administration's withdrawal of American forces in 2021, it has become increasingly clear that the terrorist group views international assistance as a "revenue stream," according to SIGAR's latest report.
The United States Institute of Peace recently warned the U.S. Agency for International Development (USAID), the primary vehicle for U.S. spending in Afghanistan, that the Taliban is "pushing for ever-increasing degrees of credit and control over the delivery of aid." United Nations officials also disclosed to the watchdog that "the Taliban have effectively infiltrated and influenced most UN-managed assistance programming."
This reality is raising questions about the nearly $2 billion in funds the Biden administration has made available for disbursement in the country. As U.S. aid money flows to the country, "Taliban interference with NGO work escalated, leading to a steady decline in humanitarian access in 2023, with a 32 percent increase in incidents between January and May 2023 as compared to the same period in 2022," according to the report.
The Taliban government also has not moderated its jihadi principles since seizing the country.
As SIGAR and congressional oversight committees raise concerns about the Biden administration's push to pump money into Afghanistan, the government agencies in control of these expenditures are not cooperating with investigations.
Sopko revealed in April that the "the Department of State, USAID, the U.N., and other agencies are refusing to give us basic information that we or any other oversight body would need to ensure safe stewardship of tax dollars."
Sopko revealed in April that the "the Department of State, USAID, the U.N., and other agencies are refusing to give us basic information that we or any other oversight body would need to ensure safe stewardship of tax dollars."
"More troubling," he added, "State and USAID have instructed their employees not to talk to SIGAR, and in one recent instance, State told one of its contractors not to participate in a SIGAR audit." The White House also would not cooperate with SIGAR.
Congress has had similar experiences, with USAID declining to tell investigators what safeguards were put in place to ensure taxpayer cash is not stolen by the Taliban.
https://nypost.com/2023/08/07/nathan-cruz-cousin-of-uvalde-school-shooter-arrested-for-threatening-school/
Cousin, 17, of Uvalde school shooter arrested for allegedly threatening 'to do the same thing'
A cousin to Uvalde school shooter Salvador Ramos was arrested after he was accused of threatening to shoot up a school and shoot his sister in the head, according to authorities.
Nathan Cruz, 17, allegedly told his sister he planned "to do the same thing" as his sicko cousin, who shot and killed 19 students and two staffers inside Robb Elementary School last year, according to an arrest warrant obtained by the San Antonio Express-News.
San Antonio officers responded to a mental health call after the teen suspect's mother grew worried Monday morning.
"The suspect's mother was especially concerned because the suspect is currently on probation, was intoxicated at the time, and for the fact that they live near an elementary school," the affidavit reportedly stated.
Cruz also allegedly mentioned how "school is starting soon," according to KSAT, which also obtained the warrant.
Cruz reportedly denied making any threats when speaking with detectives.
Cruz's mother said she overheard her son attempting to buy an AR-15 illegally over the phone, according to the warrant.
The family lives across the street from the Gardendale Early Learning Program, the newspaper reported.
In addition to the school shooting threat, he also threatened to shoot his sister in the head, the mother alleged.
The young man's sister believed his threat was credible "due to the recent history of their family and the suspect's knowledge of his cousin's actions," according to the San Antonio Express-News.
Cruz was booked on a felony charge of making a terroristic threat to the public and a misdemeanor charge of making a terroristic threat to a family member, according to online records from the Bexar County jail.
Just when you think Disney may have figured things out…
https://www.breitbart.com/entertainment/2023/08/07/disney-teams-up-with-transgender-tiktok-influencer-to-promote-girls-apparel-i-literally-look-like-minnie-mouse/
Disney Teams Up with Transgender TikTok Influencer to Promote Girls Apparel
The Walt Disney Co. has teamed up with a transgender TikTok influencer to promote apparel for girls — specifically, Minnie Mouse-themed clothes that include a red dress, yellow pumps, and a red hair bow.
Transgender influencer Seann Altman — a biological male who identifies as "gender fluid" — created a promotional TikTok video for Disney Style, the company's social media brand promoting Disney-themed clothing, makeup, and accessories.
In the video, which was first reported by the Twitter account @LeftismForU, he provides a dress-up tutorial to look like Minnie Mouse. The video was subsequently posted to Disney Style's official TikTok account.
https://twitter.com/i/status/1688344659003629569 – Play Video
As you just heard, Altman models a red dress, which he accessorizes with a white petticoat, yellow high-heel shoes, and a belt. He then adds artificial buns to his hair to simulate Minnie's ears and tops it off with Minnie's signature red bow.
The video is the latest example of Disney promoting transgenderism and gender non-conformity. As Breitbart News reported, Disneyland recently employed a mustachioed transvestite to welcome young girls into the park's Bibbidi Bobbidi Boutique.
In the past couple of years, Disney has fought Florida over its anti-grooming Parental Rights in Education law, created multiple transgender characters for its children's shows, put gay characters at the center of its big-budget movies, and even launched an LGBTQ-themed apparel line.
In 2021, the Disney+ streaming service hosted This Is Me: Pride Celebration Spectacular, a musical special on YouTube starring drag queen Nina West, with performances of popular Disney songs re-imagined with LGBTQ themes.