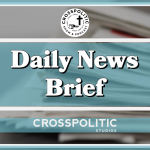 This is Garrison Hardie with your CrossPolitic Daily News Brief for Tuesday, August 8th, 2023.
Rowdy Christian Merch Plug:
If you're a fan of CrossPolitic, or the Fight Laugh Feast Network, then surely, you know we have a merch store right? Rowdy Christian Merch is your one-stop-shop for everything CrossPolitc merchandise. We've got T-Shirts, hoodies, hats, but we've also got specialty items like backpacks, mugs, coffee, even airpod cases! Visit Rowdy Christian Merch at rowdychristian.com, and buy that next gift, or a little something for yourself. Again, that's rowdychristian.com.
https://www.breitbart.com/middle-east/2023/08/07/3000-u-s-sailors-marines-reach-red-sea-as-bidens-middle-east-build-up-continues/
3,000+ U.S. Sailors, Marines Reach Red Sea as Biden's Middle East Build-Up Continues
Upwards of 3,000 U.S. sailors and Marines sailed into the Red Sea on Monday after transiting the Suez Canal in a pre-announced deployment, the U.S. Navy's Fifth Fleet said in a statement.
The reinforcements were carried aboard the USS Bataan and USS Carter Hall warships, providing "greater flexibility and maritime capability" to the Fifth Fleet, the statement seen by AFP added.
Their arrival followed a U.S. announcement last month it would deploy a destroyer, F-35 and F-16 warplanes, along with the Amphibious Readiness Group/Marine Expeditionary Unit, to the Middle East to deter Iran from seizing ships in the Gulf.
The U.S. military says Iran has either seized or attempted to take control of nearly 20 internationally flagged ships in the region over the past two years and the Biden White House wants to see more forces in the region to stand ready to engage Iran if required, as Breitbart News reported.
USS Bataan is an amphibious assault ship which can carry fixed-wing and rotary aircraft as well as landing craft. The USS Carter Hall, a dock landing ship, transports Marines, their gear, and lands them ashore.
"These units add significant operational flexibility and capability as we work… to deter destabilising activity and deescalate regional tensions caused by Iran's harassment and seizures of merchant vessels," Fifth Fleet spokesman Commander Tim Hawkins told AFP
The deployment comes after Washington said its forces blocked two attempts by Iran to seize commercial tankers in international waters off Oman on July 5.
About a fifth of the world's crude oil and oil products passes through the Strait of Hormuz, a narrow choke point between Iran and Oman.
https://thepostmillennial.com/must-watch-mike-pence-accidentally-admits-he-had-legal-ability-to-turn-2020-election-over-to-house-of-representatives?utm_campaign=64487
Mike Pence accidentally ADMITS he had legal ability to turn 2020 election over to House of Representatives
Following Trump's arraignment on "conspiracy" charges last week, the 2024 GOP frontrunner's former vice president, Mike Pence, said that the 2020 election results would have been turned over to the House of Representatives if he rejected the Electoral College votes.
https://twitter.com/i/status/1688640553808801792 – Play Video
On Thursday, Trump was arraigned on charges of conspiracy to defraud the government, conspiracy to obstruct an official proceeding, obstruction of and attempt to obstruct an official proceeding, and conspiracy against rights. He pleaded not guilty.
In the indictment from Special Counsel Jack Smith, he alleges that Trump enlisted six co-conspirators to "assist him in his criminal efforts to overturn the legitimate results of the 2020 presidential election and retain power."
The indictment alleges that Trump was "determined to remain in power" after the 2020 election, and for the two months following the election "the Defendant spread lies that there had been outcome-determinative fraud in the election and that he actually won."
"After it became public on the afternoon of January 6 that the Vice President would not fraudulently alter the election results, a large and angry crowd—including many individuals whom the Defendant had deceived into believing the Vice President could and might change the election results—violently attacked the Capitol and halted the proceeding. As violence ensued, the Defendant and co-conspirators exploited the disruption by redoubling efforts to levy false claims of election fraud and convince Members of Congress to further delay the certification based on those claims," the indictment stated.
Pence is currently running against his former administration partner for the GOP nomination, with Pence usually polling in the single digits While Trump leads anywhere from 40 to 60 points.
https://redstate.com/bonchie/2023/08/06/sikh-man-who-turned-the-tables-on-shoplifter-facing-criminal-charges-n788588
Sikh Man Who Turned the Tables on Shoplifter Facing Criminal Charges
As RedState reported, a Sikh convenience store owner turned the tables on a shoplifter as he attempted to get away with thousands of dollars of stolen merchandise.
The viral scene unfolded in California, showing a man shoveling entire shelves worth of tobacco and other products into a trash can while taunting the owner with proclamations that "there's nothing you can do." The shoplifter quickly learned that wasn't true, though, as he was tackled to the ground and beaten with a rod.
https://twitter.com/i/status/1686713571994959872 – Play 1:15-1:56
Apparently, while many California cities have no desire to actually enforce the laws against people who steal from business owners and put them in financial peril, they are interested in enforcing battery laws involving the protection of said businesses. According to a new report, the Sikh man is now facing criminal charges as local police investigate the incident.
Some are making the argument that the force used on the shoplifter in the video was excessive, and as a purely legal matter, that may be true. The shoplifter was begging for mercy while the store owner continued to swing back and strike him. The question is at what point the store owner is expected to disengage, and he likely passed that point.
Still, I think that argument misses the broader point of what normally law-abiding citizens are dealing with and what the ultimate consequences are of refusing to enforce the law against criminal vagrants. These business owners (and also just people walking down the street) are being ignored by local police and prosecutors as they are harassed, assaulted, and stolen from. It was just a matter of time before someone reached their breaking point and lashed out.
https://justthenews.com/politics-policy/education/sunillegal-immigrants-colleges-soars-nearly-2-population-study-finds
Illegal immigrants in colleges soar to nearly 2% of population, study finds
At least 408,000 students without legal documentation to be in the country enrolled in U.S. colleges and universities, yet another system impacted by the surge in illegal immigration, according to a new study.
The new report by the American Immigration Council and the Presidents' Alliance on Higher Education, found that undocumented migrants now account for nearly 2 percent of the higher education population.
The vast majority, the authors noted, arrived in the U.S. in their formative years, either as children or teenagers and most often through president Barack Obama's Deferred Action for Childhood Arrivals, or DACA, program that blocked deportation of certain foreign youth.
These students, often referred to as "Dreamers," have grown up in "American neighborhoods and attended American schools," and now they are attending U.S. colleges, often on the American taxpayers' dime. Recent data shows that taxpayers pay $182 billion each year to provide services and benefits to illegals and their dependents.
The current total of illegal alien college students actually represents a slight decrease from 2019, when 427,000 undocumented students were enrolled in U.S. colleges and universities.
The report noted that "undocumented students in higher education are concentrated in a small number of states." In fact, 75 percent of undocumented students reside in 12 states. The vast majority of this 75 percent hail from just four states: California, Texas, Florida and New York.
The study also gives significant detail on which colleges and universities are the biggest draw for illegal aliens: more than 77 percent are enrolled in "public two- and four-year colleges and universities, with a significant proportion of these students attending community colleges," it said.
Now for my favorite topic… sports!

https://www.breitbart.com/sports/2023/08/06/sick-joke-megan-rapinoe-ends-her-career-with-missed-penalty-kick-that-costs-u-s-the-world-cup/
Team USA lost last night, and I'm THRILLED!
Megan Rapinoe Ends Her Career with Missed Penalty Kick that Costs U.S. the World Cup
The international career of Megan Rapinoe ended in a dramatic penalty shoot-out against Sweden on Sunday with her failed kick at goal helping to send the U.S.A. team crashing out of the soccer World Cup underway in New Zealand and Australia.
Rapinoe and Sophia Smith missed penalties that could have given the U.S. the win, and Kelley O'Hara missed the Americans' final shot to give Sweden the opening it needed.
Rapinoe, who I've covered in the past, spoke to the media afterwards.
https://twitter.com/i/status/1688167422371536896 – Play Video
The result ended the international career of Rapinoe, the Golden Boot winner of the 2019 tournament who is retiring after the World Cup.
It is the earliest exit in tournament history for the United States, four-time winners of the World Cup.
The United States claimed the last two Women's World Cups and four of the eight editions held before this year's event Down Under.
They had never gone out before the semi-final stage.
This time they have been sent packing in the last 16 having won just one game and that an unconvincing 3-0 defeat of Vietnam.
Brought off the bench against Sweden, her final act for her country was to put her penalty over the bar and send her country's hopes with it into oblivion.
Plenty of soccer fans on twitter moved to voice their exasperation with her final effort.
https://twitter.com/i/status/1688169005104648192 – Play Video
Rapinoe pushes that equal pay talk, and then this happens… gotta love it.