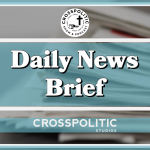 Good Tuesday everyone, this is Garrison Hardie with your CrossPolitic Daily News Brief for Tuesday, August 9, 2022.
Just a reminder:
FLF Conference Plug:
Folks, our upcoming Fight Laugh Feast Conference is just 2-months away from happening in Knoxville TN, October 6-8! Don't miss beer & psalms, our amazing lineup of speakers which includes George Gilder, Jared Longshore, Pastor Wilson, Dr. Ben Merkle, Pastor Toby, and we can't say yet…also dont miss our awesome vendors, meeting new friends, and stuff for the kids too…like jumpy castles and accidental infant baptisms! Also, did you know, you can save money, by signing up for a Club Membership. So, go to FightLaughFeast.com and sign up for a club membership and then register for the conference with that club discount. We can't wait to fellowship, sing Psalms, and celebrate God's goodness in Knoxville October 6-8.
Let's start today with our friends from the North…
https://thepostmillennial.com/trudeau-liberals-ban-on-handgun-imports-set-to-take-effect-august-19?utm_campaign=64487
Trudeau Liberals' ban on handgun imports set to take effect August 19
In May, Prime Minister Justin Trudeau revealed that his government would be moving to implement a national freeze on handgun ownership, essentially making it impossible to buy, sell, transfer, or import of firearms in Canada.
On Friday, the Liberals announced that the temporary ban on handgun imports would be taking effect on August 18 as a "stopgap" while the more comprehensive national freeze moves through the legislative process.
Public Safety Minister Marco Mendicino and Foreign Affairs Minister Melanie Joly held a joint press conference in Etobicoke on Friday to discuss the move, which according to CTV News, was pushed through without the approval of Parliament.
"There's no doubt that there is a very pressing issue that lies before us," Mendicino began, "and that is the need, the necessity to eradicate gun violence, one of the most pernicious and complex social harms that we see visited upon our communities every day."
He went on to announce that in order to hasten the implementation of the handgun freeze laid out in Bill C-21, "nearly all individuals and businesses in Canada will be banned from importing handguns" beginning August 19.
Joly explained that as foreign minister, she has "the authority to deny any import or export permit application that is contrary to Canada's security."
She noted that when Trudeau announced the freeze in May, there was an "uptick" in guns being purchased by Canadians. "We want to prevent that," she said, explaining that since most guns in Canada are not made in Canada, implementing a ban on imports would effectively ensure no new guns are purchased legally.
The move to ban handguns has faced pushback from many who question its effectiveness. In 2019, for example, Vancouver police Chief Adam Palmer said that Canada already had very strong firearms regulations in place and that no further action was required.
He added that the vast majority of gun crimes, especially those with handguns, are committed using illegal guns, thus it makes very little sense to ban an already prohibited weapon.
https://www.theepochtimes.com/southern-california-city-to-consider-banning-abortions-declaring-sanctuary-for-life_4646733.html?utm_source=partner&utm_campaign=BonginoReport
California City to Consider Banning Abortions, Declaring 'Sanctuary for Life'
Officials in the City of San Clemente, California, will consider a resolution Aug. 16 that would ban abortion and declare the city a "sanctuary for life."
The resolution defines the beginning of human life to be the moment of conception and would make it the city's declared duty to protect that life until natural death.
If passed, it would declare the city's support for the U.S. Supreme Court's recent overturning of Roe v. Wade and ban the act of abortion, abortion clinics, and abortion pills in the city.
The resolution allows exceptions for women at risk of losing their lives in the process of birth and for victims of rape or incest.
It also suggests that human beings do not have the authority to decide to end the life of the unborn.
"We believe that life is God-ordained and God is the author and finisher of every life," the resolution states. "[A]s a city council, we will protect and sustain life at every stage."
The resolution cites Poelker v. Doe of 1977—a legal precedent that allowed a city in Missouri to refuse to provide publicly funded hospitals for nontherapeutic abortions even though it provided facilities for childbirth—saying that "the Constitution does not forbid a state or county or city … from expressing a preference for normal childbirth instead of abortion."
Councilman Steve Knoblock, who proposed the resolution, hopes it will help to initiate change within California, considering the current trend in pro-abortion laws.
"The ultimate purpose of government is to protect the life and liberty of humans including unborn individuals," Knoblock told The Epoch Times in an interview.
Councilwoman Laura Ferguson told the City News Service Aug. 3 that it was a "distraction" from more important topics in the city—such as homelessness—when abortion is "something already legal and codified in state law."
A spokesperson for the state Attorney General Rob Bonta's office said access to abortion remains fully protected under state law, according to the City News Service.
Mario Mainero, Associate Dean for Chapman University's law school, told The Epoch Times this resolution would have no legal effect because state law pre-empts city law.
"California state law permits abortion up to fetal viability and no city can counter that," Mario said. "They can't ban abortion clinics because that would violate state law and they can't do that."
Armored Republic
The Mission of Armored Republic is to Honor Christ by equipping Free Men with Tools of Liberty necessary to preserve God-given rights. In the Armored Republic there is no King but Christ. We are Free Craftsmen. Body Armor is a Tool of Liberty. We create Tools of Liberty. Free men must remain ever vigilant against tyranny wherever it appears. God has given us the tools of liberty needed to defend the rights He bestowed to us. Armored Republic is honored to offer you those Tools. Visit them, at ar500armor.com
https://www.foxnews.com/us/nyc-mayor-eric-adams-blasts-texas-gov-gregg-abbot-second-bus-migrants-arrives-horrific
NYC Mayor Eric Adams blasts Texas Gov. Greg Abbott after second bus of migrants arrives: 'This is horrific'
New York City Mayor Eric Adams blasted Texas Gov. Greg Abbott on Sunday after a second bus full of illegal migrants arrived at his doorstep.
Adams gave a news conference Sunday morning at the Port Authority where he greeted an incoming bus of around 40 migrants — only 14 of whom disembarked in the Big Apple.
https://nypost.com/2022/08/05/nyc-mayor-adams-request-photos-of-city-job-applicants-to-increase-diversity/
Adams asks for photos of city job applicants in effort to increase diversity: report
Mayor Eric Adams is collecting headshots of potential city workers in a thinly-veiled effort to increase diversity, according to a new report.
Adams has requested city agencies to provide photographs of potential hires to City Hall as candidates go through the interview process for city jobs ranging from assistant commissioner to departmental press secretary, Politico reported Thursday.
Several unnamed city officials told the outlet that the request is clearly an effort to hire more diverse staffers. However, Adams maintains that it will merely help him recognize his employees in the sprawling city workforce.
"Everyone knew what it was. There was no question. It was the first thing everybody said: 'We're going to start counting complexions now,'" one recently-departed City Hall employee told Politico.
The majority of the officials interviewed by the outlet — who requested anonymity to speak freely about the internal measure — said they supported a more diverse workforce but worried the practice is already causing the Adams administration to make hiring decisions with a greater emphasis on race and ethnicity than merit.
Compounding the issue, nearly every official Politico spoke to also said the headshot request created another snag in the drawn-out hiring process — straying away from the mayor's signature motto of "get stuff done" at a time when city job vacancies are unusually high. About 8 percent of municipal jobs were vacant as of April, according to data from the Citizens Budget Commission.
Politico obtained emails sent by the mayor's team to about a dozen high-ranking officials at other city agencies asking them to submit headshots of people they hope to employ for Adam's own review.
One official said they were verbally told that Adams wanted agencies to hire people who "reflect the constituencies we serve."
Hiring managers aren't expected to ask job candidates for headshots, but instead grab photos from social media sites like LinkedIn to appease the mayor's request, two sources told Politico.
https://www.outkick.com/jon-gruden-email-leak-hit-job-agent/
JON GRUDEN'S AGENT BELIEVES FORMER COACH'S EMAILS BEING LEAKED WAS A HIT JOB: 'HE'S NOT A RACIST'
We're approaching the one-year mark since Jon Gruden was forced to resign as the head coach of the Las Vegas Raiders following a scandal involving an email leak, but his agent is still going to bat for his client, now calling it "a hit job."
Gruden stepped down as the Raiders' head coach in October of 2021 after emails directed at NFL commissioner Roger Goodell were leaked that contained racist and homophobic comments. The emails were discovered in what was a league investigation into the Washington Commanders' workplace culture.
An email reportedly implied that Gruden was annoyed that the NFL forced the then St. Louis Rams to draft "queers," which is a reference to the team drafting Michael Sam in 2014.
Gruden reportedly sent an email making fun of the size of NFLPA executive director DeMaurice Smith's lips.
"Dumboriss Smith has lips the size of Michelin tires," the email from 2011 reportedly read.
The collection of emails dated back to Gruden's time at ESPN, before he joined the Raiders for his second stint as head coach.
With the original investigation not directly pointed at Gruden, his agent Bob LaMonte is convinced the NFL was simply out to get his client.
"I can tell you right now that was a hit job," Bob LaMonte told JoeBucsFan.com.
"Why now, of all things, does that come out in an investigation that had already gone away? It was 10 years ago. And then why Jon and why the Raiders? He wasn't even in the league at the time of those e-mails…That's the tragedy of it. You can say what you want, but if anyone really understands Jon, they know he's not a racist. That's quite obvious."
LaMonte's comments about Gruden echo those of legendary college football broadcaster, Brent Musburger, who was also the former radio broadcaster for the Raiders.
Report: Raiders Brent Musburger Breaks Silence on Jon Gruden– Play 2:40 – 5:29
Gruden has since filed a lawsuit against the NFL and Goodell as he believes the league sought to ruin his career and make an example of him. The NFL looked to dismiss the case, but a judge denied that ask.
Now, let's end things on more of a positive or interesting note, because not everything is bad news out there:
https://www.goodnewsnetwork.org/eyes-up-for-perseid-meteor-shower-and-saturn-show/
The PUR-SEE-IDS meteor shower is one of the best shows all year for "shooting stars".
Though the Perseids have been active since July 14, the frequency of meteors hurtling through the sky is now heating up this week. In fact, Perseids can produce up to 150 meteors per hour under dark skies!
Scientists say the peak time to view this shower will be on the night of Thursday, August 11 & Friday the 12th. The full moon that night may make it tougher to spot the meteors, so train your eyes toward the darker areas and watch closely.
This week is also one of the best times to see the ringed planet of Saturn in dramatic fashion.
On Sunday, August 14, the giant world will line up with the Earth and the Sun. The alignment is called an "opposition."
Saturn will be closer to Earth than it has been in more than a year. If you want a peek at the planet, look for a golden yellow light shining steadily in the east after sunset.
With binoculars, you may even see the spectacular Saturn rings.
This has been your CrossPolitic Daily News Brief. If you liked the show, go ahead and share it for me would ya? If you want to become a club member, sign up for our conference, or become a magazine subscriber, you can do all of that at fightlaughfeast.com. Why not do all three? And as always, if you want to become a corporate partner, send me a news story, or ask me about our conference, email me at garrison@fightlaughfeast.com. For CrossPolitic News, I'm Garrison Hardie. Have a great day, and Lord bless.