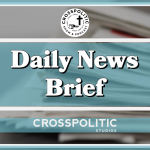 This is Garrison Hardie with your CrossPolitic Daily Newsbrief for Tuesday, December 12th, 2022. I hope you all had a good weekend with you and yours! Now let's get you caught up on the news:
But before we do that:
Club Membership Plug:
Its Christmas, join our club. During December, the first 75 people to upgrade or join our Gold or Platinum club membership will get our 32OZ Kodiak Christmas water bottle and a free subscription to our Fight Laugh Feast Magazine. By joining the Fight Laugh Feast Army, not only will you be aiding in our fight to take down secular & legacy media; but you'll also get access to content placed in our Club Portal, such as past shows, all of our conference talks, and EXCLUSIVE content for club members that you won't be able to find anywhere else. Lastly, you'll also get discounts for our conferences… We don't have the big money of woke media, and so our club members are crucial in this fight. So, join the movement, join our army, and you can sign up now at fightlaughfeast.com.
https://www.foxbusiness.com/economy/us-worker-productivity-tanked-year-what-gives
US worker productivity has tanked this year. What gives?
American workers aren't getting nearly as much done this year as they used to.
U.S. labor productivity plunged first quarter in the largest decline since 1947, then dropped by the highest annual amount on record in the second according to the Bureau of Labor Statics. The third quarter data indicates year-over-year output saw three consecutive declines for the first time since 1982.
So what is going on? One expert says there are several factors contributing to the drop in productivity, and the problem is likely to persist for some time.
Julie Bauke, founder and chief career strategist with The Bauke Group, told FOX Business the decline in output from the current workforce was largely inevitable – COVID just sped it up. In short, she says, "The world of work right now is a mess."
The U.S. workforce is stretched thin in this tight labor market – and people are just plain burnt out.
For starters, Bauke noted, the pandemic caused many older, seasoned workers to retire early, and the spots left behind by those "boomers" are being filled by an insufficient number of less-experienced workers from younger generations.
Not only do Gen X and Gen Z workers lack some of the institutional knowledge as older workers, Bauke says, but they are also less willing to put in the long hours their boomer managers might expect.
At the same time, the older workers that remain now tend to be less willing to sacrifice their health or family time to take on loads of extra work.
Adding to the problem, month upon month of persistent talent shortages means workers are being asked to do more than just their own job because employers have been unable to fill many open positions.
With recession fears growing, the problem is getting even worse.
Bauke says the first thing companies do when they are looking at cutting back their workforce is to cancel open positions, and "What message does that send to the people back at work who have been doing two jobs? It says the cavalry is not coming."
She argues companies have been pushing their employees to the point that the workers don't care anymore. But, with fewer positions open and a recession looming, workers are scared to leave their jobs out of fear that they would be the first to be laid off if they took a new position elsewhere.
https://www.marketwatch.com/story/household-wealth-down-by-13-5-trillion-in-2022-second-worst-destruction-on-record-11670623787?siteid=bullytweet
Household wealth dropped by $13.5 trillion from January to September, second-worst destruction on record
American households lost about $6.8 trillion in wealth over the first three quarters of 2022 as the stock market shed more than 25% of its value, the Federal Reserve reported Friday in the government's quarterly financial accounts.
Nominal net worth fell 4.6% to $143.3 trillion, as the market value of assets fell by $6 trillion and liabilities rose by about $900 billion. Households' balance sheets -assets minus liabilities—were propped up by a 10% increase in home equity, which is the greatest source of wealth for most American families.
But the loss in real wealth from January through September was about twice as large as the nominal loss — $13.5 trillion in current dollars—after accounting for the rapid inflation experienced this year. Inflation makes both debts and liabilities worth less in terms of purchasing power.
The 8.6% drop in real wealth over three quarters is the second-fastest decline on record (the data series begins in 1959). The only greater drop was following the financial crisis of 2008-09. (The wealth lost during the Great Depression of the 1930s would likely hold the record if we had the data.)
Even after adjusting for inflation, real household wealth was about 10% higher than it was in late 2019, just before the COVID-19 pandemic hit.
Household balance sheets—in the aggregate—remained in excellent shape despite the losses on Wall Street and the erosion of purchasing power. Wealth as a share of annual disposable (after-tax) personal income slipped slightly to 769%, not far off the record 825% in the first quarter of the year.
At $18.8 trillion, liabilities were just 103% of annual disposable incomes, far below the peak of 136% seen in 2008, just as that housing bubble burst. In real terms, liabilities are lower today than they were back then, despite the much larger economy.
Homeowners, in particular, were in good shape financially as September ended, with the equity in their houses rising to a near-record 70.5% of market value from a record low of 46% in 2012. But if home prices continue to fall as they have done in the past several months, homeowners without much exposure to the stock market will begin to feel poorer. What will happen to home prices as mortgage rates rise is a major unknown facing policy makers and homeowners alike.
Warning signs are also flashing as household debt has awakened, like Rip Van Winkle, after a 10-year nap. Following a decade of no growth in debt in inflation-adjusted terms, real household debt grew at a 4.3% annual rate in the third quarter, the fastest growth since 2007.
https://thepostmillennial.com/breaking-disgraced-loudon-county-school-superintendent-incited-for-cover-up-in-student-rape-case-inquiry?utm_campaign=64487
Disgraced Loudon County school superintendent indicted for cover-up in student rape case inquiry
Documents unsealed on Monday have revealed that a special grand jury in Loudon County, Virginia has indicted former superintendent of schools Scott Ziegler for his role in the handling of student sexual assault cases in the county's schools.
According to LoudonNow, the jury has issued four indictments against two Loudon County Public Schools officials, with the indictments being unsealed on Monday by a county judge.
Ziegler has been indicted on one count of false publication, one count of prohibited conduct, and one count of penalizing an employee for a court appearance, all of which are misdemeanors.
Public Information Officer Wayde Byard was indicted on one count of felony perjury, which reportedly carries a maximum sentence of up to 12 months in jail and a fine of up to $2,500.
The special grand jury, which was assembled in April by the Office of the Attorney General's Office to investigate the handling of two sexual assaults carried out by the same student at two separate schools in 2021, released their report last week regarding the investigation.
Ziegler was fired the following day during a closed-door meeting with the Loudon County School Board.
In their report, the jury stated that "we believe that throughout this ordeal LCPS administrators were looking out for their own interests instead of the best interests of LCPS."
On May 28, 2021, a girl was sexually assaulted in the women's bathroom at Stone Bridge High School by a male student. This student was temporarily detained in July of 2021, but was released and transferred to another school within the district. Then on October 6, another sexual assault by that same student took place at Broad Run High School.
"We believe that throughout this ordeal LCPS administrators were looking out for their own interests instead of the best interests of LCPS. This invariably led to a stunning lack of openness, transparency, and accountability both to the public and the special grand jury. There were several decision points for senior LCPS administrators, up to and including the superintendent, to be transparent and step in and alter the sequence of events leading up to the October 6, 2021 BRHS sexual assault. They failed at every juncture," the report said.
Classical Conversations
Classical Conversations supports homeschooling parents by cultivating the love of learning through a Christian worldview in fellowship with other families. They provide a classical Christ-centered curriculum, local like-minded communities across the United States and in several countries, and they train parents who are striving to be great classical educators in the home. For more information and to get connected, please visit their website at ClassicalConversations.com. Again that's ClassicalConversations.com.
https://www.theepochtimes.com/university-of-idaho-settles-christian-students-lawsuit_4916703.html?utm_source=partner&utm_campaign=BonginoReport
University of Idaho Settles Christian Students' Lawsuit
Three Christian students and a faculty member have settled a lawsuit against the University of Idaho that acted to limit their freedom of religious speech.
The lawsuit, filed by the Alliance Defending Freedom (ADF) attorneys in April, blamed university officials for targeting the students' First Amendment rights by punishing them for their religious speech. The university had issued no-contact orders on students—Peter Perlot, Mark Miller, and Ryan Alexander, who are members of the university's Christian Legal Society (CLS) chapter—as well as CLS faculty advisor Professor Richard Seamon.
In the settlement, the university rescinded the no-contact orders and agreed to pay $90,000. Following the settlement, CLS attorney Laura Nammo criticized university officials for censoring differing viewpoints as it "needlessly exacerbates polarization and harms all students' ability to learn from one another," according to ADF Media.
"Today's university students will be tomorrow's leaders, judges, and school administrators, so it's imperative that university officials model the First Amendment freedoms they are supposed to be teaching their students," said ADF Senior Counsel Tyson Langhofer, director of the ADF Center for Academic Freedom.
The conflict which triggered the lawsuit occurred during spring. The University's College of Law held a public event on the campus in Moscow, Idaho, to condemn an anti-LGBTQ slur that was found on a whiteboard at the Boise campus.
The event was attended by members of the CLS who also prayed publicly. The members follow a code that classified non-heterosexual marriage as immoral. One university student, referred to as Ms. Doe in court documents, questioned the presence of CLS at the event, pointing to the group's stance on LGBTQ.
The attorneys representing CLS students claim that they had responded respectfully, presenting their beliefs as per their Biblical interpretation.
But lawyers representing the university claimed that a CLS member would keep on insisting LGBTQ students will go to the "gallows of hell" if they fail to "repent for their sins," according to AP. Seamon is accused of having reinforced such statements. This caused Ms. Doe to be in tears, the university says.
Ms. Doe is then said to have received a note from another CLS member on her desk, asking for a discussion on the matter so that both sides can understand each other's views.
She later complained to officials that the contact made her feel harassed and uncomfortable, asking that no-contact orders against everyone, including herself, be issued so that she can feel safe.
At a panel with the American Bar Association, several people publicly denounced CLS' religious beliefs. One of the CLS students who attended the meeting claimed that it was his organization and its beliefs that faced the greatest amount of discrimination.
When no-contact orders were issued against CLS students, they were given no opportunity to defend themselves or review the allegations leveled against them.
CLS members eventually sued the University. In July, a federal judge asked the university to rescind the orders, pointing out that Ms. Doe has not alleged any sexual harassment.
The judge also noted that CLS students would likely succeed in arguing that the university was suppressing their First Amendment rights.