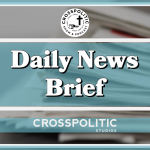 How important is a Dad? … and more on today's CrossPolitic Daily News Brief. This is Toby Sumpter. Today is Tuesday, December 14, 2021.
Find all our shows at Crosspolitic.com and download the Fight Laugh Feast App at your favorite app store so you don't miss anything. And if you're not yet a Fight Laugh Feast Club Member, let me just encourage you to consider it today. We are seeking to build a Rowdy Christian Network — news, sports, talk shows, even sitcoms that celebrate the good life and give liberals the proverbial whim-whams. If you'd like to help us do that, join the club. We love our sponsors, but the heartbeat of CrossPolitic is individual members supporting the work. Join today.
2021 Heisman Trophy Winner: Bryce Young
https://www.espn.com/college-football/story/_/id/32847065/quarterback-bryce-young-awarded-heisman-trophy-giving-alabama-football-back-back-winners
Play Audio: 0:00-0:25, 1:05-2:15
Wikipedia The Heisman Memorial Trophy (usually known as the Heisman Trophy or The Heisman) is awarded annually to the most outstanding player in college football. Winners epitomize great ability combined with diligence, perseverance, and hard work. It is presented by the Heisman Trophy Trust in early December before the postseason bowl games.
ESPN: Bryce Young is a sophomore and former five-star prospect from California, and he has lived up to the hype, beginning with a four-touchdown performance in a season-opening win over then-No. 14 Miami before going on the road to beat then-No. 11 Florida two weeks later. Despite playing behind a shaky offensive line, he dazzled with his ability to keep calm under pressure, evade the pass rush and find his receivers downfield. An accurate passer, he completed 68.0% of his attempts and didn't throw his first interception of the season until Week 4 against Southern Miss.
In the end, Young's Heisman credentials included a sterling 43 passing touchdowns and only four interceptions. A gifted, albeit reticent runner, he also rushed for three scores. But it was down the stretch, in a dramatic come-from-behind win at Auburn to close out the regular season and then by dominating No. 3 Georgia and its top ranked defense in the SEC championship game a week later, that Young sealed his Heisman victory.
It's probably a hate crime to point this out, but I'll just note that this young man has an intact family – a father and a mother who obviously loved him, supported him, and trained him to be the strong Christian young man he is today. Some meme recently pointed out that feminists are all about making sure that corporations and boards are made up of at least 50% women, but when it comes to families, apparently they're fine with whatever parenting configuration people want. I just saw some headline that California just registered its first every "throuple" which is a nonsense word meant to describe a couple that consists of three members, in this case three men who are all claiming equal status as parents on the birth certificate of some poor child. But back to my point: where are the feminists screaming that there is a distinct lack of female representation in the raising of this child?
https://www.cnn.com/2021/03/06/us/throuple-three-dads-and-baby-trnd/index.html
But you can always tell where a society's highest values are – it's those places where society is most concerned about authority and obedience and rules. In our culture, we most care about civil authority and obedience to those rules and businesses, CEOs and corporate boards. But when it comes to the authority and sanctity of marriage and family, we are fine with however someone wants to wing it because we do not value children, and fundamentally, this tells you that we do not value people. We value products and money and states. But not people, not immortal souls that will live forever. But the more we value products, money, and states, the more it will destroy people, and you will get fewer and fewer Bryce Youngs. But if you are involved in the hard work of marriage and childrearing, then you are in the holy business of making people, forming people, and those people will live forever. Your labors are not in vain. Businesses, states, corporations, and money will all fade and crumble, but those people in the back seat are made in the image of the living God. They are worth it.
AD: DNB AR500 Armor: The Mission of Armored Republic is to Honor Christ by equipping Free Men with Tools of Liberty necessary to preserve God-given rights. In the Armored Republic there is no King but Christ. We are Free Craftsmen. Body Armor is a Tool of Liberty. We create Tools of Liberty. Free men must remain ever vigilant against tyranny wherever it appears. God has given us the tools of liberty needed to defend the rights He bestowed to us. Armored Republic is honored to offer you those Tools. Visit them at www.ar500armor.com.
Democratic Governor Declares COVID Emergency Over
One Democratic governor says the time for COVID-19 regulations is over and that Americans should exercise personal responsibility over their health.
"The emergency is over," Democratic Colorado Gov. Jared Polis said in an interview last week with Colorado Public Radio.
"You know, public health [officials] don't get to tell people what to wear; that's just not their job. Public health [officials] would say to always wear a mask because it decreases flu and decreases [other airborne illnesses]. But that's not something that you require; you don't tell people what to wear," he said.
"You don't tell people to wear a jacket when they go out in winter and force them to [wear it]. If they get frostbite, it's their own darn fault. If you haven't been vaccinated, that's your choice. I respect that. But it's your fault when you're in the hospital with COVID," he said.
"Everybody had more than enough opportunity to get vaccinated. Hopefully it's been at your pharmacy, your grocery store, a bus near you, [or at] big events. At this point, if you haven't been vaccinated, it's really your own darn fault," he told Colorado Public Radio.
Polis said that a year after the arrival of vaccines in America should mark the "end of the medical emergency."
Supreme Court Upholds New York Vaccine Mandate
https://www.cnn.com/2021/12/13/politics/supreme-court-new-york-vaccine-mandate/index.html
The Supreme Court turned away two emergency requests Monday from health care workers, doctors and nurses in New York to block the state's vaccine mandate.
Justices Samuel Alito, Neil Gorsuch and Clarence Thomas dissented.
The dispute arose when three nurses and a group called We the Patriots USA, Inc, challenged the mandate, arguing that it allowed exemptions for those with medical objections but not for people with religious objections.
The rule, which is currently in effect, covers workers in hospitals and nursing homes, home health agencies, adult centers as well as hospices. Several doctors who say they have treated many patients with Covid filed a separate request with the justices.
So far, the justices have allowed state mandates from Indiana, Maine and New York to go forward suggesting a tolerance for state efforts to fight Covid-19 in the midst of a surge of the Delta variant.
Gorsuch wrote that he would have granted the requests, noting that the doctors and the nurses "have gone to great lengths to serve their patients" during the pandemic.
He said that two of the doctors are not "anti-vaxxers who object to all vaccines," but that the sincerity of their religious beliefs should be respected. Gorsuch noted that only recently had New York indicated that religious exemptions would not be accepted and he stressed the fact that the state did accommodate those with non-religious objections to the mandate.
"Even if one were to read the State's actions as something other than signs of animus, they leave little doubt that the re-vised mandate was specifically directed at the applicants' unorthodox religious beliefs and practices," Gorsuch said wrote.
He said that most every other state "has found that it can satisfy its COVID-19 public health goals without coercing religious objectors to accept a vaccine."
Gorsuch noted the fact that the Pope has encouraged vaccination. He asked, rhetorically, "if so many other religious persons are willing to be vaccinated, it is tempting enough to ask: What can be so wrong with coercing the few who are not?"
Answering his own question, Gorsuch said, "We should know the costs that come when this Court stands silent as majorities invade the constitutional rights of the unpopular and unorthodox."
Meanwhile,
The CDC: 80% of Omicron cases found in the fully vaccinated, a third of them had received a booster dose
Symptoms are mild in both the unvaccinated and vaccinated – Reuters
Psalm of the Day: Bach's Magnificat
Play: 0:00-1:51
Magnificat: My soul magnifies the Lord! My spirit rejoices in God my Savior!
Amen!
Remember you can always find the links to our news stories and these psalms at crosspolitic dot com – just click on the daily news brief and follow the links.
This is Toby Sumpter with Crosspolitic News. A reminder: Support Rowdy Christian media, and share this show or become a Fight Laugh Feast Club Member. For a limited time, we're offering a Christmas Man Box for new subscribers at the Silver level and above, and if you're already a club member, you can purchase the CrossPolitic Christmas Man Box for just $50 while supplies last. Remember if you didn't make it to the Fight Laugh Feast Conferences, club members have access to all the talks from Douglas Wilson, Joe Boot, Jeff Durbin, Glenn Sunshine, Nate Wilson, David Bahnsen, Voddie Baucham, Ben Merkle, and many more. Join today and have a great day.