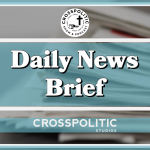 This is Garrison Hardie with your CrossPolitic Daily Newsbrief for Tuesday, December 6th, 2022. I hope you all had a good weekend with you and yours! Now let's get you caught up on the news:
But before we do that, have you heard of Smart Pricing Table?
Smart Pricing Table:
Do you own a business and write a lot of proposals? If so, you should check out SmartPricingTable.com.
Smart Pricing Table allows you to create quick and accurate proposals; and it's loaded with features like recurring fees, quantities and line item upsells. When your prospect is ready, they can e-sign and you're off to the races.
Visit SmartPricingTable.com and mention Cross Politic to get 25% off your first 2 months
https://thepostmillennial.com/breaking-ccp-linked-hackers-stole-20-million-in-covid-benefits?utm_campaign=64487
CCP-linked hackers stole $20 MILLION in Covid benefits from US
The Secret Service announced that hackers linked to the Chinese government stole at least $20 million in U.S. Covid relief funds, primarily those meant to help small businesses and unemployed Americans, NBC reports.
The theft from the Chengdu-based hacking group which goes by the name APT41 is the first instance of pandemic fraud tied to a foreign government that the U.S. has publicly acknowledged, and it may just be the tip of the iceberg.
The secret service declined to comment on any other potential instances of state-sponsored fraud, but said that there are more than 1,000 ongoing investigations into the stealing of Covid relief funds involving domestic and international cyber criminals, acknowledging that APT41 is "a notable player."
It is unclear at this point whether the Chinese government directed APT41 to commit this fraud or simply looked the other way.
"I've never seen them target government money before," the head of intelligence analysis at the cybersecurity firm Mandiant, John Hultquist said. "That would be an escalation."
The Secret Service considers APT41 to be a "Chinese state-sponsored, cyber threat group that is highly adept at conducting espionage missions and financial crimes for personal gain."
Officials believe that the primary purpose of state-sponsored groups like this is to gather sensitive information from American individuals, businesses, and institutions that could be used by the Chinese for espionage purposes.
At this point in time, law enforcement officials and counterintelligence experts and almost certain that every American has had all or most of their personal data taken by the Chinese government in one way or another.
Labor Department Office of Inspector General has estimated that more than $160 billion of the $872.5 billion set aside for Federal pandemic unemployment funds has potentially been siphoned off by cybercriminals, though some individual states estimate higher amounts.
There are other estimates that put that number as high as $350 billion.
https://www.dailywire.com/news/european-country-considers-banning-electric-vehicle-travel-amid-energy-crisis-report
European Country Considers Banning Electric Vehicle Travel Amid Energy Crisis: Report
Switzerland is considering banning electric vehicles for non-essential travel this winter as the continent deals with an energy crisis sparked by Russia's war in Ukraine.
The Telegraph reported that government officials have already drafted plans to conserve energy that could include limiting heat in buildings to no more than 68 degrees Fahrenheit and reducing the number of hours stores can be open.
Stricter measures could be enacted, including banning large indoor gatherings like sporting events, concerts, and theatre events, the report said.
Switzerland relies heavily on hydroelectric power, which constitutes nearly two-thirds of its energy supply, the excess of which it exports during the time of year that it can generate the most electricity from rain and snowfall, the report said. It then typically is forced to import energy during the rest of the year as its nuclear resources, which it has been working to phase out, and its fossil fuel resources are not enough to meet demand.
The country has created a two-tier system for dealing with the energy shortage: emergency and crisis.
When in the "emergency" tier, there are three levels of restrictions, and in the "crisis" tier, there are two levels.
Electric vehicles would face restrictions in the third level of the emergency tier.
In late August, officials in California unveiled a plan to phase out new gas-powered cars and days later asked residents to avoid charging their electric vehicles in the interest of not overwhelming the power grid during a heat wave.
The warnings of low grid capacity came days after the California Air Resources Board issued new rules requiring 35% of new vehicles to produce zero emissions by 2026 — a standard that will rise to a 68% benchmark by 2030 and a 100% level by 2035. Yet experts have warned that the state's electric grid will require significant upgrades to manage a rapid transition away from internal combustion vehicles.
"Today, most people charge their electric cars when they come home in the evening — when electricity demand is typically at its peak," according to researchers at Cornell University's College of Engineering. "If left unmanaged, the power demanded from many electric vehicles charging simultaneously in the evening will amplify existing peak loads, potentially outstripping the grid's current capacity to meet demand."
https://www.foxnews.com/politics/canada-offered-assisted-suicide-paralympian-veteran-wanted-wheelchair-lift-installed-report
Canada offered assisted suicide to a Paralympian veteran who wanted a wheelchair lift installed
Canada's Veterans Affairs office offered to assist a Paralympian and veteran to commit suicide when she sought to have a wheelchair lift installed in her home, the woman told lawmakers last week.
Christine Gauthier, a 52-year-old retired corporal who competed in the 2016 Paralympics at Rio De Janeiro, testified to lawmakers that a VA official had offered — in writing — to provide her with a medically-assisted suicide kit. The case officer remains unnamed but reportedly made similar offers to at least three other veterans, according to the Independent.
"I have a letter saying that if you're so desperate, madam, we can offer you MAID, medical assistance in dying," Gauthier said in a hearing before the House of Commons veterans affairs committee.
Prime Minister Justin Trudeau condemned the incident in a public statement on Friday after Gauthier said she personally wrote him a letter on the issue.
"We are following up with investigations and we are changing protocols to ensure what should seem obvious to all of us: that it is not the place of Veterans Affairs Canada, who are supposed to be there to support those people who stepped up to serve their country, to offer them medical assistance in dying," Trudeau said.
Canada first approved medically-assisted suicide in 2016, and the parameters around allowing it have since loosened. The law originally legalized assisted suicide only for those facing imminent death, but it now also includes those who suffered severe pain or disabilities, according to the Independent.
Gauthier's story comes just weeks after a Canadian fashion company glorified assisted suicide in a commercial.
Canadian fashion company La Maison Simons promoted the "beauty" in voluntary euthanasia in a promotional video titled "All is Beauty." The ad includes a voiceover from Jennyfer Hatch, a 37-year-old Canadian woman who voluntarily euthanized herself after suffering from Ehlers-Danlos syndrome.
Simons says that the ad aimed to "help people to reconnect to each other and to this hope and optimism," which he says "is going to be needed if we're going to build the sort of communities and spaces where we want to live and that are enjoyable to live in."
"The 'All is Beauty' campaign has come to an end this week. Simons is now entering their annual holiday sprint," a spokesperson for Simons told Fox News Digital. "In this context, all of their teams' efforts are focused on in-store and web holiday activities."
https://thepostmillennial.com/breaking-michael-avenatti-sentenced-to-168-months?utm_campaign=64487
Michael Avenatti sentenced to 168 months
Disgraced lawyer Michael Avenatti has been sentenced to 168 months in prison for four counts of wire fraud.
This 14 year sentence is in addition to the five years he is currently serving for other charges, including stealing almost $300,000 in book-advance money from his then-client Stormy Daniels
In June, Avenatti plead guilty to four counts of wire fraud and a single count of tax fraud, and admitted to misappropriating funds from clients totaling around $10 million.
During his sentencing on Monday, Avenatti appeared solemn, often keeping his head down and hands in front if him while hearing statements from two of his victims, according to Law and Crime News' senior reporter Meghann Cuniff, who was documenting the proceedings.
"It is now time to pay his debts to the victims, the government and society," the Judge said, right before sentencing him.
Avenatti became widely known across the country as the lawyer representing adult film star Stormy Daniels in her failed lawsuit against former President Donald Trump, after it was revealed that she was paid $130,000 in hush money before the 2016 presidential election to keep quiet about an alleged sexual encounter she had with Trump years earlier
Dubbed the "creepy porn lawyer" by Tucker Carlson, Avenatti was the darling of the mainstream media for a time, seen as a hero "David" for going after "Goliath" Trump, before Avenatti's fall from grace.
In July of 2021, he was also convicted of extortion after trying to get Nike to pay him $25 million that he claimed he was owed on behalf of a Los Angeles youth basketball team. He was sentenced to 30 months in prison and wept hysterically in response.
On top of the numerous fraud charges against him, he also admitted to blocking IRS efforts to collect unpaid payroll taxes of an estimated $5 million, include payroll taxes that had been withheld from employee paychecks of a Tully's Coffee operated by an Avenatti-owned company.
Accountable2You
Is your smartphone a tool in the service of Christ, or a minefield of distractions and temptations?
With soul-killing seductions just a few taps away, our families and churches must embrace biblical accountability on our digital devices.
Accountable2You makes transparency easy on all your family's devices, by sharing app usage and detailed browsing history—including "Incognito" mode—with your spouse, parent, or chosen accountability partner.
Accountable2You helps your family to proactively guard against temptation, so you can live with integrity for God's glory! Learn more and try it for free at Accountable2You.com/FLF
https://www.theblaze.com/news/man-thrown-over-the-side-of-a-bridge-after-chargers-game-in-wild-incident-caught-on-video-says-his-attacker-has-still-not-been-arrested-by-police
Man thrown over the side of a bridge after Chargers game in wild incident caught on video says his attacker has still not been arrested by police
A man who was caught on video being thrown over the side of a footbridge while exiting a Los Angeles Chargers on November 20th is speaking out, blasting police for not arresting his attacker and saying he no longer feels safe attending games at SoFi Stadium.
In the video, the man, who has been identified as Austin Willenbring, can be seen in a shoving altercation with some unknown individuals, who eventually lift him up and throw him over the side of the bridge railing to a concrete walkway below.
In the video, the men can be seen then dragging Willenbring to the railing before throwing him over.
Willenbring says that he suffered serious injuries as a result of his fall, including a concussion and broken ribs. Even still, he says that he and his sister were able to track down and identify the men who had thrown him over the railing, and even though they were able to make a positive ID to Los Angeles County Sheriff's Deputies, and had video of the entire incident, police refused to make an arrest. WCAL also reports that there is no record that the man identified by Willenbring has yet been arrested by police or charged with any crime in connection with the incident.
Inglewood police told WCAL they are "still investigating" the incident, and Inglewood mayor James Butts defended the city's response to the incident, saying, "Here's the reality: When you have hundreds of thousands of people in one place, when you have alcohol involved, you're gonna have fights. It's an unfortunate fact of life. We have to put things in perspective, six million patrons in three years, three altercations."
Willenbring says that he plans to cancel his season ticket package because he no longer feels safe going to games.