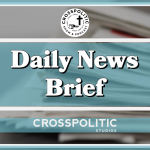 The Chinafication of Europe … and more on today's CrossPolitic Daily News Brief. This is Toby Sumpter. Today is Tuesday, December 7, 2021.
Find all our shows at Crosspolitic.com and download the Fight Laugh Feast App at your favorite app store so you don't miss anything. And if you're not yet a Fight Laugh Feast Club Member, let me just encourage you to consider it today. We are seeking to build a Rowdy Christian Network — news, sports, talk shows, even sitcoms that celebrate the good life and give liberals the proverbial whim-whams. If you'd like to help us do that, join the club. We love our sponsors, but the heartbeat of CrossPolitic is individual members supporting the work. Join today.
Pearl Harbor Day
Today we remember the attack on Pearl Harbor Naval Base in Honolulu, Hawaii. The attack commenced at 7:48 a.m. Hawaiian Time (18:18 GMT) on December 7, 1941. The base was attacked by 353 Imperial Japanese aircraft (including fighters, level and dive bombers, and torpedo bombers) in two waves, launched from six aircraft carriers. Of the eight U.S. Navy battleships present, all were damaged, four were sunk. All but USS Arizona were later raised, and six were returned to service and went on to fight in the war. The Japanese also sank or damaged three cruisers, three destroyers, an anti-aircraft training ship, and one minelayer. A total of 188 U.S. aircraft were destroyed; 2,403 Americans were killed and 1,178 others were wounded. This was one of the decisive events that led to America joining World War 2.
Moscow Caroling
Moscow Idaho dot news
Members of Christ Church, a local evangelical congregation, gathered to sing Christmas carols on Friendship Square on Sunday, December 5th, singing about a dozen traditional carols followed by hot cocoa and cookies. This is a yearly tradition for the church, and gathered approximately 300 people.
As they began singing, an individual residing in the second floor of the Moscow Hotel allegedly placed a noise machine speaker system in the window of an apartment in an attempt to drown out the Christmas carols. According to a witness at the scene who measured the sound with his smartphone, it topped 90 decibels. Meanwhile another individual on the steps of the Moscow Hotel yelled at the gathered families singing, and made disparaging gestures.
Pastor Doug Wilson stood up after a song and said, "Two things – the first thing we should do is on three yell 'Merry Christmas.'" The carolers shouted a robust "Merry Christmas" on three, directed at those at the Moscow Hotel attempting to drown out the singing. Wilson continued, "The second thing is let's move across the street around the fountain."
The carolers crossed the street and continued singing. After a short while the noise from the noise machine ceased, and singing continued unhindered until the end of the event.
The individual responsible for the noise machine was issued a citation by Moscow Police for disturbing the peace, and an MPD officer stayed on the scene to ensure no more illegal disturbances would take place.
As the carolers made their way across the street, one of the carolers, Jared Longshore, tells the camera, "Merry Christmas! We do love them up there."
Listen:
0:50-1:49
Ad: Classical Conversations DNB:
Classical Conversations supports homeschooling parents by cultivating the love of learning through a Christian worldview in fellowship with other families. We provide a classical Christ-centered curriculum, local like-minded communities across the United States and in several countries, and we train parents who are striving to be great classical educators in the home. For more information and to get connected, please visit our website at ClassicalConversations.com. Classical. Christian. Get Connected. Get Community. https://www.classicalconversations.com/
The Chinafication of Europe
Romanian Member of Parliament MEP Cristian Terhes:
Play Full Audio
US Announces Diplomatic Sanctions Against China
https://abcnews.go.com/Politics/us-announces-diplomatic-boycott-winter-olympics-china-human/story?id=81583714&fbclid=IwAR1Rw9Qw5rE725S18vcXJdnrmO_GfzIqj0Dax-0AYFmFrKtVAnx4ng4s4qo
The U.S. will not send an official delegation to the Winter Olympic Games in China early next year, the White House announced Monday, citing China's human rights record.
The diplomatic boycott means that U.S. athletes will still compete in the games, which will start in Beijing in February.
The Chinese government responded with swift condemnation of President Joe Biden's decision — saying the Olympics shouldn't be "a stage for political shows" and warning of "resolute countermeasures."
But the Biden administration said it would not send senior U.S. government officials because of China's mass detention camps and forced sterilization campaign against Uighurs and other Muslim ethnic minorities in the country's western province — policies that the U.S. government has determined constitute genocide and crimes against humanity.
Biden has been under growing pressure domestically to take some kind of action against the Beijing games because of China's increasingly authoritarian policies at home and aggressive actions across the region. The decision to not send a delegation stops short of an outright boycott of the games, as U.S. athletes will be participating.
"The athletes on Team USA have our full support. We will be behind them 100 percent, as we cheer them on from home," said White House press secretary Jen Psaki, but the administration didn't think "it was the right step to penalize athletes who have been training, preparing for this moment."
Ad: CWWI DNB:
If you are looking for something other than a four-year college degree, this ad is for you. College is great! But it's not for everyone.

Cornerstone Work & Worldview Institute seeks to fill that gap. Their mission is to build kingdom culture in the workplace through an integrative program of worldview instruction and on-the-job skills training under the guidance of mentors. They offer courses in Bible, theology, and economics as well as business, project management, and marketing and more. And they provide their students with internships with one of their business partners so they can learn and gain practical skills. They invite you to join their mission to provide Christians another educational opportunity.

Together they can help their students grow confident in their faith and competent in their labor. Visit them at cornerstonework.org to learn more, to enroll, or to partner with them.
Welcome to Your Decided-Not-to-Have-a-Baby Shower
https://www.newyorker.com/humor/daily-shouts/welcome-to-your-decided-not-to-have-a-baby-shower?utm_brand=tny&utm_source=facebook&utm_medium=social&mbid=social_facebook&utm_social-type=owned&fbclid=IwAR1hGZ6N5qUxzz1xB1o8S6pnlgQzWnhv1kQbaUt48XbLjKL1xc9kQ0AEtlU
Congratulations! You've decided not to have a baby! This is a huge milestone, and we want you to know that we—your friends and family—are here to support you. It's going to be a challenging first couple years as you power through the remainder of your thirties with people constantly asking when you're going to procreate like they're eager customers at a Golden Corral and you're the chef cooking up the next round of fresh hot buns.
[Ok pause. It really isn't any random stranger's business to ask about someone's plans for marriage or having children. But parents are required by God to raise their children in the nurture and admonition of the Lord. That nurture includes teaching about the blessing of children and family when we received with biblical faith. A parent talking with their grown children about marriage is not out of bounds, and while a married couple may not share every detail with parents, in a healthy relationship, it need not be some dark secret if a couple is struggling with infertility or some of significant health issues affecting the bearing of children.]
"But not to worry—once you hit forty, that'll be behind you! Then you'll be able to look blissfully ahead to the next several decades of acquaintances wondering if you're really "O.K.," and whether having a thriving career while also being able to go on vacation whenever you want is truly making you happy. We're going to be here to support you through that, too.
[Wait. Who's going to be there for you? If everyone's doing the childless thing… um, who's going to be there for you? I mean all the childless people are going to get older and then they will need help from who exactly? And they actually won't be there for you because they will be going to doctors appointments and dealing with all the anxiety of prolonged isolation.]
"Today is all about you, so let's celebrate! We've got cupcakes, Bellinis, and a big pile of presents for you to open. This first gift is from Carla and it's—you guessed it—a motorcycle! You are now free to hit the open road, knowing that if you die in a terrible, fiery crash, there won't be anyone left waiting for you to pick them up from preschool. You're off the hook, non-Mom! …
We also got you diapers! They're for you to wear when you're having so much fun partying well into your fifties that you'd rather stay right where you are and hear the next song than leave the dance floor for even one second to find a bathroom. They will also be useful if you ever decide to spend New Year's Eve in Times Square—as an adult unshackled by the burden of offspring, that is just the kind of idiotic decision you will be free to make…
[Actually, I mean, why not keep going with that joke… ? Who's going to take care of you when you're old? Who's going to change your diapers?]
Psalm of the Day: Psalm 128
Play audio: 0:08-1:19
Remember you can always find the links to our news stories and these psalms at crosspolitic dot com – just click on the daily news brief and follow the links.
This is Toby Sumpter with Crosspolitic News. A reminder: Support Rowdy Christian media, and share this show or become a Fight Laugh Feast Club Member. For a limited time, we're offering a Christmas Man Box for new subscribers at the Silver level and above, and if you're already a club member, you can purchase the CrossPolitic Christmas Man Box for just $50 while supplies last. Remember if you didn't make it to the Fight Laugh Feast Conferences, club members have access to all the talks from Douglas Wilson, Joe Boot, Jeff Durbin, Glenn Sunshine, Nate Wilson, David Bahnsen, Voddie Baucham, Ben Merkle, and many more. Join today and have a great day.