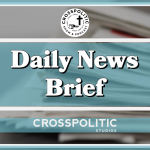 This is Toby Sumpter with your CrossPolitic Daily News Brief for Tuesday, Feb. 16, 2021.
Today you will hear about the courageous stand of Pastor James Coates in Edmonton, Alberta, the cray-cray Covid policies of New Zealand, Wisdom from Mr. Bean, Godfather Cuomo doesn't care about all the old people he killed with his covid policies, winter storm Uri pummels the country, and Psalm of the Day.
Two National Events: Fight Laugh Feast Rally in Rapid City, South Dakota, April 29, 30, May 1 & the Fight Laugh Feast Conference in Nashville, TN, October 14-16. Why a rally in South Dakota in April? Because we want to stand with Kristi Noem – the only Governor in the Union to not overstep her authority. And we also want to encourage you wherever you are. Many churches are not meeting, many Christians feel alone. But you're not alone. So the theme of the Rally in South Dakota is Love God, Sing Psalms, Defy Tyrants. Gather with likeminded Christians who love freedom, confess Jesus Christ is Lord over all, and be equipped to stand firm in these insane days. Go to FLFNetwork.com/Rally and register today. Remember if you're a Fight Laugh Feast Club Member, you get a $100 off your registration.
Remember: If you have a news story you think we might need to cover, please send articles and links to News@CrossPolitic.com and DeftWire.com
James Coates, Pastor of Grace Life Church in Edmonton, Alberta Preaches to His Nation
Sermon: Directing Government to its Duty
Play Audio: 39:41-42:07
A Statement on the Website Addresses Albertans:
Given the attention our church has received in recent days, we want to address the broader public on our reasons for gathering as a local church. What follows is not a theological defence… Instead, what follows will shed light on our approach to what is being called a "pandemic." The reason we put "pandemic" in quotes is because the definition of a pandemic was changed about 10 years ago. At one time, a pandemic was defined as an infectious disease that resulted in a certain percentage of excess deaths over and above normal annual averages. The definition was changed in connection with H1N1 to remove this threshold. Ten years ago, COVID-19 would not have qualified as a pandemic. In fact, not even close…
Having engaged in an immense amount of research, interacting with both doctors and frontline healthcare workers, it is apparent that the negative effects of the government lockdown measures on society far surpass the effects of COVID-19. The science being used to justify lockdown measures is both suspect and selective. In fact, there is no empirical evidence that lockdowns are effective in mitigating the spread of the virus. We are gravely concerned that COVID-19 is being used to fundamentally alter society and strip us all of our civil liberties. By the time the so-called "pandemic" is over, if it is ever permitted to be over, Albertans will be utterly reliant on government, instead of free, prosperous, and independent.
As such, we believe love for our neighbor demands that we exercise our civil liberties. We do not see our actions as perpetuating the longevity of COVID-19 or any other virus that will inevitably come along. If anything, we see our actions as contributing to its end – the end of destructive lockdowns and the end of the attempt to institutionalize the debilitating fear of viral infections. Our local church is clear evidence that governmental lockdowns are unnecessary. In fact, it is also evidence of how harmful they are. Without going into detail, we recently lost the life of one of our precious congregants who was denied necessary health care due to government lockdown measures…
What do we believe people should do? We believe they should responsibly return to their lives. Churches should open, businesses should open, families and friends should come together around meals, and people should begin to exercise their civil liberties again. Otherwise we may not get them back. In fact, some say we are on the cusp of reaching the point of no return. Protect the vulnerable, exercise reasonable precautions, but begin to live your lives again.
That said, living life comes with risks. Every time we get behind the wheel of a car, we are assuming a degree of risk. We accept that risk due to the benefits of driving. Yes, though vastly overblown, there are associated risks with COVID-19, as there are with other infections. Human life, though precious, is fragile. As such, death looms over all of us. That is why we need a message of hope. One that addresses our greatest need. That message is found in Jesus Christ.
CrossPolitic has received reports that Pastor Coates expects to be arrested on Tuesday, but we have also heard that church was full on Sunday with many unbelievers in attendance. This is what God does with obedience, particularly that kind of obedience that collides with the disobedience of the world. It creates sparks, and in that conflict, the gospel goes forth. Pray for Pastor Coates and his family and congregation, and pray that God would give all of them great courage to continue proclaiming the gospel in this moment. And may God raise up millions of more Christians in North America and throughout the world who are willing to stand up and proclaim the good news of Jesus.
Still Cray-Cray in New Zealand
https://www.stuff.co.nz/national/health/coronavirus/300230083/live-covid19-vaccines-arrive-in-nz-source-of-latest-community-cases-yet-to-be-found
A family tested positive for COVID-19 in New Zealand – one family – and Aukland went to level three three day snap lockdown. Three new cases.
People, we are ruled by idiots. We have been giving this kind of authority to our leaders for decades, and now we are reaping the consequences. If the government is your Nanny, they will eventually Nanny you. If they provide education, healthcare, medicine, business subsidies, and tell you what is safe or unsafe all day long, then you are asking for this. But this is not freedom. This is the Nanny State, it's tyranny with a smile. It's the tyranny of daycare for the masses.
Mr. Bean Gets It
0:52-3:35
Walking around all over the place.
Censoriousness of the most intimidating kind, guaranteed to have a chilling effect on free expression and free protest.
Cuomo Aid Admits & Apologizes to Democrats for Hiding COVID DATA
https://nypost.com/2021/02/11/cuomo-aide-admits-they-hid-nursing-home-data-from-feds/?fbclid=IwAR3PAca3740Ibl1v3EeJEUuBuUEusuZGqb3OLhZgLYTtm6SCv9xUR31t5TA
Gov. Andrew Cuomo's top aide privately apologized to Democratic lawmakers for withholding the state's nursing home death toll from COVID-19 — telling them "we froze" out of fear that the true numbers would "be used against us" by federal prosecutors, The Post has learned.
The stunning admission of a coverup was made by secretary to the governor Melissa DeRosa during a video conference call with state Democratic leaders in which she said the Cuomo administration had rebuffed a legislative request for the tally in August because "right around the same time, [then-President Donald Trump] turns this into a giant political football," according to an audio recording of the two-hour-plus meeting.
"He starts tweeting that we killed everyone in nursing homes," DeRosa said. "He starts going after [New Jersey Gov. Phil] Murphy, starts going after [California Gov. Gavin] Newsom, starts going after [Michigan Gov.] Gretchen Whitmer."
In addition to attacking Cuomo's fellow Democratic governors, DeRosa said, Trump "directs the Department of Justice to do an investigation into us."
"And basically, we froze," she told the lawmakers on the call.
"Because then we were in a position where we weren't sure if what we were going to give to the Department of Justice, or what we give to you guys, what we start saying, was going to be used against us while we weren't sure if there was going to be an investigation."
DeRosa added: "That played a very large role into this."
What did Gov. Cuomo say?
Play Audio: 0:00-0:28
Who cares? They died.
Share Plug
Is CrossPolitic a blessing to you? One of the most significant ways you can help us (and we need a LOT of help!) is by sharing this news brief or your favorite show with someone you think would appreciate it. Tell someone about the Fight Laugh Feast App. And last of all, become a Fight Laugh Feast Club Member. We are building a platform that Lord-willing cannot be cancelled by big media. And your support is helping to make that possible. Thanks to all of you who have already shared our content and become club members.
Winter Storm Uri Dumping Snow Across the Country
https://weather.com/safety/winter/news/2021-02-14-winter-storm-uri-south-midwest-northeast-snow-ice
A major winter storm, named Uri by The Weather Channel, has smashed snow records in Texas and will continue to spread snow and potentially damaging ice from the South into parts of the Midwest and Northeast through Tuesday.
This winter storm is being spurred on by a vigorous jet-stream disturbance and a low-pressure system spreading moisture into record-breaking cold air that is now entrenched across the central U.S.
Current Status
Uri is producing a widespread area of snowfall and some ice from the lower-Mississippi Valley to the Ohio Valley and Great Lakes.
The storm produced 6 inches of snowfall in Oklahoma City with drifts of 2 to 4 feet.
In Texas, Dallas-Fort Worth International Airport picked up 4 inches of snowfall in the storm, their heaviest snowfall at the airport site since Feb. 11-12, 2010.
Parts of the far north Houston metro area measured up to 4 inches of sleet and snow.
Both Abilene and San Angelo, Texas, smashed their all-time snowiest calendar day Sunday, in records dating to the late 1800s.
In Austin, Texas, 6.4 inches of snow was recorded at both Bergstrom Airport and Camp Mabry, their heaviest snowstorm in 72 years, since Jan. 30, 1949.
San Antonio officially picked up 2.5 inches of snow, leading to a surreal snowy view of area freeways Monday morning. It was their heaviest two-day snowfall in 36 years, since Jan. 12-13, 1985. Parts of the metro area, including near Sea World on the city's west side, picked up 6 inches of snow.
Up to 6 inches of snow was measured in College Station, Texas, near the campus of Texas A&M University. Up to 9 inches of snow was reported near Longview, Texas.
More than 2.8 million homes and businesses had lost electricity in Texas, as of Monday afternoon because of rolling blackouts from extremely cold temperatures, according to poweroutage.us.
Three-quarters of an inch of sleet coated the ground in Lake Charles, Louisiana, almost six months after Hurricane Laura's devastating strike.
The US map at Weather dot come shows a massive V shape running from Seattle down to San Antonio and then back up to Boston with snow running the whole way.
Wind Turbines Freezing in Texas Amid Winter Storm
https://www.dailywire.com/news/nearly-half-of-texas-wind-turbines-frozen-in-winter-storm-limiting-states-power-output?utm_source=facebook&utm_medium=social&utm_campaign=dwbrand&fbclid=IwAR3ZnMdEhgpW3vUmziA1DUXEVP2uDEvsnJ8Ou1MziKabIcm1xVJqiKf4mRY
The overall power output of Texas has declined after nearly half of the state's wind turbines were frozen in a winter storm over the weekend.
"Wind farms across the state generate up to a combined 25,100 megawatts of energy. But unusually moist winter conditions in West Texas brought on by the weekend's freezing rain and historically low temperatures have iced many of those wind turbines to a halt," the Austin American-Statesman reported. "As of Sunday morning, those iced turbines comprise 12,000 megawatts of Texas' installed wind generation capacity, although those West Texas turbines don't typically spin to their full generation capacity this time of year."
Parts of Texas reportedly dipped down to 0F (-18C) over the weekend and the state continued to experience frigid temperatures on Monday morning. More than 2 million homes and businesses in the state have experienced power outages as a result. Officials have said that the strong winds from the storm have helped spin wind turbines at a faster rate in other parts of the state, helping to make up for some of the loss of power. Fox Business reported that the severe weather was also leading to a reduction in oil and gas production.
Psalm of the Day: Psalm 32
https://www.christkirk.com/music/blest-man-whoes-trespass-forgiven-psalm-32/
0:00-0:41
Blessed is the man whose trespass is forgiven, whose sin is covered.
Do you want the joy of the Lord for these dark days? Confess your sins. In the same Psalm David says this is how God is his hiding place: You are my hiding place, you preserve me from trouble, you compass me about with songs of deliverance. Do you want God to be your hiding place? Do you want to be surrounded by songs of deliverance? Then confess your sins, get forgiven – that is how you get into God's fortress.
This is Toby Sumpter with Crosspolitic News. You can find this and all of our shows at Crosspolitic.com or on our app, which you can download at your favorite app store, just search "Fight Laugh Feast". Support Rowdy Christian media, and become a Fight Laugh Feast Club Member and get your very own Fight Laugh Feast t-shirt and access to all the talks at our first annual Fight Laugh Feast Conference as well as many exclusive behind the scenes interviews as well as our very own Worldview Shotgun Series. We still have a few Fight Laugh Feast tumblers left for club members at 25$ a month or more. Go to FightLaughFeast.com. Have a great day.