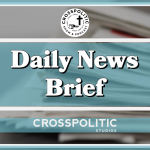 This is Toby Sumpter with your CrossPolitic Daily News Brief for Tuesday, Feb. 2, 2021.
Today you will hear a doctor explain why masks don't stop COVID-19, a military coup in Myanmar, what to look out for in the Equality Act, and of course, a Psalm for defying tyrants. 
Two National Events: Fight Laugh Feast Rally in Rapid City, South Dakota, April 29, 30, May 1 & the Fight Laugh Feast Conference in Nashville, TN, October 14-16. Why a rally in South Dakota in April? Because we want to stand with Kristi Noem – the only Governor in the Union to not overstep her authority. And we also want to encourage you wherever you are. Many churches are not meeting, many Christians feel alone. But you're not alone. So the theme of the Rally in South Dakota is Love God, Sing Psalms, Defy Tyrants. Gather with likeminded Christians who love freedom, confess Jesus Christ is Lord over all, and be equipped to stand firm in these insane days. Go to FLFNetwork.com/Rally and register today.
Remember: If you have a news story you think we might need to cover, please send articles and links to News@CrossPolitic.com 
Your Daily Reminder That Masks Don't Work
https://www.facebook.com/581010969/videos/10158917244960970/
Masks are like a chain link fence. Throw sand at it, and it stops some sand. 
The fear is so massive in this country. I wear a mask so people don't think I don't care about them. But I don't wear a mask cause they work. 
And here's a link with a bunch of charts demonstrating that masks have done absolutely nothing to actually slow the spread of COVID-19:
https://www.evergreenfamilymedicine.com/post/1-25-2021-masking-the-science?fbclid=IwAR3hFhW3UXUHIlxbGMEKne0NVlcz-re9JwQ-OIqfnEIwU9GezqBtuo7dTtw
Meanwhile, There's Been a Military Coup in Myanmar
One listener writes: "Keep in mind there's already draconian COVID laws (can only leave house once a week, masks must be worn everywhere in public, etc.)." And now there's been a military coup:
Feliz Solomon WSJ Reporter Covering the SouthWest:
https://www.wsj.com/video/myanmars-military-coup-what-we-know/4EBA4C14-1C6A-49FE-B29A-4B3D0BEF182C.html
Myanmar, also known as Burma, is located west of India, right between Bangladesh (to its east) and Thailand (to its west), with China to its north. It sits on the coast of the Bay of Bengal in the Indian Ocean.
Troops are patrolling the streets and a night-time curfew is in force, with a one-year state of emergency declared. This is the first military coup against a civilian government in Myanmar since 1962. US President Joe Biden raised the threat of new sanctions, with the UN and UK also condemning the coup. The army alleges the recent landslide election win by Ms Suu Kyi's party was marred by fraud. She urged supporters to "protest against the coup". In a letter written in preparation for her impending detention, she said the military's actions would put the country back under a dictatorship. The military has already announced replacements for a number of ministers. Myanmar, also known as Burma, was ruled by the armed forces until 2011, when democratic reforms led by Aung San Suu Kyi ended military rule. She spent nearly 15 years in detention between 1989 and 2010. She was internationally hailed as a beacon of democracy and received the Nobel Peace Prize in 1991.
Lamin Oo is a film maker and son of a member of the National League for Democracy party 
https://www.bbc.com/news/world-asia-55882489
This young protestor says the army assaulted the people in a coup of our civilian government elected by our people. 
Be in prayer for the believers in Myanmar especially.
Share Plug
Is CrossPolitic a blessing to you? One of the most significant ways you can help us (and we need a LOT of help!) is by sharing this news brief or your favorite show with someone you think would appreciate it. Tell someone about the Fight Laugh Feast App. And last of all, become a Fight Laugh Feast Club Member. We are building a platform that Lord-willing cannot be cancelled by big media. And your support is helping to make that possible. Thanks to all of you who have already shared our content and become club members. 
The Equality Act
https://www.firstthings.com/web-exclusives/2021/01/what-to-know-about-the-equality-act
Kenneth Craycraft writes in First Things: The Equality Act would amend the Civil Rights Act to forbid discrimination on the basis of sexual orientation and gender identity, but it would also fulfill the abortion industry's long-fought desire to establish abortion as "health care" officially and legally by outlawing "pregnancy discrimination." It requires that access to "treatment" for pregnancy must not be any different from access to any other kind of health care treatment for any other "physical condition." But this is all code language for implementation of a vigorous national policy of abortion on demand for any or no reason.
By making abortion health care and declaring that no person shall be discriminated against in access to such care, the Equality Act would make opposing abortion access morally equivalent to opposing dialysis, chemotherapy, stitching a wound, or setting a fractured arm; if there is no morally serious argument to be made against setting fractures, neither can there be a morally serious argument against providing an abortion. On the anniversary of Roe v. Wade, President Biden called abortion "health care"and repeated that he intends to make Roe v. Wade the law of the land, removing any doubt about his commitment to the Equality Act. 
The Equality Act would also outlaw certain kinds of psychological or psychiatric treatment, including any treatment for gender dysphoria that does not conform chapter and verse to extreme gender-identity ideology. Gender "confirmation" hormone therapy and mutilating surgery will also be protected "health care," under the same analysis as abortion above. And the Act would force schools and athletic conferences to allow biological males to compete against biological females in athletic competitions. On the first day of his presidency, Biden issued an executive order instructing all applicable administrative agencies to enforce just such an agenda.
While even the Obama-era Affordable Care Act contained conscience or refusal provisions for religious believers (albeit largely inadequate ones), the Equality Act expressly denies such exceptions. It explicitly provides that the "Religious Freedom Restoration Act shall not provide a claim concerning, or a defense to a claim under" the Act, nor "provide a basis for challenging the application or enforcement" of the Act.
Whatever crumb of religious liberty that might be left after enactment of the Equality Act would likely be swept up by the Do No Harm Act, a more comprehensive bill that would effectively render RFRA null and void. As a reminder, RFRA was signed into law by President Clinton in 1993 as a legislative correction of the Supreme Court decision Employment Div. of Oregon v. Smith (the so-called "peyote" case), in which the Court refused to exempt certain religious practices from otherwise generally applicable laws that prohibited them. It is under the federal RFRA and similar state RFRA laws that bakers, florists, photographers, and others have sought protection from being forced to participate in, and thus endorse, morally objectionable speech and rituals.
Psalm of the Day: Psalm 2 
https://www.christkirk.com/music/heathen-nations-vainly-rage-psalm-2/
Why do the heathen nations vainly rage? They take their stand against our God's Messiah. They claim they will not keep His binding chains. The One enthroned in highest heaven higher mocks them to scorn, on them derision rains.
Is your theology this big? Is it big enough to see all the machinations of men as vain and empty pouting? Is your theology big enough to see that it's all ultimately pointed at Jesus, the Messiah, who rose from the dead? Is your theology big enough to see the folly of all their schemes? Is your theology big enough to laugh with the God who laughs at them?
This is why we need the Psalms. We need these truths in our bones. You want to see Jesus honored in the public square. Sing Psalm 2. You can find this Psalm and many more at ChristKirk.com/music-library

This is Toby Sumpter with Crosspolitic News. You can find this and all of our shows at Crosspolitic.com or on our app, which you can download at your favorite app store, just search "Fight Laugh Feast". Support Rowdy Christian media, and become a Fight Laugh Feast Club Member and get your very own Fight Laugh Feast t-shirt and access to all the talks at our first annual Fight Laugh Feast Conference as well as many exclusive behind the scenes interviews as well as our very own Worldview Shotgun Series. We still have a few Fight Laugh Feast tumblers left for club members at 25$ a month or more. Go to FightLaughFeast.com Have a great day.