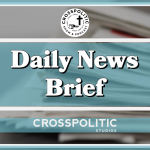 This is Toby Sumpter with your CrossPolitic Daily News Brief for Tuesday, Feb. 23, 2021.
Today you will hear about the Supreme Court declining to intervene in another voting case, Justice Thomas vigorously dissents, Merick Garland is Biden's Attorney General Nominee, and of course, a psalm of the Day. 
Two National Events: Fight Laugh Feast Rally in Rapid City, South Dakota, April 29, 30, May 1 & the Fight Laugh Feast Conference in Nashville, TN, October 14-16. Why a rally in South Dakota in April? Because we want to stand with Kristi Noem – the only Governor in the Union to not overstep her authority. And we also want to encourage you wherever you are. Many churches are not meeting, many Christians feel alone. But you're not alone. So the theme of the Rally in South Dakota is Love God, Sing Psalms, Defy Tyrants. Gather with likeminded Christians who love freedom, confess Jesus Christ is Lord over all, and be equipped to stand firm in these insane days. Go to FLFNetwork.com/Rally and register today. Remember if you're a Fight Laugh Feast Club Member, you get a $100 off your registration. 
Remember: If you have a news story you think we might need to cover, please send articles and links to news at CrossPolitic.com and DeftWire.com.
SCOTUS Said No Another Voting Case
https://thehill.com/homenews/campaign/539845-supreme-court-wont-review-pennsylvania-gop-election-lawsuit?fbclid=IwAR2l5vM91Wukq7bzcXoBeJwPffGE968tVGQUPO5huPmH0gxt4kEBYE-G384
The Supreme Court on Monday declined to review a series of challenges by Pennsylvania Republicans to the state's expansive mail voting policy.
The development marked long-deferred action on the pro-Trump litigation that was filed in the heat of the 2020 election and had sought to upend President Biden's victory in the key battleground state.
Three of the court's more conservative justices — Clarence Thomas, Samuel Alito and Neil Gorsuch — dissented from the court's denial of review in a pair of cases, though the justices made clear they had no desire to disturb the election result.
Two petitions that the court turned down Monday concerned GOP bids to invalidate Pennsylvania's extended mail ballot due date. The lawsuits claimed that Pennsylvania's policy of accepting timely sent ballots that arrived up to three days after Election Day was unlawful.
The three dissenting justices said the court should have seized the opportunity to determine if Pennsylvania's elections officials and courts had usurped the state legislature's authority over elections by easing mail voting restrictions.
"These cases provide us with an ideal opportunity to address just what authority nonlegislative officials have to set election rules, and to do so well before the next election cycle," Thomas wrote. "The refusal to do so is inexplicable."
The court's denial means that fewer than four justices wanted to take up the cases.
Separately, the court also declined to review a bid by Rep. Mike Kelly (R-Pa.), an ally of former President Trump, and others who had asked the court to strike down a Pennsylvania policy that expanded mail voting eligibility.
Biden won three of every four mail-in ballots cast in the state, according to a Philadelphia Inquirer analysis of Pennsylvania Department of State data, and his victory prompted a number of unsuccessful pro-Trump legal challenges to state voting rules.
Justice Clarence Thomas Dissented Vigorously
https://beckernews.com/read-justice-thomass-blazing-dissent-in-pennsylvania-election-case-is-one-for-the-ages-37016/
The Constitution gives to each state legislature authority to determine the "Manner" of federal elections. Art. I, §4, cl. 1; Art. II, §1, cl. 2. Yet both before and after the 2020 election, nonlegislative officials in various States took it upon themselves to set the rules instead. As a result, we received an unusually high number of petitions and emergency applications contesting those changes. The petitions here present a clear example. The Pennsylvania Legislature established an unambiguous deadline for receiving mail-in ballots: 8 p.m. on election day. Dissatisfied, the Pennsylvania Supreme Court extended that deadline by three days. 
The court also ordered officials to count ballots received by the new deadline even if there was no evidence—such as a postmark—that the ballots were mailed by election day. That decision to rewrite the rules seems to have affected too few ballots to change the outcome of any federal election. But that may not be the case in the future. These cases provide us with an ideal opportunity to address just what authority nonlegislative officials have to set election rules, and to do so well before the next election cycle. The refusal to do so is inexplicable.
Like most States, Pennsylvania has a long history of limiting the use of mail-in ballots. But in October 2019, the Pennsylvania Legislature overhauled its election laws. Relevant here, it gave all voters the option of voting by mail, and it extended the deadline for officials to receive mail ballots by several days to 8 p.m. on election day. 2019 Pa. Leg. Serv. Act 2019–77. Then, in response to COVID–19, the legislature again amended the law but decided not to extend the receipt deadline further. See 2020 Pa. Leg. Serv. Act 2020–12. Displeased with that decision, the Pennsylvania Democratic Party sued in state court. It argued that the court could extend the deadline through a vague clause in the State Constitution providing, in relevant part, that "[e]lections shall be free and equal." Art. I, §5. The Pennsylvania Supreme Court agreed. On September 17, it held that this "free and equal" provision enabled the court to extend the deadline three days to accommodate concerns about postal delays. Petitioners promptly moved for emergency relief, filing an application for a stay on September 28. That application easily met our criteria for granting relief. See Hollingsworth v. Perry, 558 U. S. 183, 190 (2010) (per curiam).
Not only did parties on both sides agree that the issue warranted certiorari, but there also was no question that petitioners faced irreparable harm. ("'[A]ny time a State is enjoined by a court from effectuating statutes enacted by representatives of its people, it suffers a form of irreparable injury'"). Petitioners further established a fair prospect of certiorari and reversal. For more than a century, this Court has recognized that the Constitution "operat[es] as a limitation upon the State in respect of any attempt to circumscribe the legislative power" to regulate federal elections. Because the Federal Constitution, not state constitutions, gives state legislatures authority to regulate federal elections, petitioners presented a strong argument that the Pennsylvania Supreme Court's decision violated the Constitution by overriding "the clearly expressed intent of the legislature."
Despite petitioners' strong showing that they were entitled to relief, we divided 4–4 and thus failed to act… Four days later, petitioners filed the first of these petitions and moved to expedite consideration so the Court could decide the merits before election day. But by that
time, election day was just over a week away. So we denied the motion to expedite even though the question was of "national importance" and there was a "strong likelihood that the State Supreme Court decision violates the Federal Constitution."
Now that the petitions are before us under the normal briefing schedule, I see no reason to avoid them. Indeed, the day after we denied petitioner's motion to expedite in No. 20–542, the case became even more worthy of review.
The Eighth Circuit split from the Pennsylvania Supreme Court, granting a preliminary injunction against an attempt by the Minnesota Secretary of State to extend the legislature's deadline to receive ballots by seven days. Carson v. Simon, 978 F. 3d 1051, 1059–1060, 1062 (2020). This divide on an issue of undisputed importance would justify certiorari in almost any case. That these cases concern federal elections only further heightens the need for review.
Share Plug
Is CrossPolitic a blessing to you? One of the most significant ways you can help us (and we need a LOT of help!) is by sharing this news brief or your favorite show with someone you think would appreciate it. Tell someone about the Fight Laugh Feast App. And last of all, become a Fight Laugh Feast Club Member. We are building a platform that Lord-willing cannot be cancelled by big media. And your support is helping to make that possible. Thanks to all of you who have already shared our content and become club members. 
Merrick Garland is Biden's Attorney General Nominee
https://www.washingtonpost.com/national-security/merrick-garland-confirmation-hearing/2021/02/21/b4725878-7474-11eb-9537-496158cc5fd9_story.html
Attorney general nominee Merrick Garland said Monday that, if confirmed, his first order of business will be the sprawling investigation into the U.S. Capitol riot, as he more broadly vowed to stamp out the rising threat of domestic terrorism and restore public faith in the Justice Department.
Testifying at his confirmation hearing before the Senate Judiciary Committee, Garland drew parallels to past domestic terrorism threats, including the Ku Klux Klan and the prosecution he led of Timothy McVeigh in the bombing of a federal building in Oklahoma City in 1995 — one of the deadliest such attacks in U.S. history.
https://twitter.com/dcexaminer/status/1363951268104822784?s=20
The capitol "bombing?" Ummm… Ok. 
"We are facing a more dangerous period than we faced in Oklahoma City at that time," Garland asserted, promising the ongoing investigation would center not just on the rioters, but on those who aided them.
"We begin with the people on the ground and we work our way up to those who are involved and further involved," Garland said, adding later, "We also have to have a focus on what is happening all over the country and on where this could spread, and where this came from."
Actually, a great deal of the dissent to the radical left agenda is being spread in Christian Churches, where the gospel of Jesus Christ is preached. And let me assure you that it is spreading, and quickly. And you won't be able to stop it. We won't be bombing any buildings, but we will be singing psalms and asserting our freedom to worship, run our businesses without government interference, and to educate our children in the fear of the Lord, teaching them basic facts like the sky is blue and grass is green.
https://twitter.com/Steve_Sailer/status/1363960786398318592?s=20
Notice this distinction that Garland is asserting: there are crimes and then there are crimes against democracy and the democratic process. Attacking a building is bad, but attacking a building while a hearing or vote is taking place is worse. This is like the attempt to legislate so-called "hate" crimes. It's bad to harm some one or kill them or vandalize their property, but it's worse (so the argument goes) to do it because you hate their ethnicity or skin color. But there are two problems with this: the first is that God's law defines all crime as hateful. It doesn't matter if you killed your brother because his sacrifice was better than yours or because he stole your girl friend or because you despise his country of origin. It's all hateful. But notice also that this an attempt by the government to read your heart. But this is where Christians must insist on the difference between sins and crimes. Not all sins are crimes. Coveting your neighbor's car is a sin, but it is not a crime. Likewise, lust in your heart is a sin, but it is not a crime until that lust has been acted on – which is the crime of fornication and adultery. Have you ever seen the movie Minority Report? I don't remember it that well – so don't take this as a blanket recommendation, but I do remember that it's a futuristic story where the future society claims to be able to tell the future by these three robot brains in a vat of some liquid. And in particular they are able to tell if someone is about to commit a crime in the future, and they arrest the perpetrators before they are able to do so. And that really is the end of the road of allowing the government do preventative justice instead of the lane that God gave it, which is punitive justice, punishing evil that has actually taken place. But if we're in the preventative business, then we have to start reading tea leaves, examining your heart motives, and measuring degrees of hate, and that's when things get dumber and dumber, like whether or not you hated your brother while he was performing the sacred rituals democracy or just throwing bricks at his head at night. 
Garland, a federal appeals court judge, is expected to be confirmed with bipartisan support in the Senate, where Republican lawmakers famously refused in 2016 to vote on his nomination to the Supreme Court. A second panel featuring outside witnesses is scheduled for Tuesday, and a confirmation vote is expected in early March.
Psalm of the Day: Psalm 24
https://www.christkirk.com/wp-content/uploads/2016/08/Psalm024.mp3
Play the whole thing!
Who is the King of Glory? The Lord Strong and Mighty. The Lord, He is the King of Glory.
This is Toby Sumpter with Crosspolitic News. You can find this and all of our shows at CrossPolitic.com or on our app, which you can download at your favorite app store, just search "Fight Laugh Feast". Support Rowdy Christian media, and become a Fight Laugh Feast Club Member and get your very own Fight Laugh Feast t-shirt and access to all the talks at our first annual Fight Laugh Feast Conference as well as many exclusive behind the scenes interviews as well as our very own Worldview Shotgun Series. We still have a few Fight Laugh Feast tumblers left for club members at 25$ a month or more. Go to FightLaughFeast.com Have a great day.