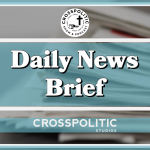 This is Toby Sumpter with your CrossPolitic Daily News Brief for Tuesday, Feb. 9, 2021.
Today you will hear about some folks who were planning to storm the Capitol before Trump gave his speech, a brazen Time Magazine article that almost claims the election really was stolen From Trump, Mike Lindell says he can prove the election was stolen, the Governor of Nevada suggests creating Tech Counties, and a Psalm of the Day. 
Two National Events: Fight Laugh Feast Rally in Rapid City, South Dakota, April 29, 30, May 1 & the Fight Laugh Feast Conference in Nashville, TN, October 14-16. Why a rally in South Dakota in April? Because we want to stand with Kristi Noem – the only Governor in the Union to not overstep her authority. And we also want to encourage you wherever you are. Many churches are not meeting, many Christians feel alone. But you're not alone. So the theme of the Rally in South Dakota is Love God, Sing Psalms, Defy Tyrants. Gather with likeminded Christians who love freedom, confess Jesus Christ is Lord over all, and be equipped to stand firm in these insane days. Go to FLFNetwork.com/Rally and register today. Remember if you're a Fight Laugh Feast Club Member, you get a $100 off your registration. Just send an email to contact at crosspolitic dot com to get your discount code. 
Remember: If you have a news story you think we might need to cover, please send articles and links to [email protected]. And DEFTWIRE.com.
Evidence Mounting that Storming the Capitol was Pre-Planned
https://www.theepochtimes.com/evidence-mounts-that-capitol-breach-was-pre-planned-eroding-incitement-allegation-in-trump-impeachment-trial_3689106.html
As former President Donald Trump's Tuesday impeachment trial approaches, there is a growing body of evidence in criminal complaints and affidavits that the Jan. 6 Capitol breach had been pre-planned, undercutting the allegation leveled against Trump that he is guilty of "incitement to insurrection."
An affidavit (pdf) filed in the case against Thomas Caldwell, who is believed to have a leadership in the Oath Keepers group and who faces charges of conspiracy and conspiracy to impede or injure an officer, alleges that Caldwell and others planned parts of the incursion in advance.
"As described more fully herein, CALDWELL planned with DONOVAN CROWL, JESSICA WATKINS, and others known and unknown, to forcibly storm the U.S. Capitol," the affidavit states.
"Evidence uncovered in the course of the investigation demonstrates that not only did CALDWELL, CROWL, WATKINS, and others conspire to forcibly storm the U.S. Capitol on January 6, 2021—they communicated with one another in advance of the incursion and planned their attack."
Meanwhile, the FBI has said it notified other law enforcement agencies, including the U.S. Capitol Police, the day before the Capitol incursion about an online message about a "war" and storming the building. The FBI stated on Jan. 12 that the warning was issued through the Joint Terrorism Task Force, and the U.S. Capitol Police have members on the task force, The Associated Press reported.
The Washington Post reported that an FBI bulletin described that people had been sharing maps of the Capitol's tunnels and discussed rallying points to meet up to travel to Washington. The newspaper also reported that the document detailed posts calling for violence, including that "Congress needs to hear glass breaking, doors being kicked in, and blood from their BLM and Pantifa slave soldiers being spilled."
Which leads to the next story… 
Secret History of the Shadow Campaign That Saved the 2020 Election
https://time.com/5936036/secret-2020-election-campaign/
 "It was all very, very strange," Trump said on Dec. 2. "Within days after the election, we witnessed an orchestrated effort to anoint the winner, even while many key states were still being counted."
In a way, Trump was right.
There was a conspiracy unfolding behind the scenes, one that both curtailed the protests and coordinated the resistance from CEOs. Both surprises were the result of an informal alliance between left-wing activists and business titans. The pact was formalized in a terse, little-noticed joint statement of the U.S. Chamber of Commerce and AFL-CIO published on Election Day. Both sides would come to see it as a sort of implicit bargain–inspired by the summer's massive, sometimes destructive racial-justice protests–in which the forces of labor came together with the forces of capital to keep the peace and oppose Trump's assault on democracy.
Their work touched every aspect of the election. They got states to change voting systems and laws and helped secure hundreds of millions in public and private funding. They fended off voter-suppression lawsuits, recruited armies of poll workers and got millions of people to vote by mail for the first time. They successfully pressured social media companies to take a harder line against disinformation and used data-driven strategies to fight viral smears. They executed national public-awareness campaigns that helped Americans understand how the vote count would unfold over days or weeks, preventing Trump's conspiracy theories and false claims of victory from getting more traction.
How was this all funded?
In March, activists appealed to Congress to steer COVID relief money to election administration. Led by the Leadership Conference on Civil and Human Rights, more than 150 organizations signed a letter to every member of Congress seeking $2 billion in election funding. It was somewhat successful: the CARES Act, passed later that month, contained $400 million in grants to state election administrators.
But wait there's more:
The racial-justice uprising sparked by George Floyd's killing in May was not primarily a political movement. The organizers who helped lead it wanted to harness its momentum for the election without allowing it to be co-opted by politicians. 
O right – harnessing the momentum of the riots of last summer – I think the word for that is threats of further violence. 
Douglas Wilson commented on this piece on his blog on Monday:
https://www.youtube.com/watch?v=wGf-X01jIOs
"Every attempt to interfere with the proper outcome of the election was defeated," says Ian Bassin, co-founder of Protect Democracy, a nonpartisan rule-of-law advocacy group. "But it's massively important for the country to understand that it didn't happen accidentally. The system didn't work magically. Democracy is not self-executing."
The proper outcome of the election… Democracy is not self-executing. Right. It needs to be guided by professionals, elites, people who know what's best for you. 
Mike Lindell Has Released a Video He Claims Proves the Election Was Stolen from Trump
Share Plug
Is CrossPolitic a blessing to you? One of the most significant ways you can help us (and we need a LOT of help!) is by sharing this news brief or your favorite show with someone you think would appreciate it. Tell someone about the Fight Laugh Feast App. And last of all, become a Fight Laugh Feast Club Member. We are building a platform that Lord-willing cannot be cancelled by big media. And your support is helping to make that possible. Thanks to all of you who have already shared our content and become club members. 
Buccaneers beat Chiefs in Super Bowl LV 31-9 – Tom Brady has played in 10 Super Bowls and has now won 7 of those. No other quarter back has started in more than 5 Super Bowls. 
Patrick Mahomes
https://www.youtube.com/watch?v=_4tnEh1ePCM&t=33s
Tom Brady
https://www.youtube.com/watch?v=rU9vVqWH_nU
Tech Counties?
https://www.rgj.com/story/news/politics/2021/02/04/nevada-bill-would-allow-tech-companies-like-blockchain-llc-to-create-governments/4390753001/
Democratic Gov. Steve Sisolak announced a plan to launch so-called Innovation Zones in Nevada to jumpstart the state's economy by attracting technology firms, Las Vegas Review-Journal reported Wednesday.
The zones would permit companies with large areas of land to form governments carrying the same authority as counties, including the ability to impose taxes, form school districts and courts and provide government services.
The measure to further economic development with the "alternative form of local government" has not yet been introduced in the Legislature.
Sisolak pitched the concept in his State of the State address delivered Jan. 19. The plan would bring in new businesses at the forefront of "groundbreaking technologies" without the use of tax abatements or other publicly funded incentive packages that previously helped Nevada attract companies like Tesla Inc.
Sisolak named Blockchains, LLC as a company that had committed to developing a "smart city" in an area east of Reno after the legislation has passed.
The draft proposal said the traditional local government model is "inadequate alone" to provide the resources to make Nevada a leader in attracting and retaining businesses and fostering economic development in emerging technologies and industries.
The Governor's Office of Economic Development would oversee applications for the zones, which would be limited to companies working in specific business areas including blockchain, autonomous technology, the Internet of Things, robotics, artificial intelligence, wireless, biometrics and renewable resource technology.
First of all, this is kind of hilarious: traditional local government is inadequate for businesses to grow? Huh. I wonder how that happened. Why not just repeal all those taxes? Because that would put all the fat cats in office out of a job. Which, incidentally, is why they need to be fired. But that require a populous with courage. 
Second, as we have seen this last year, Google and Apple and Amazon are already acting as enormous players in the political and cultural spheres, this would be another step in that direction. On the one hand, this could be the way you finally see a crack up of states, with Business Titans essentially buying or bribing State legislatures to let them be free. On the other hand, enterprising Christians might look for ways to run this play themselves. 
Psalm of the Day: Psalm 119 Tav From Brothers at Arms
https://www.youtube.com/watch?v=Rw9VcRRhEgA&feature=youtu.be
This is the final section of Psalm 119 – and notice that it is cry for help from the Lord. But the Psalmist knows what many Christians fail to remember and that is that God's help almost always comes in the context of His Word. When God gave the Great Reformation to Europe in the 16th Century it came with an outpouring of the Word preached and read and printed. So the Psalmist prays for help, but he also asks in particular that God's commandments and ordinances and judgments would be the means by which God would help Him. Do you need a lamp for your feet and light for your path? Read the Word, pray the Word, meditate on the Word, sing the Word. When God's people turn back to the Word with all their hearts, there will be nothing that can stop the torrent of Reformation that will follow in this land. 
This is Toby Sumpter with Crosspolitic News. You can find this and all of our shows at Crosspolitic.com or on our app, which you can download at your favorite app store, just search "Fight Laugh Feast". Support Rowdy Christian media, and become a Fight Laugh Feast Club Member and get your very own Fight Laugh Feast t-shirt and access to all the talks at our first annual Fight Laugh Feast Conference as well as many exclusive behind the scenes interviews as well as our very own Worldview Shotgun Series. We still have a few Fight Laugh Feast tumblers left for club members at 25$ a month or more. Go to FightLaughFeast.com. Have a great day.