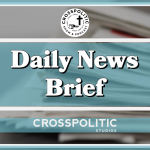 This is Garrison Hardie with your CrossPolitic Daily Newsbrief for Tuesday, February 14th, 2022… happy valentines day everyone! I hope you and your significant other enjoy today.
Before we get into the news…
Accountable2You
Jesus is Lord. In public and in private, every area of life must be subject to his Lordship—and our use of technology is no exception. What captures our attention on the screen either glorifies or dishonors our Lord. That's why Accountable2You is committed to promoting biblical accountability in our families and churches. Their monitoring and reporting software makes transparency easy on all of your devices, so you can say with the Psalmist, "I will not set anything worthless before my eyes." Guard against temptation with Accountable2You, and live for God's glory! Learn more and try it for free at Accountable2You.com/FLF
https://thepostmillennial.com/breaking-china-claims-us-sent-more-than-10-spy-balloons-into-countrys-airspace?utm_campaign=64487
China claims US sent more than 10 spy balloons into country's airspace
On Monday, a Chinese official stated that more than 10 high-altitude balloons from the US have flown into China's airspace over the last year without the country's permission. The US has denied these allegations.
Foreign Ministry spokesperson Wang Wenbin said in a Monday briefing that "It is also common for US balloons to illegally enter the airspace of other countries. Since last year, US high-altitude balloons have illegally flown over China's airspace more than 10 times without the approval of Chinese authorities."
https://rumble.com/v29bau8-rep.-mike-waltz-i-hope-this-wakes-the-country-up-to-the-cold-war-that-were-.html – Play Video
According to the Associated Press, Wang did not give additional details about the alleged US balloons, how China has dealt with these balloons, or whether the balloons had military or government links.
Wang said the US should "first reflect on itself and change course, rather than smear and instigate a confrontation."
The allegation came after the US shot down a Chinese spy balloon that traveled across North America, targeting it off the coast of South Carolina. Additional unidentified flying objects later identified as balloons have been shot down since then.
China has claimed that the balloon shot down off the coast of South Carolina was an unnamed airship created for meteorological research, and that this balloon was blown off course.
China has accused the US of overreacting by shooting down the balloon, and has threatened to take action in response.
US National Security Council spokesperson Adrienne Watson said on Monday that claims the US has operated surveillance balloons over China is false.
https://www.newsmax.com/newsfront/microsoft-newsmax-conservative-media/2023/02/13/id/1108447/
Microsoft Removes 'Negative Flags' for Conservative Sites
Microsoft removed its "negative flags" for conservative media outlets on a "secret blacklist," including Newsmax, that were blocked from getting key advertising dollars, the Washington Examiner reported.
As part of its series on "disinformation" tracking groups, the Examiner reported internal data showed Microsoft was doing a review, and suspending its subscription to a tracking group devoted to defunding what it sees as "disfavored speech."
Microsoft-owned advertising company Xandr previously abided by a "secret blacklist" of conservative news put together by the Global Disinformation Index, a British organization with two affiliated U.S. nonprofits, the Examiner reported.
Microsoft now appears to be taking steps to distance itself from GDI, and has deleted flags such as "false/misleading" and "reprehensible/offensive" for right-leaning websites, the Examiner reported, citing the internal data it obtained.
"I just checked in Xandr's platform again and can confirm that all rejection flags have been removed from domains," an unnamed executive in the ad industry told the Examiner.
Xandr had labeled 39 conservative domains as "false/misleading." Townhall, whose publisher is Salem Media Group, was flagged as "reprehensible/offensive," the Examiner reported.
The Examiner also noted it was among those flagged as "false/misleading," along with Newsmax, the Daily Wire, RealClearPolitics, Drudge Report, Breitbart, the Blaze, the Washington Times, Judicial Watch, and the Media Research Center affiliate MRC.TV.
An internal Xandr dataset showed all those websites no longer have a designation, though it's unclear if they are getting ads from certain brands without an "approved" classification.
"We try to take a principled approach to accuracy and fighting foreign propaganda," a Microsoft spokesperson told the Examiner. "We're working quickly to fix the issue, and Xandr has stopped using GDI's services while we are doing a larger review."
According to the Examiner, Xandr informed publishers in September 2022 it would begin to adopt GDI's "dynamic exclusion list," which the organization feeds to ad companies. Through a list that may include at least 2,000 websites, GDI allegedly tried to pressure companies to shut down certain sites.
The Examiner also reported the GDI has claimed the 10 "riskiest" outlets are Newsmax, the American Spectator, the Federalist, the American Conservative, One America News Network, the Blaze, the Daily Wire, RealClearPolitics, Reason, and the New York Post.
GDI compiles the list with oversight from its own "advisory panel," which includes Ben Nimmo, global lead for threat intelligence at Facebook parent company Meta, and left-leaning journalist Anne Applebaum, the Examiner reported, who once dismissed Hunter Biden's foreign business dealings as uninteresting.
GDI has claimed the 10 "least risky" websites are NPR, ProPublica, the Associated Press, Insider, the New York Times, USA Today, the Washington Post, Buzzfeed News, HuffPost, and the Wall Street Journal.
https://variety.com/2023/biz/news/disney-reedy-creek-ron-desantis-no-lawsuit-1235520205/
Disney Will Not Fight DeSantis Takeover of Special District in Orlando
Disney will not fight a bill that gives Gov. Ron DeSantis broad powers over its Orlando theme parks, after the bill passed both houses of the Florida Legislature this week.
The bill establishes a new district to assume the powers held by the Reedy Creek Improvement District, which Disney has controlled since it was created in 1967. The new entity, the Central Florida Tourism Oversight District, will be run by a five-member board appointed by DeSantis and confirmed by the state Senate.
In a statement, Disney said it is "ready to work within this new framework," indicating that it will not try to challenge the law in court. The Legislature moved to dissolve the Reedy Creek district last April, after Disney came out against the Parental Rights in Education law, known to its critics as the "Don't Say Gay" bill.
Some observers had suggested that Disney could file a First Amendment lawsuit or seek to challenge the takeover on various other grounds.
But Jeff Vahle, the president of Walt Disney World Resort, said in the statement released on Friday that the company will accommodate itself to the new reality.
"For more than 50 years, the Reedy Creek Improvement District has operated at the highest standards, and we appreciate all that the District has done to help our destination grow and become one of the largest economic contributors and employers in the state," Vahle said. "We are focused on the future and are ready to work within this new framework and we will continue to innovate, inspire and bring joy to the millions of guests who come to Florida to visit Walt Disney World each year."
The legislation was introduced on Monday. It passed the state House of Representatives on Thursday on a vote of 82-31, with 81 Republicans and one Democrat voting "yes." All 31 "no" votes came from Democrats. The state Senate approved the bill on Friday on a party-line vote, with 26 Republicans in favor and nine Democrats opposed. It now goes to DeSantis for his signature.
The Reedy Creek Improvement District has broad authority over zoning, infrastructure, fire response and public utilities over a nearly 40-square-mile area in Osceola and Orange counties. The entity levies taxes on Disney and issues tax-exempt bonds for infrastructure projects. As by far the largest landowner within the district, Disney has had the power to elect the five members of the Board of Supervisors.
In establishing the new district, the Legislature left almost all of its powers intact. The legislation does remove the power to build a nuclear power plant and an airport, but those powers had never been used.
The practical effect of the change could end up being negligible and park employees and visitors are unlikely to notice any difference. But DeSantis and future governors will have broad power to make life difficult for Disney if they choose to exercise it.
https://justthenews.com/politics-policy/elections/seattle-public-schools-consider-closures-student-enrollment-plunges-post
Seattle Public Schools consider closures as student enrollment plunges post-pandemic
Seattle Public Schools may have to close some of its schools over the next few years as the district battles budget shortages and plummeting enrollment after the COVID-19 pandemic.
The district does not plan on closing any of its 106 schools next year, and the earliest closures may occur in the 2024-2025 school year, The Seattle Times reported last week.
Consolidating some schools for the 2024-2025 year could save $28 million as the district projects a $92 million budget shortfall that year.
Student enrollment has dropped to roughly 50,000 students from nearly 54,000 in the 2019-2020 school year. In a best-case scenario, school administrators expect 49,000 students by 2032, and in a worst-case scenario, enrollment may be as low as 43,000.
The declining enrollment comes after homeschooling rates nearly doubled in Washington at the height of the COVID pandemic and are still at elevated levels from the 2019-2020 school year.
Jen Garrison Stuber of the Washington Homeschool Organization told Fox News that homeschool enrollment is down, however, in Seattle from pre-pandemic numbers.
"I really think that what Seattle's seeing, where those students have gone are either to private schools or they've left the school district and have moved elsewhere," she said.
Speaking of homeschooling… Classical Conversations supports homeschooling parents by cultivating the love of learning through a Christian worldview in fellowship with other families. They provide a classical Christ-centered curriculum, local like-minded communities across the United States and in several countries, and they train parents who are striving to be great classical educators in the home. For more information and to get connected, please visit their website at ClassicalConversations.com. Again that's ClassicalConversations.com.
https://www.foxnews.com/politics/california-politician-suggests-fix-states-brazen-prostitution-legalize-it
California politician suggests fix to state's brazen prostitution: Legalize it
A San Francisco County leader voiced support to legalize prostitution in the city as brazen soliciting spirals across the state after a new law took effect this year.
"What's happening right now on Capp Street is it's become more brazen, and bigger than we've ever seen it before," county Supervisor Hillary Ronen told The Los Angeles Times last week.
"Instead of repeating the same cycle that we've repeated for decades, it's time to try something new."
Ronen called the situation "out of control" in comments to the San Francisco Chronicle, and pushed for San Francisco to install barriers on Capp Street in the heart of San Francisco's Mission District, after it became lined with prostitutes and pimps.
This week, she is expected to announce a resolution that will urge state lawmakers to legalize prostitution.
The surge in prostitution and apparent human trafficking in California comes after a change in law took effect last month that repealed a ban on loitering with the intent to engage in prostitution. The bill's sponsor, Democratic state Sen. Scott Wiener, argued the change would protect transgender women whom he said are disproportionately targeted by police.
Police and Republicans in the state have since sounded off that the new law sparked prostitution to explode in certain areas of the state, such as Los Angeles, San Francisco and Oakland.
Police said with the emboldened prostitution rings come robberies, shootings, aggravated assaults and other crimes. Many of the pimps are gang-affiliated and take no issue with beating women or going after rival pimps who try to poach one of the workers, they said. Some even record the beatdowns because they "think it's funny," police said.
The Coalition to Abolish Slavery & Trafficking, which is one of the largest and oldest direct service providers for sex and labor trafficking survivors in the U.S., threw its support behind the bill and told Fox News Digital that it endorsed repealing the former policy "because we know that reducing the criminalization of survivors will help prevent human trafficking."
And now finally… it's time for my favorite topic… sports!
In case you missed it, Sunday evening, the superbowl took place, with the Kansas City Chiefs and the Philadelphia Eagles…
The game was an incredible one with highlight play after highlight play, with both teams putting up points:
https://www.youtube.com/watch?v=BWkt79xkd00
Play 2:30-2:37

Play 3:47-3:57

Play 4:44-4:55

Play 12:25-12:36

Play 14:24-15:01
Okay… so for those keeping score at home, it's 35-35 at this point in the game, with just a few minutes left. Then, this happened.
What an anti-climactic ending… if you're the official, how on earth do you throw that flag? James Bradbury, the cornerback for the Eagles who had the flag thrown on him, thought it was the correct call, so kudos to him for owning up, but even with that admission, the ball was clearly uncatchable for JuJu Smith-Schuster… Now the Chiefs still would have likely taken the lead with a field goal, but then Jalen Hurts and the Eagles offense would've had over a minute to get down the field, and potentially tie, or win the game. Such an anti-climactic ending. This is from a guy who didn't have a dog in the fight by the way.
what are your guys thoughts on my take? You Eagles fans can send your fan mail to garrison@fightlaughfeast.com…