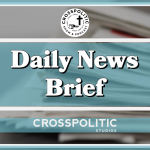 https://twitter.com/realDailyWire/status/1492556155545083907?s=20&t=XX-yv-4bame7H2GOjBqx4g
Play 0:13-0:17 during opening music
Black Face Trudeau say the unvaccinated don't believe in science, are often misogynistic, and are often racist …and more on today's CrossPolitic Daily News Brief. This is Toby Sumpter. Today is Tuesday, February 15, 2022. Would you please Like and share this show? Do it now so we can reach more people with the truth.
Social Media Erupted After Superbowl Showed Thousands, including many celebrities all without masks:
https://twitter.com/bennyjohnson/status/1493035356924661769?s=20&t=kFH-Ch1RtNwTSIPpcyVBlw
Play Audio
Many people pointed out that while these celebrities and crowds were free to be maskless, California is still requiring children in schools to wear masks. Rules for thee by not for me.
These mandates only last as long as people keep complying with them. So long as you'd rather not be asked to leave the store, so long as you'd rather not get the snotty looks and snide comments, so long as you'd rather be comfortable, the powerful politicians and elites will continue mocking you to your face on national television. Take off the masks. Be human. Live your life normally. Make them make you put on your mask. Never voluntarily comply with tyranny. Because you belong to Jesus.
Speaking of which: Canada's Trudeau invokes emergency powers in bid to end protests
https://twitter.com/Liz_Wheeler/status/1493342682349031433?s=20&t=kFH-Ch1RtNwTSIPpcyVBlw
Play audio: 0:28-1:17
This is about keeping Canadians safe
Protecting people's jobs
Restoring confidence in our institutions.
Lie, lie, lie. This is only about protecting jobs that Trudeau and the statists want to exist, when and how they want them to exist. When Trudeau wants your business to close, he will order it closed. This is a complete statist/marxist coup.
Trudeau is also under fire for comments he made about the unvaccinated:
Joined by entrepreneur @VivekGRamaswamy and 2020 Democratic presidential candidate Marianne Williamson, Bill Maher ripped into Canada's Justin Trudeau for his comments on the unvaccinated:
Play Video 0:00-0:38
https://twitter.com/realDailyWire/status/1492556155545083907?ref_src=twsrc%5Etfw%7Ctwcamp%5Etweetembed%7Ctwterm%5E1492556155545083907%7Ctwgr%5E%7Ctwcon%5Es1_&ref_url=https%3A%2F%2Fwww.dailywire.com%2Fnews%2Fbill-maher-torches-justin-trudeau-for-attacks-on-truckers-now-you-do-sound-like-hitler
Don't believe in science, misogynistic, racist ??
Take up space?
Do we tolerate these people?
Holding unacceptable views.
This is not about keeping Canadians safe. This is not about protecting people's jobs, and this is not about restoring confidence in Canadian institutions, unless that by that Trudeau simply means crushing all dissent.
Meanwhile, Rumors Continue to spread of An American Truck Convoy. Here's Dr. Aaron Kheriaty on the Dan Bongino show:
https://rumble.com/vuu4jn-the-freedom-convoy-is-coming-to-america.html?mref=22lbp&mc=56yab
Play audio: 0:09-1:04
AD: The Reformed Sage. Nick Farar, left his job as an air traffic controller, where he defied federal tyranny by refusing the vaccine, and now, he's working full-time at the Reformed Sage, to support his family, and make incredible merchandise for you and yours.
Founded in 2018, The Reformed Sage exists to edify Christians with products and services that build the kingdom of God and proclaim the gospel to all. If you have yet to go take a look at their website, what are you doing?! Get over there right now, and check them out at reformedsage.com, and tell them we sent you, by using promo code FLF22 for 10% off your first order. Again, that's reformedsage.com, and promo code FLF22. Support those who support us!
Idaho Heartbeat Law May Go Into Effect
Last year Gov. Little signed the Idaho Heartbeat Bill, which bans abortions after a preborn baby's heartbeat can be detected. But because of ongoing court cases, the legislature felt it was necessary to include a trigger mechanism so that the new Heartbeat law would not become enforceable until after a similar law in another state was upheld by a federal appellate court.
Then something spectacular happened. Just a few months after the bill was signed by the governor, the United States Supreme Court allowed the Texas Heartbeat Law to go into effect.
This was a tremendous victory. Although it did not "trigger" enforcement of the Heartbeat Law in Idaho because of technical reasons, it blazed a viable pathway to begin saving preborn babies right away in Idaho.
Sen. Patti Anne Lodge (R-Huston) and Rep. Steve Harris (R-Meridian) have sponsored the new changes adding a private enforcement mechanism that would become effective thirty days following signature by the governor.
On Friday, this new bill was presented to the Senate State Affairs Committee. And the committee voted to "print," or introduce, the bill (now SB 1309). If Texas is any indication, this simple addition to the Idaho Heartbeat Law will likely save more than 1,000 preborn babies every year. Lord willing, we could be just sixty days away from preventing most abortions in the state after six weeks of pregnancy.
This work is being spearheaded by Blaine Conzatti and Idaho Family Policy Center. Which is why you should seriously consider attending their Spring Banquet on March 10, 2022, at Still Water Hollow in Nampa, Idaho, featuring Uncle Gary Demar, as the keynote speaker. Gary has served as president of American Vision for nearly four decades. His monumental work, God and Government, has long been the quintessential textbook on government for Christian private and homeschooling students. Blaine and IFPC have been leading the efforts to defund Planned Parenthood, end abortion in Idaho, and protect children from the transgender agenda. Right now you can partner with Idaho Family Policy Center by sponsoring and hosting a table of eight at their Spring Banquet with Gary Demar. Can do this for $600 and invite seven guests to join you for the evening. Your prayers and support are the backbone of this work. By sponsoring a table or making a tax-deductible gift in your absence. If you would like to reserve a table or have any questions about this event please contact Kelly Cope at (208) 871-2904 or kellymaecope@gmail.com Go to www.idahofamily.org to learn more and make a donation.
Psalm of the Day: The End of Psalm 72
https://open.spotify.com/track/40zAVJGw09JytrRxNMkO90?si=b6cb68632c104677
Play: 0:00-0:48
Amen!
Remember you can always find the links to our news stories and these psalms at crosspolitic dot com – just click on the daily news brief and follow the links. Or find them on our App: just search "Fight Laugh Feast" in your favorite app store and never miss a show.
This is Toby Sumpter with Crosspolitic News. A reminder: Support Rowdy Christian media, and share this show or become a Fight Laugh Feast Club Member. What allows us to continuing growing to take on the Big Media Lie Fest is your monthly membership support. If you've already joined, a huge thanks to you, and if you haven't, please consider joining today and have a great day.