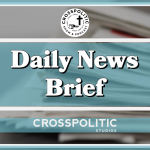 Truckers saying the Lord's Prayer …and more on today's CrossPolitic Daily News Brief. This is Toby Sumpter. Today is Tuesday, Feb. 1, 2022.
Would please Like and share this show? Do it now so we can reach more people with the truth.
Canadian Prime Minister Justin Trudeau responded to the Truckers Protest warning them about "hateful rhetoric" and "inciting violence." Instead of the Truckers Protest, Trudeau said he preferred the Black Lives Matter Protests.
Play
Blackface Trudeau prefers the Black Lives Matter protests, you know where fires had been started, but otherwise mostly peaceful protest:
Meanwhile, Truckers down on the Montana border were reciting Lord's Prayer
Play
Now to be fair: there were BLM rallies that were entirely peaceful and included prayers. But it's the lopsidedness, the inequity, the double-standard that we are pointing out. Are there likely to be some bad apples in the Trucker convoy? Of course. But remember, when the BLM rallies and riots erupted after the George Floyd death, this was in the face of all the lockdown orders and suddenly it was fine to be in massive crowds without masks.
Monmouth Poll on the Virus
While the emotions and convictions surrounding the virus were somewhat all over the map, one interesting question and answer was Do you tend to agree or disagree with the following statement: "It's time we accept that Covid is here to stay and we just need to get on with our lives."?
| | |
| --- | --- |
| | Jan.2022 |
| Agree | 70% |
| Disagree | 28% |
| (VOL) Depends | 2% |
| (VOL) Don't know | 1% |
| (n) | (794) |
Fully 7 in 10 Americans (70%) agree with the sentiment that "it's time we accept that Covid is here to stay and we just need to get on with our lives" – including 78% of those who report having gotten Covid and 65% of those who say they have not been infected. The main difference in the sense that it is time to move on is due to partisanship – ranging from 89% of Republicans and 71% of independents to 47% of Democrats. Only one-third of the public (34%) feels the country will get the outbreak under control and return to normal by the end of the year. In fact, more than 1 in 4 (28%) now believe a return to normalcy will never happen, which is up from 22% who felt this way in September and just 6% who were similarly pessimistic exactly a year ago.
I want to remind you that the Christ Church Missions Conference is coming up in just a few weeks on Feb. 4-5. The theme this year is: As the Waters Cover the Sea. Go to Christkirk.com and click on events to find the schedule and to register. The conference is free, but there is a $10 option for those who would like to purchase lunch.
The gospel is good news for all people, in all lands, at all times. But Christians in the West are often unsure of how to share the gospel with their fellow Westerners; and they are even more stumped by how to share the good news with those from very different cultures and religions.
The 2022 Christ Church Missions Conference is intended to help answer those questions, while equipping the saints where they are to be ready to share the word with not only their neighbor but the foreigner in their midst as well. Speakers will include: James Rayment who ministers to Muslims in Seattle, Francis Foucachon who ministered for many years in France, Csaba Leidenfrost a Wycliffe Translator and missionary to Ivory Coast, Africa, and Douglas Wilson, pastor of Christ Church. Go to Christkirk.com and click on events to find out more and register today.
Idaho Senate Panel Rejects Heartbeat Bill With Citizen Enforcement Mechanism
https://idahonews.com/politics/idaho-senate-panel-rejects-texas-modeled-abortion-law
A Senate panel has rejected a proposed law modeled after a Texas law that would have outlawed nearly all abortions in Idaho by banning them once a fetal heartbeat could be detected.
The Senate State Affairs Committee on Monday deadlocked 4-4, killing the proposal. But a revised version could return. Idaho already has a "fetal heartbeat" law, but it needs a favorable ruling in a federal court to become active. The proposal sought to amend that law to allow family members to sue a doctor who performed an abortion, making the law active now.
But lawmakers said that conflicted with existing Idaho laws by giving family members standing to sue.
Blaine Conzatti of the Idaho Family Policy Center told lawmakers that approving the proposed Idaho law would, like in Texas, immediately end abortions in the state after six weeks of pregnancy.
Just last week, the Republican dominated Idaho legislature allowed an anti-conversion therapy bill for minors onto the floor of the legislature for consideration. It seems extremely unlikely that anything will come of that bill, but this is fairly typical Republican virtue signaling. Kill a bill that could very well save the lives of children, while allowing a bill to be heard that would destroy the lives of children.
So let's sing a psalm about the voices of infants and children, in which God has ordained strength to silence the enemy and the avenger:
Psalm of the Day: Psalm 8
0:00-1:09
Amen
Remember you can always find the links to our news stories and these psalms at crosspolitic dot com – just click on the daily news brief and follow the links. Or find them on our App: just search "Fight Laugh Feast" in your favorite app store and never miss a show.
This is Toby Sumpter with Crosspolitic News. A reminder: Support Rowdy Christian media, and share this show or become a Fight Laugh Feast Club Member. What allows us to continuing growing to take on the Big Media Lie Fest is your monthly membership support. If you've already joined, a huge thanks to you, and if you haven't, please consider joining today and have a great day.