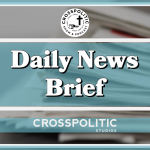 This is Garrison Hardie with your CrossPolitic Daily Newsbrief for Tuesday, February 21st, 2023.I hope you all had a fantastic weekend with you and yours!
New Saint Andrews:
Today's culture shifts like sand, but New Saint Andrews College is established on Christ, the immovable rock. The college is a premier institution that forges evangelical leaders who don't fear or hate the world. Guided by God's word, equipped with the genius of classical liberal arts and God-honoring wisdom, with a faculty dedicated to academic rigor and to God's kingdom, New Saint Andrews College offers an education that frees people.
Logic and language, hard work and joyful courage, old books and godly professors — New Saint Andrews Colleges provides time-tested resources that can equip your student for any vocation. To find out more, visit: nsa.edu
https://www.theguardian.com/world/2023/feb/20/turkey-new-6-point-4-magnitude-earthquake-hatay
Turkey hit by two more powerful earthquakes two weeks after disaster
A 6.4-magnitude earthquake and a second measuring 5.8 have hit Turkey's southern province of Hatay, terrifying those left in a region devastated by twin earthquakes two weeks ago.
Turkey's interior minister, Süleyman Soylu, said that at least three people were killed and 213 wounded by the latest quakes, after a large government hospital in the city of İskenderun in the north of Hatay province declared it was evacuating patients.
The latest quakes, less powerful than the 7.8- and 7.5-magnitude earthquakes that tore a path of destruction through southern Turkey and northern Syria on 6 February, threaten yet more devastation in a region where many people have fled their destroyed homes for the safety of other towns and villages outside the quake zone.
The larger quake struck at a depth of just 2km (1.2 miles), the European-Mediterranean Seismological Centre (EMSC) said, potentially magnifying its impact at ground level. It was centred near the southern Turkish city of Antakya and was felt in Syria, Egypt and Lebanon.
Turkey's disaster management agency AFAD said the epicentre of the larger quake was below the Defne district of Hatay, in a region where many have complained of a lacklustre government response to the first earthquakes.
The death toll in Turkey from the quakes two weeks ago rose to 41,156 on Monday, AFAD said, and was expected to climb further, with 385,000 apartments known to have been destroyed or seriously damaged and many people still missing. At least 47,000 people are estimated to have died across Turkey and Syria.
The Turkish president, said construction work on nearly 200,000 apartments in 11 earthquake-hit provinces of Turkey would begin next month.
Hours earlier, the US secretary of state, Antony Blinken, said on a visit to Turkey that Washington would help "for as long as it takes" as rescue operations and aftershocks were winding down and the focus turned towards urgent shelter and reconstruction work.
In rebel-held Syria, local search and rescue services and the Syrian Civil Defence, also known as the White Helmets, reported the latest earthquakes had damaged buildings across a number of cities and towns.
They said people had been injured by falling debris and stampedes, as well as jumping from elevated positions in fear of the destruction.
https://www.theepochtimes.com/china-considering-lethal-aid-for-russia-blinken_5069273.html?utm_source=partner&utm_campaign=BonginoReport&src_src=partner&src_cmp=BonginoReport
China Considering 'Lethal' Aid for Russia: Blinken
The Chinese regime could be considering providing lethal aid to Russia, according to U.S. Secretary of State Anthony Blinken, which, if confirmed, would represent an unprecedented escalation of China's presence in the Russia-Ukraine war.
"[F]or the most part, China has been engaged in providing rhetorical, political, diplomatic support to Russia. But we have information that gives us concern that they are considering providing lethal support to Russia in the war against Ukraine," Blinken told ABC's "This Week" program on Sunday, after meeting with China's top diplomat, Wang Yi, at the Munich Security Conference.
Wang spoke at the conference on Feb. 18 and said the Chinese regime is working on a "peace proposal" to reconcile the two sides of the conflict. Blinken indicated that the stipulated intention appears to run contrary to what is indicated in intelligence held by the United States.
Wang and Blinken's meeting marked the first face-to-face exchange between the two sides since the surveillance balloon incident that set off an uproar in the United States and forced Blinken to cancel a planned visit to Beijing, bringing the relationship between the leader of the liberal democratic world and the leader of authoritarian governments to a freezing point.
Hours before the meeting, Wang described the U.S. shootdown of the Chinese spy balloon that enter U.S. airspace without permission as "hysterical," "unimaginable," and a violation of international norms.
The Chinese regime insists that the spy balloon is a weather balloon intended mainly for research purposes; the United States rejects this contention saying that it detected other equipment onboard and downed the spy balloon with an F-22 fighter jet.
In a statement following the U.S.-China exchange in Germany, China's Ministry of Foreign Affairs stated that it does not "accept the U.S.'s finger-pointing or even coercion targeting China-Russia relations" and, regarding the balloon incidence, threatened that the United States "should be prepared to bear all consequence arising from an escalation."
https://thepostmillennial.com/exclusive-leaked-letter-details-james-okeefes-response-following-removal-as-ceo-of-project-veritas?utm_campaign=64487
Leaked letter details James O'Keefe's response following indefinite no-pay suspension from Project Veritas
A leaked letter exclusively obtained by The Post Millennial reveals Project Veritas' founder James O'Keefe's statement to staffers on Monday after he was effectively removed from the organization by the board.
The letter includes screenshots of the board's meeting on Feb. 10 in which they voted three-to-two for his "indefinite suspension as CEO without compensation" pending an "audit."
https://rumble.com/v2a7mig-:james-okeefe-to-pv-staff-ive-been-removed-from-ceo-and-board.html – Play Video – Play 16:50-18:22
It is unclear if O'Keefe will resign from Project Veritas or be fired, though Project Veritas spokesman RC Maxwell said in a statement to TPM: "I unfortunately don't have any answers for you, the Project Veritas board is in charge now." O'Keefe declined to comment.
TPM understands that the board of directors plan to have a meeting and vote on Tuesday.
Earlier this month, Project Veritas staffers had made allegations to the board that O'Keefe's curt leadership style was offensive to staff and donors. One large allegation of him being rude to a "high-net-worth" Oregon donor couple was refuted by the couple itself.
https://twitter.com/i/status/1624529211544244224 – Play Video
O'Keefe's 4,600-word letter to staffers details the emotional turmoil he and the organization have experienced in the 13 years since its founding from his parent's carriage house in New Jersey. They include what he believes are years of lawfare and corrupt criminal investigations aimed at stopping his organization from exposing powerful individuals and organizations. He also concedes to the staffers' main grievances about his leadership style.
"I haven't always been the most ostensibly compassionate leader – and that is admittedly a fault, something I need to work on," he wrote.
Since being suspended by the board, supporters of O'Keefe have speculated about the timing given that only days earlier Project Veritas had broken the most-viewed story in its history about a Pfizer executive who said that the pharmaceutical company worked on mutating the Covid-19 virus. O'Keefe references this in his letter.
O'Keefe's letter also includes a screenshot of an alleged text message conversation between an unnamed board member and a Project Veritas staffer discussing getting a raise if O'Keefe is removed.
O'Keefe continues sharing his side of the internal dispute and closes the letter by suggesting he is prepared to start a new organization.
"So our mission continues on — I'm not done. The mission will perhaps take on a new name, and it may no longer be called Project Veritas. I'll need a bunch of people around me and I will make sure sure you know how to find me."
''https://www.foxnews.com/media/woke-california-university-slammed-dehumanized-initiative-encouraging-students-tell-professors
'Woke' California university slammed for 'dehumanized' initiative encouraging students to tell on professors
College students are pushing back against a "woke" California university for encouraging students to tell on professors for racism if they aren't called on "consistently" during class.
Campus Reform correspondents Courtney McLain, Emily Sturge, and Darryl Boyer joined "Fox & Friends Weekend" to discuss the broader issues at hand with the far-left infusion of the "woke" agenda in college classrooms.
California State University Monterey Bay has faced criticism for urging non-White students to report "race-related stress" under the Personal Growth and Counseling Center tab on its website.
"Document acts of racism or intolerance. Don't ignore or minimize your experiences, and think broadly about what could be an act of racism. It doesn't have to be an overt act (e.g., professor consistently not calling on you or minimizing your contributions, curriculum racially biased, etc). Talk to someone you trust, and report it," a webpage on "Coping with Racism and Discrimination" says.
According to the university website, race-related stress can cause psychological symptoms like anxiety, depression, paranoia, and self-blame, as well as physiological health concerns such as heart disease, hypertension, and muscle tension.
McLain, who is a student at University of Central Florida, noted her angst surrounding the move, citing concerns as to how it affects academic progress.
"I am seeing more and more of this diversity, equity and inclusion being forced by my school, and I'm frustrated because I feel like I'm not learning as much academically as I could because we're putting so much money into this," McLain said.
Despite the widespread effort of the far left, the trio touted Florida Gov. Ron DeSantis,' R., efforts to counter indoctrination in the state's classrooms.