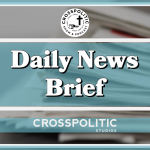 The Prime Minister of Canada is acting like a dictator…and more on today's CrossPolitic Daily News Brief. This is Toby Sumpter. Today is Tuesday, February 22, 2022. Would you please Like and share this show? Do it now so we can reach more people with the truth.
Russian President Vladimir Putin has announced his support Monday for two Ukrainian regions as independent nations and ordered Russian troops to conduct "peacekeeping" operations there, raising fears that Russia is paving the way for an attack in Ukraine.
The Biden administration announced that the U.S. will respond with limited economic sanctions, with more to come. Putin's declaration named the two regions the Luhansk People's Republic and the Donetsk People's Republic. Both are unrecognized territories carved out by Russian-backed separatists in the Donbas region of eastern Ukraine after fighting broke out there against Ukrainian government forces back in 2014.
https://twitter.com/i/events/1483255084750282753?s=20
Play 0:00-1:20
Journalists pointed to the following Exchange Put had with an Intelligence Officer as evidence that the intelligence officer was saying out loud something that was not yet supposed to be spoken out loud
https://twitter.com/JerryDunleavy/status/1495811749580353538?s=20&t=isASBXNeac75kP95fJ-I4A
Play Audio
The Reformed Sage. Nick Farar, left his job as an air traffic controller, where he defied federal tyranny by refusing the vaccine, and now, he's working full-time at the Reformed Sage, to support his family, and make incredible merchandise for you and yours.
Founded in 2018, The Reformed Sage exists to edify Christians with products and services that build the kingdom of God and proclaim the gospel to all. If you have yet to go take a look at their website, what are you doing?! Get over there right now, and check them out at reformedsage.com, and tell them we sent you, by using promo code FLF22 for 10% off your first order. Again, that's reformedsage.com, and promo code FLF22. Support those who support us!
While most of mainstream media is trying to keep your focus on Putin, there is a dictator in the process of acting illegally far closer to home.
In fact, Back in 2014, the Huffington Post ran an article by Daniel Dickin that warned that if Justin Trudea was elected the Prime Minister of Canada, He would run Canada as a dictator:
https://www.huffpost.com/archive/ca/entry/trudeau-dictator_b_6314494
He wrote: This is the man who admitted he "admires China's basic dictatorship." It wasn't just a sarcastic comment – he seriously said that he admires the dictatorship because they can get things done quickly.
And it's becoming clearer that Trudeau not only admires the dictatorship — he runs the Liberal Party like one too. The leader of that party does what he wants, when he wants, and no one dares question him.
Now that we know that Trudeau runs his party like a dictatorship, we must ask ourselves: is there any indication he wouldn't do the same as the leader of Canada?
Would a Prime Minister Trudeau arbitrarily whip the vote and outlaw certain moral questions? Could Prime Minister Trudeau be trusted to make decisions for the good of the country, not just for his personal self-worth? Would Trudeau call in the police to enforce his vision?
Let's hope we never have the opportunity to ask those questions.
Unfortunately now we do:
https://www.nationalreview.com/corner/trudeau-government-moves-to-make-expanded-surveillance-powers-over-financial-transactions-permanent/
Nate Hochman at National Review pointed out over the weekend that one of the underreported aspects of the broader assault on Canadian civil liberties is the effort to bring crowdfunding and payment service providers — two of the most prominent routes for financial transactions on the Internet — under the permanent control of a centralized government authority.
In a February 14 news conference, Canadian finance minister Chrystia Freeland said that the government was using the Emergencies Act to broaden "the scope of Canada's anti-money-laundering and terrorist financing rules so that they cover crowdfunding platforms and the payment service providers they use." That broadened power requires all forms of digital transactions, including cryptocurrencies, to be reported to the Financial Transactions and Reports Analysis Center of Canada. (I.e., "Fintrac"). "As of today, all crowdfunding platforms and the payment service providers they use must register with Fintrac, and they must report large and suspicious transactions to Fintrac," Freeland said. She justified the move as a way to "mitigate the risk" of "illicit funds" and "increase the quality and quantity of intelligence received by Fintrac and make more information available to support investigations by law enforcement." Trudeau, standing behind Freeland at the press conference, nodded his head in agreement.
Freeland said the trucker convoy, which had assembled to protest coronavirus restrictions, had "highlighted the fact" that digital assets and funding mechanisms "weren't captured" by the Canadian government's pre-existing surveillance powers. As a result, she said, "the government will also bring forward legislation to provide these authorities to FinTrac on a permanent basis."
Freeland reiterated that point in a subsequent press conference this past Friday. "We reviewed very, very carefully the tools at the disposal of the federal government, and we used all the tools that we had prior to the invocation of the Emergencies Act, and we determined that we needed some additional tools," she said. "Now some of those tools, we will be putting forward measures to put those tools permanently in place. The authorities of FinTrac, I believe, do need to be expanded to cover crowdsourcing platforms and their payment providers."
We already know what the Canadian government would do with that permanent power. They're showing us as we speak. Trudeau has already weaponized his expanded Emergencies Act powers to "invest himself with the unilateral power to freeze bank accounts and cancel insurance policies, without so much as a court order and with essentially no recourse for those he targets." That punitive action against political dissidents expands beyond the truckers themselves: On Wednesday, Trudeau's justice minister suggested that private citizens who donated large sums to the convoy "ought to be worried" about the possibility of a freeze on their bank accounts, too. At least one young woman has already been fired from her job in the Ontario provincial government for making a $100 donation. And we spoke with a man on CrossPolitic who had also had this already happen to him.
All this, of course, flies in the face of Trudeau's promise that the Emergencies Act powers would be temporary. When he announced his invocation of the order, he promised the Canadian people that his expanded authorities would "be time-limited, geographically targeted, as well as reasonable and proportionate to the threats they are meant to address." Not a single part of that sentence has proved to be true.
Romanian MEP @CristianTerhes absolutely mops the floor with PM @JustinTrudeau in Brussels this week over how he's handling the Ottawa #FreedomConvoy2022 protests.
https://twitter.com/cosminDZS/status/1495191350962049025?s=20&t=ZMbfXXQ4jYQtLlz_7mIGjg
Believe in science – science is not supposed to be about belief but about observations, data.
Elected to work on behalf of the people not act like masters of slaves.
While it's certainly worth keeping an eye on what is happening in Ukraine do not allow it to distract you from what is happening just north of our American border.
https://www.theblaze.com/news/seattle-mandatory-bicycle-helmet-law-racial-equity
A law requiring Seattle bicyclists to wear helmets had been in effect for nearly 30 years, but was revoked in the name of racial equity. The King County Board of Health voted to repeal the helmet mandate because of accusations that the law was disproportionately enforced against people of color and homeless people.
In 1993, King County passed the law that requires all bicyclists to wear helmets. The law was expanded to explicitly include Seattle in 2003. The law was enacted to decrease the severity of bicycling incidents.
However, the community began noticing data that suggests black and homeless bicyclists were receiving more tickets than others.
"Seattle Police Department data collected and analyzed by Seattle Neighborhood Greenways and the Helmet Law Working Group shows that police disproportionately gave helmet law citations to black, indigenous, and people of color cyclists," states the press release from the Public Health Insider for Seattle and King County.
"Their analysis found that black riders were nearly four times as likely to be cited by police for not wearing a helmet while biking compared to white riders," the analysis reads. "Further, in Seattle, nearly half of the citations issued for biking without a helmet were given to people living homeless."
Despite acknowledging that bike helmets "provide a 63-88% reduction in the risk of head and brain injuries for people who ride bikes," the King County Board of Health decided to revoke the safety law on Thursday by a vote of 11 to 2.
"Helmets save lives, full stop. But the disproportional enforcement of the requirement gives us concern," said King County Councilmember Joe McDermot. "When the Board of Health first adopted a helmet mandate, helmets weren't part of our social norms and our culture, and so the legal requirements for helmets was new and carried weight. But I think societal norms and expectations have changed significantly in the 30 years since."
"The recent action from the Board of Health removes a policy that has resulted in racist enforcement, while re-emphasizing the importance of wearing a bike helmet coupled with County resources to make bike safety more accessible for all," said Dennis Worsham – interim director for Public Health in Seattle and King County. The repeal of the helmet mandate goes into effect in 30 days.
In January, the Seattle Police Department announced that it would no longer enforce certain non-criminal traffic violations due to racism and equity concerns. The Seattle Police de-prioritized expired vehicle registrations and bicycle helmet violations.'
OK, now do it with vaccines, masks, and building codes.
Psalm of the Day: 76
https://open.spotify.com/track/7uW7cnB0TQTeP1Azq8ck3a?si=c1e62a13a84b4b47
Play: 0:00-1:44
There he broke the bow and arrows and bade the sword and shield be still.
Thou hast spoiled the valiant hearted, wrapped in sleep of death are they
Mighty men have lost their cunning; none are ready for the fray.
He brings low the pride of princes; kings shall tremble at His frown.
Amen!
Kings like Putin, and Biden, and Trudeau.
Remember you can always find the links to our news stories and these psalms at crosspolitic dot com – just click on the daily news brief and follow the links. Or find them on our App: just search "Fight Laugh Feast" in your favorite app store and never miss a show.
This is Toby Sumpter with Crosspolitic News. A reminder: Support Rowdy Christian media, and share this show or become a Fight Laugh Feast Club Member. What allows us to continue growing to take on the Big Media Lie Fest is your monthly membership support. If you've already joined, a huge thanks to you, and if you haven't, please consider joining today and have a great day.