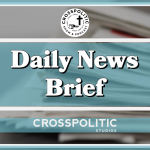 This is Garrison Hardie with your CrossPolitic Daily Newsbrief for Tuesday, February 7th, 2023. I hope you all had a fantastic weekend!
CrossPolination Ad
Did you guys know that you can sign up for a club membership, a magazine subscription, AND tickets to the Ark Encounter all in one place?! That's some crosspollination right there! Fightlaughfeast.com is your one-stop-shop for everything CrossPolitic. Here's what you should do. You should sign up for a club membership, then sign up for the Ark Encounter for a $100 discount off of your purchase, and then sign up for a magazine subscription. We've even got our own social media platform built into our website now for our club members… once you're a club member, you'll get access to exclusive content like a Bible Study series with Pastor Toby, a special series with New Saint Andrews President, Dr. Ben Merkle, all of our back-stage content, and all of our conference talks, with more to come!
There really hasn't been a better time to be a CrossPolitic Club Member. Sign up today, at fightlaughfeast.com. That's fightlaughfeast.com.
https://thepostmillennial.com/more-than-2300-dead-after-devastating-earthquake-aftershocks-in-turkey-and-syria?utm_campaign=64487
More than 2,300 dead after devastating earthquake, aftershocks in Turkey and Syria
The death toll has surpassed 2,300 after a massive 7.8 magnitude earthquake hit Turkey and Syria around 4:17 am on Monday. Both countries have declared a state of emergency as rescue efforts move to find survivors trapped under rubble, reports the Times of Israel.
A second 7.5 magnitude earthquake struck a few minutes later at 4:24 am approximately 60 miles north of the first quake's epicenter, which was centered in the southeastern province of Gaziantep, Turkey, according to the Daily Mail.
The first quake's depth was up to 10 miles according to the US Geological Survey and had aftershocks reaching 6.7 on the Richter Scale. Tremors reverberated as far away as Israel and Cairo in Egypt.
CBS reports that UK Foreign Secretary James Cleverly said "We stand ready to provide further support as needed." A total of 76 search and rescue specialists have been dispatched from the UK to help with the efforts.
Almost immediately after the quake hit, Turkey asked the European Civil Project and Humanitarian Aid Operations for assistance and aid.
The Turkish Interior Minister said, "The main impact of the earthquake fell on Kahramanmaras. After that, there were at least 22 aftershocks, 6 of magnitude over 6. The earthquake was felt in 10 provinces
"Two hours after the earthquake, several dozen dead are known. In many cities, multi-storey buildings have been destroyed; it is not yet possible to start clearing the rubble."
https://www.theblaze.com/news/prostitutes-sex-workers-catholic-school-oakland
Prostitutes solicit sex right outside Catholic elementary school, police handcuffed after California Democrats passed law to protect transgender sex workers
Parents of children are up in arms that prostitutes are soliciting sex work right outside a California elementary school. Some are saying that a law passed by California Democrats has handcuffed law enforcement in cracking down on sex workers selling their bodies in broad daylight.
KGO-TV conducted an investigation about prostitutes working outside St. Anthony's elementary school in East Oakland. The San Francisco-based news station captured video of sex workers dressed in minimal clothes and stiletto heels walking the streets near the Catholic school to sell their bodies in the middle of the day with students nearby.
KGO-TV reported, "The I-Team captured videos along E. 15th Street outside the school gate on four different dates over the past couple weeks showing young women wearing barely any clothing walking along the school sidewalk, the street corners, or directly across from the school. All of the videos were captured as children were being dropped off or walked into school."
Concerned parent Rosa Vargas told KGO-TV said she sees prostitutes near the Catholic school "every day, during all periods of the day."
Vargas said the sex workers solicit sex so close to the elementary school that they recently "were blocking the entrance of the parking structure" of the school.
Oakland City Councilman Noel Gallo noted that he is receiving complaints about prostitutes every week.
Gallo stated, "I get the call saying, 'Mr. Gallo I can't get into my home because the pimp is blocking my driveway.' It's constant."
Gallo said he has seen up to 20 scantily-clad women walking up and down the street, appearing to engage in prostitution. He revealed that some of the girls are as young as 15 years old.
City officials believe some of the women are victims of human trafficking.
Some believe that recent construction along a busy highway caused the sex workers to migrate to residential neighborhoods.
Rodney Pierre-Antoine – who oversees seven Catholic elementary schools, including St. Anthony's – said the hands of the police "are somewhat handcuffed."
Pierre-Antoine is referencing Senate Bill 357, known as the Safer Streets for All Act.
SB 357 states:
Existing law prohibits soliciting or engaging in an act of prostitution, as specified. Existing law also prohibits loitering in a public place with the intent to commit prostitution, as defined, or directing, supervising, recruiting, or aiding a person who is loitering with the intent to commit prostitution, or collecting or receiving all or part of the proceeds of an act of prostitution. Under existing law, a violation of any of these provisions is a misdemeanor. This bill would repeal those provisions related to loitering with the intent to commit prostitution and would make other conforming changes.
California Gov. Gavin Newsom (D) signed SB 357 into law in July, and it went into effect on Jan. 1.
Police officers told KGO-TV that the new law is prohibiting them from rescuing women who they believe are victims of human trafficking.
https://www.foxbusiness.com/economy/democrat-led-state-killing-businesses-shrink-secede-several-counties
Democrat-led state that's 'killing businesses' could shrink amid push to secede in several counties
After 11 Oregon counties approved a preliminary vote to secede from the Democrat-led state, local leaders around the movement are explaining how the urban-rural divide has left them with no other choice.
"People in eastern Oregon have felt like their state-level governance has not heard them, has not paid attention to our concerns, and has not been working for eastern Oregon," Greater Idaho Movement spokesperson Matt McCaw said on "Fox & Friends First" Monday.
McCaw, along with Oregon business owner Sandie Gilson, supports the idea of having select counties elect to move their state borderlines so state-level governance would come from Idaho.
Over the last two years, the Greater Idaho Movement has worked to gather constituent sentiment around the proposal. Business owners like Gilson sounded off on Oregon's tax policy, detailing the burden taken on by a corporate activity tax.
The decision to secede from the state, McCaw argued, would be a "win-win" for all involved parties.
The formal state bill, called the Greater Idaho Bill, was introduced to the Oregon legislature on Jan. 10.
Idaho state leaders reportedly motioned for formal discussions about the proposal last week, noting the purpose is to "begin official discussions on whether it is feasible to move the Idaho border into eastern Oregon."
However, if Idaho and Oregon were to negotiate a border adjustment, U.S. Congress would have to sign off on it, in addition to both Oregon and Idaho legislatures.
The plan would create what would become the nation's third-largest state geographically.
https://newsbusters.org/blogs/nb/alex-christy/2023/02/06/study-five-months-late-night-93-liberal-guests-1-conservative
Five Months Of Late Night: 93 Liberal Guests, 1 Conservative
The late-night comedy shows ended 2022 with a unanimously liberal guest count and that trend continued until the very last day of January, a NewsBusters study has revealed.
MRC analysts found that from Labor Day through January 31, liberal guests outnumbered conservative guests 93 to 1. It was 99 percent liberal and/or Democrat. The one exception was My Pillow CEO Mike Lindell who Jimmy Kimmel put on to mock.
This is follow up to MRC's late night guest election campaign study.
The study looked at the daily six late night comedy shows: ABC's Jimmy Kimmel Live!, NBC's Late Night with Seth Meyers and The Tonight Show with Jimmy Fallon, CBS's The Late Show with Stephen Colbert and The Late Late Show with James Corden, and Comedy Central's The Daily Show with Trevor Noah and 2023 temp hosts. Fox's Gutfeld! was not included.
MRC analysts divided guests into two categories: partisan officials and then journalists and celebrities.
When it came to the count of politicians, the count was 27 Democrats to 0 Republicans. Stephen Colbert led with ten, Noah was second with seven, Meyers was third at four, Fallon came in fourth with three, Kimmel placed fifth at two, and Corden was sixth and last with one.
Hillary and Chelsea Clinton, Transportation Secretary Pete Buttigieg, Texas Democratic gubernatorial nominee Beto O'Rourke, and former First Lady Michelle Obama were the guests who appeared multiple times during the length of the study. Obama's appearance on Colbert was split into multiple episodes and is counted as multiple appearances and was the only guest to appear three times.
As for journalists and celebrities, the results were 66 liberals to 1 conservative. Stephen Colbert was again the most partisan with 21. Trevor Noah and The Daily Show temp hosts came in second at 17 (11 for Noah, 1 for Leslie Jones, 2 for Wanda Sykes, 3 for D.L. Hughley). Meyers and Fallon tied for bronze with ten. Kimmel again placed fifth with seven and Corden was the least partisan with one.
Accountable2You
Jesus is Lord. In public and in private, every area of life must be subject to his Lordship—and our use of technology is no exception. What captures our attention on the screen either glorifies or dishonors our Lord. That's why Accountable2You is committed to promoting biblical accountability in our families and churches. Their monitoring and reporting software makes transparency easy on all of your devices, so you can say with the Psalmist, "I will not set anything worthless before my eyes." Guard against temptation with Accountable2You, and live for God's glory! Learn more and try it for free at Accountable2You.com/FLF
https://thepostmillennial.com/breaking-chinese-spy-balloon-carried-explosives-to-self-detonate?utm_campaign=64487
Chinese spy balloon carried explosives to self-detonate
Following the shooting down of a Chinese spy balloon over the weekend, Pentagon officials have revealed that the balloon potentially was carrying explosives to destroy itself.
According to the Daily Mail, Air Force Gen. Glen D. VanHerck, commander of US Northern Command, revealed in a Monday call with reporters that the Balloon, in addition to potentially carrying explosives, was 200 feet tall, weighed thousands of pounds, and its payload was the size of a jetliner.
https://rumble.com/v28clmv-the-chinese-spy-balloon-has-finally-been-shot-down..html – Play Video
VanHerck's comments came following a briefing by National Security Council spokesman John Kirby, who defended Biden's decision to wait to shoot down the balloon until the weekend.
On the coast of South Carolina on Saturday afternoon, the US military, using an F-22 fighter jet, shot down the balloon with a missile.
Shortly before the balloon was shot down, Federal Aviation Administration had issued a ground stop for three airports in the Carolinas located in Wilmington, North Carolina, Charleston, South Carolina, and Myrtle Beach, South Carolina.
The balloon had entered US airspace on January 28 and was known to the Biden administration for nearly a week before its report in the news on Thursday, February 2. The White House reportedly tried to keep its presence secret to not disrupt Secretary of State Antony Blinken scheduled trip to China, which was postponed after the public's discovery of the balloon.