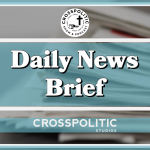 https://twitter.com/PlazadeCibeles/status/1490798723911368705?s=20&t=DMD9DK_ZWpx0r5a8pvd9zQ
0:00-0:07
Will the truckers stop honking in Ottawa? …and more on today's CrossPolitic Daily News Brief. This is Toby Sumpter. Today is Tuesday, February 8, 2022. Would please Like and share this show? Do it now so we can reach more people with the truth.
First I want to tell you about Cornerstone Work & Worldview Institute. College is great! But it's not for everyone. Cornerstone Work & Worldview Institute seeks to fill that gap. Their mission is to build kingdom culture in the workplace through their integrative program of worldview instruction and on-the-job skills training under the guidance of mentors. They offer courses in Bible, theology, and economics as well as business, project management, and marketing and more. They also provide their students with internships with business partners so they can learn and gain practical skills. You are invited to join their mission to provide Christians another educational opportunity. Together you can help students grow confident in their faith and competent in their labor. Visit them today at cornerstonework.org to learn more, to enroll, or to become one of their partners.
https://theweek.com/protests/1009895/court-issues-10-day-ban-on-honking-in-downtown-ottawa
A Canadian judge has issued a 10-day injunction Monday banning protesting truckers from honking their horns in downtown Ottawa, CBC reports.
"Tooting a horn is not an expression of any great thought I'm aware of," Justice Hugh McLean of the Ottawa Superior Court said. He also said the ban on honking would not rob demonstrators of their right to protest.
Journalist Élie Cantin-Nantel tweeted that, so far, the truckers appear to be complying.
A convoy of truckers and other demonstrators protesting Canada's COVID-19 policies entered Ottawa on Jan. 29 and has been blocking streets and using horns ever since. Protesters also cooked food, set up bouncy castles, held impromptu dance parties, and played street hockey.
https://twitter.com/backtolife_2019/status/1490632512414097409?s=20&t=DMD9DK_ZWpx0r5a8pvd9zQ
Meanwhile, Hundreds of protestors (thousands?) gathered in the streets of Turin, Italy to eat together, protesting vaccine mandates. And next to Psalm sing protests, that's about the next most Christian thing you could do.
And if the truckers do decided to relax the honking, I hope they will all decide to honk at stated times, maybe at noon every day? Or at the beginning and close of business hours.
Speaking of feasting and protesting: Idaho Family Policy Center is on the frontline of the battle to protect faith, freedom, and family values in the Gem State, and I'm excited to announce that we are hosting our first-ever Spring Banquet on March 10, 2022, at Still Water Hollow in Nampa, Idaho.
We would love for you to join us for this unforgettable evening, which will feature Gary Demar, a renowned Christian apologist and cultural commentator, as the keynote speaker. Gary has served as president of American Vision for nearly four decades. His monumental work, God and Government, has long been the quintessential textbook on government for Christian private and homeschooling students.
We ask that you consider partnering with us at this event as a table host by sponsoring a table of eight for $600. You will then have the opportunity to invite seven guests to join you for the evening as we fill the room with like-minded men and women who are ready to engage the culture and advance the lordship of Jesus Christ in Idaho.
Your prayers and support are the backbone of our work. By sponsoring a table or making a tax-deductible gift in your absence, you will help support our commitment to promote God-honoring legislation, engage the church, and train statesmen to advocate our Christian values.
We couldn't do this without you, and we look forward to spending the evening with you! If you have any questions regarding this event, please contact Kelly Cope at (208) 871-2904 or kellymaecope@gmail.com.
Possible Biden Nominees
https://www.nytimes.com/2022/02/06/us/leondra-kruger-supreme-court.html?smid=tw-share
Leondra R. Kruger is on President Biden's short list of candidates to succeed Justice Stephen G. Breyer on the U.S. Supreme Court. Senate Republican leaders have warned that they will oppose "radical left" nominees. But jurists across the political spectrum say that, like the president, Justice Kruger's hallmark is moderation.
"She's a consensus builder," said Tani Cantil-Sakauye, the chief justice of the California Supreme Court, who was appointed in 2011 by a Republican governor, Arnold Schwarzenegger. "Beyond her obviously glittering Ivy League education and her brilliant mind is this incredibly humble, self-effacing personality who is very persuasive in bringing groups together on different legal arcs."
That instinct for reasoned persuasion has made Justice Kruger, 45, a powerful backstage force on a split court whose majority has shifted from right to left during her tenure. Since her arrival, California's high court — notorious as recently as a decade ago for its partisanship and division — has voted unanimously in nearly nine out of 10 decisions, a rate that far outstrips the U.S. Supreme Court's unanimity.
https://www.scotusblog.com/2022/02/profile-of-a-potential-nominee-ketanji-brown-jackson/
Even before taking office, President Joe Biden pledged to reshape the federal judiciary. In a December 2020 letter, during his presidential transition, he asked Democratic senators to recommend public defenders and civil rights lawyers, who have generally been underrepresented on the federal bench, for judgeships. If the president nominates Judge Ketanji Brown Jackson, who currently sits on the U.S. Court of Appeals for the District of Columbia Circuit, to fill the vacancy left by the retirement of Justice Stephen Breyer, he will take his mission to diversify professional representation to the next level, putting a former federal public defender on the highest court in the land.
If nominated and confirmed, the 51-year-old Jackson would be the first Black woman on the court and also one of the youngest justices – second only to Justice Amy Coney Barrett, who celebrated her 50th birthday on Friday. She would bring a wide range of experiences not only as a public defender but also a federal district judge and a member of the U.S. Sentencing Commission. Jackson has earned high praise from the justice she would replace if nominated: When she was under consideration for her previous job as a federal trial court judge, Breyer described her as "brilliant," a "mix of common sense" and "thoughtfulness." And she might enjoy an edge over other candidates because of the prospect that she would have a relatively smooth path to confirmation: She was confirmed to an appellate judgeship less than a year ago with support from three Republican senators, and she is a relative by marriage of former House Speaker Paul Ryan, who ran for vice president on the Republican ticket in 2012.
Obama nominated Jackson again on Jan. 4, 2013, and the Senate confirmed her by a voice vote in March.
During her seven years as a district judge, Jackson issued several high-profile rulings on topics ranging from federal environmental law to the Americans with Disabilities Act. But none had a higher profile than her decision in Committee on the Judiciary v. McGahn, in which she ruled that Don McGahn, the former White House counsel to President Donald Trump, was required to testify before the House Judiciary Committee as part of its investigation into Russia's interference in the 2016 election and Trump's possible obstruction of justice, even after Trump had directed him not to do so. In a 118-page opinion, Jackson rejected the contention by Trump's Department of Justice that federal courts lack the power to review disputes between the executive branch and Congress over subpoenas, as well as its argument that the president has the sole authority to decide whether he and his senior aides will comply with subpoenas to testify about possible wrongdoing in his administration. She stressed that "the primary takeaway from the past 250 years of recorded American history is that Presidents are not kings." White House employees, she continued, "work for the People of the United States," and "take an oath to protect and defend the Constitution of the United States"; the president cannot block them from appearing to testify. McGahn eventually testified before the committee in June 2021, after the DOJ (now under the Biden administration) and the committee reached an agreement for him to do so.
In April 2018, Jackson ruled against the Trump administration in a lawsuit brought by federal employee unions challenging three of the president's executive orders on the collective bargaining rights of federal workers. The unions argued that the orders exceeded the president's powers and conflicted with both federal labor laws and the employees' constitutional rights.
https://www.cnn.com/2022/02/04/politics/j-michelle-childs-supreme-court-joe-biden/index.html
Michelle Childs from South Carolina ss the preferred choice of Democratic Rep. James Clyburn of South Carolina, one of the President's top allies. That endorsement, which Clyburn has loudly been making for more than a year. Since her name came up as being on Biden's short list, Republican Sen. Lindsey Graham hailed Childs as a brilliant choice, saying, "It's fair to say I think Michelle Childs has a really good chance of getting Republican votes." Another Republican from South Carolina, Sen. Tim Scott, repeated that sentiment: "I think she has a strong record and would be a strong candidate." And Democratic Sen. Joe Manchin of West Virginia echoed the praise, calling Childs "a tremendous, tremendous candidate."
Those accolades have been, at the same time, accompanied by criticism from progressive activists and union leaders who suggest Childs' legal record is not sufficiently supportive of worker rights.
Childs, who was nominated to the federal bench in 2010 by President Barack Obama, earned degrees from the University of South Florida and the University of South Carolina. Her champions say her state school experience would be a welcome change on the Supreme Court.
It puts her in contrast with other top contenders, including Leondra Kruger, who attended Harvard and Yale, and Ketanji Brown Jackson, who attended Harvard.
"As for my people, children are their oppressors, and women rule over them. O my people, they which lead thee cause thee to err, and destroy the way of thy paths." (Is. 3:12). It is a curse to be ruled by women and children.
Yes, God does occasionally raise up a Deborah. It is not automatically in every situation sinful for a woman to have a position of political leadership. But it is a sign of weak men, and weak men is a curse on any society. And widespread rule of a nation by women is a great curse. And until Republicans and Conservatives stop celebrating all the women in politics, we will continue getting more of a Nanny state.
In the immortal words of John MacArthur, let the women go home. Go home to the blessing of God. Go home to your husbands and children. Go home to the place where God has promised you great power. I'm all for empowering women. But sending them into combat, whether as pastors or pilots or snipers or judges, is not actually empowering them. Those are not vocations where a woman's natural strength is fitted to the task. A woman's God-given glory and strength flows from the home, is centered in the home, because that is where people are made and people are the most potent force in human history.
Which incidentally brings us back to protests at a table – the Lords' Table but also millions of dining room tables and to singing, especially the psalms – the war songs of the church.
Psalm of the Day: Psalm 65
https://open.spotify.com/track/4tZsMtu1kW3x38kDB4ug0E?si=5f52bd62b1684661
0:00-1:00
Amen!
Remember you can always find the links to our news stories and these psalms at crosspolitic dot com – just click on the daily news brief and follow the links. Or find them on our App: just search "Fight Laugh Feast" in your favorite app store and never miss a show.
This is Toby Sumpter with Crosspolitic News. A reminder: Support Rowdy Christian media, and share this show or become a Fight Laugh Feast Club Member. What allows us to continuing growing to take on the Big Media Lie Fest is your monthly membership support. If you've already joined, a huge thanks to you, and if you haven't, please consider joining today and have a great day.