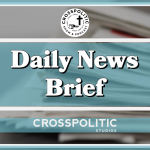 This is Garrison Hardie with your CrossPolitic Daily Newsbrief for Tuesday, January 10th, 2023. Happy Tuesday everyone! I hope your week is going well for you and yours in this new year… and speaking of this new year!
Club Membership Plug: (1/9)
Ladies and gentleman, now is the time to sign up for a club membership at fightlaughfeast.com! You've heard it all before, new year, new you! Well that's true for our club portal… This year, CrossPolitic will be dropping EXCLUSIVE content into our club portal, that you won't be able to find ANYWHERE else. Some of this content will include a Bible study series with Pastor Toby, a new special with New Saint Andrew's President, Ben Merkle, our backstage content, and probably stuff that Gabe hasn't told Toby or Knox about! So again, head on over to fightlaughfeast.com to get signed up today! That's fightlaughfeast.com.
https://www.foxnews.com/politics/irs-chopping-block-first-day-legislative-work-speaker-mccarthy
IRS on the chopping block on first day of legislative work under Speaker McCarthy
The House of Representatives is slated to vote on a bill Monday night that would cut more than $70 billion in Internal Revenue Service funding in an effort to prevent the agency from conducting new audits on Americans — fulfilling newly elected House Speaker Kevin McCarthy's promise ahead of taking the gavel.
The Family and Small Business Taxpayer Protection Act from Reps. Adrian Smith, R-Neb., and Michelle Steel, R-Calif., would roll back the billions of dollars of funding for the IRS that was approved in the Inflation Reduction Act last year.
Smith's bill leaves in place funding for customer service and improvements to IT services at the IRS but rescinds several categories of unobligated funding, including money that could be used to conduct any new audits on Americans. In total, it would claw back $72 billion of the funding Congress approved for the IRS last year.
The Inflation Reduction Act granted an $80 billion boost to the IRS over a 10-year period, and more than half of those funds were aimed at helping the agency crack down on tax evasion. In 2021, the Treasury Department estimated that $80 billion would be used to hire 87,000 auditors and other new staff. Republicans have said they would fight this aggressive expansion that would more than double the agency's current size.
"The last thing the American people need right now are more audits from an out-of-control, bloated IRS," Smith told Fox News Digital on Monday. "The Inflation Act funding for IRS would lead to the hiring of 87,000 new IRS employees tasked with raising enough revenue to pay for Democrats' Green New Deal priorities."
In an exclusive interview with Fox News Digital just days before the midterm elections, McCarthy vowed that if he became speaker of the House, protecting Americans from the IRS would be his first order of business.
https://www.foxnews.com/politics/whats-house-rules-package-tough-limits-federal-spending
What's in it: House GOP rules package aims to curb trillions in yearly heaps of new debt
A 55-page set of rules for the House that Speaker Kevin McCarthy hopes to pass on Monday will set ambitious new curbs on federal spending, part of the GOP's effort to stop piling on trillions of dollars in new debt each year.
One of the biggest changes is a return to a "Cut-As-You-Go" policy that says legislation cannot be considered if it increases mandatory spending over a 5- or 10-year period. This "CUTGO" policy requires bills that call for new spending to find offsetting spending cuts elsewhere in the federal budget.
That is a more aggressive stance compared to the "Pay-As-You-Go" policy under Democratic control. "PAYGO" also requires offsets to new spending, but those offsets can either be spending cuts or tax increases – and in either case, PAYGO rules were often waived entirely by Democrats.
The decision to go with CUTGO shows the new GOP's aversion to possible tax hikes, which can be seen elsewhere in the new rules package. For example, the rules require a supermajority in the House to approve new tax increases.
"A bill or joint resolution, amendment, or conference report carrying a federal income tax rate increase may not be considered as passed or agreed to unless so determined by a vote of not less than three-fifths of the Members voting, a quorum being present," the rules state.
In another push to stop piling on new debt, the rules will end the practice of allowing the House to automatically increase the debt ceiling through passage of a budget resolution that would require borrowing above the current ceiling. Instead, the GOP will require separate votes to raise the debt ceiling in a bid to restore accountability to Congress.
The current debt ceiling is $31.38 trillion, and the government is on the verge of hitting that cap.
The rules package also instructs House committees to prepare plans for strict oversight of the Biden administration, including an assessment of which programs continue to receive funding from Congress even though their authorization lapsed. It calls on committees to make recommendations on how to either consolidate or terminate those programs.
The package brings back the so-called Holman Rule, which allows members to chop specific agencies or even the salaries of specific federal employees when appropriations bills are being considered.
https://thepostmillennial.com/breaking-twitter-was-pressured-by-pfizer-to-suppress-posts-questioning-covid-vax-efficacy-twitter-files?utm_campaign=64487
Twitter was pressured by Pfizer to suppress posts questioning Covid vax efficacy: Twitter Files
Alex Berenson dropped records from the Twitter Files on Monday, stating that a board member for Pfizer pressured Twitter to suppress and censor any posts questioning the efficacy of the company's mRNA vaccine.
On August 27, 2021, Pfizer Board Member Dr. Scott Gottlieb emailed Todd O'Boyle, a Senior Manager of Public Policy at Twitter's Washington, DC location, according to LinkedIn, and also Twitter's point of contact with the White House, Berenson reported.
The email subject line contained a tweet from Dr. Brett Giroir, who had briefly served under Gottlieb in the Food and Drug Administration.
That tweet read: "It's now clear that [Covid-19] natural immunity is superior to [vaccine] immunity, by ALOT. There's no scientific justification for [vax proof] if a person had prior infection."
https://www.theepochtimes.com/biden-declares-state-of-emergency-in-california-after-deadly-storms_4971604.html?utm_source=partner&utm_campaign=BonginoReport
Biden Declares State of Emergency in California After Deadly Storms
President Joe Biden declared a state of emergency in California on Jan. 9 after a series of storms hit the Golden State, leaving about a dozen people dead.
Several storms, as part of an "atmospheric river," have hit California over the past two weeks and caused hundreds of thousands of customers to lose power, according to Poweroutage.us. As of the morning of Jan. 9, the website shows that more than 100,000 people are without power.
Since Dec. 26, 2022, San Francisco has received more than 10 inches of rain, while Mammoth Mountain, a popular ski area in the Eastern Sierra, got nearly 10 feet of snow, the National Weather Service said.
The emergency declaration allows the U.S. Federal Emergency Management Agency (FEMA) to coordinate disaster relief efforts and use emergency resources, the White House said in a Jan. 9 statement.
Biden, who's currently in Mexico, declared that an "emergency exists" in California following "successive and severe winter storms, flooding, and mudslides." FEMA is authorized to provide "equipment and resources necessary to alleviate the impacts of the emergency," according to the statement.
Over the weekend, in anticipation of more storms, the National Weather Service warned of a "relentless parade of atmospheric rivers" that will likely hit California.
The second storm system will hit on Jan. 10 with lower rainfall totals but will affect locations in Southern California, according to the federal agency. Heavy snow of as much as six feet will fall across higher elevations of the Sierra Nevada mountains, located in the eastern portion of California, before tapering off on Jan. 11.
There will likely be "additional instances of flooding" across California this week, according to the agency.
https://thepostmillennial.com/breaking-brazilian-anti-lula-protestors-storm-presidential-palace-and-national-congress?utm_campaign=64487
Brazilian anti-Lula protestors storm presidential palace and National Congress
The headquarters of Brazil's executive and legislative branches were stormed by demonstrators protesting against the election of socialist President Luiz Inácio Lula da Silva on Sunday, breaking into the presidential palace as well as the National Congress building.
Palácio do Planalto, or Planalto Palace in English, is the workplace of Brazilian presidents, and is located in the same plaza as the National Congress of Brazil, as well as the Supreme Federal Court. The Praça dos Três Poderes, or Three Towers Plaza, is in the capital city of Brasília.
Brazilian outlet Metropoles reports that a hundreds of "Bolsonarists," or supporters of former President Jair Bolsonaro, "broke through blocks that prevent the entry of non-accredited people and entered the Planalto parking lot," before eventually making their way into the Planalto Palace and National Congress buildings.
Footage shared by American conservative activist ALX shows the moment protestors broke through the barrier as police attempted to subdue them. Eventually the police had to retreat while the crowd stormed through.
Video from inside the Planalto Palace shows the protestors, decked out in patriotic outfits, walking through the gas around the offices.
Around 2:40 pm, the protestors also entered the National Congress building under a "shower of tear gas bombs."
More footage shows masses of protestors climbing up the ramps on the outside of the congressional building to get inside.
Meanwhile, Bolsonaro is suspected to have been in Orlando, Florida, since December, reported The Hill.
Diario 98 columnist George Marques reported that while the buildings were being invaded, a portion of the Bolsonaro supporters stayed behind to pray.
Lula, who was inaugurated just one week ago, won 50.83 percent of the vote compared to conservative incumbent Jair Bolsonaro, who won 49.17, in the country's October 2 vote. There was a runoff election afterwards on October 30 which Lula won, and that win was immediately ratified by the Superior Electoral Court.
Gravity Jack:
Gravity Jack is a full service digital agency specializing in the development of Virtual & Augmented Reality experiences, mobile apps, blockchain and Web3 projects. Founded in 2009 as the first American agency to offer augmented reality, they even patented it; Gravity Jack's digital experiences have been a source of innovation for small business, Fortune 500 Companies, and the US Military. Get your vision in motion at gravityjack.com
'God's Real': Bills Quarterback Josh Allen Fights Back Tears While Recounting 'Spiritual' Moment on Field as Damar Hamlin Recovers
It has been a harrowing, terrifying, and yet oddly optimistic time for the Buffalo Bills.
On Sunday, just shy of a week after Bills safety Damar Hamlin collapsed and went into cardiac arrest during a football showdown between the Bills and the Cincinnati Bengals, the Bills returned to the field and won against the New England Patriots.
But that was only a bonus to the amazing news Hamlin is recovering and was able to watch the game from his hospital bed, sharing in the joy the 35-23 victory brought.
Hamlin's healing has been an answer to prayer for a nation on the edge of its seat, wondering if the 24-year-old player — whose initial medical state was dire — would pull through.
That emotional toll was palpable, particularly after the Bills' win Sunday. Quarterback Josh Allen delivered an emotional statement and gave God all the glory.
"It was just spiritual … I was going around my team and saying, 'God's real,'" Allen said. "You can't draw that one, write that one up any better."
He continued, as he got emotional, "It's been three years and three months since the last kickoff return."
Allen was addressing the first play of the game, a 96-yard kickoff return — a resulting touchdown that left the Bills in celebration. The significance here, of course, is Hamlin's number, which is 3.
Here's the great Jim Nantz and Tony Romo on the call:
https://twitter.com/i/status/1612148627904032768 – Play Video
With the players coming out donning Hamlin's number, Allen clearly saw significance in the fact it had also been three years and three months since that last kickoff return.
Allen also said during the post-game news conference he can't remember another play that impacted him in such a profound way.
"You want the truth? It was spiritual. It really was," he said. "Bone-chilling. It was special. I can't remember a play that touched me like that in my life."
https://twitter.com/i/status/1612215028085817345 – Play Video
And that today… is why I love sports.