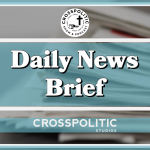 Announcing candidacy with… a shofar?… and more on today's CrossPolitic Daily News Brief. This is Toby Sumpter. Today is Tuesday, January 11, 2022.
Sen. Doug Mastriano Announced He's Running for Pennsylvania Governor
And he made that announcement by blowing a shofar – a ram's horn:
0:00-0:25
But he wasn't done yet:
0:25-0:58
You know, there are two things that occur to me upon viewing this video: the first one is cringe city. There is nothing remotely biblical, spiritual, or edifying about this sort of thing. And it's a bunch of cringe. This is why liberals think we're nuts. Cause, well, we are.
But the second thing that occurs to me is that this is my crazy uncle. He's no doubt a Christian, and he stands for many things that I stand for. I appreciate the fact that he doesn't care what it looks like. I appreciate the fact that he is willing to look like a fool for Christ. I would take this guy every day of the week over the sexy-cool pastors at the Gospel Coalition every day of the week.
You know like the very well-meaning Paul Carter at Gospel Coalition Canada:
In a recent article Pastor Carter helpfully outlines the recent Anti-Conversion Bill that passed the Canadian parliament, and then did a pastoral faceplant as he tried to argue for a coy-mellow response rather than the one that takes backbone and courage.
"This enactment amends the Criminal Code to, among other things, create the following offences:
(a) causing another person to undergo conversion therapy;
(b) doing anything for the purpose of removing a child from Canada with the intention that the child undergo conversion therapy outside Canada;
(c) promoting or advertising conversion therapy; and
(d) receiving a financial or other material benefit from the provision of conversion therapy.
It also amends the Criminal Code to authorize courts to order that advertisements for conversion therapy be disposed of or deleted.
The definition of 'conversion therapy' set out in Bill C-4 reads as follows:
320.‍101 In sections 320.‍102 to 320.‍104, conversion therapy means a practice, treatment or service designed to
(a) change a person's sexual orientation to heterosexual;
(b) change a person's gender identity to cisgender;
(c) change a person's gender expression so that it conforms to the sex assigned to the person at birth;
(d) repress or reduce non-heterosexual attraction or sexual behaviour;
(e) repress a person's non-cisgender gender identity; or
(f) repress or reduce a person's gender expression that does not conform to the sex assigned to the person at birth.
For greater certainty, this definition does not include a practice, treatment or service that relates to the exploration or development of an integrated personal identity — such as a practice, treatment or service that relates to a person's gender transition — and that is not based on an assumption that a particular sexual orientation, gender identity or gender expression is to be preferred over another."
Having explained all of that, Pastor Carter says he favors the response of some of his friends who will be reading a bland statement of concern this last Sunday expression mild concerns that this bill could possible, in the 9th dimension, if you're standing on your head and squinting yours, could possibly be taken as being against Biblical sexuality, even though all the politicians have promised it isn't (and crossed the heart, hope to die).
But Pastor Carter is a bit concerned about Pastor John MacArthur and other Canadian pastors who are planning to preach sermons this Sunday illegally. He's concerned that conceding the point that to preach what the Bible says about sexuality in defiance of Bill C-4 – he's concerned that that is conceding too much. We should wait and see what the courts say. But while we may certainly make room for various tactical measures depending on different scenarios on the ground, the milktoast approach while playing coy about the bill is how Canadians got into this mess in the first place.
For this reason, I will be joining Pastor MacArthur and many faithful Canadian pastors this Sunday preaching a message on Biblical Sexuality, specifically calling out the Canadian government for passing this legislation, and proclaiming conversion to Christ for all sexual sins, including homosexuality and transgenderism.
NSA Beastmode Homemaker Scholarship
In the interest of promoting a hard-hitting, thoroughly biblical education for life, CrossPolitic Studios is very excited to present: The Fight Laugh Feast "Beastmode Homemaker" Scholarship for qualified first year female students who have been accepted to New St. Andrews College for Fall 2022. This scholarship will fund almost half a young woman's annual tuition for four years.
Because CrossPolitic wants to encourage young women to prepare themselves to take dominion and be fruitful through beastmode homemaking this scholarship is specifically offered to qualified young women.
How to be considered for the Fight Laugh Feast "Beastmode Homemaker" Scholarship:
1. Apply to New St. Andrews College and receive official notification that you have been accepted.
2. Write a short essay (~1000) words explaining why you are the woman to receive this scholarship. This essay should be thoughtful, good humored, feminine, and well-written. The essay should include reasons how you believe a New St. Andrews College education will equip you to live for Jesus and defy the enemies of God. The essay should be sent to %%%% Address, Moscow, Idaho. All applications for the Fight Laugh Feast Scholarship must be received by February 1.
3. The CrossPolitic wives (Annie, Sharron, and Jenny) will review all applications and if there is a worthy applicant, we will schedule an interview with up to the top three candidates, and the CrossPolitic Guys will announce the winner of the scholarship on a CrossPolitic Show with great fanfare sometime by April 1st of the year prior to the student's entrance to the college.
4. The scholarship is for full-time, matriculating first year females (as defined by God and old-fashioned biology) at New St. Andrews College (because they know biology better than the Supreme Court) and automatically renews for up to four years. The scholarship is contingent on remaining such a student in good standing (academically, morally), and living like a faithful Christian in our community. The scholarship may be revoked at any time by the CrossPolitic gods, should a young woman prove to be unworthy of this honor.
Pediatric Hospitalizations Not for Covid only WITH COVID
We're still having reporting problems: The CDC is reporting increasing pediatric COVID hospitalizations, and quick google search finds stories all over the place citing similar statistics. Dr. Jeanne Noble from the UCSF emergency department says it's critical to break these numbers down. She tweeted over the weekend: "Between our 2 pediatric hospitals in SF and Oakland, 30% of COVID+ hospitalizations are for COVID illness, and 70% are incidental. 6 kids hospitalized b/c of COVID today at UCSF."
We've seen this since the beginning of the so-called pandemic: little to no care to distinguish between those who merely have a positive test with no/few related symptoms and those actually suffering with the disease directly. The same failure has plagued (pun intended) reporting of mortality and deaths. Granted, sometimes it's a wisdom call, but there have been many deaths that would have occurred anyway but have been coded COVID deaths because the cancer patient or heart disease patient happened to get a positive test. My grandmother ended up in the hospital this last Fall when she broke her arm and she had a positive covid test with no symptoms. She's home now recovering just fine, but I wouldn't doubt that she was considered a COVID patient in the hospital even though her time there had nothing to do with COVID.
Good news coming out of Iowa this last weekend: Iowa Labor Commissioner Says the State Will Not Enforce Biden's Vax Order
https://www.kcci.com/article/iowas-labor-commissioner-says-the-state-will-not-enforce-the-biden-administrations-vaccine-mandate/38701039?utm_campaign=snd-autopilot&fbclid=IwAR2rSrjf97pDlh_17ihdGwAc_qxs96p9aGkFaoyWjfOQEZbcZ-ozpoN32rw
From local news KCCI: Iowa's labor commissioner says the state will not enforce the Biden administration's vaccine mandate for businesses with 100 employees or more.
This decision comes as the U.S. Supreme Court hears oral arguments regarding the mandate.
Commissioner Rod Roberts said in a statement "after reviewing the mandate — Iowa will not adopt the federal standard.
Roberts' full statement says: "Iowa doesn't have a standard requiring the Covid-19 vaccine or testing. But after closely reviewing the federal OSHA Vaccine Mandate, Iowa has determined it will not adopt the federal standard. Iowa has concluded that it is not necessary because Iowa's existing standards are at least as effective as the federal standard change."
Gov. Kim Reynolds praised the commissioner's decision.
OK, states, follow Iowa. Acknowledge the mandate and decline to enforce it.
Psalm of the Day: 133
0:00-0:49
Amen.
Remember you can always find the links to our news stories and these psalms at crosspolitic dot com – just click on the daily news brief and follow the links.
This is Toby Sumpter with Crosspolitic News. A reminder: Support Rowdy Christian media, and share this show or become a Fight Laugh Feast Club Member. Remember if you didn't make it to the Fight Laugh Feast Conferences, club members have access to all the talks from Douglas Wilson, Joe Boot, Jeff Durbin, Glenn Sunshine, Nate Wilson, David Bahnsen, Voddie Baucham, Ben Merkle, and many more. Join today and have a great day.