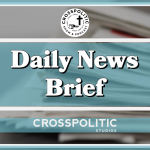 This is Garrison Hardie with your CrossPolitic Daily News Brief for Tuesday, January 17th, 2023. I hope everyone's week has gotten off to a good start!
Ladies and gentleman, now is the time to sign up for a club membership at fightlaughfeast.com! This year, CrossPolitic will be dropping EXCLUSIVE content into our club portal, that you won't be able to find ANYWHERE else. Some of this content will include a Bible study series with Pastor Toby, a special with New Saint Andrew's President, Ben Merkle, our backstage content, and probably stuff that Gabe hasn't told myself or Knox about! So again, head on over to fightlaughfeast.com to get signed up today! That's fightlaughfeast.com.
https://thepostmillennial.com/new-guidelines-recommend-drugs-surgery-for-12-year-olds-to-tackle-obesity-early?utm_campaign=64487
New guidelines from American Academy of Pediatrics suggest treating childhood obesity with drugs, surgery
Medications and surgery are being recommended for children as young as 12 in order to fight off obesity "early and aggressively," according to new guidelines released Monday by the American Academy of Pediatrics.
Previously, the practice of "watchful waiting" was applied to see if a child would grow out of their obesity but "Waiting doesn't work," according to Dr. Ihuoma Eneli, who co-authored the first guidance on childhood obesity in 15 years from the American Academy of Pediatrics, the Associated Press reports.
"What we see is a continuation of weight gain and the likelihood that they'll have (obesity) in adulthood," Eneli continued. Eneli is the director of the Center for Healthy Weight and Nutrition at Nationwide Children's Hospital located in Columbus, Ohio. According to the Columbus Dispatch, Columbus' Childrens Hospital has spent 3.3 billion in recent additions to its complex.
The guidance contains specific diets, exercises and other behavior and lifestyle interventions, as well as specific ages at which specific treatments can and should be offered.
Medications for kids as young as 12 and surgery for kids as young as 13 are now the recommendations in order to stave off the worsening obesity problem that affects more than 14.4 million young people in the US and is responsible for myriad health problems, including high blood pressure, diabetes and depression.
The goal is for the new guidelines to change the way that obesity is viewed, so that its not just seen as "a personal problem, maybe a failure of the person's diligence," said Dr. Sandra Hassink, another co-author of the guidance.
"This is not different than you have asthma and now we have an inhaler for you," she added.
The guidelines also take into account that obesity is often affected by biological factors, and that it's not just a lifestyle problem.
Obesity affects close to 20 percent of US children and teens, and around 42 percent of adults.
The new guidelines come at the same time as a new obesity drug for children is approved for use.
Wegovy, a weekly injection for use in children ages 12 and older, has been shown in trials to be efficient for teenages, reducing their BMI by around 16 percent on average. The drug affects the communication between the brain and the stomach, enabling the user to feel more full than they otherwise would be.
https://hotair.com/jazz-shaw/2023/01/15/how-badly-did-we-overcount-covid-deaths-and-hospitalizations-n523940
How badly did we overcount COVID deaths and hospitalizations?
We're still only on the first steps of the road to learning how badly the COVID pandemic was handled by the government, the media, and, well… pretty much everyone. But the veil is slowly being lifted regarding some of the unforced errors that were made. Even the legacy media is starting to admit that a serious math error took place alongside the many other errors being discovered. Specifically, the total count of COVID hospitalizations and deaths being reported was obviously far higher than it should have been. At Townhall, our colleague Sarah Arnold reports that a CNN medical specialist and Washington Post columnist has been allowed to speak the truth. Many of the people hospitalized "for COVID" sought medical care for entirely different reasons, and many of the dead did not actually die from COVID or anything related to it.
Nearly two years after the Covid-19 pandemic, CNN medical analyst and Washington Post columnist Dr. Lena Wen admitted that hospitals were exaggerating the number of deaths they claimed was from Covid.
Titled, "We Are Over-Counting COVID Deaths and Hospitalizations. That's a Problem," Wren acknowledged that "90 percent of patients diagnosed with COVID are actually in the hospital for some other illness."
"Since every hospitalized patient gets tested for covid, many are incidentally positive," Wren wrote, citing Robin Dretler, an attending physician at Emory Decatur Hospital.
As Sarah points out, while this admission may be a welcome step toward setting the record straight, it's coming out two years too late. Those death and hospitalization figures were used to justify all manner of government overreach and oppression. Learning these facts now will not do anything to change the past.
So how could the math possibly have been so wrong? That's easy enough to explain. Every patient or body showing up at a hospital or a morgue was tested for COVID. If the test came back positive, that person was added to the count. So a nearly asymptomatic person who was hit by a car and died was added to the death toll. A patient admitted to the hospital with a knife wound to the stomach who tested positive was listed as another "COVID hospitalization."
It's not as if at least some of us didn't already know this. There were people, including leading doctors and virologists, who were talking about this all through 2021. Or at least they were trying to talk about it. You didn't hear a peep about this on MSNBC or CNN unless it was a segment calling out "misinformation." Dr. Robert Malone, an actual mRNA vaccine research scientist, was banned from Twitter for trying to bring up this issue. (He was reinstated after Musk took over.)
Keep in mind that we're talking about the period in 2021 when the virus was still running wild. Pandemic porn was at a premium on cable news outlets and in the larger newspapers. Andrew Cuomo was still giving his Emmy-winning (later rescinded) daily pandemic updates and being touted as the nation's "shadow president." CNN kept a running count of the deaths and hospitalizations in the upper right corner of the screen 24/7 no matter what story they were currently covering.
There are going to be a lot of people with much to answer for when all of this is said and done. Will any of them be held accountable? Don't hold your breath. (And if you do hold your breath for too long, you'll probably be taken to the emergency room and counted as another "COVID hospitalization.")
https://dailycaller.com/2023/01/15/hiding-gender-transitions-schools/
The Country's Biggest School Districts Are Explicitly Hiding Kids' Gender Transitions From Parents
The nation's largest school districts are implementing policies that require educators to keep students' gender transitions a secret from their parents.
Los Angeles Unified School District, Chicago Public Schools and New York Public Schools are promoting practices and policies that hide a student's transgender status from their parents. The policies have become a cultural flashpoint amid a battle over the role parents should play in their child's education, and the extent to which gender ideology has infiltrated K-12 classrooms.
Los Angeles Unified School District, the second largest school district in the nation with 565,000 students, has a "Gender Identity and Students – Ensuring Equity and Nondiscrimination" policy that tells educators to be mindful that a student may have not told their parents about their change in gender identity and be careful not to reveal the child's gender status. Educators are advised to not reveal a student's gender identity unless the student wants because the parent may not be "supportive of the student."
Chicago Public Schools, which enrolls about 340,000 students, has a "guidelines regarding the support of transgender and gender nonconforming students" which requires a "student administrative support team" to coordinate action and support for transgender and gender nonconforming students. Parents are not required to be notified or involved in the process of the child's transition at school, the guidelines stated.
The New York City Department of Education which oversees New York Public Schools, with more than one million students, released guidelines and protocols for transgender students that advised educators that some students do not want their parents to know about their gender status. Students do not need parental consent or a court-ordered name and gender change before changing their name and pronouns at school.
Montgomery County Public School in Maryland, which enrolls about 160,000 students, has a "Guidelines for Student Gender Identity" that stated that students have the "right" to keep their gender transitions a secret from their parents. Educators must "respect the right of students to keep their gender identity or transgender status private and confidential."
Upper Moreland School District in Willow Grove, Pennsylvania, added a "Code of Conduct" for the 2022-2023 school year which tells elementary school teachers that they should not share if a student has or is making a change in their gender identity with the student's parents unless instructed by the child. A presentation to the Charlotte-Mecklenburg School District Board of Education, which enrolls about 134,000 students, detailed district policy that stated that a student can request a name or pronoun change at school without parental consent.
Why do I tell you all this?
Because you need to hear from one of our sponsors:
Classical Conversations
Classical Conversations supports homeschooling parents by cultivating the love of learning through a Christian worldview in fellowship with other families. They provide a classical Christ-centered curriculum, local like-minded communities across the United States and in several countries, and they train parents who are striving to be great classical educators in the home. For more information and to get connected, please visit their website at ClassicalConversations.com. Again that's ClassicalConversations.com.
https://thepostmillennial.com/mayor-eric-adams-slams-bidens-border-crisis-from-el-paso-says-new-york-has-no-room-for-more-migrants?utm_campaign=64487
Mayor Eric Adams slams Biden's border crisis from El Paso, says New York has 'no room' for more migrants
After surveying the US-Mexico border this weekend, New York City Democratic Mayor Eric Adams called on the Biden administration to do more to address the massive influx of illegal immigrants that is causing a border crisis and overwhelming New York, and other major cities. He called the situation at the border a "national crisis," and said New York has "no room" for more migrants.
Adams said Friday that New York City, which has proclaimed itself a "sanctuary city" is at its "breaking point" as record numbers of illegal migrants continue to arrive in the Big Apple. Over 3,100 migrants seeking asylum showed up last week, with more than 800 arriving on Thursday alone. Adams has said "there's no room at the inn."
According to Fox News, the mayor submitted an emergency mutual aid request to New York State this weekend for immediate assistance to shelter the illegal migrants. Thousands of illegal migrants have been bused to New York City by the city of El Paso, as well as by the state of Texas since last year.
The City has a right to shelter law in place, meaning that anyone who seeks shelter will be granted a place to sleep. This law was made with New York's average number of homeless in mind, and New York simply does not have enough shelter for the huge increases they are seeing.
Sunday afternoon, Adams spoke at a press conference alongside El Paso Democratic Mayor Oscar Leeser, saying, "We're pointing the finger … at our national government. This is a national problem. We must have real immigration reform, and we must immediately have a short-term fix of making sure that the cost of this does not fall on our local cities."
Adams added that the illegal migrants are given a false impression from websites before they travel that The Big Apple is "paved with gold" and that they will be "given employment" when they arrive. "Our cities are being undermined. And we don't deserve this. Migrants don't deserve this. And people who live in the cities don't deserve this," Adams continued. "We expect more from our national leaders to address this issue in a real way."
https://www.foxnews.com/politics/san-frans-reparations-committee-proposes-5-million-each-longtime-black-resident-total-debt-forgiveness
San Fran's reparations committee proposes $5 million to each Black longtime resident, total debt forgiveness
San Francisco's reparations committee has proposed paying each Black longtime resident $5 million and granting total debt forgiveness due to the decades of "systematic repression" faced by the local Black community.
The San Francisco African American Reparations Advisory Committee, which advises the city on developing a plan for reparations for Black residents, released its draft report last month to address reparations – not for slavery, since California was not technically a slave state, but "to address the public policies explicitly created to subjugate Black people in San Francisco by upholding and expanding the intent and legacy of chattel slavery."
The draft plan includes a long list of financial recommendations for Black San Francisco residents, including a one-time, lump sum payment of $5 million to each eligible individual.
To be eligible for the program, the applicant must be 18 years old and have identified as Black or African American on public documents for at least 10 years. They must also prove at least two of eight additional criteria, choosing from a list that includes, "Born in San Francisco between 1940 and 1996 and has proof of residency in San Francisco for at least 13 years," and/or, "Personally, or the direct descendant of someone, incarcerated by the failed War on Drugs."
The plan also calls on the city to supplement lower-income recipients' income to reflect the Area Median Income (AMI), about $97,000, annually for at least 250 years.
The plan also seeks to establish "a comprehensive debt forgiveness program" that clears each eligible person's student and housing loans, credit card debt, etc.