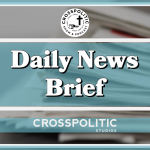 Play during opening: 4:43-4:47
The pathetic spectacle of a man who's run out of road…and more on today's CrossPolitic Daily News Brief. This is Toby Sumpter. Today is Friday, January 14, 2022.
If you want to see more of this sort of thing, please consider joining the Fight Laugh Feast Club. For less than a few coffees a month, you can help us build a rowdy Christian media response to liberal legacy media, big tech, and build a Christian megaphone for the truth. Got to flfnetwork.com and click on "join the club."
First Up: SuperCringe from Australia: Want to Go on a VAX Date?
Play Audio
There are wheels within wheels here. First, we have two girls who are apparently going on a date? They're going to see the new Spider Man at 10am? Who goes to the movies at 10am? That's creepy. Then, like it's Nazi Germany, the kid asks for to see their certificates of vaccination. I mean, why not ask for their full medical history? I mean, how many STDs do they have since they're lesbians and more likely to be transmitting sexual diseases? Then the girl says that her parents haven't let her get vaccinated and the other girl says that she doesn't need her parent's permission to get vaccinated and off the go on the vax date.
But notice: they don't need parental permission to get foreign substances put into their body that could have significant side effects or life-long impacts, but they do need the government's permission to go see a movie. It's not like parents have been removed, the question is rather who is playing the part of parents. And in totalitarian regimes it's the government.
I would also just like to point out here that you cannot remove parental permissions for medical decisions and then pretend that the category of consenting adult still exists. If you can make medical decisions without parental permission, then you can make sexual decisions as well. And the lower that age gets, the closer we get to allowing pedophilia. And if you don't think that's already in the back of some peoples' minds, you're not paying attention. The current freak out over children not being vaccinated is driven, in part, by the ultimate goal of removing parental protections so that they can be groomed and preyed upon by sexual predators.
Families have failed to establish their government. Fathers have failed. There is no loyalty to parents and family government because parents have not loved and taught their children well. And parents have not done that because they have not been discipled by the churches. Pastors have limited their teaching to a tiny sliver of what is called the gospel, but it's so tiny and full of emotional fluff, that no doubt many of these pastors and their parishoners in Australia and New Zealand will arrive in heaven to hear the Lord say depart from me, you workers of iniquity, and I never heard of you.
Owner of the Golden Warriors Says He Doesn't Care About the Uyghur Genocide
https://nypost.com/2022/01/17/warriors-chamath-palihapitiya-no-one-cares-about-uyghurs/?utm_campaign=SocialFlow&utm_medium=SocialFlow&utm_source=NYPTwitter
A minority owner of the Golden State Warriors got in a bit of hot water on social media for callously admitting he does not care about Uyghur genocide in China.
Chamath Palihapitiya, a venture capitalist who owns 10 percent of the NBA franchise, expressed cold indifference to the plight of the Uyghurs, an ethnic Muslim minority that has been persecuted in China, on his "All In" podcast over the weekend.
When co-host Jason Calacanis said President Biden's statement about the Uyghurs was one of the stronger things he's said, Palihapitiya interjected that nobody cares about them.
"Let's be honest, nobody cares about what's happening to the Uyghurs," Palihapitiya said. "You bring it up because you really care, and I think that's nice that you care. The rest of us don't care.
"I'm telling you a very hard, ugly truth. Of all the things that I care about, it is below my line."
David Sacks, the third co-host of the podcast, said that if you bring up everything that is happening with the Uyghurs, Americans care — but it is not at the "top of their minds."
"I care about [empty shelves at grocery stores]. I care about the fact that our economy could turn on a dime if China invades Taiwan. I care about that," Palihapitiya said. "I care about climate change. I care about America's crippling and decrepit health care infrastructure.
"But if you're asking me do I care about a segment of a class of people in another country? Not until we can take care of ourselves will I prioritize them over us. I think a lot of people believe that and I'm sorry if that's a hard truth to hear. But every time I say that I care about the Uyghurs, I'm really just lying if I don't really care."
Here it is: 14:47-15:54
The Warriors distanced themselves from Palihapitiya's opinion on Monday.
"As a limited investor who has no day-to-day operating functions with the Warriors, Mr. does not speak on behalf of our franchise, and his views certainly don't reflect those of our organization," the team said in a statement.
The Uyghurs have been subjected to rape, sterilizations and slave labor. Biden signed a bill in Decemberbanning imports from the Xinjiang region of China unless it can be proven the goods were not made with forced labor.
Calacanis said it's a sad state of affairs if people can't care about global human rights.
"That's a luxury belief," Palihapitiya responded. "The reason I think that is we don't do enough domestically to actually express that view in real tangible ways. So until we actually clean up our own house, the idea that we step outside our borders, with us morally virtue-signaling about someone else's human rights record, is deplorable."
Human rights in China is a third-rail topic for the NBA. The league had a lot of its future growth pegged to its relationship with China, when then-Rockets general manager Daryl Morey tweeted to "Free Hong Kong" in support of democracy protesters and ignited a firestorm in 2019.
AD: Founded in 2018, The Reformed Sage exists to edify Christians with products and services that build the kingdom of God and proclaim the gospel to all. We have created products that are unique, useful, beautiful, and humorous. We have wood art, engraved wall art, apparel, drinkware, decals, stamps, and much more. We also regularly make custom merchandise at wholesale prices for churches, ministries and businesses that want to add or expand their product offerings in turn increasing revenue. Please use promo code FLF22 for 10% off your first order.
AND HAPPENING NOW: All apparel is marked down until Super Bowl Sunday! (No promo code necessary) Shirts: $20 Hoodies: $30 and more! They are changing apparel vendors and removing some designs. We do not know at this time what color/sizing options we will have available come March 1. So, if there is an apparel combo you want (design/size/color) better grab it before it is gone for good! This sale ends on February 6th.
Prime Minister Boris Johnson Is Being Asked to Resign for Attending Parties During Lockdown
https://www.cnbc.com/2022/01/17/uks-boris-johnson-clings-to-power-as-partygate-scandal-rumbles-on.html
U.K. Prime Minister Boris Johnson's position is looking increasingly vulnerable as more reports emerge of parties and gatherings in Downing Street during periods of Covid-19 lockdowns and restrictions.
Keir Starmer, the leader of the opposition Labour Party, accused Johnson of breaking Covid laws amid numerous allegations of parties and gatherings that were held by government staff, with some attended by Johnson, during lockdown.
In the last few days more reports of parties have emerged, with Downing Street apologizing to Queen Elizabeth after it has emerged that two parties took place on the eve of Prince Phillip's funeral in April 2021, in which it's alleged that a staff member was sent out to buy a "suitcase of wine."
Speaking to the BBC on Sunday, Starmer said Johnson had "lied" about what he called "industrial scale partying" in Downing Street.
"The facts speak for themselves, and the country has made up its mind," he said, adding it was "blindingly obvious what's happened."
"I think he broke the law, I think he's as good as admitted that he broke the law," he told the BBC.
Johnson admitted to Parliament last week that he had attended a drinks party at Downing Street, the prime minister's office and which he lives next door to, during the U.K.'s first Covid lockdown in May 2020 but said he believed it was a "work event."
1:03-1:39

Did you catch that? Boris said that he was really, really sorry he thought it was a work meeting in the garden.
At this time, people in the U.K. were only allowed to meet one other person from outside their household, and had to meet outdoors, among other strict rules.
To which the opposition party leader, Keir Starmer, replied:
Play: 4:38-5:18
First off, don't you wish President Biden had to interact with that kind of withering rhetoric? Or at least Dr. Fauci?
From a friend: Boris Johnson "is a serial adulterer, and the first PM to have a live-in girlfriend at 10 Downing Street. He is also a serial liar, and has been found out. I suspect he will have to resign, but he will be replaced by someone even more compromised politically – probably Jacob Rees-Mogg, who was pro-brexit, but has also been pro-lockdown. However, Rees-Mogg would not be favorable to the Biden regime, so pressure might be put on Conservative MPs to chose someone like Sajid Javid or Rishi Sunak, which would give Britain either it's first Muslim or Hindu Prime Minister."
Another news sources says that Rishi Sunak's name recognition among voters is high at around 95 per cent to 98 per cent, and a net favourability of plus three shows he is well-liked…
Psalm of the Day: 98
0:00-1:09
Remember you can always find the links to our news stories and these psalms at crosspolitic dot com – just click on the daily news brief and follow the links. Or find them on our App: just search "Fight Laugh Feast" in your favorite app store and never miss a show.
This is Toby Sumpter with Crosspolitic News. A reminder: Support Rowdy Christian media, and share this show or become a Fight Laugh Feast Club Member. What allows us to continuing growing to take on the Big Media Lie Fest is your monthly membership support. If you've already joined, a huge thanks to you, and if you haven't, please consider joining today and have a great weekend.