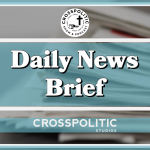 This is Toby Sumpter with your CrossPolitic Daily News Brief for Tuesday, January 19, 2021.
Today you will hear about the NFL Playoffs, Honduran Refugees, a little more on the Capitol protests and impeachment, and then a bit of a dump on COVID vaccines. 
Remember: If you have a news story you think we might need to cover, please send articles and links to News@CrossPolitic.com
Two National Events: Fight Laugh Feast Rally in Rapid City, South Dakota, April 29, 30, May 1 & the Fight Laugh Feast Conference in Nashville, TN, October 1-3. Why a rally in South Dakota in April? Because we want to stand with Kristi Noem – the only Governor in the Union to not overstep her authority. And we also want to encourage you wherever you are. Many churches are not meeting, many Christians feel all alone. But you're not alone. So the theme of the Rally in South Dakota is Love God, Sing Psalms, Defy Tyrants. Gather with likeminded Christians who love freedom, confess Jesus Christ is Lord, and be equipped to stand firm in these insane days. Go to flfnetwork dot com forward slash rally. 
First Up, Football
https://www.youtube.com/watch?v=elkS8MEHY0Q
With that interception the last hopes of Hall of Fame QB Drew Brees and the Saints went down the drain, losing to Tom Brady's Buckaneers 30-20, the final division playoff game of the weekend, leaving just four teams left for the Conference Championship games next weekend. 
Tom Brady's Buccaneers will be at Lambeau Field in Green Bay facing off against Aaron Rogers and the Packers for the NFC Championship, while the Buffalo Bills will be in Kansas City at Aarowhead Stadium, facing the Kansas City Chiefs for the AFC Championship. 
https://sports.yahoo.com/latest-injury-chiefs-qb-patrick-184301254.html
Speaking of the Chiefs, QB Patrick Mahomes is currently in recovery from some kind of injury suffered Sunday: 
https://www.youtube.com/watch?v=jfLr_jYYSNE
HC Andy Reid had his usual Monday press conference, during which he provided a brief update on the status of QB Patrick Mahomes. He confirmed that Mahomes is in fact in the NFL's concussion protocol and is going through the steps necessary to return.
When asked to give his thoughts on whether or not Mahomes would be able to play in the AFC Championship Game against the Buffalo Bills, Reid was non-committal either way.
"So listen, I just leave that with Rick (Burkholder) and the docs," Reid said. "Because of the protocol, it's a no-brainer from the coach's standpoint. You don't have to think about it, you just have to make sure you go forward and have an answer if he's there and an answer if he's not there. I can't tell you from a medical standpoint where he's at. I mean, I don't know that. That's their decision and I just follow it."
https://www.cbssports.com/nfl/news/tweaked-nerve-put-chiefs-patrick-mahomes-in-concussion-protocol-entering-afc-championship-game-per-report/
However, CBS Sports was also reporting Monday that it wasn't a concussion at all, but rather a nerve in his neck that got tweaked or compressed. Either way, he'll no doubt be undergoing tests this week to see if he is eligible to play in Sunday's game.
US Airstrikes South of Baghdad
https://twitter.com/exjon/status/1351299287846580226?s=20
Just before recording time, reports surfaced that airstrikes were conducted by the US against Iranian-backed Iraqi Shia militia locations near Jurf al-Sakhar in Iraq, forty miles south of Baghdad. Fatalities and wounded were reported according to locals.
Honduran Refugees 
https://idahonews.com/news/nation-world/migrant-caravans-could-present-first-test-for-biden-administration
Videos surfaced over the weekend showing Guatemalan soldiers clashing with massive crowds of Honduran migrants trying to come into the country. According to officials in Guatemala, at least 8,000 men, women and children have already entered the country from Honduras, hoping to make their way to Mexico and then the United States.
Honduras is one of the poorest countries in Latin America. Two-thirds of its roughly 9 million people live in poverty, according to the World Bank, and in rural areas, 1 in 5 lives in extreme poverty. Honduras is also riddled with corruption, gangs, crime, and widespread sexual exploitation and violence. 
On Monday, Mexico's President Andrés Manuel López Obrador said his country is working with both the outgoing and incoming U.S. administrations over the migrant caravan, with Mexican troops already in place.
For most of 2020, nearly all those seeking asylum have been turned away due to the coronavirus pandemic and other policies.
In what may be the first big test for Biden, migrants continue their journey to try to make it to the United States with hopes for a better life ahead.
Share Plug
Is CrossPolitic a blessing to you? One of the most significant ways you can help us is by sharing this news brief or your favorite show with someone you think would appreciate it. Tell someone about the Fight Laugh Feast App. And last of all, become a Fight Laugh Feast Club Member. We want to grow the Fight Laugh Feast Network into a full blown News and Entertainment Network, coming at you with truth, goodness, and beauty. Thanks to all of you who have already shared our content and become club members. 
DC Metropolitan Police Officer Recounts His Experience During Capitol Protest
https://twitter.com/HeathMayo/status/1349944401179496449?s=20
Can a Former-President Be Impeached?
https://www.washingtonpost.com/opinions/2021/01/12/once-trump-leaves-office-senate-cant-hold-an-impeachment-trial/
Michael Luttig served as a judge on the U.S. Court of Appeals for the 4th Circuit from 1991 to 2006.
"It appears that even if the House of Representatives impeaches President Trump this week, the Senate trial on that impeachment will not begin until after Trump has left office and President-Elect Biden has become president on Jan. 20. That Senate trial would be unconstitutional…
Therefore, if the House of Representatives were to impeach the president before he leaves office, the Senate could not thereafter convict the former president and disqualify him under the Constitution from future public office.
The reason for this is found in the Constitution itself. Trump would no longer be incumbent in the Office of the President at the time of the delayed Senate proceeding and would no longer be subject to "impeachment conviction" by the Senate, under the Constitution's Impeachment Clauses. Which is to say that the Senate's only power under the Constitution is to convict — or not — an incumbent president…
The plain text of the Constitution's several Impeachment Clauses confirms this understanding of this limit on Congress' impeachment power. For example, Article II, Section 4 of the Constitution reads, "The President, Vice President and all civil officers of the United States, shall be removed from Office on Impeachment for, and Conviction of, Treason, Bribery, or other high Crimes and Misdemeanors." In the same constitutional vein, Article I, Section 3 provides in relevant part: "Judgment in Cases of Impeachment shall not extend further than to removal from Office, and disqualification to hold and enjoy any Office of honor, Trust or Profit under the United States."
It has been suggested that the Senate could proceed to try the former president and convict him in an effort to disqualify him from holding public office in the future. This is incorrect because it is a constitutional impeachment of a president that authorizes his constitutional disqualification. If a president has not been constitutionally impeached, then the Senate is without the constitutional power to disqualify him from future office.
Some constitutional scholars take support for their view that the Congress can impeach a former president from two instances in which early Congresses impeached "civil officials" after they had resigned their public offices — the impeachments of Sen. William Blount in 1797 and the impeachment of Secretary of War William Belknap in 1876.
In the end, though, only the Supreme Court can answer the question of whether Congress can impeach a president who has left office prior to its attempted impeachment of him. It is highly unlikely the Supreme Court would yield to Congress's view that it has the power to impeach a president who is no longer in office when the Constitution itself is so clear that it does not.
Pamela Acker Breaks Down How the COVID Vaccines Work & How Aborted Fetal Cells Have Been Used in the Process
https://www.youtube.com/watch?v=kEsfzIxGjeo&feature=youtu.be
Meanwhile…
David Leonhardt Says We're Underselling the COVID Vaccine and the Results are Actually "Ridiculously Encouraging" – from the New York Times 
The Moderna and Pfizer vaccines — the only two approved in the U.S. — are among the best vaccines ever created, with effectiveness rates of about 95 percent after two doses. That's on par with the vaccines for chickenpox and measles. And a vaccine 

doesn't even need

 to be so effective to reduce cases sharply and crush a pandemic.

If anything, the 95 percent number 

understates the effectiveness

, because it counts anyone who came down with a mild case of Covid-19 as a failure. But turning Covid into a typical flu — as the vaccines evidently did for most of the remaining 5 percent — is actually a success. Of the 32,000 people who received the 

Moderna

 or 

Pfizer

 vaccine in a research trial, do you want to guess how many contracted a severe Covid case? One.

Although no rigorous study has yet analyzed whether vaccinated people can spread the virus, it would be surprising if they did. "If there is an example of a vaccine in widespread clinical use that has this selective effect — prevents disease but not infection — I can't think of one!" 

Dr. Paul Sax

 of Harvard has written in The New England Journal of Medicine. (And, no, exclamation points are not common in medical journals.) On Twitter, 

Dr. Monica Gandhi

 of the University of California, San Francisco, argued: "Please be assured that YOU ARE SAFE after vaccine from what matters — disease and spreading."
Alex Berenson on the COVID Vaccine
https://twitter.com/AlexBerenson/status/1350451027619831815?s=20
"The data show they were far less effective in older people. People over 65 had a 14% chance of infection after the Moderna shot, 3x the odds of younger people. But the story gets worse. The risk of #sarscov2 rises notably after 65. But it goes parabolic after 75, which is why in Europe the median age of #Covid deaths is over 80. (The US is a bit younger, probably bc we are so obese.) So do the vaccines work in really elderly people? WE HAVE NO IDEA. We didn't enroll enough of them in the trials to have any way to be sure. It is possible that the 14% failure rate in people over 65 rises to 30% or 40% in people over 80. I'm not saying that happens. I'M SAYING WE DON'T KNOW. But the story gets EVEN WORSE. Why? Because we don't know if failure to produce a immune response to the vaccine CORRELATES WITH FAILURE TO PRODUCE AN IMMUNE RESPONSE TO THE VIRUS. In other words, it is possible the vaccine works for everyone except the people who need it… Think that's impossible? Unfortunately, it is EXACTLY what a huge study of British flu vaccine recipients over 65 showed last year – influenza vaccination reduced neither hospitalizations nor mortality."
Here, Berenson links screenshots from a Helio News article from March 3, 2020, recounting how a recent study published in Annals of Internal Medicine found that increased vaccination rates did not reduce hospitalizations or mortalities in adults aged 65 and older. 
This is Toby Sumpter with Crosspolitic News. You can find this and all of our shows at Crosspolitic.com or on our app, which you can download at your favorite app store, just search "Fight Laugh Feast". Support Rowdy Christian media, and become a Fight Laugh Feast Club Member and get your very own Fight Laugh Feast t-shirt and access to all the talks at our first annual Fight Laugh Feast Conference as well as many exclusive behind the scenes interviews as well as our very own Worldview Shotgun Series. We still have a few Fight Laugh Feast tumblers left for club members at 25$ a month or more. Go to FightLaughFeast.com. Have a great day.