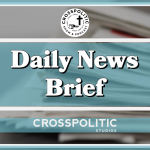 Meddling, Oddities, & How Things Seem Connected – What Are Christians To Do? W/ Pastor Thiago McHertt – Play 0:02-1:09
This is Garrison Hardie with your CrossPolitic Daily Newsbrief for Tuesday, January 24th, 2023. And that was some of our back stage content… oh Gabe…
Club Membership Plug: (1/9)
Ladies and gentleman, now is the time to sign up for a club membership at fightlaughfeast.com! This year, CrossPolitic will be dropping EXCLUSIVE content into our club portal, that you won't be able to find ANYWHERE else. Some of this content will include a Bible study series with Pastor Toby, a special with New Saint Andrew's President, Ben Merkle, our backstage content, and probably stuff that Gabe hasn't told myself or Knox about! So again, head on over to fightlaughfeast.com to get signed up today! That's fightlaughfeast.com.
https://thepostmillennial.com/biden-admin-considering-plan-for-annual-covid-boosters?utm_campaign=64487
Biden admin considering plan for annual Covid boosters
The Food and Drug Administration (FDA) is considering changing its Covid-19 vaccine strategy in an effort to keep up with an ever-changing virus and eliminate the old "fully vaccinated" model whereby one receives two shots of the original vaccine, followed by regular booster shots.
The goal is to eliminate the original vaccines and to adopt an approach similar to the flu vaccine, where annually-updated shots are administered that match the strain that is predicted to be the most prevalent, according to a federal official who spoke to NPR under the condition of anonymity.
Unlike the original approach, where a person must receive the two initial shots of the original vaccine, followed by periodic booster shots, the changes being considered would mean that a person simply receives the latest version of the vaccine in the fall that is tailored to whatever variant of the virus is predicted to be dominant over the winter, much like the formulation and administration of the flu vaccine.
The response from immunologists and vaccine researchers who spoke to NPR has been mixed, with some arguing that because of such low demand for, and widespread skepticism of, the updated boosters, the public appetite for continued vaccinations makes the new approach not worthwhile.
Dr. Gregory Poland, a vaccine researcher at the Mayo Clinic. "The public is voting with their arms if you will and said, 'No. I'm not going to get this. This doesn't make sense to us."
There's also a question as to whether the updated bivalent boosters offer any advanced protection compared to the original shots.
John Moore, an immunologist at Weill Cornell Medical College said, "We have no solid data about the performance of the bivalent boosters. "The hard evidence is lacking, and the evidence that is out there is at the very least inconclusive and to me trends towards saying the bivalent boosters were little if no better."
Dr. Paul Offit of the University of Pennsylvania, one of the FDA's advisers, who also questions whether everyone will need boosters or just those at high risk of severe infection. "We shouldn't really be chasing these variants, which are evanescent and are often gone by the time you've created the vaccine."
Dr. Eric Rubin, a Harvard professor and another member of the FDA's advisory committee, says the administration needs to require more proof that the updated vaccines are actually reducing the risk of getting infected, getting sick, hospitalized and dying.
The FDA's potential plan acknowledges that the world might finally be settling into a more predictable co-existence with the virus, in much the same way we live with the flu and cold viruses.
The Vaccines and Related Biological Products Advisory Committee will meet on Thursday to discuss the future of the Covid-19 vaccine and to vote on any potential changes.
https://thepostmillennial.com/breaking-kamala-harris-omits-americans-right-to-life-from-declaration-of-independence-during-abortion-speech?utm_campaign=64487
Kamala Harris omits Americans' right to 'life' from Declaration of Independence during abortion speech
On Sunday, Kamala Harris gave a speech in Tallahassee, Florida over abortion where she quoted the Declaration of Independence but left out the part of the document that said Americans have a right to life.
VIRAL MOMENT: Kamala Harris Leaves Out Right To Life In Quote Of Declaration During Abortion Speech– Play 0:00-1:06
Don't worry…. I won't… make you… listen…. To that… whole… speech!
For those keeping score at home, The Declaration of Independence reads, "We hold these truths to be self-evident, that all men are created equal, that they are endowed by their Creator with certain unalienable Rights, that among these are Life, Liberty and the pursuit of Happiness."
Harris did not mention the right to life as written in the Declaration throughout her 18-minute long speech.
According to the Daily Mail, Harris arrived in Florida on Thursday and announced that the Biden administration planned to further extend ways to provide abortion pills to those who seek them. She also criticized Florida Governor Ron DeSantis for his pro-life views.
Her speech comes on the 50 year anniversary of the now repealed Row v. Wade Supreme Court decision..
On June 24, in a 6-3 decision stemming from the case of Dobbs v. Jackson Women's Health Organization the Supreme Court ruled that "The Constitution does not confer a right to abortion; Roe and Casey are overruled; and the authority to regulate abortion is returned to the people and their elected representatives."
https://redstate.com/kiradavis/2023/01/22/los-angeles-rams-tells-fans-to-donate-to-democrat-anti-gun-group-following-mass-shooting-n692581
Los Angeles Rams Tells Fans to Donate to Democrat Anti-Gun Group Following Mass Shooting
A tragic and reprehensible mass shooting on Saturday night, in the Los Angeles County city of Monterey Park, has prompted expressions of concern and condolences from across California and the nation.
Among those offering condolences is the Los Angeles Rams football team. The organization took to social media to offer solidarity with the Monterey Park community and all those celebrating the Chinese Lunar New Year, which is the celebration that was happening when the violence unfolded.
That sentiment should have been (and is) enough (even with the gun violence bit thrown in for good measure), but in California, there is no such thing as "too far." The Rams decided to push it a step further and promote the anti-second amendment group Everytown for Gun Safety, as if guns are Los Angeles' problem, not unchecked criminal behavior and soft-on-crime policies.
Everytown for Gun Safety is an anti-second amendment activist group founded by billionaire Michael Bloomberg, who was also the mayor of one of the most violent cities in America. It is also a Democrat political organization, having pledged over $60 million dollars to Democrat candidates in the 2020 election season. They continue to work to influence elections and elected officials toward their anti-second amendment agenda.
That is all well and good. They are not secretive about their mission, nor should they be. Certainly there are plenty of people within the Los Angeles Rams organization who align with Everytown's values, and many fans as well. To be sure, there are also plenty of employees and fans who value their second amendment rights, and find activist groups like Bloomberg's quite objectionable.
Paired with the fact that the city of Los Angeles has some of the strictest gun laws in the nation, and simultaneously some of the highest gun crime rates in the nation, it only seems like common sense that a football team might want to hold off on politicizing a tragic event and then using it to fundraise for a politically partisan group.
There are a myriad of charities the Rams organization could have encouraged Americans to donate towards, ones that don't actively campaign for one political party or another. In this case it is the very political party who's policies and "defund the police" platforms have led to this rash of crime plaguing innocent Americans.
The Los Angeles Rams join many other professional sports teams who seem to be actively trying to repulse their most loyal fans.
https://mynorthwest.com/3788318/rantz-seattle-running-out-of-dead-body-storage-due-to-fentanyl-ods/
Seattle running out of dead body storage due to fentanyl ODs
Seattle's fentanyl overdose crisis is so bad that the King County Medical Examiner is running low on storage for dead bodies. The stunning admission was made by Seattle-King County Public Health Director Dr. Faisal Khan during a recent Board of Health meeting.
"The Medical Examiner's Office is now struggling with the issue of storing bodies because the fentanyl-related death toll continues to climb. Obviously, they have finite space in the coolers they use and that space is now being exceeded on a regular basis," Dr. Khan admitted.
King County has already experienced over one fatal fentanyl overdose death a day for the month of January, with 31 deaths as of Jan. 22, 2023. Last year, the county recorded 1,019 fatal overdoses, with fentanyl responsible for the majority of deaths at 686. It's the highest number of overdose deaths the county has ever recorded.
Drug overdoses are straining the Medical Examiner's resources, forcing the county to adapt to the rise in deaths. Not only are these deaths on top of every other death handled by the county, but the area's population has also been growing.
https://www.facebook.com/watch/?v=716284733173508&t=103 – Play 0:00-2:57 & 4:38-5:16
Ladies and gentleman, I now turn your attention to one of our sponsors:
Gravity Jack Conference:
It's just a few days to go for the Christians In Web3 Summit 2023!
This is definitely going to be a historic gathering with KGEB TV, Patmos, Kingdom Warriors, Public SQ, Christian Vision, Heaven's Entrepreneurs, and 30+ more organizations represented at the event. CrossPolitic is one of them by the way…
The event is hosted by Forum12 in partnership with Oral Roberts University, and they're bringing together top leaders in Web3, AR/VR, Metaverses, Ministry, Tech, and Business space to further the Kingdom and unite as many Christians together to build solutions and not live in fear with that's happening in the world!
With experiences like, networking, musical performances, roundtable discussions, panels, pitch night, and workshops, you won't want to miss this opportunity to connect with other Christians in Web3 and learn about the latest technologies being used to share the Gospel and empower believers.
The event will take place both in-person at Oral Roberts University in Tulsa, OK and online through Gather.Town & streaming experiences.Visit forum12.com/web3-summit/ for more information! That's forum12.com/web3-summit