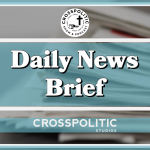 Catastrophic moral crimes …and more on today's CrossPolitic Daily News Brief. This is Toby Sumpter. Today is Tuesday, January 25, 2022.
If you want to see more of this sort of thing, please consider joining the Fight Laugh Feast Club. For less than a few coffees a month, you can help us build a rowdy Christian media response to liberal legacy media, big tech, and build a Christian megaphone for the truth. Go to flfnetwork.com and click on "join the club."
OK one more thing: would please Like and share this show? Do it now so we can reach more people with the truth.
Biden and His Team Have Been Trying to Mop Up Biden's Comments from Last Week Regarding the Possibility of a "Minor Incursion" from Russia:
Play: 0:36-0:46
Then over the weekend, the US State Department issued a warning to US citizens to leave the country.
Ukrainian President Sees No Imminent Russian Threat
https://www.buzzfeednews.com/article/christopherm51/russia-ukraine-angry-american-departures
Ukrainians expressed confusion and anger Monday over Washington's decision to authorize the voluntary departure of government employees from Kyiv and order the mandatory withdrawal of family members of US embassy personnel.
The decision announced by the Department of State cited ​the "threat of Russian military action." The Ukrainians, however, have been more cautious in their assessment of the situation, with current and former national security and defense officials saying they don't recognize Russia's latest military buildup as anything out of the ordinary.
Ukrainian President Volodymyr Zelensky "does not think there's any remotely imminent threat to Kyiv" at the moment, a source close to the president told BuzzFeed News on Monday, reacting to the partial US withdrawal.
"The fact that the US was the first one to announce this" — this being the voluntary departures and mandatory withdrawals — "is extremely disappointing and quite frankly these Americans are safer in Kyiv than they are in Los Angeles … or any other crime-ridden city in the US," said the source.
The source close to Zelensky said the president's office viewed the US move as "utterly ridiculous" and symbolic of what it views as "US inconsistency."
"On the one hand, [Washington tells Ukraine] how we should democratize. We stand with you. It's your right to determine to join the West. We will stand with you against Russian aggression," the source said, mimicking messages of support from the US to Ukraine in the past. "Then Russia turns up the temperature and they're the first to leave."
The State Department and US Embassy didn't immediately return a request for comment.
Zelensky has tried to keep Ukrainians calm and to avoid panic as warnings from Western governments reverberate in Kyiv. In a televised address to the nation last week, the president told his people, "What's new? Isn't this the reality for 8 years? Didn't the invasion start in 2014? Did the threat of a large-scale war appear only now? These risks existed…they haven't become bigger. The excitement around them has grown."
Ukraine's Foreign Ministry said it has noted the US decision but felt it was too soon.
"While we respect right of foreign nations to ensure safety & security of their diplomatic missions, we believe such a step to be a premature one & an instance of excessive caution," tweeted Ukrainian Foreign Ministry spokesperson Oleh Nikolenko.
"There is a lot of misinformation, manipulation, and fakes in the Ukrainian and international media to spread panic among Ukrainians and foreigners, scare business, undermine the economic and financial stability of our country. … It is important to soberly assess risks and remain calm," he told the Interfax-Ukraine news agency.
Another Ukrainian government official told BuzzFeed News that the US move risked causing confusion in Ukraine and could lead some people there to wonder whether their government is keeping information from them or downplaying the Russian threat.
Next, I want to tell you about Cornerstone Work & Worldview Institute. College is great! But it's not for everyone. Cornerstone Work & Worldview Institute seeks to fill that gap. Their mission is to build kingdom culture in the workplace through their integrative program of worldview instruction and on-the-job skills training under the guidance of mentors. They offer courses in Bible, theology, and economics as well as business, project management, and marketing and more. They also provide their students with internships with business partners so they can learn and gain practical skills. You are invited to join their mission to provide Christians another educational opportunity. Together you can help students grow confident in their faith and competent in their labor. Visit them today at cornerstonework.org to learn more, to enroll, or to become one of their partners.
Speaking of military build ups and incursions… minor or otherwise: Taiwan on Sunday reported the largest incursion since October by China's air force in its air defence zone, with the island's defence ministry saying Taiwanese fighters scrambled to warn away 39 aircraft in the latest uptick in tensions.
Taiwan, which China claims as its own territory, has complained for more than a year of repeated missions by China's air force near the democratically governed island, often in the southwestern part of its air defence identification zone, or ADIZ, close to the Taiwan-controlled Pratas Islands.
Taiwan calls China's repeated nearby military activities "grey zone" warfare, designed to both wear out Taiwan's forces by making them repeatedly scramble, and also to test Taiwan's responses.
The latest Chinese mission included 34 fighters plus four electronic warfare aircraft and a single bomber, the Taiwan ministry said.
The aircraft flew in an area to the northeast of the Pratas, according to a map the ministry provided.
Taiwan sent combat aircraft to warn away the Chinese aircraft, while missile systems were deployed to monitor them, the ministry said.
There was no immediate comment from China, which has in the past said such moves were drills aimed at protecting the country's sovereignty.
While it was not clear what might have prompted China to carry out such a large-scale mission, U.S. and Japanese naval forces have been carrying out exercises in the Philippine Sea, a vast area that includes waters to the east of Taiwan.
The U.S. Pacific Fleet said on Sunday those exercises included two carrier strike groups who were "conducting training to preserve and protect a free and open Indo Pacific".
China has stepped up pressure on Taiwan to accept its sovereignty claims. Taiwan's government says it wants peace but will defend itself if attacked.
Taiwan reported 148 Chinese air force planes in the southern and southwestern part of its air defence zone over a four-day period beginning on Oct. 1, the same day China marked a key patriotic holiday, National Day.
Taiwan has reported almost daily Chinese air force forays into the same air space since then, but the number of planes on Sunday was the largest on a single day since the October incursions.
No shots have been fired and the Chinese aircraft have not been flying in Taiwan's air space, but in its ADIZ, a broader area Taiwan monitors and patrols that acts to give it more time to respond to any threats.
Now, don't hear this news as an unbeliever. REmember, we are Christians. Jesus is Lord of heaven and earth, and not one square inch is outside of King Jesus' sovereign control, even Chinese fighter jets. A big part of me doubts that we are actually on the verge of World War 3 as some folks are saying. It's possible, I suppose, but I think the invasions are far more likely to happen slowly, gradually, virtually, electronically, and culturally. As a nation, America is far more like Soviet Russia and Communist China now than we were 30, 40, 50 years ago. And that is because we have rejected Christ. We have rejected the Bible.
But the thing I want to note is that Jesus has not been stymied in the slightest. His Kingdom is advancing every day. So just as a fun thought experiment. If America doesn't repent and we continue on this same suicidal binge. It would not surpise me at all that Jesus doesn't send the Chinese or the Russians or some Muslim nation in to humiliate us militarily. While that doesn't seem immanent, if we keep putting pregnant women and sodomites in our cockpits, it might be sooner than we realize. Or maybe, we keep slowly sinking into the cesspool of sexual debauchery, and China just waltzes in here one day with 5G or something and our drunk and senile government just hands them the keys to the country. That's basically how Rome fell.
But consider this: what if Christianity continues to explode as it has been in China? What if right at about that moment of conquering America, the president of China converts to Christ? And China proclaims itself a Christian republic? Don't think that could happen? Do you remember Constantine? Alfred the Great? It's happened before. And regardless of what happens, we should watching the news, thinking, and praying like Christians. Whatever is happening, it is happening under the sovereign rule of Jesus Christ, and He will reign until all of His enemies have become his footstool. We have our work cut out for us, but it should be really exciting to watch.
If you're not sure where to even begin, I have just the thing for you: the Christ Church Missions Conference is coming up in just a few weeks on Feb. 4-5. The theme this year is: As the Waters Cover the Sea. Go to Christkirk.com and click on events to find the schedule and to register. The conference is free, but there is a $10 option for those who would like to purchase lunch.
The gospel is good news for all people, in all lands, at all times. But Christians in the West are often unsure of how to share the gospel with their fellow Westerners; and they are even more stumped by how to share the good news with those from very different cultures and religions.
The 2022 Christ Church Missions Conference is intended to help answer those questions, while equipping the saints where they are to be ready to share the word with not only their neighbor but the foreigner in their midst as well. Speakers will include: James Rayment who ministers to Muslims in Seattle, Francis Foucachon who ministered for many years in France, Csaba Leidenfrost a Wycliffe Translator and missionary to Ivory Coast, Africa, and Douglas Wilson, pastor of Christ Church. Go to Christkirk.com and click on events to find out more and register today.
More and more cracks are appearing in the liberal statists narrative. Even Lesbian Liberals like Bari Weiss are calling it a pandemic of bureaucracy, as she did recently on Bill Maher:
Play
She is of course wrong that we didn't have the data on cloth masks two years ago. But welcome about, ma'am, welcome to the land of sanity and truth.
You know, when you hear the truth like this outloud, especially on mainstream, liberal media, you really should give thanks to the Lord.
Psalm of the Day: Psalm 136 – the Sea Shanty version
0:00-1:06
Remember you can always find the links to our news stories and these psalms at crosspolitic dot com – just click on the daily news brief and follow the links. Or find them on our App: just search "Fight Laugh Feast" in your favorite app store and never miss a show.
This is Toby Sumpter with Crosspolitic News. A reminder: Support Rowdy Christian media, and share this show or become a Fight Laugh Feast Club Member. What allows us to continuing growing to take on the Big Media Lie Fest is your monthly membership support. If you've already joined, a huge thanks to you, and if you haven't, please consider joining today and have a great day.