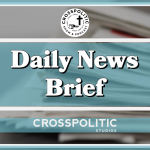 This is Garrison Hardie with your CrossPolitic Daily News Brief for Tuesday, July 11th, 2023.
Fight Laugh Feast Conference – Ark Encounter
This year, our Fight Laugh Feast Conference is at the Ark Encounter in Kentucky on The Politics of Six Day Creation. The politics of six day creation is the difference between a fixed standard of justice and a careening standard of justice, the difference between the corrosive relativism that creates mobs and anarchy and the freedom of objectivity, truth, and due process. The politics of six day creation establishes the authority and sufficiency of God's Word for all of life: from what is a man or a woman, when does human life begin, and how is human society best organized?
Come hear Ken Ham, Pastor Doug Wilson, Dr. Ben Merkle, Dr. Gordon Wilson, me and more, and of course a live CrossPolitic show! Mark your calendars for October 11th-14th, as we fight, laugh, and feast, with beer & psalms, our amazing lineup of speakers, our Rowdy Christian Merch, and a Sabbath Feast to wrap up the occasion. Maybe an infant baptism while we're at it! Visit fightlaughfeast.com for more information!
https://www.theblaze.com/news/ban-on-transgender-surgery-for-tennessee-children-goes-into-effect
Tennessee's ban on transgender surgery for kids goes into effect immediately, federal appeals court rules
Tennessee can implement its ban on transgender surgery and related medical interventions for minors as a case challenging the law works its way through the court, a divided federal appeals court panel ruled Saturday.
Tennessee's 44th House District Representative William Lamberth (R) wrote on Twitter Saturday: "I am thankful to the 6th Circuit Court of Appeals for confirming what Tennesseans already know: Children cannot give consent to experimental medical procedures or drugs that destroy their healthy bodies,"
The Tennessee law now in effect, at least temporarily, prohibits surgical procedures and administration of hormones or puberty blockers for the purpose of gender transition, as Reason explains.
Judge Thapar joined Sutton, concluding that the lower court had wrongly stopped the law's implementation. Judge White delivered a separate opinion concurring in part and dissenting in part.
The ban, originally set to take effect July 1, will now take effect immediately. The ban was held up when a lower court sided with the American Civil Liberties Union of Tennessee. ACLU-TN argued that the law interfered with parental rights and was unconstitutional, as The Hill reported.
This is the first federal court to allow such a ban, with other courts unanimously blocking similar bans in Arkansas, Alabama, Florida, Indiana, and Kentucky, according to the American Civil Liberties Union of Tennessee.
ACLU-TN brought the suit on behalf of Samantha and Brian Williams of Nashville and their 15-year-old daughter, as well as two other anonymous families and Dr. Susan N. Lac.
https://dailycaller.com/2023/07/09/portland-distribute-foil-straws-snorting-kits-paraphernalia-drug-addicts/
City To Distribute Foil, Straws, Snorting Kits To Drug Addicts
Health officials in Portland, Oregon announced last week they will begin handing out tin foil, straws and snorting kits to drug addicts throughout the city.
As part of its "Harm Reduction Program," the Multnomah County Health Department announced Friday that drug paraphernalia will be offered to those using fentanyl and other hard drugs, KOIN 6 reported.
The rise of fentanyl has decreased the need for needle-focused "harm reduction" services, Department spokeswoman Sarah Dean told the Willamette Week. Since fentanyl is smoked rather than injected, clinic visits have dropped 60% since 2019, Dean said.
The program is backed by Multnomah County's Public Health Director, Jessica Guernsey, who says, "The new part of the program is that we're adding supplies for people who smoke drugs."
Others are not happy with the move.
"This misguided approach also results in greater risk to public safety for those who simply want to enjoy our city without walking through a cloud of toxic smoke," Portland Mayor Ted Wheeler said. "Our community would benefit more from the County using its funding to urgently increase treatment and sobering facilities rather than actively enabling this deadly epidemic."
Dean countered the mayor's statement by claiming providing drug paraphernalia does not increase drug use but encourages addicts to visit clinics where they can get access to fentanyl test strips and the overdose antidote, Narcan, KOIN 6 reported.
The Oregon Legislative Assembly recently passed a bill decriminalizing the distribution of "drug paraphernalia" for harm reduction purposes, according to the Willamette Week. Similar programs have been launched in Washington and California. In New York City, vending machines with smoking kits and bubble pipes have recently been installed, the outlet reported.
The Oregon bill to decriminalize distribution of drug paraphernalia sits on Governor Tina Kotek's desk awaiting signature before going into law, the New York Post reported.
https://hotair.com/karen-townsend/2023/07/09/the-winner-of-miss-netherlands-2023-is-a-man-n563401
The winner of Miss Netherlands 2023 is a man
Transgender activism marches on. The newly crowned Miss Universe Netherlands is a man. The runner-up is a woman.
Rikkie Valerie Kollé was crowned Miss Universe Netherlands 2023 on Saturday. Rikkie is 22 years old, a Dutch-Moluccan model and actress in Leusden. He will represent the Netherlands at the 2023 Miss Universe pageant in El Salvador. The first runner-up is Nathalie Mogbelzada, 26, from Amsterdam.
The reigning Miss Universe, R'Bonney Gabriel of Houston, Texas, was a special guest at the pageant.
He makes history as the first transgender woman to win the national title. In 2018, Angele Ponce, Miss Universe Spain, was the first transgender to participate in the Miss Universe pageant.
The question of having a transgender competitor in the Miss Universe pageant goes back to 2012. That is when Trump owned it and he overturned a decision by the Miss Universe organization to disqualify a Canadian model. Jenna Talackova was not being allowed to compete because "she was not a naturally born female." Trump bowed to the laws of Canada and allowed Jenna to compete. The LGBTQ community applauded Trump. Now he's running against a very socially conservative Republican, Ron DeSantis, among others, and Trump has flipped on the issue.
The Miss America pageant is also having its share of problems. Ever since former Fox anchor Gretchen Carlson came out as super woke and joined the organization, internal battles have leaked into the press. One big issue is that when Carlson joined the organization in 2018, she made the decision to ban the swimsuit segment. Now a former Miss America, Caressa Cameron, says that the pageant feels like a Ted Talk. There is a new docuseries on A&E that exposes scandals, misogyny, and racism in the Miss America competitions.
Now in world news:
https://www.foxnews.com/us/us-centcom-says-killed-isis-leader-syria-airstrike-no-civilian-casualties
US CENTCOM says it killed ISIS leader in Syria airstrike, no civilian casualties
U.S. forces killed ISIS leader Usamah al-Muhajir in an airstrike in eastern Syria on Friday, U.S. Central Command (CENTCOM) announced in a Sunday statement.
Al-Muhajir was killed by the same MQ-9 reaper drones that had been harassed by Russian aircraft in the region. The two incidents occurred the same day, the U.S. says, with the drones carrying out the strike after the interaction with Russian craft.
"We have made it clear that we remain committed to the defeat of ISIS throughout the region," said CENTCOM commander Gen. Michael Kurilla. "ISIS remains a threat, not only to the region but well beyond."
CENTCOM clarified that there were no indications that any civilians were killed in the strike, but the U.S. and allies were assessing reports of a civilian injury.
The U.S. and allied forces in the region have carried out a consistent campaign against remaining ISIS leaders operating in Syria. The U.S. killed the head of the organization, Abu Bakr al-Baghdadi, in a 2019 raid. Since then, ISIS forces have operated as cells.
The MQ-9 drones used in the attack had earlier interactions with Russian SU-35 fighter jets throughout last week. The Russian craft have repeatedly flown into the path of the drones, forcing them to take evasive action to avoid a collision.
"Russian military aircraft engaged in unsafe and unprofessional behavior Thursday, 9:30 a.m. local time, while interacting with U.S. MQ-9 drones carrying out our D-ISIS mission in Syria," said Lt. Gen. Alexus Grynkewich, commander, 9th AF and CFACC for CENTCOM. "Russian aircraft dropped flares in front of the drones and flew dangerously close, endangering the safety of all aircraft involved."
"This is the second instance of dangerous behaviors by Russian pilots within the past 24 hours, with the first happening Wednesday at approximately 10:40 a.m. local time," he added.
The U.S. military has also urged Russian forces in Syria to "cease this reckless behavior and adhere to the standards of behavior expected of a professional air force, so we can resume our focus on the enduring defeat of ISIS," he said.
The U.S. maintains a force of about 900 troops deployed in Syria. They primarily work with the Kurdish-led Syrian Democratic Forces in their struggle against Islamic State militants.
Now in entertainment…
https://thepostmillennial.com/cnn-discourages-viewers-from-watching-anti-pedophile-movie-sound-of-freedom?utm_campaign=64487
CNN discourages viewers from watching anti-pedophile movie, Sound of Freedom
In a clip from CNN, network host Abby Phillip brought on an author named Mike Rothschild to talk about the new and popular anti-child sex trafficking film, Sound of Freedom. Rothschild charged the film is created out of a "moral panic" and "QAnon concepts."
Sound of Freedom is based on the adventures of Tim Ballard, who started an organization known as Operation Underground Railroad (OUR). OUR's mission is to save children from human trafficking.
Rothschild wrote a book titled, "The Storm is Upon Us," which details many QAnon conspiracy theories such as the idea that the Democratic Party elites are part of a cabal of Satanic worshippers that drink the blood of children.
Rothschild targeted said the film is "being marketed to either specific QAnon believers or to people who believe all of the same tenets as QAnon, but claim they don't know what it is."
https://rumble.com/v2yw470-cnn-encourages-viewers-not-to-see-anti-pedophile-movie-sound-of-freedom.html – Play Video
CNN has had its own problems with employees being involved in child sex crimes. One former producer at the network, John Griffin, was sentenced to 19 years in prison. Griffin coerced a woman online to bring her nine-year-old daughter to Vermont to engage in illicit acts.
The story depicted in the film is of Ballard, played by Caviezel, rescuing children. After much strife with working in the US government, he bumps up against bureaucracy in his position as an agent. He had to quit his job to rescue the kids in the film and did so in reality as well.
This was the beginning of OUR as a non-government organization. The movie focuses on Ballard's mission to save the two children and reunite a family torn apart by child sex trafficking.
At the end of the movie, Caviezel appears on screen with a special message to share and urges people to "pay it forward" and donate to allow others to see the film.
Caviezel says, "Steve Jobs once said, 'The most powerful person in the world is the storyteller.' Abraham Lincoln credited Harriet Stowe when she wrote Uncle Tom's Cabin. This powerful story inspired millions to rise up and fight against slavery. I think we can make Sound of Freedom the Uncle Tom's Cabin of modern-day slavery."
"Sound of Freedom is a hero's tale, but I'm not talking about the character I play. It's the heroic brother and sister in this film that work to save each other."
Caviezel added, "Together, we have a chance to make these two kids, and the countless children that they represent, the most powerful people in the world by telling their story in a way only the cinema can do."
Before we wrap up today's show, let's talk about on this day in history!
On this day in history, July 11th:
138 Antoninus Pius succeeds Hadrian as Emperor of Rome

1302 Battle of the Golden Spurs (Guldensporenslag in Dutch) near Kortrijk (cor-tray), Belgium: Flemish coalition defeat the French army of Philip IV

1405 Chinese fleet commander Zheng He sets sail on his first major expedition, to the Spice Islands, leading 208 vessels, including 62 treasure ships with 27,800 sailors

1533 Pope Clement VII excommunicates England's King Henry VIII

On 11th July 1533, the Pope declared that Henry VIII's marriage to Anne Boleyn was null and void, as was the annulment declared by Archbishop Thomas Cranmer in May 1533, and he restored Catherine of Aragon to her "royal state". He ordered the wayward king to abandon the newly crowned and pregnant Anne Boleyn and return to Catherine of Aragon. If the king refused then the Pope would issue the bull of excommunication that he had drawn up. He'd give Henry until September to sort himself out, but if he didn't heed the Pope's warning then he'd be excommunicated, the most severe punishment that the Church could inflict.

Of course, Henry took absolutely no notice of the Pope, but he escaped excommunication until 17th December 1538 when Pope Paul III excommunicated him following his break with Rome, his persecution of those who did not accept his supremacy, the dissolution of the monasteries and Henry's desecration of religious shrines including that of Thomas Becket.

1576 English explorer Martin Frobisher sights Greenland

1740 Jews are expelled from Little Russia by order of Tsarina Anne

1781 Thomas Hutchins designated Geographer of US

By the age of 30, the remarkable Thomas Hutchins (1730?-1789) was an experienced frontiersman, a veteran of the French and Indian War, and a skilled Indian agent. He was best known, however, as a formidable surveyor, cartographer, and geographer. A native of New Jersey, the particular combination of skills made Hutchins the perfect candidate for surveying the vast western regions of the British North American empire. In 1766, he was officially assigned to duty as an engineer in the British army, gradually becoming the most respected surveyor and map maker in the colonies. From 1764 through 1768, he took part in expeditions spanning the west from the northern reaches of the Mississippi Valley to New Orleans, and in 1770, was transferred from the Illinois territory to Pensacola, where he was charged with reorganizing the provincial defenses and mapping.

1798 US Marine Corps established by an act of Congress

1801 French astronomer Jean-Louis Pons discovers his 1st comet

1882 British fleet bombards Alexandria, Egypt

1906 The Gillette-Brown murder inspires Theodore Dreiser's "An American Tragedy"

1960 "To Kill a Mockingbird" by Harper Lee is first published by J. B. Lippincott & Co.

1984 Government orders air bags or seat belts would be required in cars by 1989

1988 Mike Tyson hires Donald Trump as an advisor