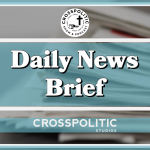 Good morning everyone, this is Garrison Hardie with your CrossPolitic Daily News Brief for Tuesday, July 12th, 2022. Before I dive into the news…
Club Membership Plug:
Let's stop and take a moment to talk about Fight Laugh Feast Club membership. By joining the Fight Laugh Feast Army, not only will you be aiding in our fight to take down secular & legacy media; but you'll also get access to content placed in our Club Portal, such as past shows, all of our conference talks, and EXCLUSIVE content for club members that you won't be able to find anywhere else. Lastly, you'll also get discounts for our conferences… so if you've got $10 bucks a month to kick over our way, you can sign up now at flfnetwork.com
Alright, now let's dive into the news shall we?
https://www.washingtonexaminer.com/policy/defense-national-security/army-unvaccinated-guard-reserve-soldiers-pay-benefits-cut
Army cuts off unvaccinated soldiers from service, threatening pay and benefits
The Army has announced that the over 60,000 National Guard and Army Reserve soldiers that remain unvaccinated against COVID-19 can't participate in their military duties, effectively cutting them off from some of their benefits.
"Soldiers who refuse the vaccination order without an approved or pending exemption request are subject to adverse administrative actions, including flags, bars to service, and official reprimands," an Army spokesperson said in a statement. "In the future, Soldiers who continue to refuse the vaccination order without an exemption may be subject to additional adverse administrative action, including separation."
There are 40,000 National Guard and 22,000 Reserve soldiers who haven't received the vaccine, making up 13% and 12% of their ranks, respectively.
There were 7,767 temporary exemptions given in the National Guard and 6,457 in the Reserves, according to Army data. Only six permanent medical exemptions have been made nationally for the National Guard, without any religious exemptions. Not a single Reserve soldier has received a medical or religious exemption. Over 3,200 have pending exemptions, and the new protocol will not apply to them.
"We're going to give every soldier every opportunity to get vaccinated and continue their military career," Director of the Army Guard Lt. Gen. Jon Jensen said in a statement. "We're not giving up on anybody until the separation paperwork is signed and completed."
Meanwhile, the Reserves have only reached 73.6% of its recruiting goal in the 2021 fiscal year. The National Guard reached 80.6% of its 2021 goal and, so far, 48.1% of its 2022 goal.
However, unvaccinated soldiers are allowed to fulfill their state active-duty orders, which are normally given by governors during short-term emergencies.
The Army has 652,005 fully vaccinated soldiers and 261,578 who are partially vaccinated.
https://thepostmillennial.com/64-percent-of-democrats-do-not-want-biden-to-run-for-re-election-in-2024?utm_campaign=64487
Only 1 percent of voters ages 18-29 'strongly approve' of Joe Biden
A majority of Democrats do not want Joe Biden to seek reelection in 2024 according to a New York Times/Siena College poll released Monday. In a closer breakdown of the numbers, only 1 percent of voters between 18-29 years of age "strongly approve" of Biden's performance. 18 percent of that demographic "somewhat approve."
The poll reflects that 64 percent of Democratic voters want Biden out of the 2024 race as the president is "hemorrhaging support" from his party. Of the reasons cited, 33 percent of those polled said the president's age was the primary factor for why they didn't want him to run.
President Joe Biden is currently 79 years old, which makes him the oldest serving president in history. The president will be 82 in the 2024 election cycle. The 849 registered voters who were polled put the president's approval rating at 33 percent.
In January, a Quinnipiac University poll also had Biden's approval rating at 33 percent. Accumulative poll data had Biden's approval dropping below 40 percent in February and the president hasn't peaked above that number since the winter.
The poll New York Times/Siena College was conducted between July 5 and 7 and also reflected other reasons for Biden's disapproval. 32 percent of those polled said the president's job performance was the problem while 12 percent just wanted somebody fresh.
Notably, The New York Times ran an article over the weekend noting that Biden is, in fact, rather advanced in age.
The poll also reflects a "country gripped by a pervasive sense of pessimism" as 75 percent of Americans believe the country is headed in the wrong direction. The last time that number was as low was during the 2008 financial crisis.
The New York Time's reports that sense of national dread "spans every corner of the country, every age range and racial group, cities, suburbs and rural areas, as well as both political parties."
The biggest number of those opposed to Biden's running in 2024 was with the young demographic. In numbers that also mirror a previous Quinnipiac poll, 94 percent of people under 30 want a different Democratic nominee.
41 percent of Hispanic voters "strongly disapprove" of the president's job, reflecting a Democratic concern that they are losing support from Hispanic Americans. 0 percent of those polled said that Covid was the most important concern in America.
37 percent of those polled said they intend to vote in the Democratic primary and 39 percent said they'll vote Republican.
20 percent of those polled said jobs and the economy were their biggest concern. 15 percent said cost of living and inflation. 5 percent said abortion.
Of those who polled who identify as working class between the ages of 18 and 64, 94 percent said the economy was either in poor or fair condition.
26 percent of polled Democrats did say that Biden should be the nominee for president in 2024.
https://www.foxnews.com/politics/fox-news-power-rankings-gop-expected-take-control-house
Fox News Power Rankings: GOP expected to take control of House
Republicans are forecast to take control of the House this November with at least seven seats to spare, leaving Democrats in need of a dramatic turnaround to hold on to power. This edition of the Fox News Power Rankings also unveils the U.S. House model for the first time and sees gubernatorial candidate Josh Shapiro, a Democrat, carving out a slight edge in Pennsylvania.
With redistricting completed and the bulk of the primaries behind us, the Power Rankings model now reveals a clear advantage for the GOP in the House. With 218 seats required to take control, the GOP is forecast to take 225 seats to the Democrats' 180 seats. Those figures include only the races in which one party has an advantage. The actual size of a GOP majority will depend on how many highly competitive "toss up" races each party wins, but the Republicans are expected to gain at least a seven-seat majority (225 seats) and as much as a 37-seat majority (255 seats) in their "best case" scenario.
The range of scenarios for the Democrats leaves the party with as much as a 38-seat deficit (180 seats), or just eight shy of a majority (210 seats). That is significant. In other words, even if Democrats win all 30 races currently marked as toss-ups, the party still does not have enough support to retain control of the House.
Eagle-eyed Power Rankings readers would know that these ratings are just estimates, and that even races assigned to a party (particularly those in the "Lean" columns) are still very competitive. Nonetheless, the current forecast looks very cloudy for congressional Democrats.
Question… do you enjoy shopping with integrity? Well then do I have a business for you!
Boniface Woodworking LLC:
Boniface Woodworking exists for those who enjoy shopping with integrity; who want to buy handmade wooden furniture, gifts, and heirloom items that will last for generations. From dining tables and church pulpits to cigar humidors and everything in between; quality pieces that you can give your children's children, tie them to their roots, and transcend the basic function of whatever they are!
So, start voting with your dollars, and stop buying cheap crap from people who hate you! Visit www.bonifacewoodworking.com to see our gallery, learn our story, and submit your order for heirloom quality wood items.
Elon Musk is back in the news ladies and gentleman…
https://thepostmillennial.com/elon-musk-uses-memes-to-signal-he-planned-to-take-twitter-to-court-all-along/?utm_campaign=64487
Elon Musk uses memes to signal he planned to take Twitter to court all along
Elon Musk's Twitter buy is about to hit the court as the social media giant is suing him in order to force the sale the Space X CEO has reportedly backed away from. But Musk, who only backed away from the sale because he couldn't get an accurate count from Twitter as to how many of their users were bots, will likely now gain access to that data in court.
Musk shared a meme to that effect on, where else, Twitter. "They said I couldn't buy Twitter," the first panel reads. "Then they wouldn't disclose bot into. Now they want to force me to buy Twitter in court. Now they have to disclose bot info in court." The text is accompanied by images of Elon laughing.
The saga of the Musk Twitter buy has bene ongoing since April, with Musk bought a 9.2 percent stake in the company, becoming one of the company's top shareholders. He later went on to offer $44 billion for the enterprise, and the board of directors of Twitter approved that in June. Staff at Twitter, however, were less that pleased with the prospect of working for the outspoken entrepreneur. Musk addressed them directly prior to the board's approval of the sale.
But Musk became concerned that perhaps he had overvalued the company and that a large percentage of Twitter users were bots. Twitter claims that bots are 5 percent of the total users, but Musk has been interested in seeing data to "make an independent assessment of the prevalence of fake or spam accounts on Twitter's platform."
Musk began looking for this information in May, and then sought to terminate the deal in July. Twitter has said they would bring suit to force the sale. They hired firm Wachtell, Lipton, Rosen & Katz.
Musk appears to believe that this suit will bring the information he wanted all along, in the first place.
This has been your CrossPolitic Daily News Brief… if you liked this show, hit that share button will you? If you want to sign up for a club membership, subscribe to our magazine, or register to our conference, you can do all of that at fightlaughfeast.com, and as always if you'd like to become a corporate partner of CrossPolitic, let's talk. Email me, at [email protected]. For CrossPolitic News, I'm Garrison Hardie. Have a great day, and Lord bless.