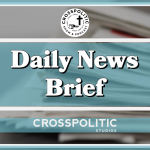 This is Toby Sumpter with your CrossPolitic Daily News Brief for Tuesday, July 13, 2021.
Plug: Fight Laugh Feast Conference in Lebanon, TN, just outside of Nashville.
Sex is inherently political. What you do in the privacy of the bedroom never stays there. It always impacts the world. A culture is either built on the fruitfulness of a godly union between one man and one woman, or else it dies from self-inflicted fruitlessness and sexual rebellion against God. Our sexual choices and values are building and cultivating a particular kind of public square. Join us in Lebanon, TN with Pastor Douglas Wilson "Gay Pulpits", Voddie Baucham "Critical Sex Theory", Doug TenNapel "Sex, Lies, and the Prophetic Peot", David Bahnsen "Punk Rock Home Economics", and then on Saturday will have 9 SWAT talks with over 20 speakers arming you to go out into the world to take dominion with your gifts and abilities. Registration is live now: flfnetwork.com/politics-of-sex/ Club members get $100 off registration. Seating is limited!
Riots in South Africa as Zulu Leader Faces Charges of Corruption and Contempt of Court
Play Audio: 0:00-0:33
The sounds of armed citizens clashing with rioters in Durban, South Africa.
From the BBC: Shops were looted and buildings set on fire on Monday as Zuma challenged his sentence at a hearing in the top court.
At least six people have been killed and 200 arrested since the unrest began last week, after Zuma handed himself in and began his 15-month sentence.
Zuma was convicted of contempt of court after failing to attend an inquiry into corruption during his presidency.
The 79-year-old, who denies corruption, is hoping to get the sentence rescinded or reduced at the Constitutional Court hearing. However, legal experts say his chances of success are slim.
The case has sparked an unprecedented legal drama in South Africa, which has never seen a former president jailed before.
A shopping centre in the city of Pietermaritzburg, in Zuma's home province of KwaZulu-Natal, was set on fire on Monday. Images also showed other buildings and vehicles being set alight, and shops looted.
The situation in Pietermaritzburg is volatile, the BBC's Nomsa Maseko reports from the city. Protesters responded with live ammunition when riot police fired rubber bullets to disperse them at one of the shopping centres that were looted overnight, she says.
Police say opportunistic criminals have taken advantage of the chaos.
The violence has also spread to Johannesburg, in Gauteng province.
On Sunday, protesters armed with sticks, golf clubs and branches were seen marching through Johannesburg's central business district.
Zuma was convicted of defying an instruction to give evidence at an inquiry into corruption during his nine years in power.
He has testified only once at the inquiry into what has become known as "state capture" – meaning the siphoning-off of state assets.
In a separate legal matter, he pleaded not guilty last month in a corruption trial involving a $5bn (£3bn) arms deal from the 1990s.
His supporters argue he is the victim of a political witch hunt, orchestrated by Ramaphosa allies.

Protests Are Also Taking Place in Cuba as shortages in food escalate a period of economic crisis, compounded by the COVID-19 shutdowns. President Biden says he stands with the people of Cuba as they exert their universal rights.
https://twitter.com/thehill/status/1414646134711140353?s=20
Play Audio

President Biden did not say what those universal rights are where they come from or why he stands with them.

14 Year Old Zaila Avant-garde Won the 2021 Scripps Spelling Bee with the Word "murraya" and pops a Bill Murray the comedian joke before doing so:

https://twitter.com/Walldo/status/1413315794079993857?s=20
Play Audio: 0:05-1:00
The Australian Government Is Trying to Keep It's People Enslaved by Fear
Play Audio
Following the image of the woman gasping for air, a plain black screen reads ominously: Covid-19 can affect anyone. Stay home. Get tested. Book your vaccination.

The Indian Bar Association Has Filed a Lawsuit Against Dr. Swaminathan
https://twitter.com/aphilosophae/status/1413978469223092229?s=21

https://lobservateur.info/article/100414/covid-19/ivermectin-une-scientifique-de-loms-risque-la-peine-de-mort
On 25 May, the Indian Bar Association (IBA) filed a lawsuit against Dr Soumya Swaminathan, WHOs chief scientist, accused of causing the death of Indian citizens by deceiving them about ivermectin.
If Dr. Soumya Swaminathan is convicted, then she could be sentenced to death or life imprisonment. The brief accused Dr. Swaminathan of committing a fault by using her position as a health authority to serve the special interests of the lucrative vaccine industry.
The Indian Bar Association has taken the first step in initiating legal action against an official for COVID related guidance failures. The legal notice calls for a clear response from Swaminathan on a number of key points r/t Ivermectin.

Angels Baseball Star Shohei Ohtani Will Be Starting Pitcher and Leadoff Hitter in Tuesday's All Star Game
https://www.mlb.com/news/ohtani-to-start-on-hill-bat-leadoff-in-2021-all-star-game
(Third Video Down – it's the video of his 33rd home run) Play Audio
As you heard, that was the sound of 27 year old Japanese Major League Baseball Star Shohei Ohtani cranking his 33rd homerun of the year, lead the majors. He set an American League record with his 15th homer over his last 21 games on Friday, and it was a moonshot that went a Statcast-projected 463 feet into the top deck at Seattle's T-Mobile Park. And it also tied the Japanese-born sensation for the most homers by a foreign-born player before the All-Star break, joining Sammy Sosa in 1998. His play h
as
But what everyone is talking about is the fact that Ohtani will make history today as the first person to be selected for an All-Star Game as both a hitter and a pitcher (he hammered balls to the Coors Field bleachers during Monday's Home Run Derby as well).
All of this has Angels manager Joe Maddon conjuring up images of Babe Ruth, who was the last player to have this kind of success as a two-way player roughly 100 years ago. Ohtani and Ruth in 1921 are the only two players to make multiple starts on the mound while also leading the Majors in homers.
"You have to go back to Mr. Ruth to draw any comparisons," Maddon said. "That just screams what this is all about. "We all romanticize what it would have been like to watch Babe Ruth play. He pitched, really? I mean, you hear this stuff and it's a larger-than-life thought or concept. Now we're living it. So don't underestimate what we're seeing."
But showing off that kind of power isn't unusual for Ohtani, who leads the Majors with five homers hit a projected 450 feet and four with an exit velocity of at least 116 mph. His 119-mph double off Royals right-hander Scott Barlow on April 12 remains the hardest-hit ball by any left-handed hitter since Statcast was introduced in 2015.

And on the mound, Ohtani is 4-1 with a 3.49 ERA with 87 strikeouts in 67 innings over 13 starts. He's reached 101.1 mph with his fastball — Jacob deGrom and Gerrit Cole are the only starters to throw a harder fastball this year — while possessing a dominant splitter that ranks among the game's best pitches.
The guys at the MLB Network had a great time talking to Ohtani on Monday afternoon before the home run derby, and here you also get a glimpse of Ohtani's personality.
Play Audio: 0:00-0:58
Psalm of the Day: Bridgewater, words by Isaac Watts, tune by Lewis Edson
Play Audio: 1:05-2:00
From all that dwell below the skies,
Let the Redeemer's praise arise:
Let the Redeemer's name be sung
Through every land by every tongue.
This is Toby Sumpter with Crosspolitic News. You can find this and all of our shows at Crosspolitic.com or on our app, which you can download at your favorite app store, just search "Fight Laugh Feast". A reminder: if you see news stories and links that you think we should cover on the daily news brief, please send them to news @ crosspolitic.com and don't forget to check deft wire dot com where we are constantly posting all our stories.
Support Rowdy Christian media, and share this show or become a Fight Laugh Feast Club Member. You always get a free Fight Laugh Feast t-shirt with a membership and remember if you didn't make it to the Fight Laugh Feast Conference or Rally, club members have access to all the talks and lots more. Join today and have a great day.