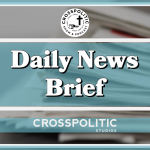 This is Garrison Hardie with your CrossPolitic Daily News Brief for Tuesday, July 19th, 2022. Before we jump into the news for today, I have a question for you!
Plug #1:
Gold River Trading Co.
Are you tired of buying sugary drinks and coffee from large woke corporations? Throw a tea party!
Gold River Trading Co. is an American company that offers premium alternatives for Americans who enjoy a delicious cup of tea. Start your day with Gold River's invigorating American Breakfast Blend, cool down with a pitcher of crisp & refreshing Iced Tea, or unwind with Chamomile Herbal tea. Explore a variety of high-quality blends and enjoy a healthy, flavorful alternative from an American company that shares your values.
Go to goldriverco.com and save 10% off all orders using discount code CROSSPOLITIC at checkout.
Now, let's get to the news, starting with Dr. Anthony Fauci!
https://www.theepochtimes.com/fauci-reveals-exactly-when-hes-leaving-the-federal-government_4604550.html?utm_source=partner&utm_campaign=BonginoReport
Fauci Reveals Exactly When He's Leaving the Federal Government
White House COVID-19 adviser Anthony Fauci revealed that after about five decades in the federal government, he's planning on leaving his position by the end of President Joe Biden's term.
"We're in a pattern now. If somebody says, 'You'll leave when we don't have COVID anymore,' then I will be 105. I think we're going to be living with this," Fauci, 81, told Politico in an interview published on Monday morning in confirming he's retiring at the end of Biden's term in office, which is Jan. 21, 2025.
Fauci has been the head of the National Institute of Allergy and Infectious Diseases (NIAID) since 1984. During the COVID-19, he became a household name when he became the face of the federal government's COVID-19 pandemic response, often generating criticism from Republicans and conservatives about his generally dire predictions about the pandemic.
Of his relationship with former President Donald Trump, Fauci said that "we developed an interesting relationship … two guys from New York, different in their opinions and their ideology, but still, two guys who grew up in the same environments of this city. I think that we are related to each other in that regard."
And if Republicans win back either the House or Senate in 2022, Fauci noted that he will likely be investigated by GOP lawmakers. But he claimed that regarding those investigations, "I don't make that a consideration in my career decision."
However, Fauci has faced public questions from Republicans in Congress about his agency having given funding to third-party groups to carry out research in China. COVID-19, caused by the CCP (Chinese Communist Party) virus, emerged in Wuhan, China, and a significant number of U.S. intelligence officials last year released a report suggesting the virus may be tied to the top-level Wuhan Institute of Virology.
Last month, amid questions from Sen. Roger Marshall (R-Kan.), Fauci admitted that he is not able to halt federal funding from being doled out to researchers in China.
"The NIH [National Institutes of Health] is still funding research in China, at least $8 million since 2020," Marshall said. "In the Intelligence Community's 2022 Annual Threat Assessment, the Chinese Communist Party is presented as one of the top threats to the United States, along with Russia, Iran, Syria, and North Korea. To my knowledge, only China is receiving U.S. research dollars."
Later, he asked Fauci, "When will you as director of NIAID stop funding research in China?"
Federal health agencies, Fauci said in response, "had very productive peer-reviewed highly regarded research projects with our Chinese colleagues that have led to some major advances in biomedical research."
"We obviously need to be careful and make sure that when we do fund them we have the proper peer review and we go through all the established guidelines," he also said.
https://dailycaller.com/2022/07/17/shameful-biden-admin-sold-6-million-barrels-strategic-oil-reserves-china/
Biden Admin Has Sold Nearly 6 Million Barrels Of Strategic Oil Reserves To China
The Biden administration sold nearly six million barrels of oil from its Strategic Petroleum Reserve (SPR) since July 2021 to a Chinese state-run energy firm, according to a Daily Caller News Foundation review of Department of Energy (DOE) data.
From July 2021 until the end of June 2022, Biden's energy department auctioned off 5.9 million barrels of strategic reserve oil to Unipec, the trading division of the Chinese state-owned Sinopec, in an effort to increase the supply of oil globally and drive down fuel costs in the U.S. that were exacerbated by the war in Ukraine and Biden's climate policies. SPR oil is sold to the highest bidder, and some of the businesses entitled to make bids are American subsidiaries of foreign corporations like Unipec
The DOE sold four million barrels to Unipec in the fall of 2021, almost six months before Russia's invasion of Ukraine, making over $252 million from the sale, according to the FY22 Emergency Drawdown No. 2 Successful Awards Report. Each barrel was sold on average for roughly $63, or over eight dollars less than the average price of oil per barrel that month.
"I think it takes a bad policy and makes it worse," Ben Lieberman, a senior fellow at the Competitive Enterprise Institute, told the Daily Caller News Foundation.
In July 2022 the DOE sold 950,000 barrels to Unipec for roughly $113 million, according to the FY22 Emergency Drawdown No. 3A Successful Awards Report. While the Biden administration claimed the sales will help the U.S. fight "Putin's price hike," Unipec is still buying large quantities of Russian oil, according to Bloomberg.
"It's helping out a bit, but it's still a very bad policy," Lieberman told the DCNF. "The fact that we're using the Strategic Petroleum Reserve rather than drilling offshore or getting more oil to the United States through the Keystone XL pipeline, the fact that we're not doing these things is really pretty shameful."
In April, the DOE also sold 950,000 barrels to Unipec, according to a DOE report.
"The Strategic Petroleum Reserve never really was a substitute for that and now to hear that this oil is going to China is problematic because it undercuts their rationale even more," said Lieberman. "Biden's policy just shows that he's not putting American consumers and the American economy first or second or even third."
The DOE, the White House and Sinopec did not respond to the DCNF's request for comment.
Plug #2:
Armored Republic
The Mission of Armored Republic is to Honor Christ by equipping Free Men with Tools of Liberty necessary to preserve God-given rights. In the Armored Republic there is no King but Christ. We are Free Craftsmen. Body Armor is a Tool of Liberty. We create Tools of Liberty. Free men must remain ever vigilant against tyranny wherever it appears. God has given us the tools of liberty needed to defend the rights He bestowed to us. Armored Republic is honored to offer you those Tools. Visit them, at ar500armor.com
https://www.theepochtimes.com/congress-grants-pentagon-58-billion-more-than-requested-dod-report_4603312.html?utm_source=partner&utm_campaign=BonginoReport
Congress Grants Pentagon $58 Billion More Than Requested: DOD Report
US lawmakers granted the Department of Defense (DOD) more money than the Pentagon requested for in the fiscal 2022 defense budget, a recent Pentagon report shows.
In total, Congress sanctioned $58.55 billion in additional funds, according to the report. This includes $25.70 billion for operations and maintenance, $17.67 billion for procurement, $9.89 billion for research, development, test, and evaluation, $4.32 billion for military construction, and $947 million for military personnel.
The DOD initially had a base budget appropriation of $742.3 billion for fiscal 2022. As such, the extra $58.55 billion represents an almost 8 percent increase from the base budget. The Pentagon did not put in a request for any of the programs funded with the extra $58.55 billion.
These programs are not even in the so-called unfunded priorities lists—made up of items not included in the budget but considered critical—that departments and officers send to Congress annually.
For instance, roughly $4 billion was granted for half a dozen ships that were not on the unfunded priorities list. Similarly, the Navy received $900 million for a dozen Super Hornet jets, the Air National Guard got $1.8 billion to purchase 16 C-130J transport planes, and $460 million was granted for developing advanced jet engines. Over $2 billion in extra funds was appropriated for classified programs.
The $58.55 billion calculation only takes into account individual additions totaling $20 million or more. Since there are usually many spending hikes in the single-digit millions, the total actual excess funding will likely be higher.
In an email to Roll Call, Steve Ellis, president of Taxpayers for Common Sense, a government spending watchdog group, called for more efficient military budgets.
"Certainly Congress has the power of the purse, but considering the Pentagon got more than $750 billion that year, lawmakers could work within that generous budget to reflect their priorities … Instead, they dumped more than $50 billion across accounts for what appear to be in some cases very parochial interests."
Since fiscal 2017, the Pentagon's base budget has risen by 48 percent. The recently passed House version of the 2023 defense budget ups the funding received by the Pentagon, authorizing $839 billion in military spending—$37 billion more than was requested by the administration.
And now, it's time for the topic that I love… sports! You all know we're on the Fight Laugh Feast Network, so now let's talk about some fighting…
https://nypost.com/2022/07/17/bronx-native-shane-burgos-now-7-0-in-ufc-bouts-in-new-york/
Bronx native Shane Burgos now 7-0 in UFC bouts in New York
Shane Burgos' record remains perfect in the Empire State. He can thank one hell of a chin for that.
The Bronx native, who expressed displeasure with his performance, nevertheless managed to hold on for a majority decision victory over Charles Jourdain on Saturday at UBS Arena in featherweight action during the UFC's first Long Island event in five years. The win moved him to 7-0 in UFC bouts in his home state.
Shane Burgos hates how he ended the fight against Charles Jourdain | ESPN MMA – Play 2:25-3:52
Fans anticipated a clash of action-oriented strikers entering the main-card bout. But for two rounds, Burgos was a grappling beast and Jourdain simply couldn't handle him. Burgos and his Tiger Schulmann's MMA team anticipated that strategy would work.
In a nifty moment early on, Burgos pushed off the octagon to help secure Jourdain's back and to attack a rear-naked choke from the body triangle in the highest spot of the first round. He took the back with a standing body triangle again the following round, keeping it longer this time.
The expected war on the feet broke out in the final round, but the battle was largely one-way traffic. Jourdain cracked Burgos often, besting the local favorite in significant strikes 84-26, per UFC Stats.
Now let's check in on some baseball standings, as I'm sure we've got some baseball fans in our audience:
Starting in the American League AL East:
The New York Yankees are firing on all cylinders, with a 64-28 record, leading all clubs across the Majors as far as best record goes. The second closest record in the AL East goes to the Tampa Bay Rays, a full-13 games back.

It's a close race in the AL Central, as the Minnesotta Twins are leading the way with a 50-44 record, and two teams are nipping at their heels. The Cleveland Guardians, or Indians as I'll continue to call them, are standing at 46-44. While the Chicago Whitesox sit at 46-46.

In the AL West, it's a two team race featuring the Houston Astros, and the surprisingly hot Seattle Mariners! The Astros sit at 59-32, and the Mariners are 51-42. By the way, the Mariners are on a 14-game winning streak, and on top of that, the Astros and Mariners have a three game series starting this Friday!

Over to the National League, the Mets & the Braves are separated by 2.5 games atop the east.

In the NL Central, the Brewers are only ahead of the Cardinals by half a game. Each of them have 50 wins a piece.

And finally, in the NL West, the Dodgers lead the way with the second best record in baseball, at 60-30.
That's your look at sports, and this has been your CrossPolitic Daily News Brief. If you liked this show, go ahead and hit that share button for me would ya? If you want to sign up for a club membership, a magazine subscription, or sign up for our conference in Knoxville TN, you need to head over to fightlaughfeast.com, and sign up there. And as always, if you'd like to become a corporate partner with CrossPolitic, email me, at garrison@fightlaughfeast.com. For CrossPolitic News, I'm Garrison Hardie. Have a great rest of your day, and Lord bless.