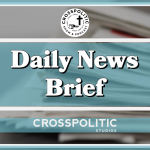 This is Toby Sumpter with your CrossPolitic Daily News Brief for Tuesday, July 20, 2021.
Plug: Fight Laugh Feast Conference in Lebanon, TN, just outside of Nashville.
Sex is inherently political. What you do in the privacy of the bedroom never stays there. It always impacts the world. A culture is either built on the fruitfulness of a godly union between one man and one woman, or else it dies from self-inflicted fruitlessness and sexual rebellion against God. Our sexual choices and values are building and cultivating a particular kind of public square. Join us in Lebanon, TN with Pastor Douglas Wilson "Gay Pulpits", Voddie Baucham "Critical Sex Theory", Doug TenNapel "Sex, Lies, and the Prophetic Poet", David Bahnsen "Punk Rock Home Economics", I'll be talking about "Molotov Monogamy," and then on Saturday will have 9 SWAT talks with over 20 speakers arming you to go out into the world to take dominion with your gifts and abilities. Sheologians: Dishes, Diapers, and Dominion and All People Matter with Dennis Sarfate, Zach Lautenschlager, and Rob Sentz. Registration is live now: flfnetwork.com/politics-of-sex/ Club members get $100 off registration. Seating is limited!
First Up a Message from a Bunch of Democrats About the Vulnerabilities of Voting Machines
Play Audio
Why yes, that was Vice President Kamala Harris at a couple of points.
Boris Johnson Says You Will Have to Have Proof of Vaccine in Many Public Places by September
Play Audio
"Double-jabbed"
Brian Kilmeade Sort of Speaks up for the Unvaccinated on Fox and Friends
Play Audio
Judge Tries to Make an Example in the First Sentencing for the January 6th Capitol Protests
https://www.npr.org/2021/07/19/1017916061/capitol-rioter-who-walked-on-senate-floor-on-jan-6-sentenced-to-8-months-in-pris
A Florida crane operator who walked onto the Senate floor during the Jan. 6 attack on the U.S. Capitol has been sentenced to eight months in federal prison and two years of supervised release.
Paul Hodgkins' sentencing is the first in a felony case stemming from the deadly assault on the U.S. Capitol by a mob of Trump supporters. It is viewed as a potential bellwether for how other Capitol defendants charged with similar offenses are likely to be treated.
Hodgkins pleaded guilty last month to a single count of obstructing an official proceeding. On Jan. 6, he marched from then-President Donald Trump's rally near the White House to the Capitol, where he walked inside and onto the floor of the Senate while carrying a red "Trump 2020" flag.
In court Monday, Hodgkins, dressed in a dark suit with his hair pulled back in a pony tail, said he was "truly remorseful and regretful" for his actions on Jan. 6.
"I say this not because I face consequence, but because of the damage that day's incident caused, the way this country that I love has been hurt," he told U.S. District Judge Randolph Moss.
Hodgkins said he traveled to Washington, D.C., from Florida to support Trump, and he had no idea the crowd would later storm the Capitol. He said he got caught up in the passion of the day and entered the Capitol and walked onto the Senate floor.
"It's essential to send a message that this type of conduct is utterly unacceptable and that grave damage was done to our country that day," Moss said. "But at the same time, I do not believe that Mr. Hodgkins, other than having made some very bad decisions that day … that he is a threat."
Moss noted that Hodgkins did not previously have a criminal record. He did not engage in violence on Jan. 6 or destroy property, and he was in the Capitol for less than 30 minutes. But his presence at the Capitol, Moss made clear, did contribute to the mob's ability to achieve its goal of disrupting the certification of the 2020 presidential election.
More info here: https://twitter.com/mtracey/status/1417161582677790722?s=20
MLB All-Star Game Ratings Bomb
https://thehill.com/opinion/civil-rights/562991-mlb-all-star-game-whiffs-earns-lowest-ratings-in-history-heres-why
From the Hill: Major League Baseball's All-Star Game was once "appointment viewing" in this country. In 1980, more than 36 million people tuned in. In 2015, in the age of interleague play, a still-respectable 11 million watched the American and National Leagues battle it out.
But for Tuesday night's game, the Nielsen numbers were profoundly horrible: 8.24 million people tuned in, making it the second-least-watched All-Star Game in history. This number is stunning when considering what was billed as one of the most compelling lineups in years, one that included Los Angeles Angels' Japanese sensation Shohei Ohtani, who was the first player in All-Star Game history to be a starting pitcher and bat lead-off, and the game's first two-way starter dating back to 1933.
In other words, for the Ohtani factor alone, the numbers should have landed at least above the 10 million-viewer threshold, but didn't. And if you're looking for a big reason outside of cord-cutting, look no further than the backlash baseball is receiving for moving the All-Star Game out of Georgia to Colorado due to the former's new voting laws.
Of course, Colorado's law governing early voting actually has a smaller time window than Georgia's, showing that Major League Baseball didn't do its homework before abruptly pulling the game out of Atlanta.
Businesses in Cobb County, Ga., which were already devastated as a result of the pandemic, lost at least $100 million collectively in tourism-induced business when the game was moved. Cobb County is a majority Black community, while Denver decidedly is not.
Bang-up job, MLB! A grand slam of utter incompetence!

The falling ratings aren't just happening in baseball, either. The NBA Finals currently underway can't draw even 10 million viewers. The league saw just 8.6 million viewers tune in for Game 1 of Bucks-Suns. For context, in 2019 before the pandemic, Game 1 of the Finals between a team from a Canadian market (the Toronto Raptors) and the Golden State Warriors took in almost double the 2021 number, delivering more than 15 million viewers. In 1998, when the apolitical Michael Jordan was the face of the league, Game 1 of Bulls-Jazz registered nearly 30 million viewers.

Primary reason? The NBA also has gone full woke in embracing Black Lives Matter while even boycotting their own games last year.
Major League Baseball's All-Star Game used to be magical. Its viewership was higher than the population of Texas. Now it can't even beat your average episode of "NCIS."

Go woke, go broke: Major League Baseball is finding that out the hard way.
Psalm of the Day: Psalm 81
Play Audio: 0:00-0:48
This is Toby Sumpter with Crosspolitic News. You can find this and all of our shows at Crosspolitic.com or on our app, which you can download at your favorite app store, just search "Fight Laugh Feast". A reminder: if you see news stories and links that you think we should cover on the daily news brief, please send them to news @ crosspolitic.com and don't forget to check deft wire dot com where we are constantly posting all our stories.
Support Rowdy Christian media, and share this show or become a Fight Laugh Feast Club Member. You always get a free Fight Laugh Feast t-shirt with a membership and remember if you didn't make it to the Fight Laugh Feast Conference or Rally, club members have access to all the talks and lots more. Join today and have a great day.