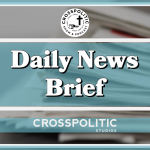 This is Garrison Hardie with your CrossPolitic Daily News Brief for Tuesday, July 25th, 2023.
Fight Laugh Feast Conference – Ark Encounter
This year, our Fight Laugh Feast Conference is at the Ark Encounter in Kentucky on The Politics of Six Day Creation. The politics of six day creation is the difference between a fixed standard of justice and a careening standard of justice, the difference between the corrosive relativism that creates mobs and anarchy and the freedom of objectivity, truth, and due process. The politics of six day creation establishes the authority and sufficiency of God's Word for all of life: from what is a man or a woman, when does human life begin, and how is human society best organized?
Come hear Ken Ham, Pastor Doug Wilson, Dr. Ben Merkle, Dr. Gordon Wilson, me and more, and of course a live CrossPolitic show! Mark your calendars for October 11th-14th, as we fight, laugh, and feast, with beer & psalms, our amazing lineup of speakers, our Rowdy Christian Merch, and a Sabbath Feast to wrap up the occasion. Maybe an infant baptism while we're at it! Visit fightlaughfeast.com for more information!
We start today at the southern border…
https://justthenews.com/government/security/biden-has-border-terrorism-problem-encounters-flagged-aliens-explode-nine-fold
Biden has a border terrorism problem as encounters with flagged aliens explode ninefold
The number of foreigners on the U.S. terrorist screening list who have tried illegally crossing into the United States has exploded ninefold since President Joe Biden took office, an alarming increase that experts say puts national security at risk.
So far in fiscal 2023, 140 people on the terror list have been apprehended between ports of entry, already crushing last year's record of 98.
There were only three such crossings in the last year of Donald Trump's presidency, and 16 in Biden's first year.
The rapid growth in crossings by illegal aliens with terror ties is a warning sign that countries with bad intent may be trying to sneak potential terror cells into the United States, experts told Just the News.
Added Mark Morgan, the former acting commissioner of the Customs Border Protection agency: "We literally could have the next terrorist sleeper cell in United States planning a terrorist attack, and we would have no idea."
The pattern also has alarmed Congress, which began an investigation earlier this summer. Lawmakers said they are particularly concerned that there have been 1.5 million gotaways who have never been encountered illegally crossing the border, raising the possibility there are many more potential terrorists already in the country.
"These 'known gotaways' do not provide biometric or biographic information to USBP agents and continue their journey into the interior of the country without background checks against law enforcement databases," Reps. Jim Jordan, James Comer and Mark Green wrote in a recent letter to Homeland Security Secretary Alejandro Mayorkas.
Jordan, Comer and Green chair three of the most powerful committees in Congress: Judiciary, Oversight and Homeland Security.
The lawmakers also cited a recent change in language by the Homeland Security Department, raising concerns that some illegal aliens with terror ties may not have been deported.
Concerns have been exacerbated by the recent revelation the Biden released an illegal alien with known terrorism ties, and it took two weeks to apprehend him.
https://justthenews.com/politics-policy/coronavirus/china-publishes-then-deletes-official-covid-data-indicating-over-1
China publishes then deletes official COVID data indicating over 1 million more deaths than reported
While Beijing has claimed about 83,700 people have died in China since the start of the COVID-19 pandemic, the Zhejiang provincial government published and quickly deleted official data indicating the true death toll is significantly higher.
The Zhejiang government deleted the data last week just days after it was published, but epidemiologists who reviewed the information said it was the latest indication that China's official death toll is vastly undercounted, according to The New York Times.
Provincial data shows that the number of cremations rose to 171,000 in the first quarter of 2023, which is 72,000 more cremations than the same period last year when China's stringent COVID mandates were still in place.
China has only acknowledged about 83,700 deaths in total.
An analysis earlier this year from the New York paper estimated that China's most recent wave of COVID, which started late last year, may have resulted in between one million and 1.5 million deaths.
Experts say the data from Zhejiang, which has a population of 65.8 million people, when extrapolated to China's population of 1.4 billion, is consistent with earlier mortality estimates.
"I'm not sure the impact would have been exactly the same in every province, but I think it would be useful for a rough extrapolation," University of Hong Kong epidemiologist Ben Cowling said. "It's consistent with the estimates of around 1.5 million."
Over to Portland we go…
https://thepostmillennial.com/former-kmart-in-portland-that-became-a-homeless-squat-burns-down-in-huge-fire?utm_campaign=64487
Former Kmart in Portland that became a homeless squat burns down in huge fire
An abandoned Kmart store that homeless vagrants have been using as their temporary home in Portland, Oregon was riddled by a massive fire on Wednesday, authorities say.
Portland Fire Bureau spokesperson Rick Graves told The Oregonian that it was only a matter of time before the site was set ablaze.
"We know this structure," Graves asserted. "We've known this has been vacant for some time … [with] people gaining occupancy and using it as their home."
Several complaints from nearby residents have recently been made towards the city over the building's accessibility and draw for homeless individuals, trash, and debris. The most recent complaint, filed on July 6, prompted a city inspection, which is currently ongoing.
It is unknown at this moment if anyone was trapped inside the structure when the fire broke out on Wednesday morning. No known injuries exist, authorities say.
Firefighters were able to gain control of the blaze on Wednesday morning, with Graves explaining that the "major challenge" in controlling the fire was a lack of water supply due to a lack of water hydrants in the area, according to the outlet.
A nearby resident, 67-year-old Laurel McAfee, told reporters that huge bunches of ash were scattered throughout the yard of her home.
McAfee said the initial "boom" was so loud she had "thought maybe a car had hit a building or something."
The cause of Wednesday's fire has not yet been identified.
So while Portland is continuing it's decent into Mordor status, Disney does the same!
https://notthebee.com/article/disneys-new-snow-white-its-not-1937-shes-not-gonna-be-saved-by-the-prince-and-shes-not-going-to-be-dreaming-about-true-love-shes-dreaming-about-becoming-the-leader-she-knows-she-can-be?fbclid=IwAR1-Lnh2oHRUkC7B62wlOx4v6tQukl3sn81zXp26vGDGzM5Ct6Uazpd4UJg
Disney's new Snow White: "It's not 1937. She's not gonna be saved by the prince and she's not going to be dreaming about true love. She's dreaming about becoming the leader she knows she can be."
Another remake that's here to smash the patriarchy.
https://twitter.com/i/status/1683121280390660097 – Play Video
How many billions will this Snow White remake cost Disney?
Good luck with that Disney! In other entertainment news…
https://www.breitbart.com/entertainment/2023/07/20/nolte-sound-of-freedom-crosses-100-million-mark/
'Sound of Freedom' Crosses $100 Million Mark
Thanks to a Wednesday haul of another $4.5 million, Angel Studios' Sound of Freedom has crossed the magic $100 million mark at the domestic box office.
"Angel Studios, the platform empowering filmmakers with full creative control to crowdfund and create, has reached a new theatrical milestone," the studio said in a statement released Thursday. "Its independent summer hit, SOUND of FREEDOM. has now sold over 8.9 million tickets, and the film has now passed $100M in box office revenue."
"Since the films' July 4 release, SOUND of FREEDOM has never left the top 3 positions on the charts[.]"
On Wednesday, after 16 days of release, Sound of Freedom also managed to nearly top Mission: Impossible — Dead Reckoning Part One once again, which is only in its eighth day of release — $4.37 million for Dead Reckoning's Wednesday haul compared to Sound of Freedom's $4.5 million.
As Breitbart News reported Tuesday, Tom Cruise's seventh outing as Ethan Hunt enjoys the advantage of playing in 1,000+ more screens—4,327 to 3,265. So, as far as packing in the crowds on a per-screen average, Jim Caviezel's $14.5 million movie is beating Tom Cruise's $250 to $300 million blockbuster, and doing so after being in wide release a week longer.
Currently, Sound of Freedom is the second most popular movie in the country and there are no signs it will slow down. Barbie and Oppenheimer open this weekend, but just as we saw with Dead Reckoning the previous weekend, Sound of Freedom is operating in a lane all of its own. The anti-child trafficking movie (a topic the pro-grooming left finds offensive and controversial) is bringing normal people back to movie theaters. all kinds of people who long ago divorced mainstream Hollywood and have or intend to see Sound of Freedom. Top Gun: Maverick did the same last year.
Normal people are craving normal entertainment. No gay sex. No smug lectures about the patriarchy. No deconstructing our heroes. No Mary Sues. Normal people want good stories created around interesting and complicated characters. Hollywood did this without breaking a sweat for a hundred years. Now a normal movie is an exception in an ocean of woketardery, shaming, and the normalization of destructive perversions.
By all accounts, Sound of Freedom is a quality movie about an important subject that's making a fortune and driving the left-wing establishment crazy.
It doesn't get any better than that.
I suspect Disney will soon produce a remake where the sex traffickers are the heroes rescuing children from their traditional parents. Yes, the liberation of gay sex to unshackle the suffocating tenets of the Christian Faith. Coming soon to an empty theater near you.